College Basketball: 5 Top 25 Teams That Won't Be Ranked in March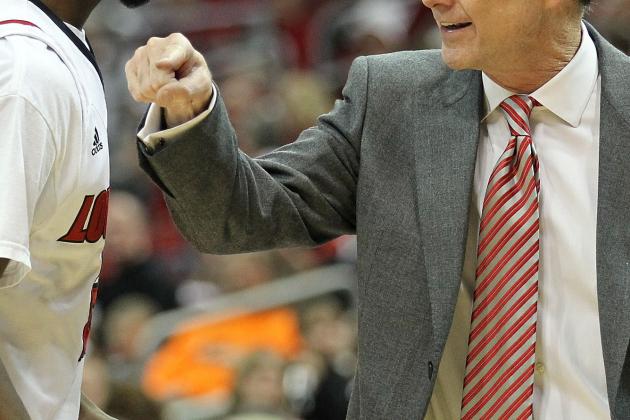 Andy Lyons/Getty Images
With teams playing musical chairs in the Top 25, here are the teams that will drop out of the rankings by March.
We've had quite the exciting college basketball season so far. Tons of upsets, musical chairs in the Top 25 and teams exiting the rankings as though it were fashionable.
And it only gets better and more intriguing come March when the "madness" begins.
It's premature to predict who will win the NCAA tournament, as we will have to wait and see how conference play pans out before we can make even the loftiest of predictions.
However, there are some teams that currently stand in the rankings that will probably not be in the Top 25 come tournament time.
Let's take a look at the teams that won't have a number denomination in front of their name in March.
Begin Slideshow

»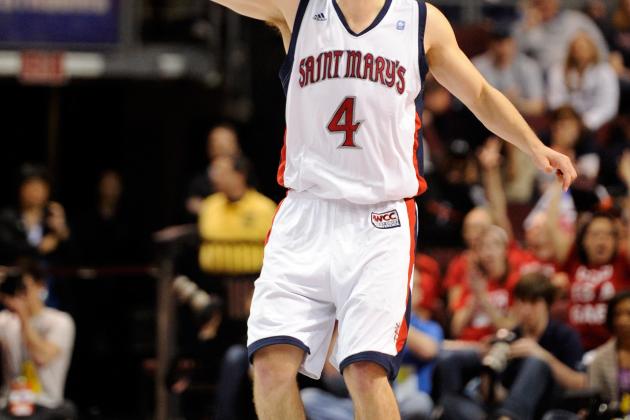 Ethan Miller/Getty Images
St. Mary's Matthew Dellavedova
After being excluded from the Top 25 by a small margin for a few weeks, Saint Mary's finally broke into the rankings in Week 11 (Jan. 16) and landed the No. 23 spot.
The 17-2 Gaels have impressed this year and are off to a 6-0 start in the West Coast Conference; however, don't expect to see them in the Top 25 too long.
Although Saint Mary's beat conference rival No. 23 Gonzaga, the prestige of that upset win has since dissipated, as the Bulldogs have fallen out of the rankings and have not fared well against tough competition.
Despite the Gaels ranking at No. 23 on Real Time RPI's RPI list, the lack of tough opponents in the West Coast Conference will cause Saint Mary's to be easily overtaken by teams like Kansas State or Wisconsin if they have a big upset win.
Wins against the toughest West Coast Conference contenders—Gonzaga and BYU—will help Saint Mary's in the rankings but won't carry as much weight as they would if those teams were ranked.
Don't be surprised to be talking about Saint Mary's come tournament time, but the Gaels probably won't be ranked in March.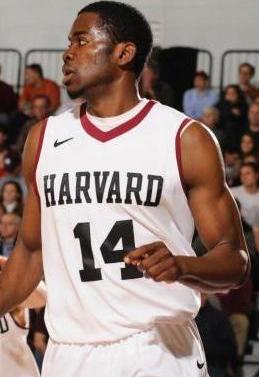 Photo: gocrimson.com
Plenty of attention was brought to the Harvard Crimson after some believed they were snubbed from last year's NCAA tournament after sharing the Ivy League title with Princeton last year.
Harvard kicked off the season with an impressive 8-0 record and subsequently found itself in the rankings in Week 5 (Dec. 5) after being on the cusp for a few weeks.
After a loss to at Top 10 Connecticut team, Harvard fell out of the rankings and has been in and out ever since as voters respond to multiple-game win streaks.
The Crimson have been ranked as high as No. 21 in the Coaches Poll and are currently No. 24.
Although Harvard has impressed with some exciting wins, the Crimson probably won't be in rankings come March.
They may fare well in the Ivy League, but the Crimson don't have the kind of offensive production that can keep them in the Top 25.
Harvard currently averages a decent 66.5 points per game (211th), which will probably prove to be insufficient when the Crimson face inter-league rivals like Princeton on the road.
The Crimson have some impressive talent and have done well to break into the rankings this year, but they probably won't be in the rankings much longer.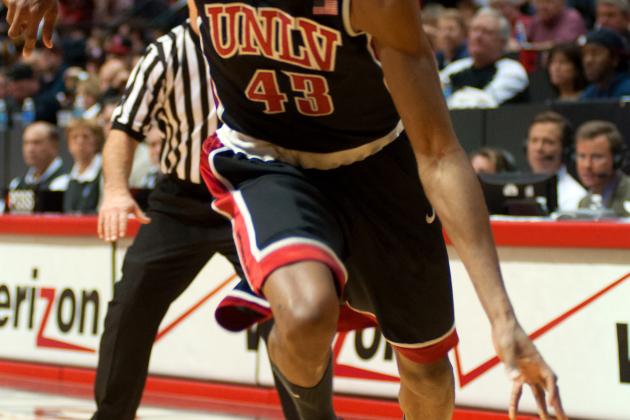 Kent Horner/Getty Images

UNLV soared from being unranked to No. 18 in the AP Poll in Week 4 (Nov. 28) after beating No.1 North Carolina.
Since upsetting the Tar Heels, the Rebels have remained in college basketball's spotlight and peaked as high as No. 12 in Week 10 (Jan. 9) after posting a six-game win streak.
UNLV's 16-3 record has been hard-earned, but the Rebels' loss to San Diego State in their conference opener proved that they will have their work cut out for them as they continue through Mountain West Conference play.
The Rebels have yet to be defeated on their home court and even beat No. 1 North Carolina there; however, they have yet to assert themselves on the road.
Although UNLV exceeds all other teams in its conference except for San Diego State, the Rebels will be much more vulnerable after losing their first conference road game regardless of whether or not it was against a tough opponent.
UNLV has the makings of a competitive NCAA tournament team and has one of the most productive offenses in the country; however the Rebels probably won't be hanging around in the Top 25 for too much longer.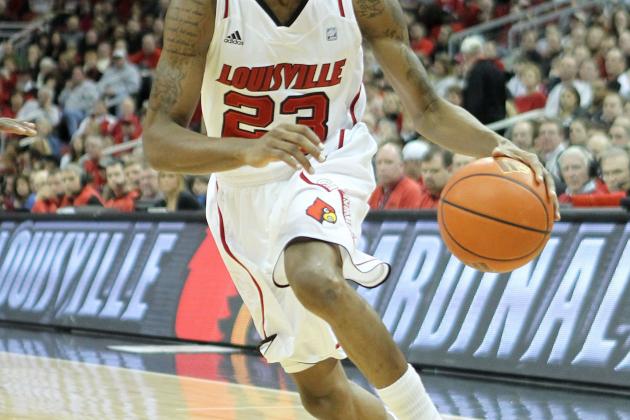 Andy Lyons/Getty Images

Louisville commenced the 2011-12 season with the hype of being ranked No. 8 in the Coaches Poll. After posting a 12-game winning streak, the Cardinals found themselves ranked as high as No. 4 for consecutive weeks.
However, after Louisville proved inept against Top 15 teams, the Cardinals began to sink down the rankings in a hurry.
Louisville has now fallen as low as No. 23 in the AP Poll after getting blown out by Providence by 31 points on January 10.
After their 12-game winning streak, the Cardinals have posted a 2-5 ranking and started Big East conference going 2-4.
Louisville's descent continued on Monday, when the Cardinals fell to No. 22 Marquette on the road. While the Cardinals will most likely be booted from the rankings after this loss, don't expect to see them make a comeback into the Top 25 by March.
The Cardinals' offense is nowhere near where it needs to be in order for them to be a contender in the Big East against teams like No. 1 Syracuse, No. 11 Connecticut and No. 12 Georgetown.
Peyton Siva, last year's oft-discussed guard, has not put up the kind of performance (8.4 PPG, 5.7 APG) that Louisville was expecting out of him.
As of now, the Cardinals are destined for another early exit in the NCAA tournament. They won't be a Top 25 contender at their current rate.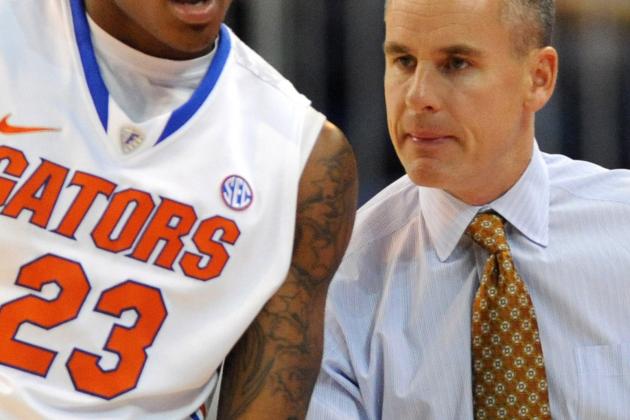 Al Messerschmidt/Getty Images

Florida began the season ranked No. 8 in the AP Poll and remained within a few spots of that position until losing its SEC conference opener to Tennessee, subsequently being pushed down to No. 19 in the national polls.
The Gators currently stand as high as No. 14 in the polls despite a 14-4 record. Although Florida has one of the best offenses in the nation with guards Kenny Boynton, Bradley Beal and Erving Walker, the Gators' recent road losses to Rutgers and Tennessee have risen concerns about the fate of the team.
SEC rivals Vanderbilt, Alabama and No. 2 Kentucky will cause some definite problems for the Gators on the road, and a mid-conference team like Arkansas will pose some difficulty as well for Florida.
Despite the Gators' offensive strength, their most recent road woes against lesser opponents will haunt them if they continue as they are right now.
Florida's close loss against No. 3 Ohio State (now No. 6) and No. 3 Syracuse (now No. 1) proves that it maintains the potential to perform on the road; however, recent road struggles are still concerning, especially amid SEC conference play.
If the Gators are unable to to execute on the road in the SEC, don't expect to see them in the Top 25 come March.
They will still be a competitive team in the NCAA tournament, but they won't be in the rankings if they can't hang on the road like a Top 25 should.