No. 13 Northern Kentucky Extends Winning Streak, Defeats Shepherd (W. Va)
December 31, 2011
Northern Kentucky University kept two streaks alive upon defeating the Shepherd University Rams on Friday. The NKU Norse are still undefeated this season (10-0) and undefeated at the Bank of Kentucky Center against non-conference opponents. 
In the closest contest they've had all season, and the first meeting between the two teams in men's basketball, the Norse defeated the Rams 84-57. Jon Van Hoose said that coming into the game, NKU knew Sheperd was a good team who comes from a good conference.
Van Hoose and Ernest "Stretch" Watson led the team point total, both scoring 18. Van Hoose led the team in three-pointers made, draining six of the team's 14 from behind the arc.
"I give all of the success to my teammates. They do a great job of finding me." Van Hoose said.
"I'm just right now on the receiving end of some great passes."
Watson lead the team in rebounds, five of his eight being defensive. Watson said he was able to go home for the holiday break and rest his body. As a result, he received a starting position and the most playing time, with 28 minutes.
Watson said Coach Dave Bezold's decision to start him was a surprising one.
"Coach rotates every time. Everybody works hard everyday, so you never know who's going to start in that five position." Watson said.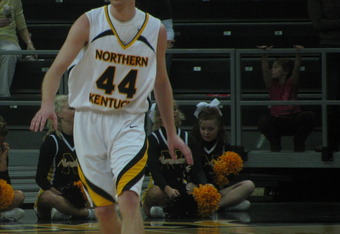 In the first half, the Norse were 14-for-27 from the field. Shepherd's Malik Dauda scored at the buzzer, but the Norse still held a 39-24 advantage at the break.
In 25 minutes of play, Tony Rack netted 12 points for the Norse, including three three-pointers. Rack went 4-for-4 from the field, contributing to the team's 56.4 percent for the game. This is something Rack attributes to his teammates, Chad Jackson and Ethan Faulkner.
Jackson finished the game with four assists, while Faulkner had five.
"They handle the ball so well." Rack said.
On Jan. 5., the Norse resume conference play as they host William Jewell at 7:30 p.m. at the Bank of Kentucky Center. In the Great Lakes Valley Conference this season, NKU is 2-0. The record so far this season is not something NKU takes for granted.
"We got to be prepared. It's going to be a battle for 40 minutes." Van Hoose said.
Monica Fritsch is a Correspondent for Bleacher Report. Unless otherwise noted, all quotes were obtained first-hand.