DePaul Enters Big East Basketball Play with a New Lease on Life
December 30, 2011
Jonathan Daniel/Getty Images
Usually a 9-3 non-conference record for a Big East squad is not cause for celebration, but for a team that has won only 35 games in the last four years, as the DePaul Blue Demons have, a 9-3 record (despite who they played) is reason enough to think DePaul is on the upswing.
DePaul has been brutally inept in winning only two conference games in the last three years, where it has been a fixture at the bottom of the standings. Every year, the Blue Demons were circled as an easy win.
However, that's all about to change.
Prior to the 2010-2011 season, DePaul knew it had to make a recommitment to basketball and brought in renowned program-builder Oliver Purnell.
Purnell has had success at rebuilding programs at Radford, Old Dominion, Dayton and Clemson and left each of those programs in better shape than when he came in. Clemson, for example, had been to the NCAA tournament the previous three seasons prior to Purnell leaving for DePaul. Only North Carolina's Roy Williams and Duke's Mike Krzyzewski had a better winning percentage in ACC play than Purnell did in his last four seasons at Clemson.
Purnell inherited a mess when he arrived at DePaul. Purnell's predecessor Jerry Wainwright clearly didn't have the know-how and recruiting competence to battle with the other Big East heavyweight coaches and failed on a massive level.
So Purnell had to revamp his roster and take his lumps in his first season with the Demons. As expected, DePaul struggled in Purnell's first year, winning only seven games (and one Big East game).
What Purnell found out at DePaul last year, though, is that he has a talented and exciting sophomore duo in Cleveland Melvin and Brandon Young. They form a nucleus Purnell can build around.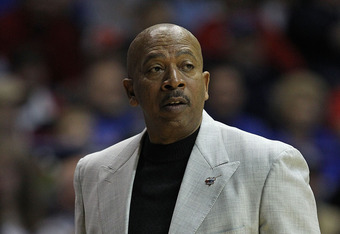 Jonathan Daniel/Getty Images
Melvin was especially remarkable last year, as he averaged 14.3 PPG (17.4 in Big East play) and 5.0 RPG (6.3 in Big East play) en route to winning Big East Rookie of the Year.
Young was not that far behind.
In his freshman campaign, Young averaged a solid 12.6 PPG and 3.7 APG while earning a selection to the Big East All-Rookie team.
Melvin and Young are off to great starts this year, as both are averaging more than 17 PPG with Melvin leading the team with 18.5 PPG to go with 6.5 RPG, while Young chips in with 17.4 PPG and 4.8 APG.
As Melvin and Young go, so does DePaul. However, Purnell recruited a class of athletes that fit his up-tempo style of basketball and complement Melvin and Young quite well.
A couple of Chicago-area kids have fit in quite nicely for Purnell. In Jamee Crockett and Charles McKinney, DePaul has a couple of athletic wings who play with a high motor and can lock down opponents with their defense. Crockett is fifth in the team in scoring (6.5 PPG), while McKinney averages 4.5 points per game.
DePaul is also getting contributions from Worrel Clahar (a pesky JUCO transfer point guard who brings energy off the bench), Donnavan Kirk (a transfer from Miami who brings athleticism to the post and one who has battled back injuries all season, but now appears to be healthy) and Derrell Robertson (a 6'10" project from Mississippi).
DePaul also has another talented sophomore on the squad, as Moses Morgan has proven himself to be one of DePaul's better shooters, averaging 7.5 PPG and coming in second on the team in three-point field goals made (22).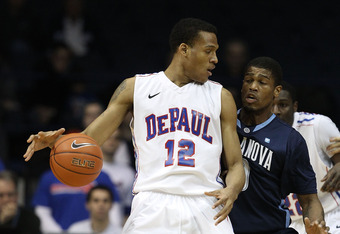 Jonathan Daniel/Getty Images
Lastly, the Blue Demons have a pair of holdovers from the Wainwright era in seniors Jeremiah Kelly and Krys Faber who have carved out a niche on the team.
Kelly is third on the team in scoring (10.6 PPG) while leading the team in three-pointers made (27). Faber, meanwhile, isn't a threat to score (5.9 PPG) but does lead the team in rebounding (6.6 RPG).
While DePaul likely won't be on the radar for any NCAA tournament consideration, it will be no gimmie game for opposing Big East teams.
The Blue Demons love to get up and down the court and thrive in creating offense of turnovers with their full-court press. With a year under their belt, the team is used to the chaotic pace that Purnell loves to play.
Many teams in the Big East will be caught napping when playing DePaul, as it is trying to make a statement this year. DePaul may not be great, but it is not bad.
With that said, DePaul will have a real challenge ahead of it with the start of Big East play. It begins on Sunday, January 1 when it hosts the No. 1-ranked Syracuse Orange.
While not many DePaul fans are not expecting a win on Sunday, they want to have the comfort in knowing that this year's DePaul's team will be no pushover.
The road back to respectability for DePaul starts with the new year, and there is enough mojo going on in Chicago that this is the year it happens.
Follow me on Twitter @Stacdemon