Peyton Manning Rumors: Latest on the Tennessee Titans, Denver Broncos and More
March 8, 2012

Joey Foley/Getty Images
The Indianapolis Colts and Peyton Manning gracefully parted ways weeks ago. The dust has finally settled and the Denver Broncos have landed one of the greatest players ever on the open market. 
Update: Monday, March 20 at 1:55 p.m. EDT by Alex Kay
Mike Klis of The Denver Post is reporting that No. 18 will be unretired by the Broncos so that Manning can rock it.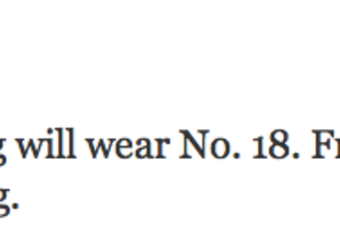 Update: Monday, March 20 at 12:10 p.m. EDT by Alex Kay
Andrew Brandt of National Football Post has some specific numbers concerning Manning's per-year salary in his new contract.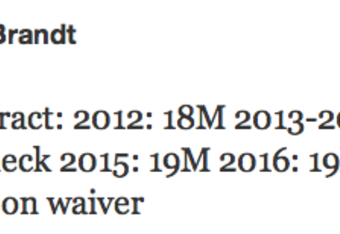 He'll make $18M guaranteed for the upcoming season and then $20M guaranteed for the next two if he passes a physical prior to the 2013 kickoff. 
Update: Monday, March 20 at 11:10 a.m. EDT by Alex Kay
ESPN's Adam Schefter just reported the figures for Peyton Manning's contract.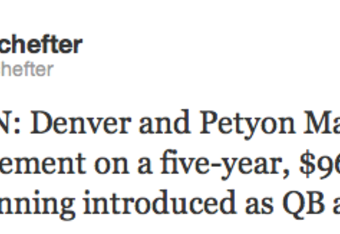 The Broncos are expected to officially announce this deal during their introductory press conference at 3 p.m. EDT.
Update: Monday, March 20 at 9:15 a.m. EDT by Alex Kay
ESPN's Adam Schefter once again has the latest, breaking Peyton Manning news and it's great for Broncos fans.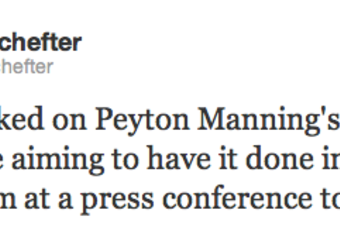 According to Schefty, Denver is planning to introduce their new signal caller at a press conference today after they put the finishing touches on his contract.
This will finally end the nearly two-week long drama about where the future Hall of Fame QB will sign, for how much money and the parameters of the contract.
Keep it tuned here for the latest news and updates on the contract when they become available. 
UPDATE: Monday, March 19th at 12:45 p.m. EDT
Peyton Manning is reportedly heading to the Denver Broncos, according to ESPN's Adam Schefter. That won't be the only big move by John Elway as Schefter also reports that the Broncos are expected to trade away Tim Tebow once Manning signs.
More filed to ESPN: And now that Peyton Manning has directed his agent to get deal done with Denver, Broncos will try to trade Tim Tebow.

— Adam Schefter (@AdamSchefter) March 19, 2012
UPDATE: Sunday, March 18th at 10:10 p.m. EDT
And then there were three.
According to Mike Klis of The Denver Post, Peyton Manning's list of potential employers is down to the Denver Broncos, the San Francisco 49ers and the Tennessee Titans, all of whom reportedly sit on equal footing in Manning's mind. 
The Broncos have been in the running from the start and were the first team to meet with Manning following his parting ways with the Indianapolis Colts, though the Niners and the Titans have come on strong of late. In San Fran, Manning would have the opportunity to play for a team that finished within sniffing distance of Super Bowl XLVI under Jim Harbaugh, who was the starting quarterback in Indy before Manning came on the scene.
The Titans, meanwhile, would grant Peyton the chance to return to the Volunteer State, where he established himself as a star under Philip Fulmer at UT.
Stay tuned to see which way Manning's sore neck turns next.
UPDATE: Sunday, March 18, 1:10 p.m. ET by Donald Wood
After a weekend full of speculation about where Peyton Manning will hang his head in 2012, the latest rumor has the Tennessee Titans holding the inside lane over any of the other teams in the hunt.
Outkick the Coverage writer Clay Travis is reporting on Twitter:
Source close to Manning says Titans have weathered 49er storm and to expect presser by Tuesday at latest.

— Clay Travis (@ClayTravisBGID) March 18, 2012
The Tennessee Titans are not in as good of a position to win right now as the San Francisco 49ers, but it looks like there may be more upside to the Titans QB spot for Manning than in SF.
Whenever Manning puts pen to paper and for whatever team it is with, expect a plethora of additional signings to follow close behind as teams start aiming for other players.
UPDATE: Sunday, March 18 at 10:00 a.m. ET by Nicholas Goss
According to ESPN's Chris Mortensen (Via Adam Schefter), Manning hasn't told any of the teams interested in him when he will make a final decision.
ESPN's Chris Mortensen reports that Manning still has not informed any of the three teams when to expect a decision, according to sources.

— Adam Schefter (@AdamSchefter) March 18, 2012
This news comes as no surprise. Manning must carefully decide where he wants to play because the team he chooses will likely be the final one he plays for. A decision this important must be well though out and not made too quickly.
UPDATE: Saturday, March 17, 2:50 p.m. ET by Donald Wood
The Tennessee Titans have confirmed their workout with the star QB and are making it very clear that they will exhaust all resources to get Manning on their team.
The official Tennessee Titans Twitter page is reporting about the statement issued by the team:
#Titans GM Ruston Webster: "This morning we traveled to Knoxville and had a workout with Peyton. I thought he looked comfortable...

— Tennessee Titans (@tennesseetitans) March 17, 2012
"... throwing the ball and we had a good visit. This is another important step in the process." #Titans

— Tennessee Titans (@tennesseetitans) March 17, 2012
While the Titans GM Ruston Webster can play cool all he wants, this tweet screams that the team wants the megastar and will do whatever necessary to make it happen.
UPDATE: Saturday, March 17, 1:55 p.m. ET by Donald Wood
While the San Francisco 49ers, Tennessee Titans, Denver Broncos and other teams sell themselves to the future Hall of Fame QB, Manning's friend and offensive coordinator at the University of Tennessee David Cutcliffe says the former Colt is almost ready for game action.
The AP is reporting about how close to game shape Manning really is:
Duke football coach David Cutcliffe says Peyton Manning is throwing at ''game pace'' and the Tennessee Titans could be next to see for themselves. After spending eight hours meeting with Tennessee executives on Wednesday, Manning is expected to work out for the Titans — possibly as early as Saturday.
Teams are working the star out individually and it hasn't turned many teams away. That means teams are at least hopeful about what they see and in the case of the 49ers and Titans, they are getting ready to make blockbuster offers.
Update: Saturday, March 7th at 1:03 a.m. ET
Manning may be waiting until Monday or Tuesday until he makes his decision, but that doesn't mean he's different meeting with teams.

Peyton Manning passed his physical when he visited #Titans on Wednesday. He will workout for TEN Saturday at 10:45a. Don't know where.

— Jonathan Hutton (@hutton1045) March 17, 2012
According to Jonathan Hutton of 104.5 the Zone, Manning will reportedly workout for the Tennessee Titans on Saturday. Manning passed his physical the Titans gave him on Wednesday.

Update: Friday, March 16 at 10:43 p.m. ET
We'll have to wait a bit longer to see which team Manning will bless with his services. According to NFL Network's Albert Breer, Manning will wait until Monday or Tuesday to inform a team that he will be signing with them.

Per league sources, Peyton Manning has informed clubs that he plans on making a final decision on his future on Monday or Tuesday. ...

— Albert Breer (@AlbertBreer) March 17, 2012
Update: Friday, March 16 at 4:24 p.m. ET by Michael Dixon
The Broncos worked out with Peyton Manning today and according to Executive Vice President of Football Operations John Elway, the workout went well. 
We enjoyed visiting with Peyton today in N.C. He threw the ball great and looked very comfortable out there.

— John Elway (@johnelway) March 16, 2012
No real surprises there. It's hard to imagine Manning having a workout for an NFL team if he was not going to be comfortable. 
Update: Friday, March 16 at 2:30 p.m. ET by Tim Daniels
An earlier update about sleeper teams appears to have some merit. Adam Schefter of ESPN is reporting Manning has already spent time with the 49ers:
From @mortreport and me: Even before he worked out for Broncos, Peyton Manning worked out for 49ers and underwent a physical this week.

— Adam Schefter (@AdamSchefter) March 16, 2012
Manning is clearly keeping his options open. Once he gets through all these work outs, his landing spot will probably become a little bit more clear. At least for now, however, the situation is more chaotic than ever.
The 49ers made great strides last season with Alex Smith last season, but Manning with that defense supporting him would make them a true threat in the NFC. It will be interesting to see how big of a contender they actually are to land him.
Update: Friday, March 16 at 1:55 p.m. ET by Tim Daniels
The Denver Post's Mike Klis provides an early glimpse at the type of contract Manning will be seeking when he finally decides on a team:
An NFL source said Manning and his camp have narrowed their choices to the Broncos and Tennessee Titans. The parameters of the deal, according to the source, that both teams are working off: $60 million total, give or take, and a $30 million guarantee, give or take, spread over five years.
That's a big commitment to a quarterback coming off major neck surgery. Manning still isn't back to 100 percent yet, which makes the risk even greater, but neither team would still be involved unless they were desperate to land him.
As the Buffalo Bills illustrated with Mario Williams yesterday, sometimes teams need to take a leap of faith to fill a massive void.
Both the Broncos and Titans would receive a huge playoff boost with Manning under center instead of their current options, so the numbers aren't going to scare them away.
Update: Friday, March 16 at 12:05 p.m. ET by Tim Daniels
Hold the presses! Just when it seemed like Denver and Tennessee were the two finalists to land Manning, Mike Freeman of CBS Sports reports there are two sleeper teams that could still get make a late charge to land him.
Here's the twist. A source stated that there are at least two teams ready to jump into the fray and the Manning camp has spoken to them.

To repeat: there may indeed be other teams who could sneak into the fray at the last minute and throw this entire process for a loop.

How much of this is Manning camp posturing is unclear. I also don't know which teams are circling but I do believe this to be true.
Wow. Sports fans shouldn't be surprised I guess because every time there is a major free agent, whether it be in the NFL, MLB or another league, these "sleepers" tend to emerge late in the process to send it into chaos.
Freeman did go on to say he believes the Broncos still lead the race to land Manning. That could all change of course if these mystery teams get involved. Things are really starting to heat up, so keep checking back for the latest.
Update: Friday, March 16 at 11:55 a.m. ET by Tim Daniels
On the heels of a report about Manning throwing for the Broncos today, Michael Lombardi of the NFL Network is reporting the quarterback will do the same for Tennessee.
Manning will throw for the Titans as well, no date has been set for that workout

— Michael Lombardi (@michaelombardi) March 16, 2012
Unless another quasi tryout is scheduled soon, it appears the Broncos and Titans have indeed separated themselves from the pack in the Manning sweepstakes. This is just another step in the process before a deal is signed.
Manning would really have to bomb for either team to even consider withdrawing its interest. There are still nearly six months until the regular season begins, so both teams will simply be looking to make sure there aren't any major issues.
Update: Friday, March 16 at 11:10 a.m. ET by Tim Daniels
ESPN's Adam Schefter is reporting that Manning will work out for the Broncos on Friday, but the NFL insider said it doesn't mean as much as you might think:
ESPN has learned Peyton Manning is working out for the Broncos today, but he does not make them the leader.

— Adam Schefter (@AdamSchefter) March 16, 2012
Despite Schefer's warning, it's positive news for the Broncos. Manning has been secretive with his throwing sessions since the injury, so if he's willing to show off how far he's come to Denver's brass, you have to read that as a step in the right direction.
We should learn a lot more following the meeting. As of right now it is looking like a two-team race between the Broncos and Titans.
Update: Friday, March 16 at 10:05 a.m. ET by Tim Daniels
Now it appears to be official, Manning will not sign with the Dolphins. Jeff Darlington of NFL.com reports Manning called the team on Thursday to alert them about his decision:
Quarterback Peyton Manning phoned the Dolphins personally on Thursday to tell them they have been removed from the running as potential suitors for his services, multiple sources said Friday. While it has been widely believed over the last 24 hours that Manning would not sign with the Dolphins, neither side had formally removed themselves from the mix. That has now occurred.
Not a major surprise as the Dolphins were struggling to make a connection with Manning. If anything, it's good for the franchise to hear back from him so they can redirect their full attention elsewhere. Perhaps free agent quarterback Matt Flynn.
As the field for Manning's services continues to get narrowed down, a decision can't be too far away. Keep checking back for the latest information.
Update: Friday, March 16 at 9:45 a.m. ET by Tim Daniels
Ben Volin of the Palm Beach Post reports the Miami Dolphins needed Dan Marino to get involved just to land a first meeting with Manning.
With the clock ticking, the Dolphins asked Marino – their legendary former quarterback and a golfing partner of Manning's – to call him personally over the weekend to persuade him to meet with the team. Marino did, and was able to secure a five-hour meeting between Manning and the Dolphins on Monday.
This is obviously a terrible sign for Miami's chances. If Manning had to be coerced just to meet with the team, he couldn't have been overly enthusiastic about joining the team. Unless the team's pitch was extraordinary, the Dolphins remain a long shot to land him.
Trading Brandon Marshall, the team's top receiver, won't help their cause. Manning is looking for the place which gives him the best opportunity to succeed, and trading away his would-be top target was a risky move. It would be surprising if he chose Miami unless something changes quickly.
Update: Thursday, March 15 at 12:20 p.m. EDT by Alex Kay
According to an NFL.com report, one AFC West quarterback wants Peyton Manning to join the Denver Broncos.
"I have to admit, and maybe people think I'm crazy, but I really hope it's Denver," Philip Rivers told during a Wednesday radio interview on XEPRS-AM.

"It would immediately make it that much tougher to win the West. Gosh, to play him twice a year, the AFC West would become a division that's not lost in the shuffle," Rivers said. "I'm kind of hoping that's the case It's always fun to play a Peyton-led football team."
The San Diego Chargers' signal caller is right – he's absolutely crazy for wishing this upon his team.
San Diego has not made the postseason or won the division since 2009. They most likely won't be able to do the latter for the foreseeable future if the former Colts QB and future Hall of Famer decides to head to the Mile High City.
Rivers should be praying that Manning joins the Tennessee Titans, Arizona Cardinals, Miami Dolphins or any other team that is not in his division and hopefully not even in his conference.
He'll be regretting this interview if Peyton joins the Broncos and romps his team twice a season for the next few years. 
Update: Thursday, March 15 at 11:40 a.m. EDT by Alex Kay
Tennessee is making a strong push for Peyton Manning and apparently owner Bud Adams is attempting to make the former Colts QB a "Titan for life".
According to Ryan Wilson of CBSSports, the Titans' owner has extended a blank check to Peyton and also talk of a front office position after his playing days are over.
If Peyton is interested in the position, it's certainly something the Titans have a leg up on over the Broncos with, as Wilson noted John Elway is currently in that position in Denver.
This Godfather offer may just be one Manning cannot refuse. 
Update: Thursday, March 15 at 11:10 a.m. EDT by Alex Kay
ESPN NFL Insider Adam Schefter appeared on Thursday morning's edition of SportsCenter and dropped a huge bomb on fans of the Miami Dolphins and Arizona Cardinals. 
According to Rotoworld, Schefter said it "does look like" the Broncos and Titans are the two finalists for free agent Peyton Manning. 
Manning recently visited both of those teams and became pals with John Elway in Denver and was impressed by Bud Adams offer to make him a "Titan for life". 
These teams both have strong offensive lines, decent defenses and are on the cusp of competing with an elite QB. 
It's no wonder Manning has most likely narrowed it down to these two choices.
Update: Wednesday, March 14 at 10:40 p.m. ET
Tennessee's Fox affiliate reported the news that after a long day of meetings, Manning's day talking with the Titans had concluded.
After meeting with Titan officials for more than 6 hours, Peyton Manning is leaving Baptist Sports Park.

— WZTV FOX 17 (@wztv_fox17) March 15, 2012
Tennessee sports radio personality Jonathan Hutton lets us all know that these talks are expected to resume tomorrow.
Hearing Manning returning to NC tonight, will resume talks tmrw morning.#titans will not issue statement tonight.

— Jonathan Hutton (@hutton1045) March 15, 2012
Any Titans fans hoping to acquire a four-time MVP must be giddy right now.  
UPDATE: Wednesday, March 14 at 6:10 p.m. ET by Zachary D. Rymer
Clay Travis, a writer for Outkick the Coverage, reports that the Titans have emerged as the frontrunner in the Manning sweepstakes:
Just got off phone with close Manning source who says he thinks Titans are leader and could sign him in next 24 hours.

— Clay Travis (@ClayTravisBGID) March 14, 2012
If this is true, this should not come as such a huge surprise. Manning played his college ball at Tennessee, and is still very well-loved in the state. More importantly, the Titans are fresh off a winning season and they have some good pieces in place on the offensive side of the ball.
The Titans should no longer be considered a dark-horse team in the Manning sweepstakes. They're clearly serious about signing him, and it sounds like he liked what he saw during his visit with the team.
UPDATE: Wednesday, March 14, 1:48 p.m. ET by Donald Wood
Manning is making his tour around the NFL, stopping this time in Tennessee to give the Titans a chance to sell him on their plan. While the Titans aren't a popular pick for the star QB, his history as Tennessee Volunteer and a good, young team may have him considering the move.
ESPN NFL insider Adam Schefter is reporting about Manning's visit to Tennessee:
George Smith is reporting Titans are picking up Peyton Manning and bringing him back to Tennessee's training facility for meeting.

— Adam Schefter (@AdamSchefter) March 14, 2012
The Titans have emerged as quite the surprise team in this mix, but their dedication to making this work could have Manning seeing the brighter side of his former college home. Watch out for Manning in the AFC South again.
UPDATE: Tuesday, March 13 at 12:58 p.m. EST
You can cross off the Houston Texans from the list of teams that are pining over Peyton Manning for the moment. 
ESPN's Adam Schefter reports via tweet the Texans are not in the sweepstakes that is currently taking over the NFL.
Despite speculation that Houston still could make a run at Peyton Manning, the Texans have no plans to pursue the free-agent QB.

— Adam Schefter (@AdamSchefter) March 13, 2012
UPDATE: Tuesday, March 13 at 9:04 a.m. EST
While the Miami Dolphins finally got the meeting they desired with Peyton Manning, it does not appear as if they are going to be on his shortlist of teams to play for. 
According to Adam Schefter, who spoke on ESPN radio's Mike and Mike In the Morning, the Dolphins don't appear to be an option.
From Ben Volin of the Palm Beach Post: 
Schefter says of #Dolphins on @MikeAndMike, "I don't see them as a viable contender" despite 6-hour meeting yesterday

— Ben Volin (@BenVolinPBP) March 13, 2012
With free agency set to begin in just a few hours, it would appear the Dolphins have to focus their energy elsewhere if they want to upgrade the quarterback position. 
Manning wants to win now, and the Dolphins are not just a quarterback away from competing for a championship. 
UPDATE: Tuesday, March. 13, 8:30 a.m. ET by Donald Wood
While ESPN was reporting that the final two teams in the Peyton Manning sweepstakes were Arizona and Denver, two more teams have appeared on the radar: Miami and Tennessee.
Miami may be a good fit for the veteran QB, but Tennessee has become the dark horse in this race. Add in Steve Hutchinson on that offensive line and they may become a favorite.
ESPN NFL insiders Adam Schefter and Chris Mortensen are reporting on the extra moves Tennessee may make to ensure Manning's comfort level in the pocket:
As Tennessee Titans plots its push for free agent quarterback Peyton Manning, the Titans plan to host a visit for former Minnesota Vikings Pro Bowl guard Steve Hutchinson, league sources told ESPN NFL Insider Adam Schefter and ESPN senior NFL analyst Chris Mortensen on Tuesday. One goal of signing Hutchinson would be to make Tennessee even more appealing to Manning, who is close to the guard from the time they've spent together at multiple Pro Bowls in Hawaii.
While some may question how much the future Hall of Fame guard has left in the tank, note that he played fine last season with the Minnesota Vikings and could be the protection Manning so desperately needs. Wise move by the Titans.
Update: Monday, March 12 at 5:45 p.m. EST
According to Mike Klis of The Denver Post, the Broncos had preliminary contract discussions with Manning's agent on Monday.
Don't freak out just yet, Broncos fans. Manning has yet to decide where he will finish his NFL career, so it's not like the Broncos are nearing a deal with him. All they're doing, it seems, is getting a feel for what it will take to sign Manning if and when the time comes to get something done.
The simple reality of the situation is that the Broncos are just one of six teams in the mix for Manning, and the group now includes the Houston Texans. Klis' sources tell him that the Texans "recently inquired" about Manning, as many expected they would.
Nevertheless, the Broncos should still be considered a serious player in the Manning sweepstakes. They've met with him, and it's only becoming clearer that they seriously want him.
Update: Monday, March 12 at 3:50 p.m.
Earlier today, it was reported that the Tennessee Titans were next on Manning's checklist. We can now add another team to that mix. 
ESPN's Chris Mortensen is reporting that the Joe Philbin of the Miami Dolphins will also get a visit from Manning in the next few days. 
His meeting with Philbin, the Dolphins' new coach, likely will be Monday night or Tuesday morning. His meeting with Munchak is expected to take place no later than Wednesday.

Philbin will be accompanied Dolphins offensive coordinator Mike Sherman and perhaps other staff members, including general manager Jeff Ireland. Sherman was once part of the Texas A&M coaching staff as an assistant that recruited Manning out of Newman High in New Orleans.
The Dolphins have long been talked about as the place where Manning would end up, because of their need at quarterback, willingness to spend money and the fact he lives in the area. 
It has taken longer than expected for the team to actually get a face-to-face meeting with him, but they will undoubtedly put their best foot forward. 
Update: Monday, March 12 at 2:15 p.m. 
Manning made his name while playing in college at Tennessee, so it would make sense that the Titans at least kick the tires on the quarterback. 
According to Michael Lombardi of the NFL Network, the team is preparing to host Manning on the next stop of his cross-country tour of America. 
NFL sources tell me that the Titans are preparing for a Peyton Manning visit in the next day or two...

— Michael Lombardi (@michaelombardi) March 12, 2012
That could swing the balance of power in the AFC South. The Houston Texans are clearly the best team right now, but the Titans were able to hang in the race last season with Matt Hasselbeck. 
If they were able to sign Manning, make sure Chris Johnson runs hard all season and get Kenny Britt back healthy, that offense would suddenly look a whole lot better on paper. 
Update: Sunday, March 11th at 8:35 p.m.
We don't who it is that will eventually land Manning, but we know who it is not.

According to Mike Klis of the Denver Post,
"The Kansas City Chiefs and Seattle Seahawks are out. Each team tried to get Manning to visit. He declined."
Update: Sunday, March 11th at 6:50 p.m.
According to ESPN's Pedro Gomez, Manning has left the building in the passenger's seat of Ken Whisenhunt's SUV.  
6hours, 30 minutes. Peyton has left the building in the passenger's seat of Ken Whisenhunt's SUV.

— Pedro Gomez (@pedrogomezESPN) March 11, 2012
Are we reading too much into this? Probably. There is no indication as to whether this is a development or just a courtesy move by Whisenhunt.

Update: Sunday, March 11th at 6:06 p.m.
The Tennessee Titans badly want Peyton Manning. According to The Tennessean, Titans owner Bud Adams wants to sign the legendary QB.
"He is the man I want. Period," Adams said. "And the people that work for me understand that. They know who I want. I want Mr. Manning with the Titans and I will be disappointed if it doesn't happen."
Update: Sunday, March 11th at 5:20 p.m. EST
The Broncos may not have Manning inked to a deal, but it's got to be encouraging to them that the QB is apparently narrowing his list, and they remain in the mix.

According to ESPN's Chris Mortensen and Adam Schefter: "The Denver Broncos and Arizona Cardinals, the first two teams Manning visited, are considered his two likeliest landing spots, according to sources familiar with the situation."
Update: Saturday, March 10 at 7:00 a.m. EDT
Manning's meeting with the Denver Broncos was apparently something befitting a rock star. Judy Battista of the New York Times reported that the star quarterback flew with John Elway and John Fox in Pat Bowlen's private jet on Friday night to be wooed by the Broncos. 
A report on NFL.com says Elway and the Broncos are "serious in their interest in Manning." It makes sense, especially considering the lack of faith they have shown in Tim Tebow and the wide-open nature of the AFC West. 
Meanwhile, the New York Jets were taken out of the Manning sweepstakes early and decided to show how much they believe in Mark Sanchez by signing him to a contract extension late Friday night, according to the team's official Twitter page.  
#RL Jets GM Mike Tannenbaum on conference call tonight: QB Mark Sanchez has signed contract extension with the Jets. No terms disclosed.

— New York Jets (@nyjets) March 10, 2012
That should get the masses excited on Broadway. 
Update: Friday, March 9 at 2:45 p.m. EDT 
You South Beach hopefuls can welcome back some momentum in the Peyton Manning sweepstakes. Miami Herald columnist Armando Salguero has this tweet for us.
I've been told Manning's decision is basically Arizona or Miami. Denver's John Elway would have to fashion a DRIVE type rally to get him.

— Armando Salguero (@ArmandoSalguero) March 9, 2012
There is also this ESPN report that issues Manning's visit with the Broncos does not mean they are necessarily the front runners. 
The report maintains Manning will not discuss contracts with the Broncs, nor will he work out. While Salguero is a Miami columnist, you have to believe the Dolphins are still in the race. 
Update: Friday, March 9 at 1:30 p.m. EDT by Adam Wells
While the Miami Dolphins would love to throw a lot of money at Manning to bring him to South Beach, it doesn't sound like he is being swayed there. 
Evan Silva of Pro Football Talk says that Adam Schefter sees their chances as dwindling. 
Schefter on #Dolphins & Manning: "I think their chances are dwindling some." Cites same "circumstances" that drove away Harbaugh, Fisher.

— Evan Silva (@evansilva) March 9, 2012
The Dolphins are so desperate for a quarterback that you would think they would be hot on his trail, but maybe there is more to the story than we are being told. 
Despite that report, the Dolphins will meet with Manning before he makes any final decision. According to Armando Salguero of the Miami Herald, the team will be one of the "three or four teams he'll talk to before he decides where he will continue his apparent Hall of Fame career."
On the opposite end of the spectrum, the Denver Broncos will get their chance to woo Manning. According to a report in the Denver Post, the star quarterback will be visiting with the team on Friday night.
Peyton Manning will be in Denver tonight visiting with the Broncos, according to two NFL sources.

This is getting serious, folks.
The Broncos would seem to be a better fit, simply because they are in a weaker division and have good talent to surround Manning on offense. 
Manning is going to be extremely busy this weekend, as he aims to make a decision when free agency starts on Tuesday. 
Update: Friday, March 9 at 12:45 p.m. EDT by Adam Wells
In an interesting development, it turns out that the Kansas City Chiefs are going hard after Manning, at least according to a report from local radio show The Brandon Spano Show.
BREAKING: Source says that the Chiefs were the ONLY team to offer a completed contract to Peyton Manning today. Says they are most prepared

— Brandon Spano Show (@BrandonSpano) March 9, 2012
Manning would be a great addition to the Chiefs, who already have Jamaal Charles and Dwayne Bowe leading the offense. 
Matt Cassel is just one year removed from being a Pro Bowl quarterback, but there are questions about how far he can carry a team. He really struggled at the outset of last year before suffering a season-ending hand injury.
Update: Thursday, March 8 at 2:54 p.m. ET by Eric Bowman
The Minnesota Vikings are the latest team to step aside from the Manning rumor mill, letting everyone know they won't be in pursuit of Manning, according to TwinCities.com.
The Vikings will not enter the Peyton Manning sweepstakes, according to a person with direct knowledge of the situation, opting to move forward with Christian Ponder and backup Joe Webb.
This is the right call for Minnesota. They drafted Ponder to be the future of the team, and they have to let him play in order to get better.
Sure, there are going to be some rough times here and there, but Ponder will only continue to grow and learn more, which will help him down the road.  
Update: Thursday, March 8 at 2:21 p.m. ET by Eric Bowman 
According to rotoworld.com, ESPN 980 Washington's Chris Russell said today that he's hearing Manning doesn't want to play for the Redskins. 
"A couple of different sources inside the organization have told me that Manning's camp made it pretty clear to Redskins officials he doesn't want to come here," said Russell. "... Unless that changes -- and I'm taking my sources at their word -- I don't think Manning's coming to D.C."
This is probably the best thing for Washington anyway. The Redskins are much better off trading up in the 2012 NFL draft to get Robert Griffin III. 
Spending big money on Manning would set the future of this franchise back, which is why they need to avoid him and go for the Heisman Trophy winner. 
Update: Thursday, March 8 at 11:12 a.m. ET by Eric Bowman
As several teams strive for Manning's services, more and more information is coming out. Now we can cross off a team that we know needs an upgrade at QB. 
According to Mary Kay Cabot of the Cleveland Plain Dealer, the Browns are not in pursuit of Manning.
#Browns GM Tom Heckert said the Browns won't pursue Peyton Manning. "prob not a direction we're going to go.''

— Mary Kay Cabot (@MaryKayCabot) March 8, 2012
This is the right idea for the Browns, most likely because Manning probably wouldn't consider them anyway.
With the No. 4 pick in the draft, the Browns better trade up for Robert Griffin III before another team does, or try to sign Matt Flynn in free agency.
Then again, they may be happy with Colt McCoy and will use their draft picks to improve the offense around him.  
New York Jets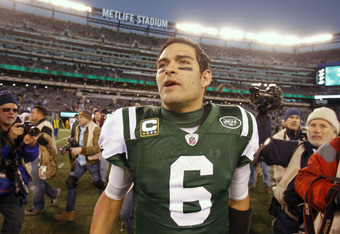 Rich Schultz/Getty Images
Rex Ryan can delude himself that Mark Sanchez is an elite quarterback. We can even continue that debate after Manning's career is truly over. 
What cannot be denied is the interest the Jets have in the Colts' castaway. As we will see from any team in the mix, Manning's health is of the utmost importance right now. That will be the first determining factor going forward. 
The New York Post cites a source close to the Jets who says the New York club is very much interested in Manning and will go at him hard. 
The source said the Jets need to see how healthy Manning is before deciding how aggressively they will pursue him. They are also wrestling with the idea of completely shaking up their franchise.
The report cites the Jets' history of making a big splash in the offseason, such as with Brett Favre in 2008. The report goes on to state what would come of Sanchez if Manning comes to the Jets. 
 

If the Jets make this move, it could spell the end of Mark Sanchez's time with the team. The 2009 first-round pick would be a very expensive backup.
Ryan is known for his Super Bowl promises that fall flat, but this move would certainly strike fear in the rest of the league. 
Denver Broncos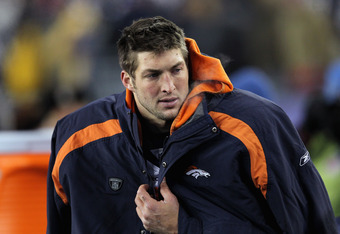 Jim Rogash/Getty Images
Wait, you didn't think Tim Tebow was going to be given the keys to the offense without question, did you?
Update: Thursday, March 8 at 9:25 a.m. ET by Eric Bowman
Adam Schefter was ESPN discussing Manning and his possible destinations, and he had an interesting comment regarding the Broncos' chances, via Bronco Talk Twitter page.
Adam Schefter talking Peyton Manning to the Broncos on ESPN right now: "It's more realistic than some people know."

— BroncoTalk (@BroncoTalk) March 8, 2012
It remains uncertain where Manning will land, but it appears the Broncos will be pushing hard to get him. It's doubtful Manning would want to be surrounded by the Tebowmania, but then again, Denver could always trade Tebow if it landed Manning. 
The latest scuttlebutt from The Denver Post's Mike Klis is that the Broncos have an interest in  Manning. 
The Broncos may be considered the longest of long shots to sign Manning, a surefire Hall of Fame quarterback who is expected to have at least six other teams pursue him despite his significant health risk. But the Broncos are expected to place a phone call to Manning's agent, Tom Condon, to gauge their chances, according to an NFL source close to the situation.
Don't get your Tebow's all in a huff. The Broncos apparently have a tepid interest in the former Colts QB, as Klis describes. 
There are reasons the Broncos might not go hard after Manning, too. His age, he turns 36 later this month, coupled with the fact he didn't play last year because of multiple neck surgeries makes him an enormous risk.
For now, the job is still Tebow's, and the Broncos are merely an underdog to land Manning—a big one, at that. 
Tennessee Titans 
Last year, the Titans drafted Jake Locker to the be the future and signed Matt Hasselbeck in hopes of winning while Locker learned the ropes. 
Now that Manning is available, all bets are off. 
Or are they? 
According to Terry McCormick of TitansInsider.com, the Titans aren't thinking about No. 18.
Being told by a source that #Titans have not inquired about Peyton Manning.

— Terry McCormick (@terrymc13) March 8, 2012
This is probably the best thing for the Titans to do. They need to focus on the future and letting Locker be their the main priority. Learning from Manning would help, but Locker needs to be out on the field. 
Miami Dolphins
The Miami Dolphins are apparently "very confident" in their chances to land Manning.
That makes it the first time in years the Dolphins were confident about anything. 
Barry Jackson of The Miami Herald reports the Dolphins will push hard to sign Manning and consider themselves something of the front-runners. 
The Dolphins' pursuit, which is already underway, will ratchet up in the next week as the most coveted-free agent in NFL history decides which teams to engage in serious discussions and which teams to work out for.

The Dolphins privately are 'very confident' they have a good chance to land Manning, according to a team source. They are expected to make a substantial offer presuming they're comfortable with his health and arm strength, which is not expected to be a deterrent because of his significant progress in recent weeks.
The Dolphins play in warm weather and are an AFC team—two things Manning is may apparently be fond of in his next team.
It also seems the Dolphins are the most confident in Manning retuning to form before next season. If i had to pick a winner in the bunch, it would have to be the Dolphins, for the time being.
Keep it here for the latest on Manning's future.