Philadelphia Eagles 2013 Schedule: Win-Loss Predictions for Every Game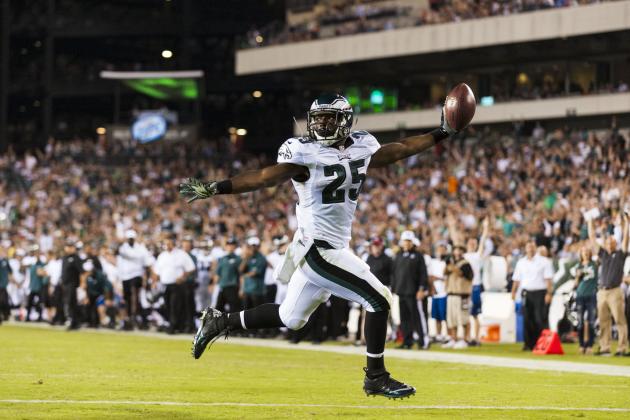 Howard Smith-USA TODAY Sports

The Philadelphia Eagles enter a new era of football under Chip Kelly in 2013, one that should feature a high-tempo offense under either Michael Vick or Nick Foles.
Kelly still hasn't announced his starting quarterback, but Vick appears to have the clear edge based on his ability to run and his performance thus far in the two preseason games.
New defensive coordinator Billy Davis is switching to a 3-4 scheme, although he will assuredly mix blends of a 4-3 and 3-4. This will be a difficult transition for a squad already coming off a 4-12 season, one in which the Eagles allowed a franchise-worst 33 passing touchdowns.
Expecting the Eagles to make the playoffs may be too much. A step in the right direction would be a better sign. That would mean seeing an offense that ranks near the top 10 in points scored and a defense that shows steady improvement as the season progresses.
The Eagles 2013 schedule:
Week 1: at Washington Redskins, Monday Night Football, 8:30 PM
Week 2: vs. San Diego Chargers, Sunday, 1 PM
Week 3: vs. Kansas City Chiefs, Thursday Night Football, 8:30 PM
Week 4: at Denver Broncos, Sunday, 4:25 PM
Week 5: at New York Giants, Sunday, 1 PM
Week 6: at Tampa Bay Buccaneers, Sunday, 1 PM
Week 7: vs. Dallas Cowboys, Sunday, 1 PM
Week 8: vs. New York Giants, Sunday, 1 PM
Week 9: at Oakland Raiders, Sunday, 4:05 PM
Week 10: at Green Bay Packers, Sunday, 1 PM
Week 11: vs. Washington Redskins, Sunday, 1 PM
Week 12: BYE
Week 13: vs. Arizona Cardinals, Sunday, 1 PM
Week 14: vs. Detroit Lions, Sunday, 1 PM
Week 15: at Minnesota Vikings, Sunday, 1 PM
Week 16: vs. Chicago Bears, Sunday, 1 PM
Week 17: at Dallas Cowboys, Sunday, 1 PM
Begin Slideshow

»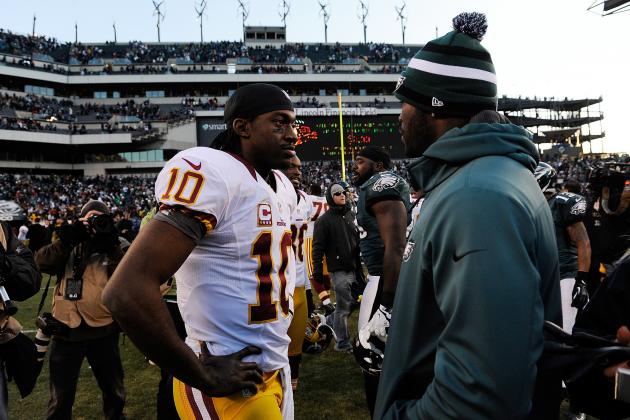 Patrick McDermott/Getty Images

The Philadelphia Eagles will have a tough task ahead of them in Chip Kelly's first game. The Birds travel to Washington to play the reigning NFC East champions on Monday Night Football, in a game that will be headlined in Robert Griffin III's return from a debilitating ACL injury.
RGIII hasn't played yet in the preseason, but he will assuredly play against the Eagles in a prime-time matchup. Griffin burst onto the scene as a rookie last year, throwing 20 touchdowns against just five interceptions while directing the Redskins to six consecutive wins down the stretch (Kirk Cousins also won a start for a seventh consecutive win).
Kelly's Eagles are switching to a 3-4 defense, and it will be a difficult task to stop Griffin and Alfred Morris for 60 minutes. Philadelphia will score its fair share of points, though. Assuming Michael Vick is the starting quarterback, the Redskins' 28th-ranked defense from a year ago will have to contain Vick, LeSean McCoy, and DeSean Jackson.
Prediction: Washington Redskins 28, Philadelphia Eagles 20 (Eagles 0-1)
Kevork Djansezian/Getty Images

Following a tough game to the Washington Redskins, the Philadelphia Eagles have an excellent opportunity to even their record as they host the San Diego Chargers.
Despite going a respectable 7-9 last season, the Chargers should be one of the NFL's worst teams.
Former Eagle King Dunlap was brought in to be Philip Rivers' blind side protector, and first-round draft pick D.J. Fluker (a notoriously poor pass-blocking tackle at Alabama) is manning the right side. Injuries have already set in, with the Chargers losing outside linebacker Melvin Ingram and wide receiver Danario Alexander to season-ending injuries.
Contending for the division, or at least putting up an early fight, means the Eagles should be able to win this game. That's what should happen here.
Prediction: Philadelphia Eagles 27, San Diego Chargers 16 (Eagles 1-1)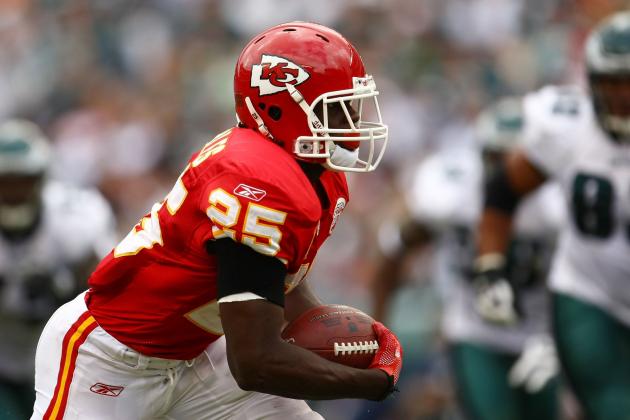 Chris McGrath/Getty Images

Week 3 is an intriguing Thursday Night Football matchup that sees Andy Reid returning to Philadelphia as the head coach of the Kansas City Chiefs.
Reid will bring with him quarterback Alex Smith, who was acquired via trade to improve an offense that rated dead last in the NFL with just 211 points scored in 2012. Smith is a conservative, caretaker quarterback, which makes him a puzzling fit for Reid's perennial pass-happy offense.
To win the game, the Eagles will need to shut down Pro Bowl running back Jamaal Charles, one of the more underappreciated players in the game. Last year, Charles rushed for 1,509 yards for a ridiculous 5.3 yards-per-carry average, doing so less than 12 months after a serious ACL injury. Charles is also a threat to catch the ball out of the backfield.
Prediction: Philadelphia Eagles 24, Kansas City Chiefs 21 (Eagles 2-1)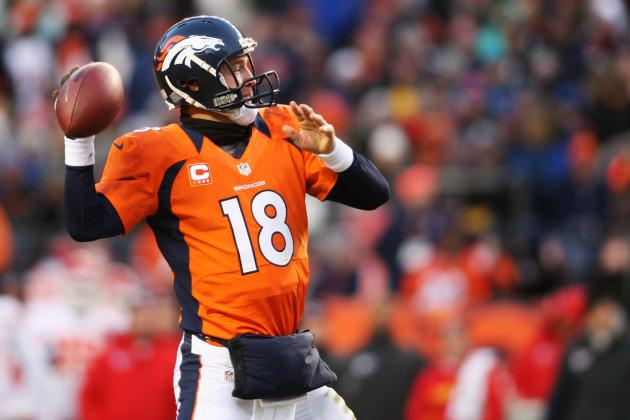 USA TODAY Sports

Winning this game will be one of the tougher tasks of the season for Chip Kelly and the Philadelphia Eagles.
In 2012, the Denver Broncos went 13-3, scoring nearly 500 points on the back of another spectacular season from ageless wonder Peyton Manning.
Fresh off a series of potentially career-ending neck surgeries, Manning threw 37 touchdowns to just 11 interceptions, completing 68.6 percent of his passes. He gets another weapon to go with Demaryius Thomas and Eric Decker, as the Broncos signed free-agent slot receiver Wes Welker, formerly of the New England Patriots. Factor in rookie running back Montee Ball, and there's reason to believe the Broncos are in line for a Super Bowl run.
Defensively, the Broncos will be a tough matchup for the Eagles. Von Miller may be suspended, depending on the results of his appeal. The team also lost pass-rushing specialist Elvis Dumervil to the Faxgate scandal. But the Broncos retained veteran cornerback Champ Bailey to a defense that rated first in the NFL last year in average net passing yards allowed per attempt.
Prediction: Denver Broncos 41, Philadelphia Eagles 24 (Eagles 2-2)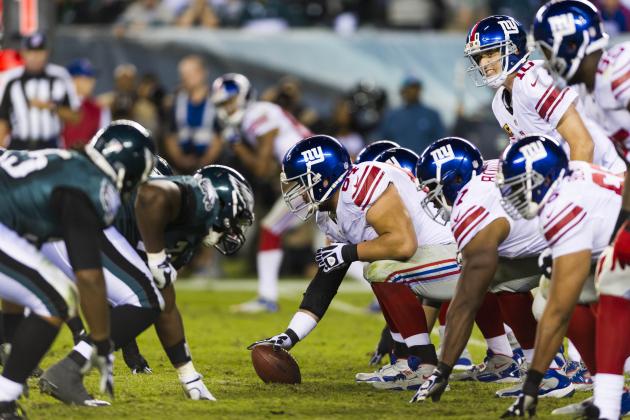 Howard Smith-USA TODAY Sports

Game two of a three-game road stretch puts the Philadelphia Eagles in New York to play the other Manning brother.
This will be a tough stretch for the defense, as Eli Manning has been one of the league's best quarterbacks over the past five seasons. Manning threw for 3,948 passing yards and 26 touchdowns last year, and he hasn't missed a game since taking over as the starter in 2004. He has a slew of weapons in Hakeem Nicks, Victor Cruz, and Rueben Randle, along with last year's first-round pick, running back David Wilson.
The Giants lost pass-rushing defensive end Osi Umenyiora to the Atlanta Falcons, but his best days were behind him. Jason Pierre-Paul is still one of the more difficult players to block, and he can take over a game with his skills. The Giants employed a classic bend-but-don't-break strategy on defense in 2012, finishing 31st in yards allowed but a solid 12th in points surrendered.
This game could be a shootout, with the team that turns the ball over the fewest times emerging as the winner.
Prediction: New York Giants 30, Philadelphia Eagles 24 (Eagles 2-3)
Al Messerschmidt/Getty Images

Last year, the Philadelphia Eagles' only win after Week 4 came against the Tampa Bay Buccaneers in a dramatic 23-21 come-from-behind victory.
Nick Foles was the quarterback in the game, throwing for 382 yards and two touchdowns despite the run defense stifling Bryce Brown for the whole contest. By this time next season, there's a good chance Foles could be starting again if Michael Vick loses the starting job due to injury or ineffectiveness.
The Buccaneers did league the NFL in fewest rushing yards allowed last season, but they will have their hands full if LeSean McCoy (injured last year) is healthy.
The Bucs' pass defense ranked dead last in passing yards allowed, but the team upgraded with the acquisition of All-Pro cornerback Darrelle Revis and the free-agent signing of former San Francisco 49ers safety Dashon Goldson. If Revis is healthy, the Buccaneers will be a contender for the NFC South division title in 2013.
Prediction: Tampa Bay Buccaneers 31, Philadelphia Eagles 23 (Eagles 2-4)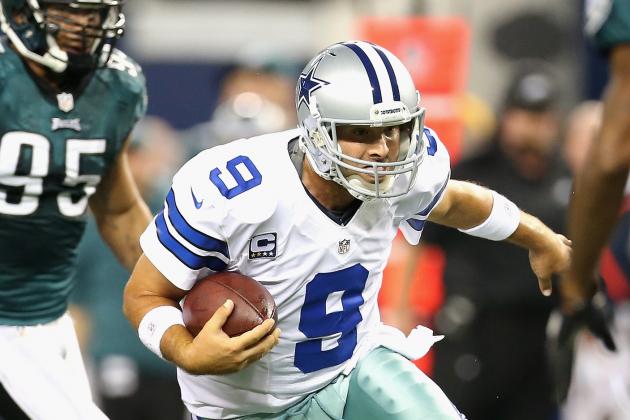 Ronald Martinez/Getty Images

With the Philadelphia Eagles at 2-4, this becomes a pivotal game to staying alive in the NFC playoff hunt. The Eagles play the Dallas Cowboys, a perennial disappointment but with a talented roster, nonetheless.
Tony Romo was signed to a lucrative extension that pays him $55 million in guaranteed money. While Romo hasn't produced the playoff success one might expect, he did pass for 4,903 yards and 28 touchdowns last season, completing 425 passes, the sixth-highest single-season total in NFL history. Then again, Romo threw a league-worst 19 interceptions and finished just 13th in the league in ESPN's QBR statistic.
Stopping wide receiver Dez Bryant will be the key to the game. Bryant is a physical specimen, one capable of shredding a defense that doesn't throw double-teams his way. The Eagles will also have to worry about All-Pro tight end Jason Witten, fresh off another 100-catch season.
Taking advantage of the Cowboys defense will be key. Dallas rated just 24th in scoring defense in 2012, and the switch to a 4-3 could slow down DeMarcus Ware and Anthony Spencer.
Prediction: Philadelphia Eagles 38, Dallas Cowboys 28 (Eagles 3-4)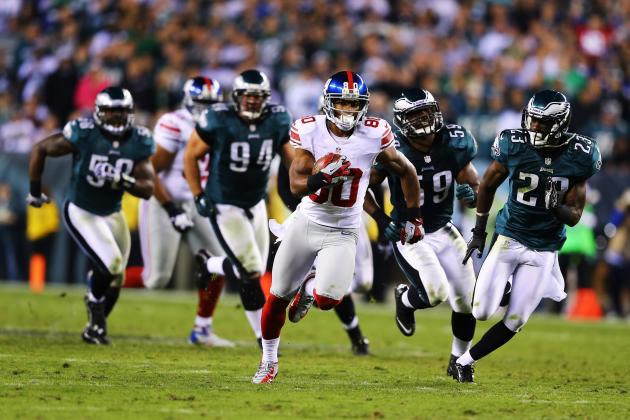 Al Bello/Getty Images

Playing the New York Giants twice in October will be a difficult task for Chip Kelly.
In Tom Coughlin's nine seasons in New York, his Giants have started at least 5-3 every year. They play their best ball in September and October, and it's likely the Philadelphia Eagles will be still struggling to learn the new 3-4 defense.
The passing attack of Eli Manning to Hakeem Nicks and Victor Cruz will be difficult to stop, but the deciding factor could be the effectiveness of David Wilson on the ground. Wilson played sparingly a year ago, losing carries after his Week 1 fumble against the Dallas Cowboys. He still finished with a 5.0 yards-per-carry average, and the Giants added first-round offensive lineman Justin Pugh to help bolster their running attack.
Under Michael Vick, the Eagles averaged 27 points per game against the Giants in 2010 and 2011. Last year, the team scored just 26 points combine in the two contests, finishing with an embarrassing 42-7 loss to New York in Week 17.
Prediction: New York Giants 20, Philadelphia Eagles 17 (Eagles 3-5)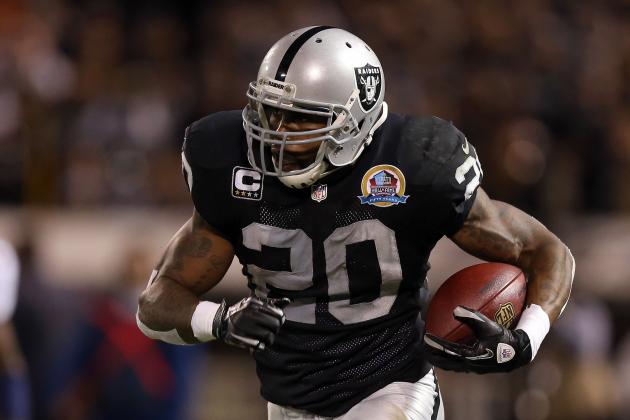 Ezra Shaw/Getty Images

This has to be a win for the Philadelphia Eagles.
The Oakland Raiders were just 4-12 a year ago, and they have far less talent on their roster now than they did a year ago. The quarterback situation features a camp battle between career backup Matt Flynn and rookie fourth-round pick Tyler Wilson, neither of whom would beat out Matt Barkley for the fourth spot on the Eagles.
Running back Darren McFadden has never played more than 13 games in a season due to injuries, and he's coming off a despicable 3.3 yards-per-carry average. Tight end Brandon Myers was allowed to leave for New York, and left tackle Jared Veldheer, arguably the team's finest player, has already torn his triceps. This puts Alex Barron in a starting role for the Raiders, which spells trouble for Oakland.
The Eagles should win every facet of this game, which would give the team a 4-5 record just past midseason.
Prediction: Philadelphia Eagles 27, Oakland Raiders 14 (Eagles 4-5)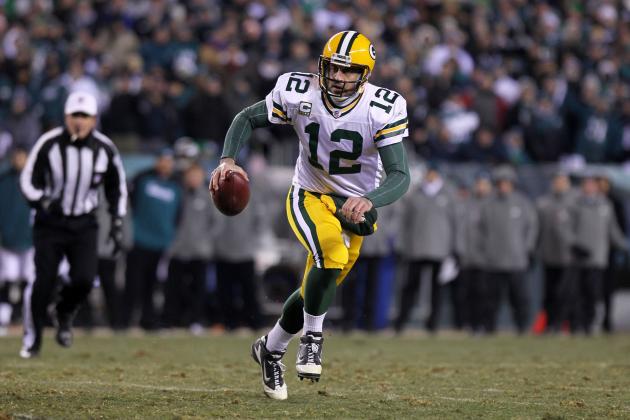 Nick Laham/Getty Images

It's a little scary to imagine what Aaron Rodgers will do to this Philadelphia Eagles' defense in 2013. The secondary is no match for Rodgers' talent, especially since he has a slew of weapons in Randall Cobb, Jordy Nelson, James Jones and Jermichael Finley.
The Green Bay Packers added running backs Eddie Lacy and Johnathan Franklin to their backfield, which could make their offense a top-three unit in the league. The defense is much improved from 2011, having gone from 31st in yards allowed to 11th.
The Packers were exposed last year in the NFC Divisional Round to the San Francisco 49ers, as Colin Kaepernick and the Niners racked up 323 rushing yards and four touchdowns in a 45-31 win. The Eagles' best bet is to rely on LeSean McCoy and Bryce Brown as much as possible in this one.
Prediction: Green Bay Packers 34, Philadelphia Eagles 19 (Eagles 4-6)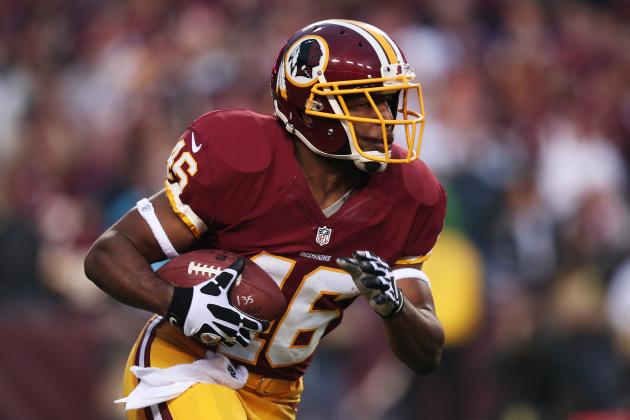 Win McNamee/Getty Images

The Philadelphia Eagles may get lucky and face a still-hobbled Robert Griffin III in Week 1. By Week 11, that won't be the case (barring a new injury).
RGIII threw six touchdowns to just one interception in his two starts against the Eagles a year ago, completing over 75 percent of his passes in the process. And that was as a rookie.
Now RGIII will face a secondary even worse than the '12 bunch that was torched repeatedly. He should have no trouble putting up points at will against the Eagles.
To get a win in this one, Philadelphia will have to win a shootout. Scoring 25-30 points is a must to come away victorious, and that may be asking too much.
Prediction: Washington Redskins 35, Philadelphia Eagles 28 (Eagles 4-7)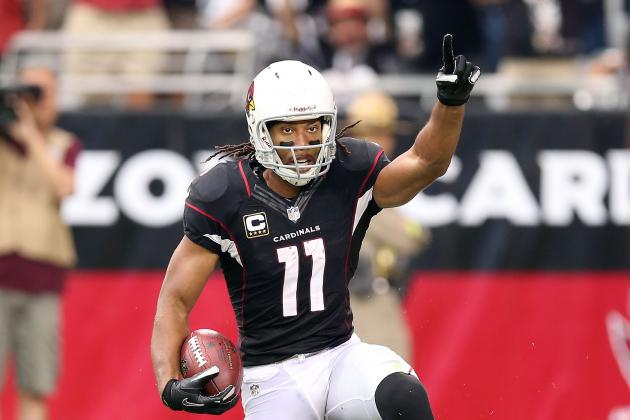 Christian Petersen/Getty Images

This is a very winnable game for the Philadelphia Eagles, especially coming off of a bye week.
The Arizona Cardinals overhauled some key components of their roster in the offseason, bringing in a new head coach (Bruce Arians) and a new quarterback (Carson Palmer).
Arizona's goal on offense will still be to get the ball to seven-time Pro Bowler Larry Fitzgerald as much as possible, although 2012 first-round pick Michael Floyd is another receiving threat. The offensive line is poor (despite the addition of rookie guard Jonathan Cooper), which means the Eagles need to put pressure on Palmer often.
Last year, the Eagles scored just six points in an awful Week 3 loss to the Cardinals, thanks largely to three lost fumbles. The key will be pounding the ball on the ground against last year's 28th-rated rushing defense, all the while not turning it over.
Prediction: Philadelphia Eagles 30, Arizona Cardinals 27 (Eagles 5-7)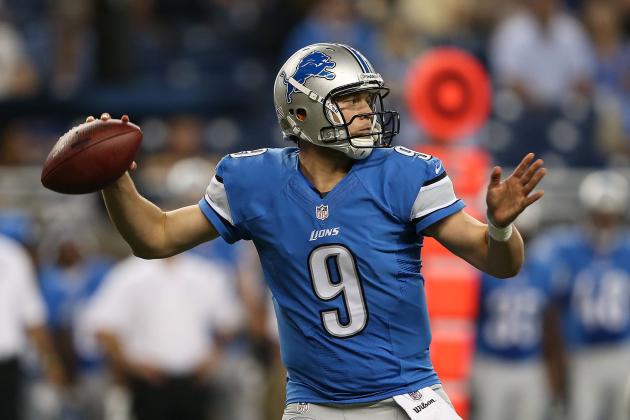 Leon Halip/Getty Images

Last year, the Philadelphia Eagles began the season 3-1 before losing 11 of their final 12 contests. The Detroit Lions began 4-4 before dropping their final eight games.
The two teams each finished 4-12, finishing 27th and 29th in scoring defense, respectively.
Both teams return offenses capable of putting up points in bunches. Matthew Stafford is coming off consecutive 5,000-yard seasons, and Calvin Johnson is the most unstoppable receiver in the game. He's going to face constant double and triple-teams, although Johnson has the size and speed to still get open and make plays.
The Detroit Lions upgraded their running back corps with Reggie Bush, a threat to total 80-90 receptions out of the backfield. This could be a tough one for defensive coordinator Billy Davis, which puts increased pressure on the offense.
Prediction: Detroit Lions 48, Philadelphia Eagles 34 (Eagles 5-8)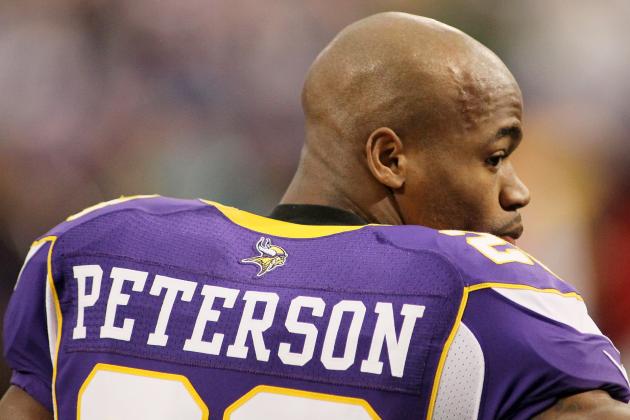 Andy King/Getty Images

Playing the Detroit Lions and Minnesota Vikings in back-to-back weeks means the Philadelphia Eagles have to stop first the best receiver and then the best running back in the NFL.
Adrian Peterson is a physical freak of nature, as he showed last year when he rushed for 2,097 yards just months removed from a serious knee injury. Peterson is capable of carrying the football 25-30 times per game, and he has a tremendous offensive line that can open up holes at the second level.
The quarterback situation is shaky, as Christian Ponder has struggled since being drafted in the first round in 2011. The team also lost playmaker Percy Harvin, although the offense replenished the wide receiver position with veteran Greg Jennings and rookie Cordarrelle Patterson.
On defense, the Vikings have a young and inexperienced secondary that finished 24th in passing yards in 2012. Exploiting this unit will be the key to success for Nick Foles or Michael Vick.
Prediction: Minnesota Vikings 28, Philadelphia Eagles 27 (Eagles 5-9)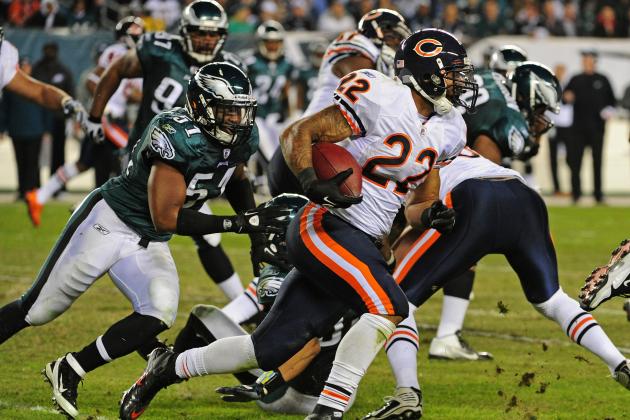 Scott Cunningham/Getty Images

The Chicago Bears could be a sleeper team in 2013. They started 7-1 a year ago, fueled by their high-powered defense that still finished third in points allowed even after a late-season collapse cost the Bears the playoffs.
New head coach Marc Trestman's offense should bring out the best in Jay Cutler, an immensely talented quarterback who has Brandon Marshall, Alshon Jeffery, and Matt Forte at his disposal. Cutler barely threw for an even 3,000 yards last year, but the team also ranked just 29th in passing attempts. An improved Jeffery and the addition of tight end Martellus Bennett should greatly improve Cutler.
The Bears have a tough defense fit for stopping LeSean McCoy and DeSean Jackson. Charles Tillman is one of the league's best corners, and Henry Melton, Julius Peppers and Lance Briggs fuel a defense that could again finish in the top three in points allowed.
Prediction: Philadelphia Eagles 17, Chicago Bears 12 (Eagles 6-9)
Tom Pennington/Getty Images

It seems to be an annual ritual anymore that the Philadelphia Eagles play the Dallas Cowboys in Week 17. This game won't likely be for the NFC East title, as it's doubtful Chip Kelly can have his Birds still in the hunt this late in the season.
For Dallas, though, they could be right on the bubble for a playoff spot.
By this point, DeMarcus Ware and Anthony Spencer should be much more comfortable in their roles as down linemen in the new 4-3 defense. Morris Claiborne is a talented corner who could really blossom in his second NFL season.
In this prediction, the Eagles fall behind early, finishing just 6-10 in Kelly's first year as head coach.
Prediction: Dallas Cowboys 34, Philadelphia Eagles 23 (Eagles 6-10)