6 Reasons Why Velvet Sky Should Be IMPACT Wrestling's Knockouts Champion Again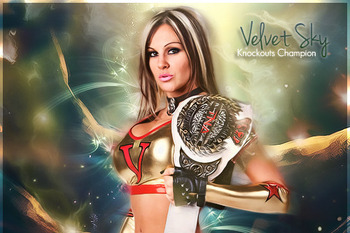 Velvet has been in TNA since the Knockouts division was first announced. She is a former Knockouts Tag Team Champion and a former Knockouts Champion.
Velvet was one-half of the Beautiful People with Angelina Love, and stayed with the group throughout all its changes and throughout all the years. From Angelina, to Cute Kip, to Madison Rayne, to Lacey Von Erich: Velvet was the Beautiful People.
2011 looked to be Velvet's year with the TV time, popularity, feuds and eventual title reign. However, all of that changed within weeks because of one little addition to the Knockouts Division.
Here are six reasons why Velvet Sky should, once again, be IMPACT Wrestling's Knockouts Champion.
Note: This is not intended to give her the championship right away.
She Has the Look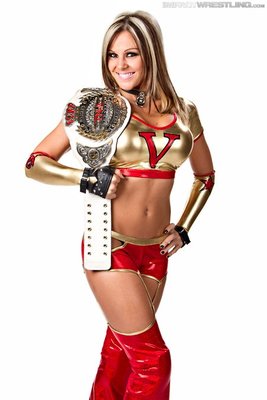 Look at this picture posted.
Tell me that Knockouts Championship has never looked better. This certainly isn't the best reason to give Velvet the belt, but it works. Velvet has that "Face of the Knockouts Division" look.
With that out of the way, let's move onto the more serious reasons.
Popularity
Velvet is one of the most popular Knockouts, possibly, of all time.
When a wrestler is in high demand, they generally get a push. When they're in demand, they usually get a championship around their waist.
I can think of two people that are living examples of this. I won't say their names, but one of their names starts with CM and rhymes with skunk. The other likes to represent the LI and spike his hair.
When a wrestler is popular, it'd be smart for that organization to push that person. Increase merchandise sales, give them a title and basically buy into what the fans want.
Mic Work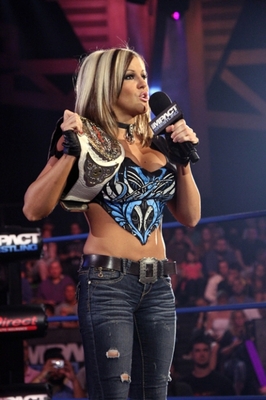 Velvet is one of those Knockouts that is bearable on the mic. By that, I mean you don't want to change the channel whenever you hear her voice (ex: Karen Jarrett).
Velvet can cut a promo without screaming, yelling, complaining and doing anything worthy of the "mute button" treatment.
Velvet may not be the best mic worker in IMPACT Wrestling, but she's at the point where she can be considered one of the best amongst Knockouts.
In-Ring Work, Improvement, Strives to Succeed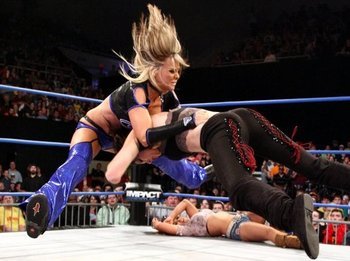 It's no secret that Velvet has shown big strides of improvement for her in-ring game.
As a member of the Beautiful People, Velvet would always be outshined by Angelina Love or Madison Rayne. She wasn't the best in-ring worker in her early years of TNA.
Now, I think we can all see the improvements she has made in the last year. She's added new moves to her arsenal and it looks as if she has that stride to be one of the best in the company.
Her First Reign Was Cut Short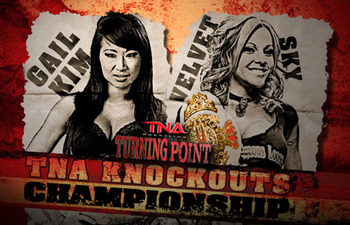 Velvet won her first and only Knockouts Championship at Bound For Glory 2011. On IMPACT, Velvet was attacked and injured by the returning Gail Kim.
For weeks, the champ was off TV. After the biggest win of her career, Velvet Sky only returned a week before Turning Point.
Turning Point is where she lost her Knockouts title. The pay-per-view after Bound For Glory, and her reign, ended after only 28 days.
I believe that the return of Gail Kim ruined any chances Velvet had of being a good champion. It's not Gail's fault, but TNA creative's fault. They wanted to get the title on Gail as soon as possible and that's what they did.
Velvet's reign can be seen as a disappointment because of the months of her build. Her reign left a bad taste in everybody's mouth, especially since she was only seen with the title about three times.
You have to wonder: Had it not been for Gail's return, would Velvet still be champion?
She's One of the Most Deserving in the Locker Room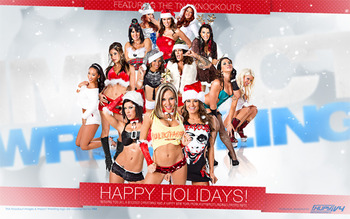 Take all the previous points into account. Popularity, mic work, in-ring work and the fact that she's been a TNA Knockout since day one. I cannot think of any one Knockout that's more deserving than Velvet Sky.
Velvet has been in TNA since day one and never left for any reason. She's the only Knockout to go from point A to point B without any breaks in between.
Angelina Love was temporarily released in 2009. Madison Rayne joined TNA in 2009 and is the longest reigning Knockouts Champion in history. Gail Kim left TNA in 2008 to rejoin the WWE. ODB was gone from TNA in 2010. Mickie James, Tara and Winter all have a past with WWE.
When I think of Knockouts who are most deserving of a championship reign, very few come to mind. But of those who do, Velvet is number one.
Final Word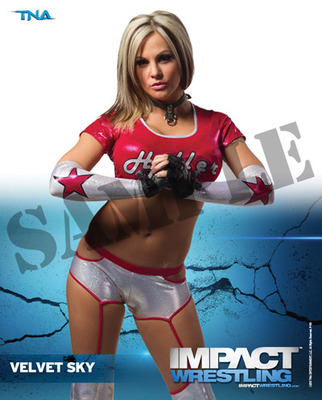 There are six reasons why Velvet Sky should be IMPACT's Knockouts Champion again. She has the look, popularity and mic work. Her in-ring work has improved, and since her first reign was cut short, she's one of the most deserving Knockouts in the locker room to become a champion again.
Due to the Royal Rumble pay-per-view, I'm taking next week off. The following week, I'll have something in store. Thanks for reading and check out EnigmaticWrestling.com!
More:
The British Invasion, Samoa Joe, Bobby Roode, Bully Ray, Kazarian, Austin Aries, Matt Morgan, Mr. Anderson, The Pope, Jeff Hardy, Generation Me
Keep Reading