All-Time AFC South Team: The Best Cornerback Seasons
May 30, 2012

Sam Greenwood/Getty Images
The AFC South has been around for 10 often-glorious years, and it's time to give the unappreciated division some love.
For the next few weeks, I'll be letting you vote on the all-time AFC South team. We'll be picking players and a coach based on their best single season from 2002 to 2011.
We started with the quarterbacks, moved on to the running backs, the wide receivers, tight ends, the offensive line, defensive tackles, defensive ends and linebackers.
Today, the cornerbacks are up.
You can vote for the best. Voting runs through next week.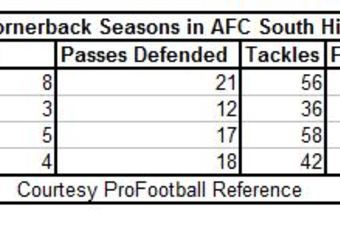 Rashean Mathis, 2006
Mathis was named an All-Pro for his remarkable eight-interception season. The Jaguars finished 8-8 on the year, but Mathis shone through. Unfortunately, he's been living off the glory of that effort ever since. In the five seasons since, he has 10 total interceptions. He defended 21 passes in 2006, but then totaled just 23 in the next three seasons combined.
Kelvin Hayden, 2008
Once upon a time, the Colts had an incredible secondary before injuries decimated it. The 2008 Colts allowed an NFL record-low eight touchdown passes for the season. Hayden was the central reason why. He missed six games with injury but still picked off three passes and helped anchor an outstanding unit that lifted the Colts to 12 wins.
Cortland Finnegan, 2008
Another All-Pro corner for the AFC South, Finnegan was dominant for the division champion Titans. He posted five picks, 17 passes defended, 58 tackles and a sack in a tour-de-force season that established him as one of the best corners in the game. He followed up his signature effort with a nearly identical season in 2009.
Johnathan Joseph, 2011
There aren't many franchise-changing corners, but Joseph is if there ever was one. The Texans signed him away from Cincinnati, and he rewarded them with a Pro Bowl season. He effectively locked down half the field and put up four picks and a forced fumble. Despite all the sacks from the front seven, Joseph was likely the defensive MVP for the Texans. It can be argued he was the team MVP as well. His play helped the Texans win their first division championship.