All-Time AFC South Team: The Best Offensive Line Seasons
May 21, 2012

Al Messerschmidt/Getty Images
The AFC South has been around for 10 often-glorious years, and it's time to give the unappreciated division some love.
For the next few weeks, I'll be letting you vote on the all-time AFC South team. We'll be picking players and a coach based on their best single season from 2002 to 2011.
We started with the quarterbacks, moved on to the running backs, the wide receivers and then the tight ends.
Today, we move on to the offensive line. Offensive linemen are difficult to judge individually, so I'm going to grade them based as a unit on several metrics.
You can vote through the end of next week.
The nominees are: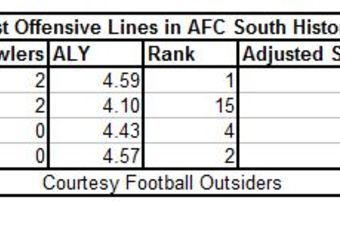 2005 Indianapolis Colts
The Colts bolted out of the gate behind a ferocious running game, and won their first 13 games in a row before falling to the Chargers in Week 14. They led the NFL in both sack rate and adjusted line yards. Both Tarik Glenn and Jeff Saturday made the Pro Bowl.
Unfortunately for Indianapolis, they came unglued in the playoffs, leading Peyton Manning to utter one of the classic understatement lines of all time, "We had some problems with protection." Manning was sacked a career-high five times by the Steelers that day. The line responded in the 2006 playoffs by dominating as the Colts went on to win the Super Bowl.
2006 Jacksonville Jaguars
The Jaguars were second in the NFL in adjusted line yards in 2006. Their sack rate of 7 percent was just 19th, but sack rate says more about the quarterback than the line over the long haul. The season highlight for the 8-8 Jaguars was an astonishing 44-17 win over the Colts, who would later go on to win the Super Bowl. The Jags line dominated the Colts as Jacksonville posted 375 rushing yards that day.
2008 Tennessee Titans
The Titans shocked the NFL by winning the AFC South and posting a 13-3 record in 2008. Center Kevin Mawae and tackle Michael Roos both made the Pro Bowl. The Titans protected Kerry Collins all season long. The run blocking was strong as Chris Johnson and LenDale White combined for more than 2,000 yards rushing.
2011 Houston Texans
The Texans endured a lot of injuries in 2011, but the line managed to keep the offense churning all season. They were fourth in the league in adjusted line yards, and did a credible job protecting T.J. Yates and Matt Schaub. They helped the Texans win the AFC South for the first time.