All-Time AFC South Team: The Best Wide Receiver Seasons
May 17, 2012

Ronald Martinez/Getty Images
The AFC South has been around for 10 often-glorious years, and it's time to give the unappreciated division some love.
For the next few weeks, I'll be letting you vote on the all-time AFC South team. We'll be picking players and a coach based on their best single season from 2002 to 2011.
We started with the quarterbacks and yesterday moved on to the running backs. Today we move on to wide receivers. You can vote through the end of next week.
The nominees are: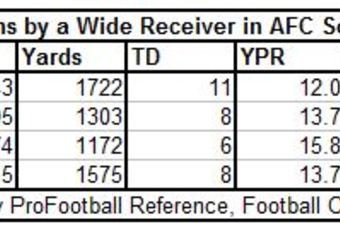 Marvin Harrison 2002
How good was Marvin Harrison in 2002? So good that I can't even consider Reggie Wayne's 2007 masterpiece as the Indianapolis nominee.
Harrison put up a record 143 catches for 1,722 yards and 11 touchdowns in a tour-de-force season. Harrison was so dominant that no one has come within 20 catches of his record. He helped a Colts team with no run game and a suspect defense to 10 wins and a playoff spot and finished in the top five of MVP voting.
Jimmy Smith 2004
Smith is one of the most underrated players of the '90s, and he had a great 2004 season. He posted 74 catches for 1,172 yards and six scores. The most impressive part was his outstanding yards per catch average of 15.8 yards. The Jags missed the playoffs at 9-7, but it certainly wasn't Smith's fault.
It wasn't his best season (that was 1999), but he certainly should have gotten a Pro Bowl nod. He was overlooked again, however. Smith would retire after the 2005 season having posted nine 1,000-yard seasons in his final 10 years in the league.
Andre Johnson 2008
Johnson has five 1,000-yard seasons, but his 2008 campaign was his best. He led the NFL in catches for the second time, and led the league with 1,575 yards. When you post 115 catches and eight touchdowns, you've had a pretty OK year. He was named an All-Pro and helped the Texans to an 8-8 record on the season.
Derrick Mason 2003
I almost put Drew Bennett in 2004 in this spot as he had slightly better numbers, but it was during the offensive spree of '04, and they were in service of a bad team. Mason made the Pro Bowl in 2003, helping the Titans to 12 wins in the process.
It's hard to argue with 1,303 yards, 95 catches and eight touchdowns anyway. Mason went for 1,000 yards four times with the Titans before accomplishing the feat four more times in Baltimore.