All-Time AFC South Team: The Best Running Back Seasons
May 16, 2012

Joe Robbins/Getty Images
The AFC South has been around for 10 often-glorious years, and it's time to give the unappreciated division some love.
For the next few weeks, I'll be letting you vote on the all-time AFC South team. We'll be picking players and a coach based on their best single season from 2002 to 2011.
We started with the quarterbacks yesterday. Today we move on to running backs. You can vote through the end of next week.
The nominees are: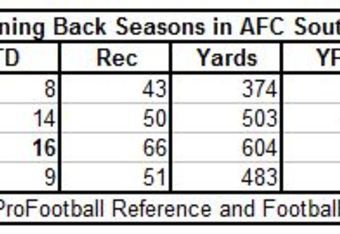 Maurice Jones-Drew 2011
Jones-Drew led the NFL in rushing with a phenomenal seasons in which he was the Jaguars' only viable weapon offensively. He almost didn't make this list, however, thanks to a brilliant 2003 by Fred Taylor. Still, Jones-Drew piled up nearly 2,000 yards from scrimmage in what has to be considered the crowning achievement of a wonderful career.
Arian Foster 2010
Like Jones-Drew, Foster lead the NFL in rushing, but he added a rushing touchdown title as well. His 2,220 yards from scrimmage was stunning as he piled up 66 catches in addition to his runs. His DVOA and Success Rate were excellent as well. Don't be too quick to pull the trigger in voting for Chris Johsnon's epic 2009 until you take a good hard look at Foster in 2010.
Chris Johnson 2009.
Two. Thousand. Yards. 
Really, is there anything left to say? He piled up 2,509 yards from scrimmage, an NFL record. He hit long plays from scrimmage all season as he burst into the national spotlight. His Titans went just 8-8 that year, but that's still better than Foster's Texans or Jones-Drew's Jaguars did.
Edgerrin James 2004
The Edge was never the same freakish back after his knee injury in 2001, but he still had some remarkable seasons. Statistically, his best as a member of the South came in 2004, the same year Peyton Manning shattered passing records.
As a second option in the offense, James piled up more than 2,000 yards from scrimmage. He also had the highest success rate of any of the backs on this list. The 2004 Colts were the only team from this list that managed to have a winning record and make the playoffs.