All-Time AFC South Team: The Best Quarterback Seasons
May 15, 2012

Jed Jacobsohn/Getty Images
The AFC South has been around for 10 often-glorious years, and it's time to give the unappreciated division some love.
For the next few weeks, I'll be letting you vote on the all-time AFC South team. We'll be picking players and a coach based on their best single season from 2002-2011.
Today we begin with the marquee position: quarterback.
The nominees are: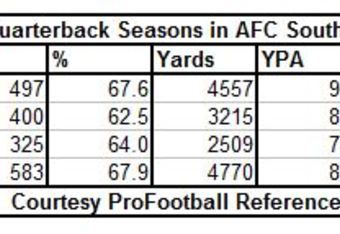 2004 Peyton Manning
Manning won four MVP awards while playing in the South, and it's easy to argue that his best seasons were 2009 or 2008 when he carried the Colts down the stretch. For the sake of this argument, however, we'll go with his signature 2004 season when he rewrote the NFL record books.
Not to influence the vote, but this should be the easiest decision of the series.
2003 Steve McNair
McNair shared the MVP award with Peyton Manning, putting together the best season of his life. He missed some games with injuries, but led the NFL in yards per attempt and passer rating. He posted a career-low interception rate of just 1.8 percent and led the Titans to the playoffs.
2007 David Garrard
Garrard had a fabulous season in 2007, and for a moment in time, the Jaguars thought they had the quarterback of the future. He led the NFL with an interception rate of 0.9 percent, throwing just three picks all season. He was great in the playoffs, leading the Jaguars to a stunning win at Pittsburgh, before giving the undefeated Patriots all they could handle.
2009 Matt Schaub
Schaub finally played a full season healthy and lit up the NFL in 2009. He led the NFL in passing yards, and posted stellar numbers across the board as he made his one and only Pro Bowl. Schaub posted career highs in yards, touchdowns, YPA and passer rating. The Texans had their first winning season in team history, but fell short of making the playoffs.