All-Time AFC South Team: The Best Tight End Seasons
May 18, 2012

Al Messerschmidt/Getty Images
The AFC South has been around for 10 often-glorious years, and it's time to give the unappreciated division some love.
For the next few weeks, I'll be letting you vote on the all-time AFC South team. We'll be picking players and a coach based on their best single season from 2002 to 2011.
We started with the quarterbacks, moved on to the running backs and the wide receivers. Today, we move on to tight ends. You can vote through the end of next week.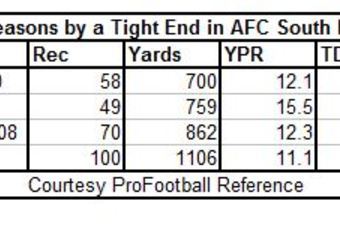 The nominees are:

Marcedes Lewis 2010
Lewis had a breakout year in 2010, posting excellent receiving numbers and contributing outstanding blocking. The Jaguars had a surprising 8-8 record thanks in part to Lewis's play as he picked up 58 catches, 700 yards and 10 touchdowns. He also was an excellent blocker in the run game. He was rewarded for his efforts with a Pro Bowl nod.
Jared Cook 2011
Cook broke through in his third year as a big-play tight end. He didn't have many touchdowns, but piled up 759 receiving yards on 49 catches. His average of 15.5 yards a catch ranked second among tight ends, trailing only Jake Ballard of the Giants. He helped the Titans to a 9-7 record.
Owen Daniels 2008
Daniels made the Pro Bowl in 2008 compiling 70 catches, 862 yards and two scores. It was his second strong season in a row and helped the Texans finish .500. He was the fifth Texan to make a Pro Bowl.
Dallas Clark 2009
Clark had great years in 2008 and 2007, but his 2009 season was a revelation. He posted 100 catches, 1,106 yards and 10 scores. He made his only Pro Bowl, was named an All Pro and helped his team win 14 games and the AFC Title. It was easily the best tight end season in Colts franchise history and one of the most dominant in NFL history.