All-Time AFC South Team: The Defensive End Seasons
May 24, 2012

Ezra Shaw/Getty Images
The AFC South has been around for 10 often-glorious years, and it's time to give the unappreciated division some love.
For the next few weeks, I'll be letting you vote on the all-time AFC South team. We'll be picking players and a coach based on their best single season from 2002 to 2011.
We started with the quarterbacks, moved on to the running backs, the wide receivers, tight ends, the offensive line, and defensive tackles.
Today, the defensive ends are up, and there have been some good ones in AFC South history.
You can vote for the best. Voting runs through next week.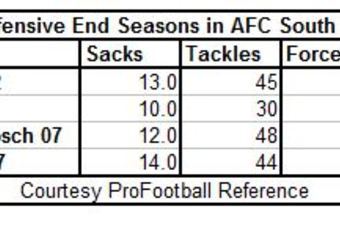 The nominees are:
Dwight Freeney 2002
Freeney had three All-Pro seasons and he lead the league in sacks in 2004, but I'm going with his rookie year. He posted 13 sacks and an amazing nine forced fumbles despite not becoming a starter until halfway through his rookie season. He's had a brilliant career, but the 2002 Colts needed him more desperately than at any time in his tenure. They finished 10-6 and made the playoffs as a wild card.
Bobby McCray 2006
The Jaguars have always had great tackle play, but there weren't a lot of defensive ends to choose from. McCray was probably the best of the bunch. He broke through for 10 sacks in 2006, before regressing and moving on to the Saints. His efforts pulled the Jaguars to a 9-7 record.
Kyle Vanden Bosch 2007
This was a tough call between Vanden Bosch and Jason Babin. Vanden Bosch finished with 12 sacks, four forced fumbles and helped the Titans go 10-6 and make the playoffs on his way to his second of three Pro Bowl nods. He was almost equally brilliant in 2005, posting a half sack more and seven fewer tackles.
Mario Williams 2007
Williams collected 14 sacks in 2007 but didn't make the Pro Bowl. While he would later go to Hawaii in 2008 and 2009, I feel it's only right to recognize one of the great snubs in Pro Bowl history. Williams broke through in 2007, living up to his status as the top pick in the draft. His efforts helped lift the Texans to their first ever .500 season.