All-Time AFC South Team: The Defensive Tackle Seasons
May 22, 2012

Jonathan Daniel/Getty Images
The AFC South has been around for 10 often-glorious years, and it's time to give the unappreciated division some love.
For the next few weeks, I'll be letting you vote on the all-time AFC South team. We'll be picking players and a coach based on their best single season from 2002 to 2011.
We started with the quarterbacks, moved on to the running backs, the wide receivers, tight ends and the offensive line.
Today, we move on to the defensive line. Defensive linemen are difficult to judge individually, so I'm going to grade them based as a unit on several metrics.
You can vote through the end of next week.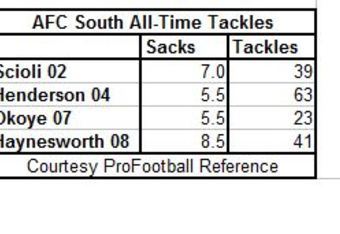 The nominees are:
Brad Scioli 2002
Defensive tackle has been a problem for Indianapolis, and nothing illustrates that better than the fact that the best season I could come up with was posted by a 280 lb. former seventh-round pick. In Tony Dungy's first year in Indianapolis, he converted Scioli to tackle and got some production. He posted seven sacks and 39 tackles, as the Colts went 10-6
John Henderson 2004
Henderson and Marcus Stroud were a fearsome duo up front and combined for five Pro Bowl Appearances. Henderson was awesome in 2004, posting 5.5 sacks and an insane 63 tackles as the Jaguars finished 9-7. Honestly, if you want to quibble and choose a Stroud year from 2003-2005, I won't argue. Both were dominant.
Amobi Okoye 2007
Okoye was a controversial pick in the first round of the '07 draft, but had a tremendous rookie year. He posted 5.5 sacks and 23 tackles from the tackle position. The Texans finished 8-8, and everything was looking up. Unfortunately, this was Okoye's most productive season. He never panned out in Houston and has since moved on to Chicago.
Albert Haynesworth 2008
Before he was a punch-line, Albert Haynesworth was a dominant tackle. He was an All Pro in both 2007 and 2008. He terrorized the opposition in '08 with 8.5 sacks and 41 tackles. He was so good that if you add up his total production in the three years since, you get just 6.5 sacks. The Titans parted ways with Haynesworth at just the right moment, getting all of his peak value.