2012 NFL Power Rankings: Argument Starting Pre-Draft Edition
April 3, 2012

Andrew Burton/Getty Images
I look forward to your calm and considered reactions. 
1) NY Giants
King of the heap after beating the Patriots in Super Bowl XLVI. Having a coaching advantage, which they do in Tom Coughlin, is important in a division where the Giants don't necessarily have vastly superior personnel to division rivals Dallas and Philadelphia.
2) New England
The job Bill Belichick did leading his team to a Super Bowl appearance, with that defense, may be one of the most underrated coaching jobs in NFL history. I personally think signing Brandon Lloyd is going to go down as the free agent signing of the year.
3) Green Bay
Homer Alert. Yes, both the 49ers and Ravens advanced further in the playoffs, but this is a quarterback-driven league. Aaron Rodgers is much, much better than either Alex Smith or Joe Flacco.
4) San Francisco
This team has the air of "We have some unfinished business to take care of" about it, especially with their defense returning intact. I think we see the 49ers and Packers in the NFC Championship game.
5) Baltimore
Can Joe Flacco get this team to a championship? Is last year as close as he will ever come? And when do the wheels fall off that aging defense? John Harbaugh is a good coach. Ozzie Newsome is a great general manager. I have to think they get over the hump soon. 
6) Houston
If they had a healthy team last year, its hard to see them not playing in the Super Bowl. If Schaub stays healthy (a big one, I know), this is still a strong contender. This is a deep, talented team, despite the losses they faced in free agency. 
7) Pittsburgh  
Ben Roethlisberger's gimpy ankle probably cost this team a chance at advancing in the playoffs. It seems every offseason is the same in Pittsburgh—they need to get younger on defense and find a running game. General manager Kevin Colbert is quietly one of the best in the business. 
8) Detroit
I like the Lions to get to Super Bowl XLVII. That's not my official pick, mind you, but I really like their chances. They have all the talent in the world, they just need to grow up a little to take the proverbial "next step." 
9) Chicago
This team was playing as well as any team in the NFL prior to losing their starting quarterback and running back in a succession. It feels like the Matt Forte saga could hang over this team all year, and if they don't draft an offensive lineman (or three) there should be an investigation.
10) Denver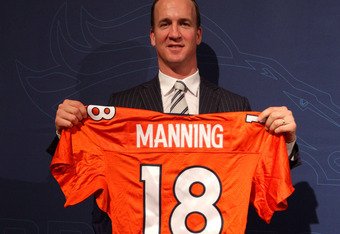 Doug Pensinger/Getty Images
Just add Peyton Manning? While I think the addition of the league's only four-time MVP will help jump-start the careers of some of the Broncos' young playmakers, I'm not sure this team even wins its division.
11) New Orleans
Will the Bountygate punishments hurt this team? Not nearly as much as the media would have you believe. In my mind, this is still a 10-12 win team. They have actually upgraded the defense just by getting Steve Spagnuolo to replace Gregg Williams.
12) San Diego
I'm going to be upfront with you: The Chargers will never win a Super Bowl with Norv Turner as their coach. There, I said it. But they will always be a treat to watch with Philip Rivers under center.


13) Atlanta
I'm going to be upfront with you again: Matt Ryan is the NFC's answer to Joe Flacco—a guy who could probably win a championship if the team around him had superior talent at nearly every position. Unfortunately, Ryan plays for the Falcons. 
14) Philadelphia
I really like what they've done this offseason, rewarding their own and trading for DeMeco Ryans to fill a gaping hole in their defense. They will be in a dead heat with the Giants and Cowboys for the NFC East.
15) Dallas
Many forget how close they came to beating the eventual Super Bowl champs in their 2011 Week 17 matchup. I like what they've done as well so far this offseason. The heat is definitely on underneath Jason Garrett's seat this year.


16) Carolina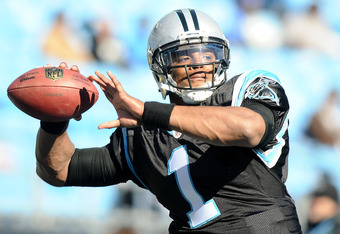 Jared C. Tilton/Getty Images
Cam Newton, Cam Newton, Cam Newton. I'm sorry, are there other players on the team?
Of course there are. Their defense should improve just by getting some of their injured guys back on the field. I actually think they leap over the Falcons in the standings this year.


17) Cincinnati 
I actually like what they've done this offseason, and this is before they add two first-round picks to the mix latter this month. Andy Dalton proved a lot of people wrong last year, including me. A.J. Green may be my favorite young player in the entire NFL. 
18) Kansas City
Romeo Crennel gets his second chance. Another team that should improve just by getting guys back from injured reserve.
Look for a solid defense and some real improvement on offense where they were undone by some horrific quarterback play in 2011 in the form of Tyler Palko. 


19) Tennessee
Another team that swung and missed on Manning. Matt Hasselbeck or Jake Locker? Does it matter? If Chris Johnson can't recapture his pre-holdout form, this offense will have trouble being much more dynamic than it was in 2011.
20) Washington
As I wrote earlier, this is Mike Shanahan's last chance. The Redskins badly overpaid for two middle-grade receivers in free agency, but I guess they needed someone for RG3 to throw to besides tight end Fred Davis. Their defense is quietly quite good.


21) NY Jets
The Tim Tebow experiment will either be a surprising success or a complete disaster. I have trouble seeing it falling in between. Lost in all the Tebow/Sanchez drama is the fact that Rex Ryan's defense took a step back last year. It needs to improve if they indeed intend on focusing on ground and pound.


22) Arizona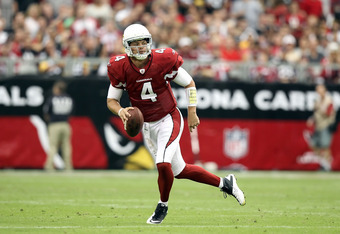 Christian Petersen/Getty Images
The Cardinals will be digging out from under their decision to trade for Kevin Kolb for some time.
After swinging and missing on Peyton Manning, they will head into training camp with a quarterback competition looming between Kolb and John Skelton. Read that sentence again. 


23) Oakland
Reggie McKenzie certainly has his work cut out for him. While I don't see the Raiders in contention for much this year, the team's new general manager is trying to lay the groundwork for a long run of success in Oakland.
Patience, Raiders fans…


24) Buffalo
A lot of attention, and rightfully so, has been given to their offseason acquisitions for the defensive line in Mario Williams and Mark Anderson. But which quarterback will they be getting in 2012—the Ryan Fitzpatrick pre- or post-contract extension? Because the "post" guy was downright ugly.


25) Seattle
They re-signed Marshawn Lynch and Red Bryant. They went out and got Matt Flynn to "compete" with Tarvaris Jackson for the starting quarterback job. I actually think the signing of Jason Jones is one of the more unheralded acquisitions of the offseason.


26) Jacksonville
The Jaguars had a championship-level defense in 2011. Unfortunately, they had a pop-gun offense. People who I trust tell me Blaine Gabbert isn't nearly as bad as I think he is—which is "God Awful" in case you were wondering.
Maybe a real offseason getting all the reps with the starting offense will make a difference. Or maybe he'll lose his job to Chad Henne.
27) Tampa Bay
The Bucs must have set some kind of record for Most Blocked Interview Requests this offseason, after hiring Rutgers' Greg Schiano to right their listing ship.
They had to overpay to get Vincent Jackson, Carl Nicks and Eric Wright because that's what bad teams need to do.


28) St. Louis
New Rams general manager Les Snead has a barrel full of draft picks to help rebuild his team, thanks to the blockbuster trade with the Redskins. He and new head coach Jeff Fisher will need to hit on the majority of them to help reshape this talent-deprived roster.
They have the most important piece—quarterback Sam Bradford, who I think was given way too much grief last year—in place.
29) Miami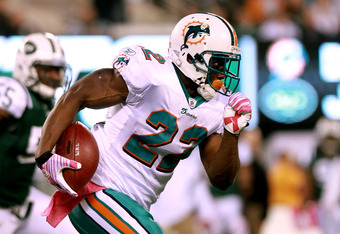 Nick Laham/Getty Images
The "No one wants to play in Miami" meme may have been unfair, but perceptions are sometimes hard to stop from becoming realities, at least in people's minds.
General manager Jeff Ireland says he wants to build through the draft. That's great. He'll need to hit on nearly all his picks to help new head coach Joe Philbin be successful as a first-time head coach.
30) Cleveland
Let me be upfront with you: Mike Holmgren has no business running an NFL franchise. He is a great football coach and truly one of the greatest play-callers I've ever seen. But when it comes to the personnel side of things, he's a complete disaster.
I think Pat Shurmur is one of the brighter offensive minds in the league, but he has precious little to work with on that side of the ball—and he's now saddled with Brad Childress.


31) Minnesota
Vikings fans have to be praying that Adrian Peterson can recover from the devastating knee injury he suffered in Week 17.
It's hard to believe this team is only three years removed from being an ill-advised Brett Favre throw away from the Super Bowl. Things change fast in the NFL—maybe the Vikings can rise as quickly as they've fallen. But I doubt it.


32) Indianapolis
Well, there's nowhere to go but up. Pay no attention to the "The Colts could still draft RG3!" chatter. This is pure Draftnik Industrial Complex nonsense.
The Colts will draft Andrew Luck and try to build around him the way they did Peyton Manning. Colts owner Jim Irsay is hitting the reset button.