2014 NBA All-Star Game's Greatest Dunks, Crossovers, Passes and Other Highlights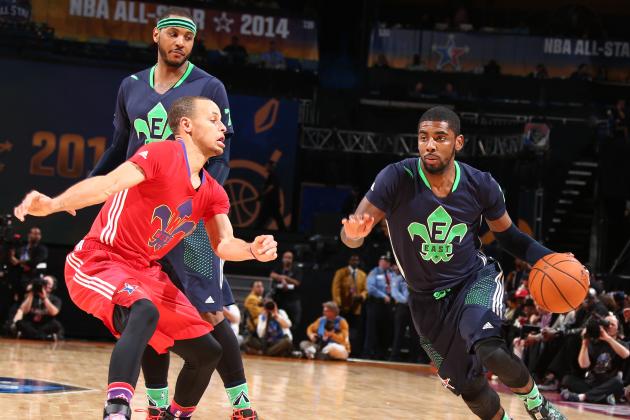 Nathaniel S. Butler/Getty Images

In a game that featured tons of highlight plays from LeBron James, Kevin Durant, Blake Griffin and Carmelo Anthony, the Cleveland Cavaliers' Kyrie Irving stole the show.
He scored from all over the floor and made more than one defender look foolish with his handles on the way to 31 points and 14 assists.
The massive double-double earned Irving MVP honors.
But he wasn't the only one who provided butts-out-of-the-seats-level highlights during the NBA's 63rd annual All-Star Game.
Begin Slideshow

»
Kevin Durant met little resistance streaking down the lane to finish off this perfect lob over the backboard from Stephen Curry.
After spinning off Chris Paul, LeBron charged through the paint and finished off a power one-handed slam.
Not many players can get a highlight play out of a botched dunk. But when you get high enough to nearly hit your armpit on the backboard, exceptions can be made.
LeBron took off from way outside the restricted area, and yet it was still a pedestrian play by his standards.
After winning the Slam Dunk Contest on Saturday night, John Wall kept the highlights coming with jams like this during Sunday's game.
Anthony Davis took a pass that looked like it might fly a little too far and threw it down with authority.
One nasty alley-oop wasn't enough for CP3 and Davis. Their second hookup came by way of an off-the-backboard pass.
Kobe Bryant sitting at the announcer's table must have been Anthony Davis' good luck charm. This was his third oop finish with Kobe in the picture-in-picture box.
Blake Griffin finished with 38 points, and the majority of them came in this kind of spectacular fashion.
Maybe LeBron's refusal to participate in the dunk contest is somewhat overblown considering the show he puts on in the All-Star Game.
LeBron may have had the dunk of the night when he caught a lob from Carmelo Anthony with his right hand and then finished it with his left.
Shortly after Melo hooked up LeBron, the two switched roles on a fast-break alley-oop.
Kevin Durant showed off his insane length with a one-handed reverse following a lefty drive.
After hitting three or four Western Conference defenders with a series of moves, Irving finished things off with a generous drop-off to a streaking LeBron.
After receiving a perfect full-court baseball pass from outletter-extraordinaire Kevin Love, Griffin threw down the one-handed jam.
After rocking Damian Lillard to sleep with a few rhythm dribbles, John Wall blew by his defender on the way to the rim for a layup.
After racing down the floor following a steal, John Wall did a mid-air up-and-under to get past LaMarcus Aldridge on the way to a two-handed jam.
After Dwight Howard switched onto him, Kyrie Irving went to work with a series of crossovers, ultimately leading to a beautiful teardrop of a finger roll.
There may not be anyone in the league better at using English off the backboard than Kyrie Irving.
Stephen Curry used a nasty reverse between-the-legs dribble to free himself on the way to a layup.
The feud between Joakim Noah and LeBron James and the Miami Heat has been a running storyline for years. On Sunday, bygones were bygones.
Reggie Miller called it a "Kumbaya moment" as LeBron hooked up with rival Joakim Noah a second time.
With the game hanging in the balance, Kevin Durant hit a step-back, fadeaway three off a crossover over LeBron's outstretched hand.
Melo was scorching hot Sunday, hitting an All-Star Game record eight threes on 13 attempts.
The assist and bucket that sealed the game came by way of Kyrie to LeBron.
Behind 31 points on 14-of-17 shooting and 14 assists, All-Star Game MVP Kyrie Irving led the Eastern Conference to victory, 163-155.
Andy Bailey covers the NBA for Bleacher Report.