Baltimore Orioles: Buck Showalter's Team, Fans, Starting to Believe
June 18, 2012

Rob Carr/Getty Images
At 39-27, the Orioles have become baseball's great gnat. The team simply will not go away. Just when experts say Baltimore will soon fall from the raging bull that is the AL East, this gritty, blue-collar team waves its cowboy hat and smiles wide as it clings a while longer.  
From an organizational standpoint, the Orioles are a very unique club to watch. Team manager Buck Showalter has demanded accountability from his ballplayers. Selfishness and egotism need not apply. And if you are the inflexible type with thin skin, it is best you look for another MLB team to play for.
Love Showalter or leave him, Showalter represents what Baltimoreans appreciate. If you are to play for this man, you had better strap on the hard hat, bring your lunch pale and get ready to get intelligently filthy.  
More importantly, you had better be ready to swallow your ego and play multiple positions to help the team to victory.
Mark Reynolds learned this when Showalter moved him to first base. As did Chris Davis, who Showalter deployed to right field after Nick Markakis injured his hand. Newly acquired journeyman Steve Pearce also received a tutorial when the lineup card said left field. And most recently, Robert Andino got the memo when Showalter asked him to share third base duties with Wilson Betemit after Brian Roberts returned.
There have been more moves of course, but Showalter seems to have pulled all the right strings with his team thus far.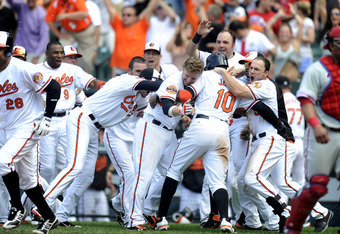 Mitchell Layton/Getty Images
In turn, Showalter's team has begun to adopt his personality.
Never affording to take a day off, every day this Orioles team takes the field it exudes strong chemistry, selflessness and resolve to win.
When players make mistakes, these men do not hang their heads. They dig deep and pick each other up with poker faces on lock.
When things go wrong—as they often will with an up and coming team—players let Showalter be their mouthpiece. The same cannot be said for other ball clubs around the league.
Ravens fans might not like to hear this, but from the looks of Showalter's press conferences, he and Patriots coach Bill Belichick are not so different.
More importantly, this team has fun. Perhaps the cartoon logo is to blame, but this team is composed of a bunch of big kids who are a joy to watch. They contrast the New York Yankees and Boston Red Sox, who live under constant pressure to excel.
But this Orioles ball club actually stops to smell the black-eyed susans (to use more local terms).
Put it all together, this team—and this city—is guardedly beginning to believe in the Baltimore Orioles.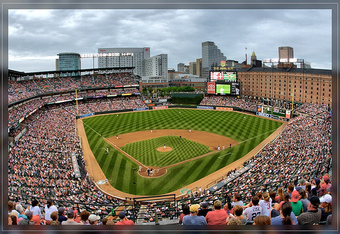 With less than a 100 regular-season games to play, this team has yet to show signs of making fans dart for the exits towards football season.
In fact, average attendance at Camden Yards is on the rise, albeit slowly. This is great to see, both for baseball and Baltimore city.
With this blossoming team in a beautiful town, do not think for one second big time free-agents are not watching developments in Charm City closely. For should the swank brick house the Ripkens built find the postseason, players like Josh Hamilton and Cole Hamels may come flocking.
Call me an optimistic. Call me overly idealistic. Call me what you will. But as a writer who covers a team with fans starving for return to baseball glory, I will not shy from stating what many people in Baltimore are beginning to feel.
This baseball team might be for real.  
Related Orioles Articles:
Three Pitchers that Can Help Orioles win AL East
Four Ways O's Can Withstand Run by Yanks, Sox
Mark Reynolds Making Progress in Strikeout Rehab