Baltimore Orioles: Mark Reynolds Making Steady Progress in Strikeout Rehab
June 14, 2012

Greg Fiume/Getty Images
Breaking the habit of smoking can be one of the most difficult endeavors a human being can endure. While many people who light up are aware of the consequences, quitting this habit is like a bar brawl to the soul.
Some smokers try quitting cold turkey, only to fall prey to binging by the pack in the middle of the night. Other people try arm patches, as they fight to rid themselves from cruel Lord Nicotine. And some wean themselves slowly, starting with three a smokes a day, then two, then one—then done.
Regardless of the path one takes, quitting smoking requires great discipline, strong willpower and a good supporting cast. But most importantly, quitting can require tough love by people who care enough to take action to dissuade the behavior from continuing.
As applied to baseball, Baltimore Orioles slugger Mark Reynolds has an addiction he too is trying to conquer.
It is called the strikeout.
It is no secret Reynolds has an incredibly difficult time breaking this habit during his career. In 2,655 big league at-bats, Reynolds has struck out 1,014 times. This means in 760 career ballgames, Reynolds has struck out roughly 38 percent of the time.
Still 28, Reynolds has the potential to improve his plate discipline and go on to have an excellent career.
But in order for Reynolds to achieve this mission, he had to check into a place called strikeout rehab.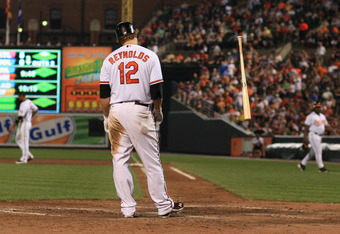 Rob Carr/Getty Images
Strikeout rehab is by no means a fun place to live. It is filled with solitude and difficult days coming to grips with an endless train of whiffs.  
Many players have checked into strikeout rehab—Adam Dunn being the most recent before Reynolds.
The players who succeed take that critical first step by admitting they have a problem.
The ones that do not, well, they continue to strikeout a lot.  
But Reynolds took that critical step by admitting he warred with an addiction to Ks.
And after a few months of intensive hitting therapy, I am glad to report Reynolds appears to be turning the corner.
Looking at Reynold's game log from 2012, one can see a player trying to cut back from three strikeouts, to two, to one, and in some cases, zero per game.
But like any person in rehab, Reynolds' first days of rehab were the worst days.
In April for example, Reynolds had an abysmal time at the plate. He struck out 30 times in 23 ballgames. Reynolds had nine multi-strikeout games during this stretch that saw him hit .143 with zero home runs and three RBIs.
Reynolds' whiffs made even the most health conscious Orioles fans want to bolt to the nearest corner store for a carton of smokes.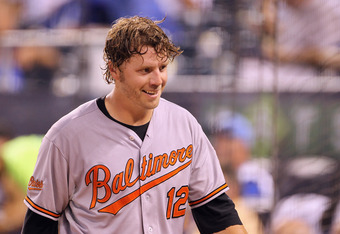 Jamie Squire/Getty Images
But since April, Reynolds has made progress in strikeout rehab, with Buck Showalter as his trusted guide and counselor.
While Showalter has demanded accountability and greater plate discipline, Reynolds has had a strong support network in his teammates to help him through his addiction.
Reynolds, in turn, has responded, baby step by baby step.
Since May 1, Reynolds has had just three multi-strikeout performances in 24 games. While it is true Reynolds spent some time on the 15-day DL, and while he still strikes out at least once per game, it is nice to see him put the ball in play more.
Little victories.
In May, Reynolds hit .306 (11-for-36) with two home runs and eight RBIs. His OBP/SLG/OPS was .458/.583/1.042.
Now at the halfway mark of June, Reynolds has hit .350 (14-for-40) with three home runs and seven RBIs for the month.
And while Reynolds .245 batting average on the year is not overly impressive, he has nonetheless raised his average more than 100 points since April.
Will Reynolds continue to make progress toward beating the addiction that has plagued his big league baseball career?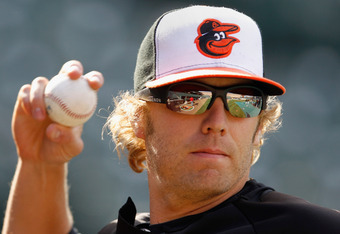 Rob Carr/Getty Images
Nobody can be certain. For as with any addiction, relapse is always possible.
But should Reynolds be able to successfully graduate from strikeout rehab, he will give the Orioles an explosive and dependable bat for years to come.
In the big-bopping AL East, the Orioles can use all the reliable, heavy-hitting lumber it can muster.
Related Articles
3 Starting Pitchers That Can Help Orioles Win AL East