Baltimore Orioles: 4 Ways to Withstand Impending Run by Yankees and Red Sox
May 27, 2012

Greg Fiume/Getty Images
Call me a diseased creature of baseball habit, call me a kid at heart. But pretty much every morning, I enjoy a big bowl of cereal while checking the big-league baseball standings. I take solace in knowing I am not the only 30-something male in America who does this (I hope).
Sunday was of course no exception.
With a bowl of Cheerios and a laptop as my WMD (weapon of mass data), I logged onto the web to quench my baseball thirst.
Upon checking the AL East standings, an image of Paul Revere on horseback popped in my mind, strange as it were.
Perhaps I poured too much sugar on my cereal, but I could not help but think, "The Yankees are coming! The Red Sox are coming!"
Then, I caught myself.
"So what?" I asked. "This is after all not a new phenomenon."
Being the champions the Yankees and Red Sox are, both teams are destined to go on a run. Both ballclubs are equal to that proud veteran basketball team that does not fret when down 20 points in the second quarter.
The Yankees and Red Sox know there are two quarters left to play. They will continue to chip, and chip and chip away until they are comfortably in the driver's seat once and for all.
And the New York and Boston media will follow suit, unleashing psychological warfare that demoralizes other teams in the division.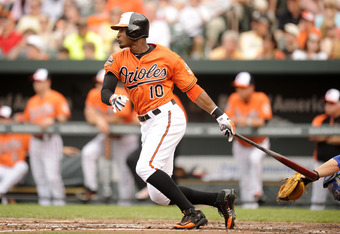 Mitchell Layton/Getty Images
This is why the Baltimore Orioles must continue to remain steadfast in the face of this oncoming stretch of baseball games.
There are four ways this team and this city achieve this.
First, the Orioles must weather this impending storm by continuing to play solid baseball on all fronts. It must mitigate late-inning breakdowns as seen during Saturday's 4-3 loss versus the Kansas City Royals.
Winning games one is supposed to win can make all the difference between making the postseason and looking forward to football season.  
Second, Baltimore must continue to believe 2012 is going to be one of the most special seasons the city has seen in nearly two decades. Never in my time here have I seen the downtown area so alive during baseball season. What used to be half-filled bars outside Camden Yards are now bustling to capacity with smiling fans nearly every night. This development is refreshing to say this least.
Third, Orioles fans must stick by this ballclub by outnumbering visiting Yankees and Red Sox fans at the ballpark. I will do my part, but opposing colors should never outgun orange and black at Camden Yards. I know devoted Orioles fans cringe at this unfortunate reality that has taken shape the past few years.
But now Baltimoreans have a golden opportunity to change course. From what I have seen, Baltimore's fans are doing their part. This is beautiful to see.
Fourth, while being realistic, Baltimore must rebuke talks of collapse by fair-weather fans and columnists looking to toy with the city's psyche. For the first time in a long time, the Orioles are strong, and its fans are united. Thus, Baltimore's media must counter any attempts by New York's and Boston's media of imposing psychological warfare on Mobtown's team.
The very fact that talk of Orioles baseball trumps conversation about Ravens football provides a great indicator Baltimore is prepared to achieve this end.
But if Orioles fans need any more inspiration, I tailored Susan's (Amy Adams) fiery words she bestowed Ricky Bobby (Will Ferrell) in Talladega Nights:
It is because baseball is what Baltimoreans love, Orioles. It is what fans were born to be. And here you sit, thinking. Well, you are not thinkers. You, Orioles are drivers. You are doers. And that's what this team needs to do. You don't need to think. You need to drive. You need speed. You need to go out there, and you need to rev your engines. You need to fire it up. You need to grab a hold of that line between speed and chaos, and you need to wrestle the AL East to the ground like a demon cobra! And then, when the fear rises up in your team's belly, use it. And you know that fear is powerful, because it has been there for billions of years. And it is good. And you use it. And you ride it; you ride it like a skeleton horse through the gates of hell, and then you win, Orioles. You WIN! And you don't win for anybody else. You win for you, you know why? Because the Orioles take what they want. They take it all!
Related Baltimore Articles:
Xavier Avery: Controversial Photo Up Close and Personal