Orioles Trade Scenarios: 3 Starting Pitchers That Can Help Baltimore Win AL East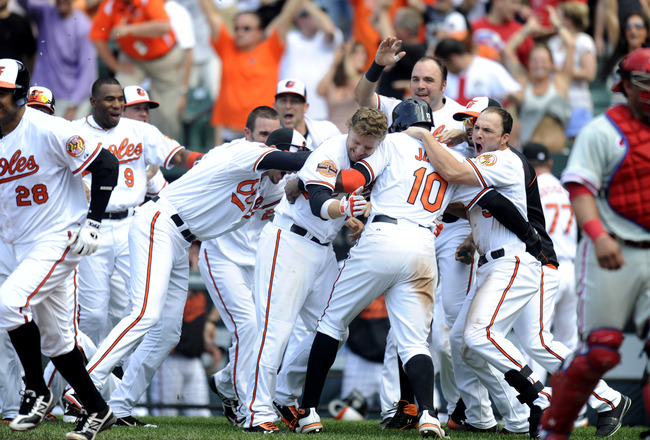 Mitchell Layton/Getty Images
The Baltimore Orioles are in the midst of a grueling boxing match in the black and blue AL East. At 35-26, Buck Showalter's team is tied for second place with the Tampa Bay Rays in the division, just one game behind the New York Yankees.
It is true the Orioles at times have proven to be an enigma so far this season. At times this club inspires euphoria. Yet other times the same can make fans scratch heads or want to throw things at television sets.
It is also true Baltimore's offense can sometimes be feast or famine. And the team's near last place defense can make one's blood boil.
Pitching can make fans yell, "For God's sake throw strikes!" And losing streaks, though small, can make fans wonder if the team's magical run is soon to expire.
Yet somehow, somehow through the fog of war, this team exudes sheer grit and utter resolve that often generates late game heroics and clutch hits as they snatch victory from jaws of defeat.
Now mid-June, the beaten and battered psyche of Baltimore's baseball fan base has transformed from downtrodden and apathetic to guardedly hopeful.
Fans have watched this team rush through the gates of this horse race with a fury, only to watch it fall back a bit to always determined division horses.
But unlike years past, the Orioles are not retreating to the back of the horse pack.
Jockeys ahead be warned: this horse is strong. This horse has skill. This horse owns the resolve to finally hunt down a division title that has eluded this team since 1997.
Momentum building, now is the time for Baltimore's brass to push this thoroughbred to take powerful gallops that will help this team achieve this end.
Now is the time for the Orioles to strike like a demon cobra.
Now is the time for team owner Peter Angelos and GM Dan Duquette to step up and send a bold message to the rest of the division that this ballclub is not just an early season feel good story.
This team is a predator seeking to destroy foes in the wild jungle that is the AL East.
The Orioles can start by making a responsible trade for a solid starting pitcher by the deadline.
For a team competing with the Yankees and Red Sox, this can prove a challenge. The Orioles do not have tons of electrifying prospects to trade in exchange for a top-tier pitcher. Nor does the club have blank checks it can write.
While the Orioles do have prospects Manny Machado, Xavier Avery and Jon Schoop the team must be responsible when pursuing a hurler that may help put this team over the top.
While Cole Hamels, Zack Greinke and Tim Lincecum are trade options that make Orioles fans drool, they simply are not feasible at this time.
With Dylan Bundy off the table for trade, this slideshow highlights three affordable pitchers Baltimore can acquire via trade that will help the team.
This, while not obliterating the club's piggy bank in the future.
Matt Garza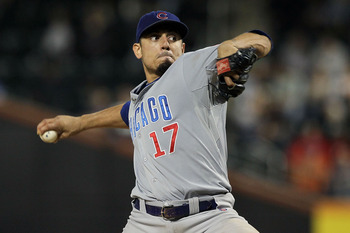 Jim McIsaac/Getty Images
Chicago Cubs pitcher Matt Garza would be a game changer for the Orioles.
This 28-year-old is a fierce competitor who has an unquenchable thirst to win.
Do not let Garza's career 163-160 record fool you. Get this hurler in the right situation—say on a rising team with hope for a great future—and this guy's stats will fall in line with his talent.
Currently, Garza plays on a Cubs team that, at 21-40, is 12.5 games back of NL Central leading Cincinnati Reds. Rightly so, Garza seems frustrated every time he takes to the hill for the Cubs.
The Orioles can lift Garza's spirits by trading for him. They can also lift Garza's spirits by playing better defense behind him should he be traded to the team.
Jair Jurrjens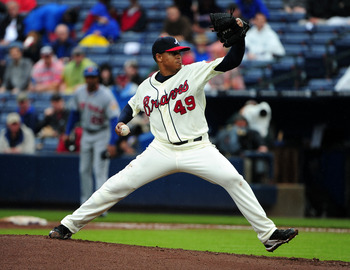 Scott Cunningham/Getty Images
It is no surprise the Atlanta Braves have one of the deepest pools of starting pitching in baseball.
With guys like Tim Hudson, Tommy Hanson, Julio Teheran, Mike Minor and Brandon Beachy (to name a few) it is safe to say the Braves can afford to make a trade or two (or three).
Still just 26, Jurrjens could be a nice fit for Baltimore team needing a solid starting pitcher. In his five-year career, Jurrjens is 50-35 with a 3.53 ERA. While Jurrjens has struggled thus far for the Braves in 2012, he is coming off a season in which he went 13-6 with a 2.96 ERA.
Like Garza, a move to the Orioles may give Jurrjens that breath of fresh air he needs to jump back on track.
Wandy Rodriguez
Bob Levey/Getty Images
Like Garza, lefty Wandy Rodriguez is another pitcher stuck on a team in turmoil.
While the Houston Astros have taken strides, the team's rebuilding process may be lengthy and painful.
At 33, Rodriguez can ill-afford to waste time.
Rodriguez would not only bolster the Orioles starting rotation, he would also give the team a much-needed veteran presence (along with Jaime Moyer).
For Rodriguez, he would go from a second to last place team to a team in the midst of a heated horse race in the best division of baseball.
As a competitor, nothing is more motivating than that.
Related Articles:
Father's Day Special: Al Kaline, My Father and the Baltimore Connection
Keep Reading

Baltimore Orioles: Like this team?