Fantasy Football Mock Draft 2012: Full 7th Round with Pick-by-Pick Analysis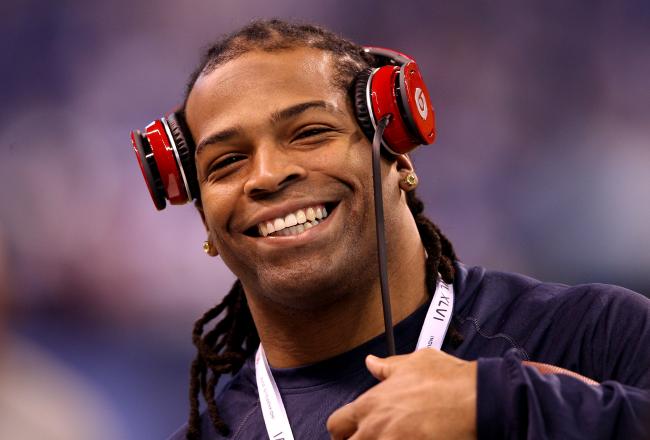 Elsa/Getty Images
The NFL draft has been dissected and then some, and free agency is winding down as training camp approaches. However, a new sort of action is just getting rolling as another fantasy football season begins, with leagues across the land getting together to conduct this year's draft.
Pre-draft preparation is an absolute necessity if you're serious about winning your league, so this will continue a series of articles that will take an in-depth, pick-by-pick look at an entire fantasy draft, from the first running back taken to the very last kicker off the board.
For this mock draft, we'll assume a standard 12-team league with 16 roster spots in which you start one quarterback, two running backs, three wide receivers, one tight end, one kicker and one team defense. This league has no flex position but does award one point per reception and six points for all touchdowns, be they passing, rushing or receiving. The draft is serpentine, meaning that the draft order is reversed in even-numbered rounds.
Other scoring is "standard," meaning 10 rushing/receiving yards per point, 25 passing yards per point, three points for all field goals (with a two-point bonus for field goals of over 50 yards) and defensive scoring that awards points for turnovers, sacks and yardage and points allowed. Lost fumbles and interceptions thrown are a two-point deduction.
Now that the rules have been laid out, Team One is on the clock!
Team One (7.01): BenJarvus Green-Ellis, RB, Cincinnati Bengals

We're reaching the point in the draft where many teams strategies' diverge even more, as some teams finish fleshing out their starters before looking to the bench while others look to add depth or swing for the fences with upside plays.
The Cincinnati Bengals have handed the reins in their backfield this year to running back BenJarvus Green-Ellis. The fifth-year pro is a plodder, but he has back-to-back seasons with double-digit rushing touchdowns and is an excellent bye-week fill-in and insurance policy for Steven Jackson.
Roster: Ray Rice, RB, BAL—A.J. Green, WR, CIN—Steven Jackson, RB, STL—Jeremy Maclin, WR, PHI—Tony Romo, QB, DAL
Team Two (7.02): Ben Tate, RB Houston Texans

If there's a downside to selecting Arian Foster in fantasy drafts it's that it makes taking Texans backup Ben Tate an absolute necessity, and Tate carries a hefty price tag for teams with long gaps between picks such as Team Two.
However, Tate managed over 1,000 total yards last year while starting only two games, and his top-30 finish among fantasy running backs in 2011 makes him not only fantasy football's top "handcuff" but also a viable RB3 in his own right.
Roster: Arian Foster, RB, HOU—Hakeem Nicks, WR, NYG—DeMarco Murray, RB, DAL—Demaryius Thomas, WR, DEN—Michael Vick, QB. PHI—Santonio Holmes, WR, NYJ
Team Three (7.03): Eli Manning, QB, New York Giants

Not only did New York Giants quarterback Eli Manning lead his team to a victory in Super Bowl XLVI in 2011, but the ninth-year pro also threw for nearly 5,000 yards, the second most touchdowns of his career, and finished as fantasy football's sixth-ranked signal-caller.
Manning is an excellent example of how waiting a bit to draft a starting quarterback can pay off. Even should he backslide a bit Manning will still probably place well within the top 10, providing solid value for a team that loaded up at other spots early.
Roster: LeSean McCoy, RB, PHI—Trent Richardson, RB, CLE—Victor Cruz, WR, NYG—Kenny Britt, WR, TEN—DeSean Jackson, WR, PHI—Antonio Gates, TE, SD
Team Four (7.04): Willis McGahee, RB, Denver Broncos

No team ran the ball more in the National Football League last year than the Denver Broncos. The main beneficiary of that philosophy was running back Willis McGahee, who topped 1,000 rushing yards for the first time since 2007 and finished among the top 25 fantasy running backs.
McGahee is 30 years old and may see a drop in carries this season, but John Fox is a run-first coach with a new (albeit very experienced) quarterback, so McGahee should at the very least shore up a fantasy backfield that has its share of questions on this squad.
Roster: Calvin Johnson, WR, DET—Greg Jennings, WR, GB—Marshawn Lynch, RB, SEA—Michael Turner, RB, ATL—Stevie Johnson, WR, BUF—Peyton Manning, QB, Denver Broncos
Team Five (7.05): Pierre Garcon, WR, Washington Redskins

2011 wasn't a nightmare for every member of the Indianapolis Colts, as wide receiver Pierre Garcon parlayed his career year during the implosion in Indianapolis into a five-year, $42.5 million contract with the Washington Redskins.
Garcon has never eclipsed the 1,000-yard mark in a season but his numbers have improved in each of his four years in the NFL. A rookie signal-caller in Washington could cap Garcon's fantasy upside, but he's an intriguing mid-round pick as a WR3.
Roster: Maurice Jones-Drew, RB, JAX—Drew Brees, QB, NO—Brandon Marshall, WR, CHI—Miles Austin, WR, DAL—Doug Martin, RB, TB—Jermichael Finley, TE, GB
Team Six (7.06): Roy Helu, RB, Washington Redskins

When you're sitting seven rounds into a fantasy draft and have only one running back on your roster it's time to start taking some risks at the position, and counting on a running back coached by Mike Shanahan is about as risky as it gets.
However, running back Roy Helu of the Washington Redskins gained over 100 total yards in three of his five starts last year and topped the century mark in two others. Helu's receiving ability is also a plus in PPR leagues, and while Helu's a gamble if you're looking for top-20 upside in a back this late, the second-year pro may be your best bet.
Roster: Aaron Rodgers, QB, GB—Jimmy Graham, TE, NO—Ahmad Bradshaw, RB, NYG—Dez Bryant, WR, DAL—Vincent Jackson, WR, TB—Brandon Lloyd, WR, NE
Team Seven (7.07): Robert Meachem, WR, San Diego Chargers

Team Seven is looking a little thin at wide receiver behind Larry Fitzgerald, so for the second straight round taking a wideout who's a bit risky but possesses significant upside might not be such a bad idea.
Robert Meachem left the New Orleans Saints for sunny San Diego in free agency, and while the five-year veteran has never had more than 750 receiving yards in a season the speedster seems poised for a breakout 2012 campaign as Vincent Jackson's replacement with the Chargers.
Roster: Larry Fitzgerald, WR, AZ—Ryan Mathews, RB, SD—Cam Newton, QB—Aaron Hernandez, TE, NE—Reggie Bush, RB, MIA—Eric Decker, WR, DEN
Team Eight (7.08): Matt Ryan, QB, Atlanta Falcons

In every fantasy draft there are picks that are solid players, choices that could help your team considerably, but even as you're picking them it's nearly impossible to get excited about the decision. Atlanta Falcons quarterback Matt Ryan is just one of those players
The fifth-year veteran crossed the 4,000-yard passing plateau for the first time last season, and while Ryan may not have top-five fantasy upside he has finished among the top 10 quarterbacks each of the past two years and didn't miss a game over that stretch.
Roster: Chris Johnson, RB, TEN—Rob Gronkowski, TE, NE—Jordy Nelson, WR, GB—Darren Sproles, RB, NO—Percy Harvin, WR, MIN—Torrey Smith, WR, BAL
Team Nine (5.09): Ben Roethlisberger, QB, Pittsburgh Steelers

It happens in every draft, be it with running backs early or another spot later on. There's a run on players at a position, and that can sometimes force fantasy owners to go in a direction that they otherwise might not have, although prudent owners know never to be caught at the back end of one.
That isn't really the case here with Ben Roethlisberger, who was hobbled by an ankle injury late last year but still topped 4,000 passing yards for the second time in three years. Drafting "Big Ben" also sets up a nice bonus each time he hits Antonio Brown with a touchdown pass, and while that's not the primary reason for taking him here it sure doesn't hurt.
Roster: Andre Johnson, WR, HOU—Jamaal Charles, RB, KC—Frank Gore, RB, SF—Steve Smith, WR, CAR—Antonio Brown, WR, PIT—Jonathan Stewart, RB, CAR
Team 10 (7.10): Justin Blackmon, WR, Jacksonville Jaguars

Oklahoma State wide receiver Justin Blackmon was a two-time winner of the Biletnikoff Award as college football's top receiver, and the Jacksonville Jaguars traded up in the first round of April's 2012 NFL draft to acquire Blackmon's services.
Taking a rookie wide receiver is always risky, especially when that rookie's quarterback is Blaine Gabbert. With that said Blackmon should see a ton of targets this season, and volume alone should be enough to at least make him a viable fantasy WR3.
Roster: Matt Forte, RB, CHI—Darren McFadden, RB, OAK—Dwayne Bowe, WR, KC—Matthew Stafford, QB, DET—Jason Witten, TE, DAL—Reggie Wayne, WR, IND
Team 11 (7.11): DeAngelo Williams, RB, Carolina Panthers

No contract signing in 2011 infuriated more fantasy football enthusiasts than running back DeAngelo Williams' decision to remain with the Carolina Panthers, as although Williams got paid he also remained mired in a backfield committee with Jonathan Stewart in Charlotte.
On the other hand Williams still managed nearly 1,000 total yards in 2011 and finished within the top 30 fantasy running backs, and given Stewart's history of foot problems this depth selection could turn into an absolute steal.
Roster: Adrian Peterson, RB, MIN—Tom Brady, QB, NE—Mike Wallace, WR, PIT—Julio Jones, WR, ATL—Chris Wells, RB, ARI—Vernon Davis, TE, SF
Team 12 (7.12): Fred Davis, TE, Washington Redskins

An ankle injury limited Washington Redskins tight end Fred Davis to only 12 games a season ago, but the Redskins coaching staff apparently thought well enough of Davis' 59 catches and 796 yards to make the fifth-year pro the team's franchise player.
The 26-year-old was fifth at his position in fantasy points per game a season ago. Rookie quarterback Robert Griffin creates some uncertainty where Davis' fantasy fortunes are concerned, but Griffin will also likely be checking down a lot, which could boost Davis' targets.
Roster: Wes Welker, WR, NE—Roddy White, WR, ATL—Fred Jackson, RB, BUF—Marques Colston, WR, NO—Shonn Greene, RB, NYJ—Philip Rivers, QB, SD
You can view the first round of this mock draft by clicking here.
You can view the second round of this mock draft by clicking here.
You can view the third round of this mock draft by clicking here.
You can view the fourth round of this mock draft by clicking here.
You can view the fifth round of this mock draft by clicking here.
You can view the sixth round of this mock draft by clicking here.
This article is
What is the duplicate article?
Why is this article offensive?
Where is this article plagiarized from?
Why is this article poorly edited?