Fantasy Football Mock Draft 2012: Full 1st Round with Pick-by-Pick Analysis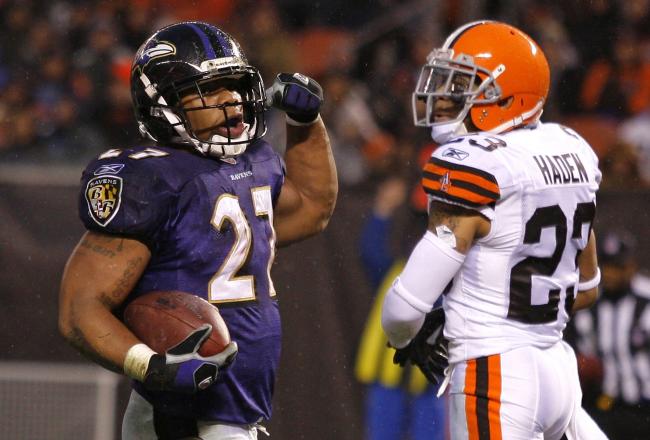 Matt Sullivan/Getty Images
The 2012 NFL draft has come and gone, and as free agency winds down over the next couple of weeks and we approach the beginning of training camp, another fantasy football season will begin as folks gather from across the land online or in a buddy's basement for their league's draft.
It's never too early to begin preparing in your quest for fantasy domination in 2012, so this will begin a series of articles that will take an in-depth, pick-by-pick look at an entire draft, from the first running back off the board to the very last kicker selected.
For this mock draft, we'll assume a standard 12-team league with 16 roster spots in which you start one quarterback, two running backs, three wide receivers, one tight end, one kicker and one team defense. This league has no "flex" position, but does award one point per reception and six points for all touchdowns, be they passing, rushing or receiving. The draft is serpentine, meaning that the draft order is reversed in even-numbered rounds.
Other scoring is "standard," meaning 10 rushing/receiving yards per point, 25 passing yards per point, three points for all field goals (with a two point bonus for field goals of over 50 yards) and defensive scoring that awards points for turnovers, sacks and yardage and points allowed. Lost fumbles and interceptions thrown are a two-point deduction.
Now that the rules have been laid out, team one is on the clock!
Team One (1.01): Ray Rice, RB, Baltimore Ravens
There's a three-dog race for the top spot on fantasy draft boards this summer and fairly compelling arguments can be made for any of the first three players listed in this draft to be taken first overall.
However, Ray Rice is coming off a fourth season in which he topped 2,000 yards for the second time in three years, finishing the season as fantasy's top running back and posting his third consecutive top-10 finish at the position.
Rice's receiving abilities (he's averaged over 70 catches a season over the past three years) give him additional value in PPR leagues, but it's his durability (he hasn't missed a game since 2008) that puts the 25-year-old over the top and into the No. 1 spot.
Team Two (1.02): Arian Foster, RB, Houston Texans
Even after missing three games last season, Houston Texans running back Arian Foster was still able to finish as the third-ranked player at his position in 2011, tallying almost 310 fantasy points on the heels of over 1,800 total yards and 12 touchdowns.
Foster has finished in the top five in both of his seasons as lead back for the Texans. Although the fact that he has missed time in each of those years makes securing backup Ben Tate as a handcuff an absolute must. The powerful runner and excellent receiver is a fine foundation to build your fantasy squad around.
Team Three (1.03): LeSean McCoy, RB, Philadelphia Eagles
Philadelphia Eagles running back LeSean McCoy put together a breakout season in his third year in the National Football League, rushing for over 1,300 yards, scoring an eye-popping 17 touchdowns and finishing the season as fantasy's second-ranked running back.
McCoy's gaudy touchdown total from 2011 is going to be hard to replicate, and the fact that his receptions dropped from 78 in 2010 to 48 a year ago is cause for a measure of concern. However, the 23-year-old is the lead back on a potent offense and a safe bet for top five production, making him the last of the "big three" backs available before there's a drop-off at the position.
Team Four (1.04): Calvin Johnson, WR, Detroit Lions
I'll freely admit that the thought of drafting a wide receiver with the fourth-overall pick would make my palms sweat. However, with the aforementioned drop-off at running back upon us and given that this is a PPR league where three receivers are started, it makes sense to take the player here who is far and away the best fantasy option at the position.
Calvin Johnson had an obscene season for the Detroit Lions a year ago, catching 96 passes for nearly 1,700 yards and 16 touchdowns while finishing as the top wideout in fantasy football by nearly 25 points. Drafting Megatron this early would force the team that takes him to look for mid-round values at running back, but in the meantime, they'll have built an advantage at the wide receiver spot.
Team Five (1.05): Maurice Jones-Drew, RB, Jacksonville Jaguars
Maurice Jones-Drew was the National Football League's leading rusher in 2011, as the seventh-year pro rumbled for over 1,600 total yards and scored 11 total touchdowns en route to finishing as fantasy football's fourth ranked running back, his third top-five finish at the position over the past four years.
However, there is cause for some concern with Jones-Drew so far, as his fantasy prospects for 2012 are concerned. A Jacksonville offense that ranked dead last in the NFL a year ago isn't going to be much better this season, and the 27-year-old's degenerative knee condition leaves the specter of injury a constant worry.
Team Six (1.06): Aaron Rodgers, QB, Green Bay Packers
I will be the first one to say that I'm not a fan of selecting a quarterback in the first round, as the fact that teams only start one makes signal-callers much less scarce than backs or receivers. However, when you're stuck in the middle of the round, you get precious few chances to force the action a bit, and this is one of those opportunities.
Aaron Rodgers led the Green Bay Packers to a 15-1 regular season record last season with 46 touchdown passes and a passer rating of more than 120. The seventh-year veteran may have finished second among quarterbacks in fantasy points to Drew Brees last year, but Rodgers is much more likely to back up his 2011 season than Brees is his record-setting campaign.
Team Seven (1.07): Larry Fitzgerald, WR, Arizona Cardinals
Even with quarterback play that can best be described as erratic and at worst horrible, Larry Fitzgerald still managed to finish 2011 as fantasy football's sixth-ranked wide receiver, reeling in 80 passes for 1,411 yards and eight scores.
The addition of wide receiver Michael Floyd should help open things up somewhat for the eighth-year star, and while there may be a couple of other options at the position with more "upside," Fitzgerald's track record (top 10 finishes in four of the past five years) and durability (no missed games since 2007) make him the pick here.
Team Eight (1.08): Chris Johnson, RB, Tennessee Titans
Just the name "Chris Johnson" is enough to make many fantasy owners grumble an obscenity or two, as a 2011 season that began with a contentious holdout ended with Johnson barely cracking 1,000 rushing yards while fantasy teams that drafted him watched the playoffs from the outside.
However, Johnson showed up to voluntary workouts this year dedicated to erasing the stain of last year's dismal season. Given that the 5'11" speedster is the same player who posted top six fantasy finishes in 2009 and 2010, a re-dedicated Johnson could actually prove to be a very nice value this late in the round.
Team Nine (1.09): Andre Johnson, WR, Houston Texans
2011 was a breakthrough season for the Houston Texans, who made the first postseason appearance in franchise history after winning the AFC South. However, the season was a disappointment for fantasy owners of Texans wide receiver Andre Johnson, who missed nine games due to injury and managed fewer that 500 receiving yards on the season.
It seems that there wasn't anyone of prominence on offense who didn't miss time for the Texans last year, but the team is expected to have all hands on deck for opening day this September. Assuming that is indeed the case, it should portend a bounce-back season for the 30-year-old Johnson, who was fantasy's top wideout in both 2008 and 2009.
Team 10 (1.10): Matt Forte, RB, Chicago Bears
Although Chicago Bears running back Matt Forte missed the final four games last season with a MCL injury, the fifth-year pro still finished within the top 12 at his position in fantasy points after gaining over 1,400 total yards, and Forte's 18.7 fantasy points per game was seventh-best among running backs.
At this point in the first round, each option seems to bring with it some sort of question mark, and in Forte's case, it's not so much the injury he had as the contract he doesn't. Forte has to this point refused to sign his franchise tender, and the possibility of a holdout and the presence of the newly-acquired Michel Bush in the Windy City makes Forte one of the riskier first-round bets.
Team 11 (1.11): Adrian Peterson, RB, Minnesota Vikings
The presence of Minnesota Vikings running back Adrian Peterson this low on the list may seem surprising to some, especially given that last year was the first time that Peterson finished outside the top-10 running backs in fantasy points in his five-year career.
However, the reason that Peterson missed the top 10 in 2011 was that the former Oklahoma standout suffered a nasty ACL tear last December. Peterson is reportedly recovering very well from the injury and has pledged to be ready by opening day, but an injury that severe that recently is a big blow to his fantasy stock.
Team 12 (1.12): Wes Welker, WR, New England Patriots
New England Patriots wide receiver Wes Welker may be best known right now for the one catch that he didn't make during Super Bowl XLVI. However, the eighth-year veteran made plenty of catches during the regular season a year ago, reeling in 122 passes for almost 1,600 yards and nine scores while finishing as the runner-up to Calvin Johnson in fantasy points at wide receiver.
Drafting at the turn can be tricky given the length of time between selections. In taking Welker here, the last team choosing in round one can add a top-flight WR1 whose gaudy catch totals make him very consistent in point-per-reception leagues while leaving the door open to address the running back position immediately with their next pick.
This article is
What is the duplicate article?
Why is this article offensive?
Where is this article plagiarized from?
Why is this article poorly edited?