Green Bay Packers 2012 NFL Draft Picks: Grades, Results and Analysis
Chris Trotman/Getty Images

Welcome to the 2012 NFL draft.
I'm going to be LIVE at Radio City Music Hall to cover this event for the third year in a row. It's always a good time, and I highly recommend you make the pilgrimage to see at least the first round once.
During all three days of the draft, I'll be here updating this slideshow with the latest and greatest Green Bay Packers info. We'll have picks, and we'll have rumors; we'll laugh, cry and learn an important lesson in the end.
So keep it locked here at the NFC North blog for all your Packers updates—as well as updates for the whole NFC North.
Also, follow me on Twitter for real-time reactions and any links to radio or video.
Begin Slideshow

»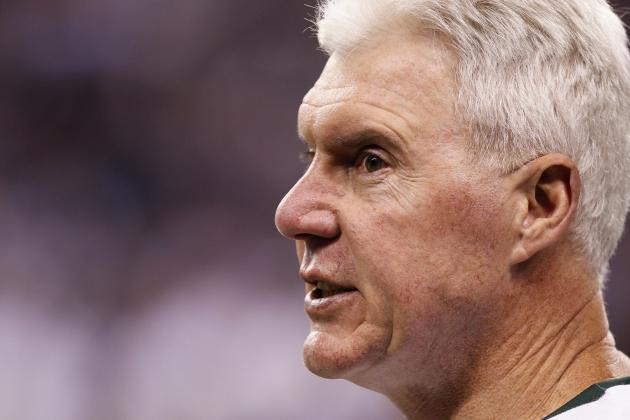 Joe Robbins/Getty Images

DAY ONE RECAP
It's funny how things work out. A while ago, I had Nick Perry as my pick for the Packers, both here at B/R and at CheeseheadTV. Time went by and I shifted my opinion and dropped Perry as a likely candidate.
So am I a genius for being right three months ago or a fool for changing? Both probably or neither.
Perry is a solid pick, really, who will probably be just fine doing whatever the Packers ask of him. A bit raw, he can definitely transfer to the OLB spot across from Clay Matthews and if he hits his potential—wow.
The question heading into Day Two is, will the Packers make a move or let the board come to them?
6pm Day One Like Chuck Norris, Packers GM Ted Thompson doesn't sleep—he waits.
As expected, all is quiet with the Green Bay Packers. Of course, if I hear anything on the Radio City floor, I will post here and on Twitter.
They aren't likely to make a big move early, so this is likely to be a mellow first 10 picks or so. However, I don't rule out a trade up or back, so we'll see.
I expect Shea McClellin to be in play near the Packers' pick, and that could make them jump up—or, if he's gone early, maybe pull into the second for some value picks.
So, stay tuned...or Ted will get you!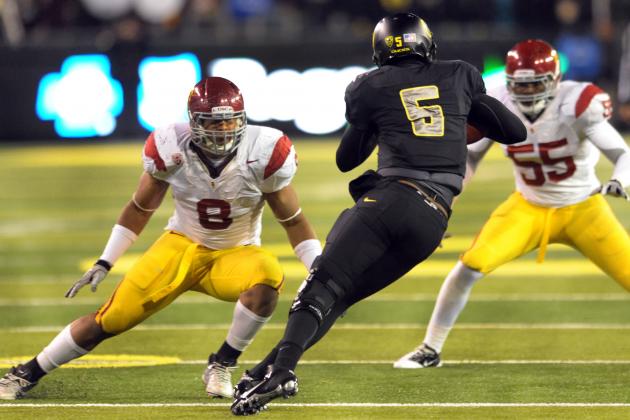 Steve Dykes/Getty Images

I made this my pick for the CheeseheadTV.com Draft Guide and got some flack for it. I'm not saying I'm a genius because I agreed with the concerns, it's funny in an ironic way.
Perry may have dropped to the Pack because he doesn't want to be a linebacker. However, he cooled on that statement later and frankly he'll do what his bosses tell him.
Will he be effective?
Here's what Wes Bunting of the National Football Post said about him (read the rest here):
What I like…

- Displays the ability to coil up into his stance, keep his base under him, back flat and take a positive first step off the football.

- Eats up grass well initially, getting on top of opposing tackles quickly in the pass game.

- Possesses the first step to threaten the edge and demonstrates some savvy to his game setting up his outside speed rush.

- Extends his long arms well into contact and showcases a little know how of when to work the club/chop in order to keep himself clean on the edge. Can be violent on contact.

- Possesses good length for his size, is a long armed kid who maximizes his length well into contact.

What I don't like…

- Is a slightly tighter pass rusher who struggles to really drop his pad level around the edge, sink his hips and flatten out under tackles.

- Too often is easily pushed past the pocket and eliminated from the play due to higher pad level.

- Isn't real sudden off his speed rush on any type of change of direction move. There isn't a real quick/sudden element to his game back inside.

- Gets upright through contact, doesn't play as strong as he could because of pad level and makes it tough on himself to disengage once a lineman gets their hands on him.

Impression: Exhibits the first step to be a threat off the edge, however struggles to drop his pad level when flattening out. Plus, he doesn't have much of a counter to his game at this point. Nevertheless, has some obvious talent and is a guy you would expect to start as a rush backer in a 34 scheme and be a productive threat off the edge.
I like the pick overall. With McClellin off the board, the Packers had a ton of ways to go and Perry has tremendous upside.
I'll be curious to see where this ends up in a year or two. If Perry lines up across from Clay Matthews and reaches his potential, wow.
Grade: B-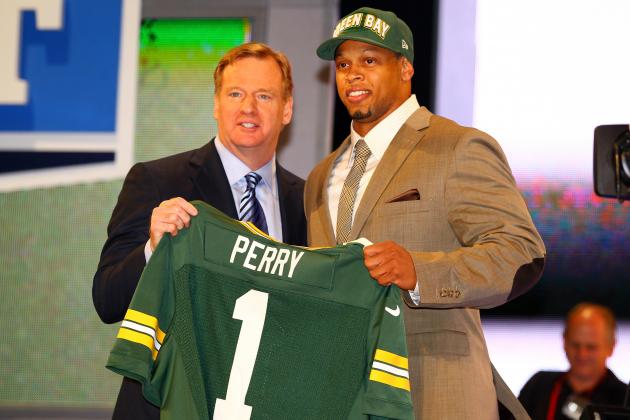 Al Bello/Getty Images

Unfortunately the Nick Perry presser happened so lat I was wrapping up. You can never tell how bad the backlog at Radio Row is goign to be which throws interviews off. For example, RG3 was actually the third interview, behind Trent Richardson because he was in demand so much.
So I missed Perry, but still have his transcript for you.
There's not much to it, unfortunately most of the press (like myself) was wrapping up.The inaudible question was probably a follow up to the first Clay Matthews question.
NICK PERRY

Q. Who called you? Who was first on the phone?

I'm not quite sure. I mean, I talked to everyone basically.

Q. Did you play with Clay Mathews in college?

Yes, I did. We played my redshirt freshman year. I wasn't a part of the team. I was able to play with him, practice with him, but I didn't play any games with him.

Q. (Inaudible.)

It's good. He's a great player. I'll be glad to be a part of that.

Q. Are you happy to be going to a team that has won a championship recently and last year won 15 games, a winning franchise, as opposed to somebody who needs to rebuild and needs you to suck it up for a year or two before getting good again?

They have great tradition. Coming from USC that has a lot of tradition, I think I'm ready to contribute any way I can and be a big help to the Packers winning the championship.

Q. How do you like cold weather?

I'm from Michigan, so I'm a little used to it. I can play in the weather. Wherever it is, I can adapt.

Q. With so many USC and Stanford players going in the first round, what do you think it says about the Pac‑12?

We produce a lot of great players.

Q. What's the next step, getting on a plane?

I'm not sure yet, but whatever it is, I'm ready. I'm ready to go. Ready to start my new career.

Q. What did your mom and dad say?

Very excited that I'm close to being home. Being far away from Michigan, they're able to come to my games now, and just to be around for support now.

Q. How would you describe your game?

I'm a go‑getter, explosive, ready to get off the ball, stop the run and create havoc in the pass rushing situations.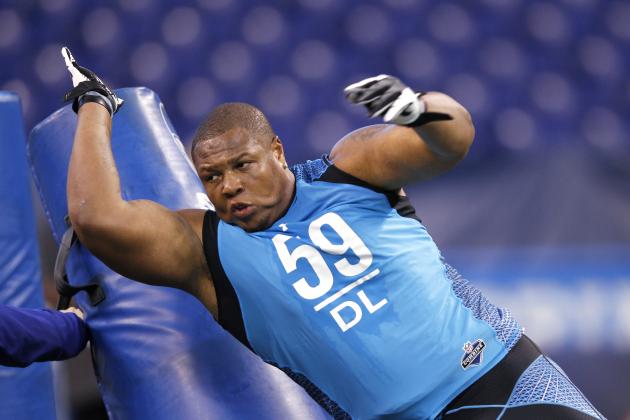 Joe Robbins/Getty Images

I'm typing this with Nagler clapping loudly next to me so i guess this is a fine pick.
I thought Worthy might be a Denver pick in the first, but instead Ted Thompson once again lets value drop to him and, in this case, make a jump to catch a great player falling when perhaps he shouldn't.
They needed pass rushing? They got pass rushing in spades.
Russ Lande of Sporting News said this in his GMJR Draft Guide:
PASS RUSH ABILITY / VARIETY OF PASS RUSH MOVES / HAND-USE

SECTION GRADE: 8.0

When Worthy maintains good pad level and pass rushes aggressively he has the tools to be an outstanding pass rusher for a DT. He can jolt pass blocker backwards with explosive punch, drives him into pocket and frees up to pressure QB. He also has the quickness to beat pass blocker with a variety if quick handed pass rush moves. An issue is that once he clears pass blockers he does not consistently wrap up and finish the sack - Has a tendency to get upright and high while closing on QB and over-runs sack. Perhaps the biggest issue for Worthy as a pass rusher is his tendency to stop rushing and "Chicken Fight" with pass blocker if his initial pass rush attempt is stopped.
I love this pick. I can't lie, this Packers Draft is falling together perfectly and they have about 45 more picks to go.
Grade: B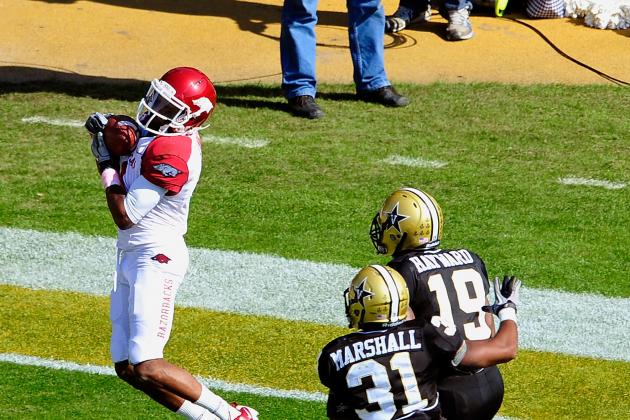 Grant Halverson/Getty Images

Every shot I go to post is Hayward or a Vandy player getting beat. Yipes.
Hayward does make a lot of plays, but doesn't excel in man coverage, though the Packers used a lot of zone last season. He's good at read and react and sitting back to watch the play and jumping a route. He's not as big as I'd like but can add some mass.
Wes Bunting of the National Football Post had this to say about him:
Impression: A smart, productive corner who can consistently make plays on the football. He's not a guy who will consistently hold up in man on the outside in the NFL. However, he's shown the ability to routinely get early jumps on the football and come down with the catch. Looks like one of the safer prospects in the draft as a cover two type guy.
I like other corners better, though he fits the Packers all right. Not their best pick but the Packers like who they like and they're playing this draft like a fiddle.
Grade: B-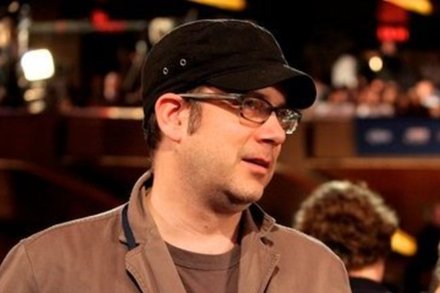 These picks are NAGLER APPROVED (TM)
Special thanks to the Packers for dragging these out.
#132 - Mike Daniels, DE, Iowa
Bunting's take
Impression: A typical overachieving Iowa DT who is going to make a lot of plays inside this year as a senior. He works hard, plays low and is violent to shed. Has a chance if he adds some weight and keeps his athleticism to make a roster in the right system and work his way into a rotation.
Grade: B-
#133 - Juron McMillian, FS, Maine
Packer Report's Bill Huber reported this a while back:
Packer Report talks to Maine All-American Jerron McMillian, who ran faster and jumped higher than any safety at the Scouting Combine. The hard-hitting, three-year starter took a pre-draft visit to Green Bay this week.
Positives: Explosive safety with nice size. Fast moving in every area of the field, takes good angles to the action and works hard to make plays. Has an explosive nature to his game, effectively patrols center field and plays with an aggressive attitude. Quick up the field to defend the run and is a solid open-field tackler. Displays good range moving sideline to sideline and is fast getting outside the numbers to make plays.

Negatives: Average ball skills. Displays marginal quickness driving to the ball out of his plant.

Analysis: McMillian is a terrific run-defending safety who's also displays the athleticism and movement skills necessary to cover the pass in centerfield. He must polish his technique yet offers upside and could surprise in the NFL.


Grade: C+
This is a pretty solid pick. While the Packers do technically run a 3-4, they are in nickel a lot and do mix in 4-3. There has been some conjecture they might make a pronounced change.
If they do, Manning, LB out of North Carolina State, could be a good fit. He's a solid cover guy and does a good job covering receivers in route. He's a bit scheme specific too, which might limit him.
Impression: Is a gifted athlete with "plus" body control in coverage and can range off his frame vs. the run. However, isn't overly physical and more of a run and hit guy. Looks like a potential starter only in a 43 scheme. Can only play on the weak side and is going to need to make a mark on special teams early.
Grade: B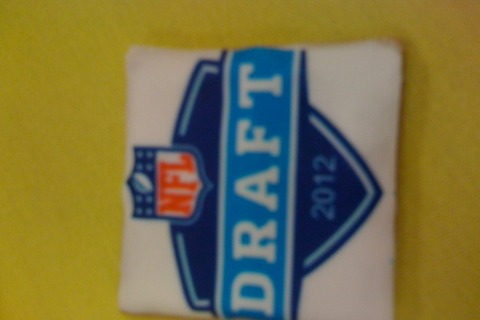 We're done! Have an NFL Draft cookie.
Two compensatory picks for the Packers.
#241 - Andrew Datko, T
Good, solid pick. whenever you can pick up a potential starter in the 7th, you're gold.
Wes Bunting had this to say at NFP:
Impression: He's a solid athlete who can bend, re-direct and block in space. However, he's had some struggles with power when trying to stay engaged and hasn't been able to stay healthy throughout his career. Nevertheless, in a weak offensive tackle class, he's one of the few prospects that possess the skill set to start in the NFL.
#243 - BJ Coleman, QB, Chatanooga
I like it a lot. The Packers have a QB camp which is a tremendous asset to young QBs and as Coleman's biggest issue is his footwork (accuracy and everything else stem from that), he couldn't ask for a better situation.
For the Pack, it's a low risk scenario. Graham Harrell is the number two and Coleman, barring devastating injury, will have time to adjust.
Here's what Bunting had to say:
Coleman is a tall, good looking quarterback prospect with a well-put together frame, good height and the ability to easily see over the line of scrimmage. He possesses an above-average arm, can spin the football into the second level and won't have any problems making all the throws at the next level. However, he is raw with his footwork, his initial step from the gun is with his left foot too often (he's a right handed quarterback) and he wastes a lot of motion stutter-stepping in order to balance himself to get away from the pocket. He doesn't get away from center quickly, and he will struggle with his balance trying to get rid of the football in the three and five-step game. Coleman almost seems to fall off throws and will throw off his back foot without collecting himself, causing his accuracy to suffer because of it. However, he does do a nice job collecting himself and getting a nice wide base to throw from when he can step into throws. He transfers his weight well, gets the ball out of his hands with a solid release point and generates good torque from his lower half. He displays "plus" placement with his plant foot and is accurate with the ball when he collects himself. He will need some time to mature from under center and improve his footwork, but is a good enough athlete to do so.
Grade: B-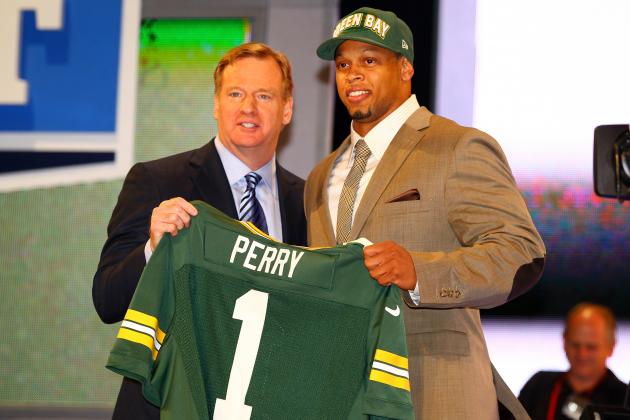 Al Bello/Getty Images

I loved the way Ted Thompson owned this draft, allowing value to fall and grabbing his guys when he was ready.
Perry and Worthy are both starters, Hayward and Manning could be shortly and the compensatory picks were all value/upside guys.
Great work. No out of the park hits, but very solid.
Grade: B