Baltimore Ravens 2012 NFL Draft Picks: Grades, Results and Analysis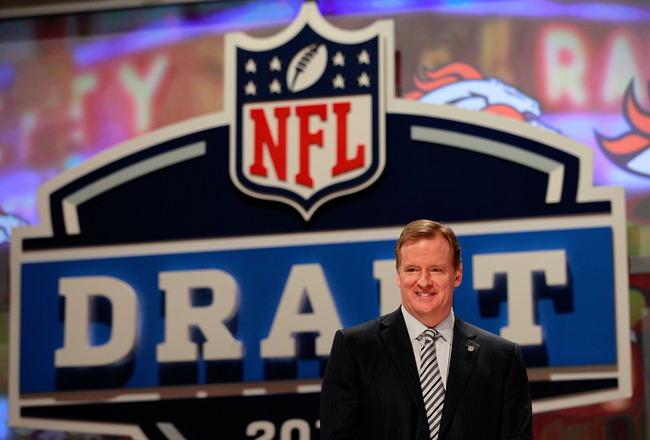 April would just be another month without the NFL Draft
Chris Trotman/Getty Images
Welcome, Baltimore Ravens fans, to your comprehensive one-stop shop for NFL Draft coverage. I will be breaking down each and every Ravens pick from Round 1 on Thursday all the way through the end of Round 7 on Saturday night, providing analysis, grades and scouting reports for the newest members of the Ravens roster.
Be sure to bookmark this page and come back after every pick is announced to get the skinny on all nine of the Ravens' 2012 draft picks. Bleacher Report is your home for the best NFL Draft coverage on the web.
Baltimore Ravens Draft Overview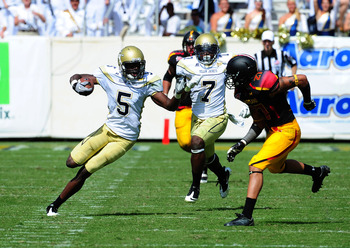 Georgia Tech WR Stephen Hill has caught the Ravens' eye, and he's still on the board heading into day 2.
Scott Cunningham/Getty Images
With the 29th overall pick in this year's draft, the Baltimore Ravens ultimately chose to trade down into the second round, likely deciding to do so when the New England Patriots grabbed linebacker Dont'a Hightower with the 25th overall pick.
If the Ravens didn't trade down, they could have picked up Peter Konz from Wisconsin to fill their need at guard, or Georgia's Cordy Glenn. OLB/DE Courtney Upshaw of Alabama or Georgia Tech receiver Stephen Hill would have also been in play.
But instead, in an unsurprising move, the Ravens traded out of the first round completely, moving to 35th overall and adding another fourth round pick, courtesy of the Minnesota Vikings. This was a win-win for the Ravens; the abovementioned players were still on the board as we headed into Draft Day 2.
The Ravens found the allure of Upshaw too much to ignore, and rightfully so. Upshaw has amazing pass rush skills, can fight the run like the backer he's ostensibly replacing, Jarret Johnson and brings much-needed youth to what is unquestionably one of the NFL's top defenses.
This Upshaw pick made it highly likely the Ravens would select either an offensive lineman or receiver with their second first round pick, and indeed they went with the former, picking Iowa State guard Kelechi Osemele.
Osemele will likely take over for the departed Ben Grubbs but could give any offensive lineman a run for their position; he's played all over the line, and done so at a high level. This is the exact pick the Ravens needed in Round 2.
The Ravens were extremely smart in taking Temple's Bernard Pierce in the third round. Pierce may have injury concerns, yes, and he's not an every-down back, but that's not what Baltimore needs. They need a viable No. 2 back to effectively spell Ray Rice, someone who can make real gains and shed tackles, and Pierce is just that player.
More linebacker depth could come for the Ravens later on, as well as a receiver. Defensive backs who can also contribute on special teams coverage could all be in play for Baltimore on Saturday.
Baltimore Ravens Trade Completely out of the First Round, as Expected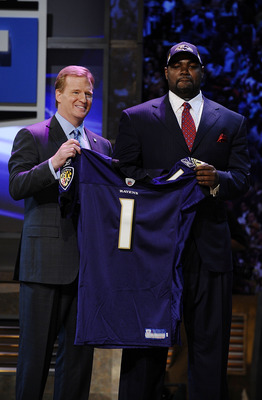 No one will be holding up a No. 1 Ravens jersey this year
Jeff Zelevansky/Getty Images
If the Baltimore Ravens were unable to land some of their most-coveted targets, among them Alabama linebacker Dont'a Hightower, it seemed likely they'd try to trade down and into the top of the second round.
Indeed, the Ravens did just that, swapping spots with the Minnesota Vikings. They now hold the 35th overall pick, in addition to their own 60th-overall selection in round two. They also received the Vikings' fourth-round, No. 98 pick in the trade.
With offensive line talent slipping down, it's not inconceivable the Ravens can land Georgia's Cordy Glenn with the pick. They could also be eyeing a second-round rated wide receiver like Alshon Jeffery, Mohamed Sanu or perhaps Arizona's Juron Criner.
There's also a chance that tomorrow will bring some linebacker depth for the Ravens' roster.
Round 2, Pick 35 (from Minnesota Vikings): Courtney Upshaw, DE/OLB, Alabama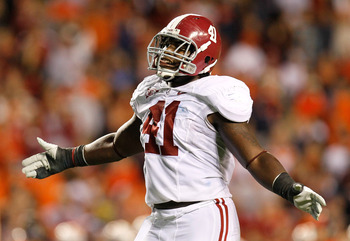 Crimson Tide DE/OLB Courtney Upshaw adds youth and ample skill to the Ravens' linebacker corps at a major value
Kevin C. Cox/Getty Images
The Baltimore Ravens used their trade-down wisely, picking up easily the best-available defensive player left on the board, Alabama DE/OLB Courtney Upshaw.
Upshaw's stock likely fell into the second round simply because it's hard to determine how he'll be used in the NFL. For the Ravens, he projects to be an outside backer, considering his exceptional pass-rush skills, but he could also be a perfect replacement for Jarret Johnson in the run defense.
The Ravens have ample time to figure out how best to use Upshaw. Those question marks aren't worthy of Baltimore's hesitation; he'll make a major impact in one of the league's best defenses almost immediately.
This was a huge steal for Baltimore and well worth them dropping down into the second round from the first. All in all, Upshaw could easily be a better, more impactful player for the Ravens this year than their ostensible first-round target, Dont'a Hightower.
Grade: A
Round 2, Pick 60: Kelechi Osemele, OG, Iowa State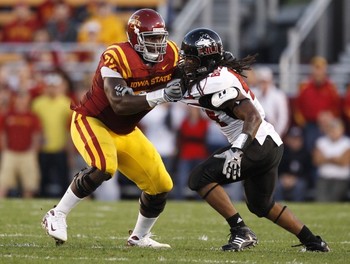 Osemele will likely take Grubbs' spot but could bump Oher out of his tackle spot too (Image courtesy of Press Box Scouting)
The Baltimore Ravens got their starting guard to replace Ben Grubbs in round two, getting the exact perfect player they needed in Iowa State's Kelechi Osemele.
Osemele is similar to another likely Ravens target Cordy Glenn in that he can be plugged in at practically every position on the offensive line. Osemele is powerful, athletic, and long-armed, making him ideal in both pass protection and run blocking.
Grubbs was a highly talented player and Osemele is more than capable of filling his considerable shoes. Osemele was a much-coveted second round talent and the fact they were able to snag him here is quite lucky, indeed. He'll keep quarterback Joe Flacco protected and make sure that running back Ray Rice continues to produce at an elite level.
Grade: A
Round 3, Pick 84 (from Atlanta Falcons): Bernard Pierce, RB, Temple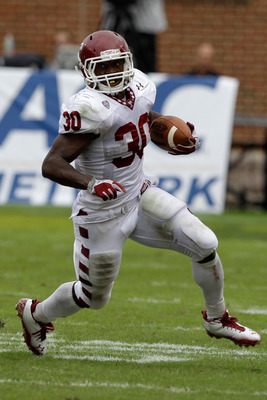 There's no one better to back up Ray Rice than Bernard Pierce
Rob Carr/Getty Images
The Baltimore Ravens chose to trade up with the Atlanta Falcons to grab a dedicated No. 2 running back to spell and back up starter Ray Rice, snagging Temple's Bernard Pierce with the 84th overall pick.
Pierce is a larger back, at 6'0", but possesses a similar tough and fast skill set as Rice, making him a perfect complement to the star. It's clear that by moving up and taking Pierce here that the Ravens had him as an intended target for some time, and it's another home run in my book when it comes to Baltimore's pitch-perfect draft.
As a starter, Pierce would have concerns about his durability. But behind Rice, he's a low-risk, extremely high reward back who should pay some serious dividends for Baltimore this year.
Grade: A
Round 4, Pick 98: Gino Gradkowski, OG, Delaware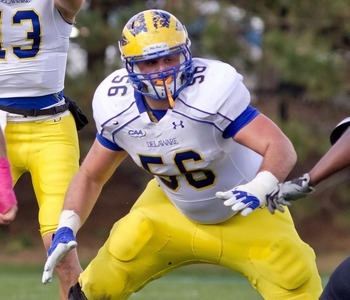 Versatile offensive lineman Gino Gradkowski is the Ravens' first of two fourth-round picks
In case things don't work out as planned with Kelechi Osemele (or if the Ravens would rather use him elsewhere on the offensive line) the team selected Delaware offensive guard Gino Gradkowski with their first of two fourth-round picks.
Gradkowski (brother of quarterback Bruce) is a work-in-progress guard who nonetheless might see time in the starting rotation.
He's got a nasty streak, with great size and ability to play center, left guard and right guard—clearly the Ravens like him more than Peter Konz. He's athletic and has an excellent work ethic, but should perform best in run blocking instead of pass protection.
Ravens head of player personnel Eric DeCosta said this would be a depth draft this year, and that's just what Gradkowski is, but in the AFC North, you can't have too many offensive linemen.
Grade: B
Round 4, Pick 130: Christian Thompson, S, South Carolina State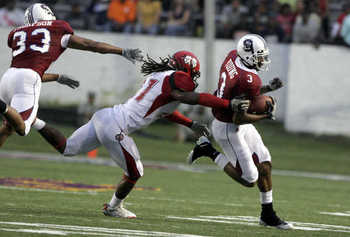 Thompson will help on special teams coverage, which is just what the Ravens needed
Again, it's a depth draft for the Ravens from here on out, and they clearly addressed the need to build at safety, taking South Carolina State's Christian Thompson at the end of the fourth round.
The Ravens lost two special teams-contributing safeties in free agency, Tom Zbikowski and Haruki Nakamura, and need someone to eventually take over for Ed Reed. Clearly, Thompson can contribute on kick and punt coverage immediately—he ran the fastest 40 time of any safety at the Scouting Combine.
Thompson is a physical tackler, and could be used in the nickel this season, but he's purely a special teams addition for right now. That is exactly what the Ravens needed to address in this draft, so this is a perfect pick.
Grade: A
Round 5, Pick 169: Asa Jackson, CB, Cal Poly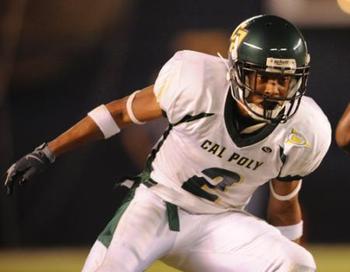 Asa Jackson builds depth and helps special teams (Photo Courtesy: GoPoly.com)
Secondary depth was a major area of need for the Ravens this year—or more accurately, secondary depth that can also contribute on special teams. They went this route for the second pick in a row, taking Cal Poly cornerback Asa Jackson at the end of the fifth round.
He's smaller than average but plays much bigger, making use of his height to make up for his leanness. He has great ball instincts, tackles well and has both great footwork and speed.
For Jackson to take the field right away, he'll need to be used to defend the slot. Otherwise, he'll be used in kick and punt coverage. He's got developmental skills, however, and fills the Ravens' late-round needs perfectly.
Grade: B+
Round 6, Pick 198: Tommy Streeter, WR, Miami
Your prayers have been answered, Tommy Streeter: You're on a Super Bowl-caliber team
Joel Auerbach/Getty Images
The Baltimore Ravens were likely to select a receiver in this year's draft, so the only thing surprising about their selection of Miami's Tommy Streeter is that they waited until the end of the sixth round to do so.
Streeter will be an excellent complement on the field to Torrey Smith. He has excellent speed and is adept at catching the ball while on the run and at 6'5" will prove to be a top target for quarterback Joe Flacco.
His route running is still a little raw, but with that size and speed he's likely just going to be asked to get open and little more. This is a steal for Baltimore; many had Streeter graded in the third round. Patience really paid off for Baltimore here.
Grade: A
Round 7, Pick 236: DeAngelo Tyson, DT, Georgia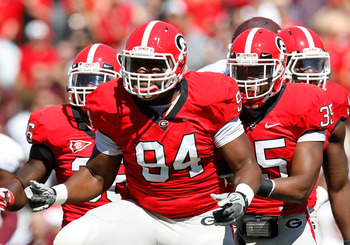 If DeAngelo Tyson's to make an impact in Baltimore, he'll need some serious development
Kevin C. Cox/Getty Images
The Baltimore Ravens closed out their draft by selecting Georgia defensive tackle DeAngelo Tyson 236th overall. Tyson does have some ability at nose tackle, but it's not his natural position and won't be able to contribute much at nose in the NFL.
He's strong at single-gap defense, however, though he doesn't eat blockers. This is simply a depth addition for the Ravens here; it's doubtful Tyson will ever see time on the field without significant improvement.
Grade: C-
Baltimore Ravens 2012 Draft Report Card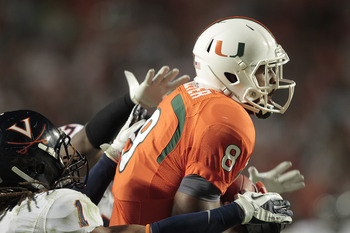 Tommy Streeter is a great WR addition for the Ravens
Joel Auerbach/Getty Images
Round 1: Trade Out
Round 2: OLB Courtney Upshaw, Alabama, A
The Ravens got a steal here with Upshaw. He'll make a huge impact both in the pass rush and stopping the run immediately.
Round 2: OG Kelechi Osemele, Iowa State, A
The Ravens got the starting guard they needed, just where they needed to draft him.
Round 3: RB Bernard Pierce, Temple, A
Large and bruising, Bernard Pierce is the perfect guy to back up and spell Ray Rice.
Round 4: OG Gino Gradkowski, Delaware, B
The Ravens could use more depth on the offensive line, and Gradkowski could end up in the rotation.
Round 4: S, Christian Thompson, South Carolina State, A
Thompson can contribute immediately on special teams, which is what they were looking for in defensive backs in this draft.
Round 5: CB Asa Jackson, Cal Poly, B+
Jackson may never develop into a starting corner, though he has some upside in the nickel. He's going to be excellent on special teams coverage, however.
Round 6: WR Tommy Streeter, Miami, A
Fast and tall, it looks like Joe Flacco may have a new favorite target, who was had at an absolute steal.
Round 7: DT DeAngelo Tyson, Georgia, C-
Help on the defensive line would have been good for the Ravens in this draft, but DeAngelo Tyson isn't that guy. I don't see the fit.
Overall Draft Grade: A
Keep Reading

Baltimore Ravens: Like this team?