Minnesota Vikings 2012 NFL Draft Picks: Grades, Results and Analysis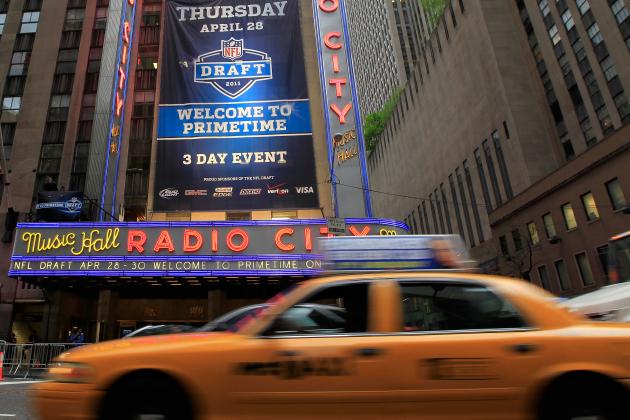 Chris Trotman/Getty Images

Welcome to the 2012 NFL draft. I'm going to be LIVE at Radio City Music Hall to cover this event for the third year in a row. It's always a good time, and I highly recommend you make the pilgrimage to see at least the first round once.
During all three days of the draft, I'll be here updating this slideshow with the latest and greatest Vikings info and analysis. We'll have picks, we'll have rumors, we'll laugh, cry and learn an important lesson in the end.
So keep it locked here at the NFC North blog for all your Vikings updates—as well as the updates for the whole NFC North. Also, follow me on Twitter as well for real time reaction and any links to radio or video I do.
Begin Slideshow

»
Al Messerschmidt/Getty Images

Unlike the Jaguars in Round 3 it is socially acceptable to grab a kicker in round 6.
It's a solid pick for a team, and the Vikings could use a kicker, though I'd rather see some more depth along the offensive line.
Can't hate it though.
Grade: B-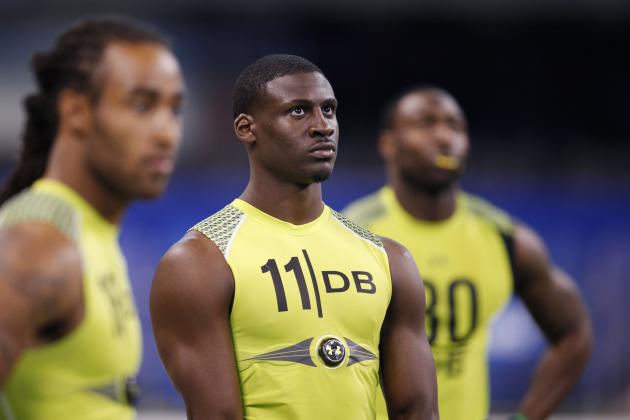 Joe Robbins/Getty Images

DAY ONE RECAP
Just want to clear things up for those unclear on the concept.
I'm paid to give you my opinion. You may not agree, you may not like it, but I'm paid to be honest. I can be right, I can be wrong—in the end I'll cop to both.
But put the whole 'hater' nonsense away. I'm not a fan writing here, I'm a paid professional.
That said, after a night of sleep, and remembering my criteria for 'there is no such thing as a risk, the move back to get Harrison Smith looks better. I still don't know I like it much, I'm not sold on Smith as a first rounder at all.
However if the Vikings were convinced Denver or someone else was going to get him (and from Radio City that was NOT the vibe among most media I spoke with, though they were disappointed the corners were all gone) then they go get their player.
I'd say the day split a B/B+ overall, though I still rate the move to Smith as a C+.
Time will tell.
It will be interesting to see where they go today. No picks in the second now, but this is a team not afraid to make a move. They could very well trade back into the second or pile up more picks.
7:11 - I don't know if you heard but the rumor is (according to jay Glazer) that the Browns are moving up one spot to get Trent Richardson. Hasn't been announced but that's the rumor being mongered. Seems like a move for no reason but in case Tampa was interested......... we'll soon see.
5:45 - I'm set up at Radio City and of course parsing rumors running on the floor. NFLN has of course reported that the Vikings are looking at Morris Claiborne not Matt Kalil with #3.
Couple thoughts. First, this could be smoke to get someone to jump (like Blackmon rumors). second it could be true and why they are willing to move back. It may also signal how far back they will go-probably no further than Tampa's pick.
I'll keep my ears to the ground and see what I hear....
9am -I was going to launch this with the other NFC North slide shows at 6 p.m., but this is news worth an early slot.
NFL Network is reporting that the Bills could be looking to make a move up to No. 3 for Matt Kalil. They desperately need an offensive tackle, and the USC player is outstanding.
This is the scenario I thought would be best for the Vikings, save if they could get someone to trade up for Claiborne or Blackmon and still get Kalil.
We'll keep you posted here and on Twitter as news breaks towards 'go' time.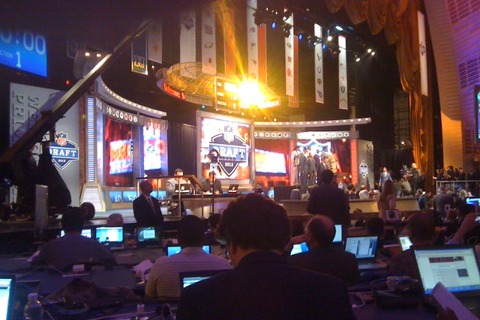 This will be my view tonight
This trade is a win-win. The Vikings get another several picks, ammo to move around again. The Browns get their guy and don't cough a ton up to do it.
Rumor has it the Browns want a third first rounder. Just a rumor, mind you but I heard it from a reliable source.
The Vikings keep Kalil, if they want him. It's a great move for them and could be the tipping point for the night. A small move denotes worry - other teams might have jumped up so the Browns moved ONE space.
Other teams will start thinking the same.
Herd mentality.
Get ready, could be a bumpy night.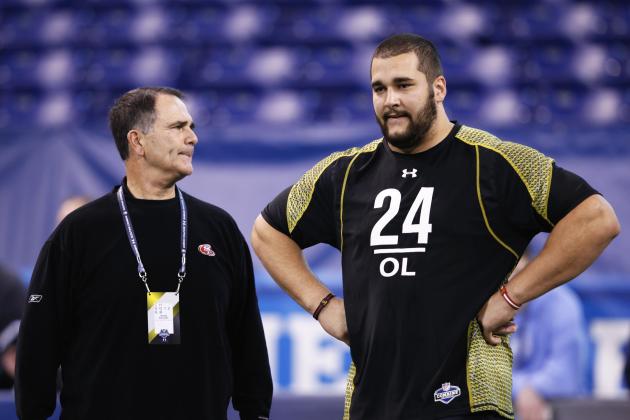 Joe Robbins/Getty Images

Purple Rain people? Seriously?
That's what newly minted Vikings OT Matt Kalil walked out to and hugged Commissioner
Goodell.
Kalil is a solid left tackle who will be the franchise cornerstone for a decade.
Here's some of what CBSSportsline had to say about him:
Pass Blocking: Eases out of his stance, showing good patience to allow defenders to come to him. Plays with textbook balance and technique: knees bent, shoulders square and on the balls of his feet.

Run blocking: Fires off the snap. Has a prototypical build and strength of an NFL offensive lineman. Maintains good pad level and has the strength in his upper body and leg drive to knock his opponent off the ball. Quick to the second level.

Intangibles: Younger brother (Ryan) and father (Frank) played D-I college football (Ryan at USC, Frank at Arkansas, Arizona) and in the NFL.
Love this pick. Love love love it. You should too Vikes fans.
PS - A+ Grade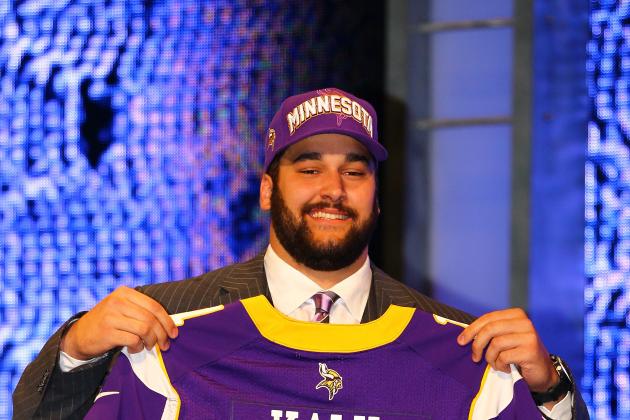 Al Bello/Getty Images

Hey guys, just came back from the Matt Kalil press conference and here are some highlights. The full audio and/or video (or both) will be up tomorrow morning after I wake up.
On his brother's reaction: He was relieved. He was proud of me, he's my number one fan.
On blocking for Ponder: He's a great guy, we had dinner once. He was hoping to get me.
About some of the pass rushers he'll face and how he'll prepare: For me, it's all about preparation now....study every move from my opponents in certain downs and situations......it's basically being a student of the game.
On Minnesota: I love being really cold so, it's great.
On blocking for Peterson: it's kinda cool you know, being in 7th grade and watching my brother in the ORange Bowl and seeing Adrian Peterson from Oklahoma. Seeing everything he's done now....from what I've heard about him, what kind of leader he is, how tough he is and i have no doubt he'll be 100% for this season and it's going to be fun blocking for him.
Like I said, I'll have the whole thing up by tomorrow.
I like him, good solid kid, great player.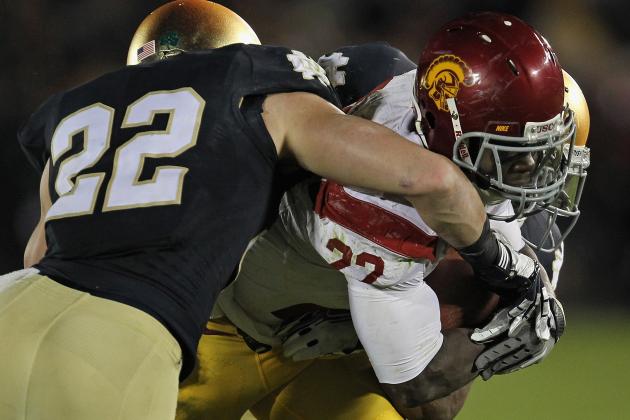 Jonathan Daniel/Getty Images

So the Vikings trade back into the first for Harrison Smith?
I get that they need secondary help but Smith just isn't a first rounder and might have been there in the second.
I like Smith to an extent. I don't like him THIS much though.
Here's what Wes Bunting of the National Football Post had to say:
A thick, well built safety who looks the part, has a natural bubble and muscular upper body. Is very effective playing downhill inside the box and consistently gets early jumps on the ball, reads and reacts quickly and exhibits "plus" instincts as a run defender. Is routinely able to read the action quickly, close on the football and is a solid wrap-up tackler. Generates good power into contact working in pursuit, and once he gets his stride going, exhibits solid range off his frame and despite being a bit tight, he breaks down well on contact, using his strong upper body to wrap and runs his legs through contact. He understands angles, runs the alley well and routinely is able to wrap, even in the open field.......

Impression: Isn't a guy you want to trust to run with receivers down the field. However, because of his solid natural range and instincts, I can see him getting over the top and making plays in a center field type role as an NFL strong safety
I don't disagree.
It's an ok pick but not one that required a move for. Kinda negates the awesome that was the first pick.
Grade: C
Hey guys
Above is the video I took of Matt Kalil facing the press for the first time as a Viking. Below, find the transcript - I italicized the two questions I asked which were about facing the NFC North pass rushers and blocking for Adrian Peterson.
MATT KALIL

Q. How do you feel?

Relieved.

Q. What did your brother (Panthers C Ryan Kalil) say to you during the hug ceremony? We saw that on TV.

He's just proud of me. He's my No. 1 fan so it was definitely fun hugging him through that whole moment and kind of celebrating with everyone who's helped me throughout my whole life to get me where I am today.

Q. Is it good to have a brother that can help you out?

Ryan has been such a big help to me, through the combine, helping me with interviews, and then meeting some of his teammates like Jordan Gross on the Panthers and helping me feel out what the NFL is like and just giving me guidelines. There are certain things in college that you can get away with that you can't get away with in the NFL, and you've really got to be a student of the game. There are a lot of things he's helped me with.

Q. Talk about how much you're looking forward to working with Christian Ponder.

I'm really excited. It's definitely going to be fun. He's a great guy. I had dinner with him one time, and he said he was hoping to get me, so it looks like he got his wish. I definitely take pride in protecting my quarterbacks, so I'm going to do whatever I can to improve. It's going to help going against Jared Allen every day to make me a better player, and I'm definitely ready for that challenge.

Q. Talk about it being a pretty tough division in terms of pass rush and talk about what you're going to do to get to that level of competition to keep Christian from ending up on the IR.

For me it's all about preparation and not even the day before the game, but the weeks leading up to the game and even the after season. I've worked tremendously this off‑season on hand‑eye coordination, my leveraging, how I handle certain pass rushes, footwork, fundamentals and basically every aspect of my game. The weeks leading up to the game‑to‑game preparation, studying every move your opponent does on certain downs, certain situations. And so it's basically being a student of the game and knowing everything your opponent is going to do. And I think that's the biggest advantage of having a good game.

Q. You were in Los Angeles, nice, balmy weather. Are you going to have to get an all‑wheel drive?

You know, I'm all right. It's going to be fun for me, I think. I like the cold. My room every night is at 50 degrees, so I don't think ‑‑ I love being really cold, so it's going to be nice to step outside my door every day and get that nice cold Minnesota air.

Q. Along with protecting Christian Ponder you get to block for Adrian Peterson. Talk about having one of the elite running backs in the league behind you.

It's kind of cool. Being in seventh grade and watching my brother play in the Orange Bowl, and Adrian Peterson from Oklahoma and seeing everything he's done now, and now being able to block for him, he's probably one of if not the best running backs in the NFL. From what I heard about him, what kind of guy he is, what kind of leader he is, how tough he is, I have no doubt he's going to not miss a beat this whole next season, and it's going to be pretty fun blocking for him.

Q. Talk about how surreal it is to play for the Vikings and be drafted out of USC.

It's really surreal. Even when I was sitting in that green room, it doesn't set in. Even after the Vikings called and said they were going to pick me, it still didn't sink in. And then when the commissioner goes up there, like every kid's dream growing up when your name is called, and everyone is clapping and celebrating, it's just like, , Wow, I made it.' Not yet, though because I've still got to do really well in the NFL, but it's the first stepping‑stone in hopefully a long career.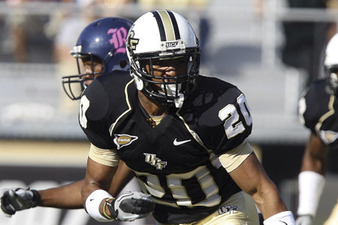 I feel like I had Robinson mocked to someone here, but who it was I have no idea.
Robinson is a solid player who can accelerate to the football and adjust to passes, and can play both man and zone, though he's a bit small.
He's good with what he has though.
Wes Bunting of the National Football Post had this to say about him:
Overall, Robinson is a talented corner. He's fluid, can really run and has the vertical speed to make up for a false step at the college level. He's also a guy who will tackle and isn't afraid to mix it up inside. However, I have a tough time giving any undersized corner a first-round grade who isn't technically sound in his drop and/or isn't real physical off the line.

I think Robinson is a guy who is in fact better suited playing on the outside than inside, because I see a corner who is faster than quick and will be more effective playing in space rather than in a phone booth.

Nevertheless, there are simply too many technical flaws to his game as of now that need to be cleaned up for me to feel comfortable using a first-round grade on him. However, because of his straight-line speed, natural fluidity and willingness to tackle, I would give the guy a "dirty starter" type grade who I wouldn't have too many reservations taking in round two.
I think this deep in the 3rd, it's a great pick and one the Vikings should be happy with though one wonders how Robinson fares against a giant sized Calvin Johnson.
A good route runner who is fearless across the middle, Wright body catches a little too much for my taste and despite being willing to cross the middle for tough catches, isn't the most physical receiver and gets bumped off routes.
A good 4th round pick though, as he could develop into quite an effective option across from Percy Harvin.
Bunting had this to say about Wright at National Football Post:
Impression: A coordinated athlete who is sharp as a route runner, tough over the middle and knows how to get open vs. man and zone. Will get re-routed vs. press at times and looks more like an inside player at the next level, but has the skill set to make a roster and carve out a big niche early.
Not my favorite remaining receiver, but I like him and the pick is a solid one.
Grade: B-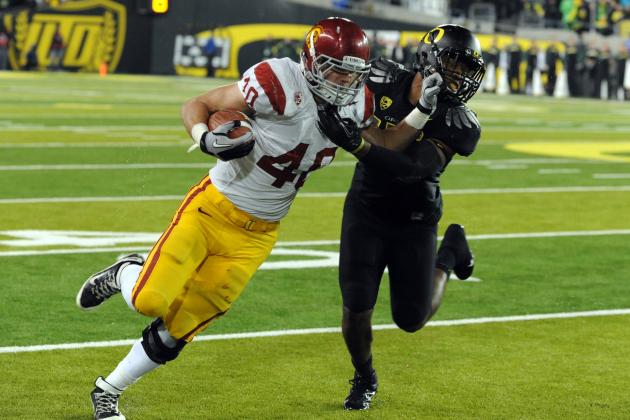 Steve Dykes/Getty Images

#128 - Rhett Ellison, TE, USC
A depth guy who plays well both in run and pass situations. A decent player, not a real impact pick here.
Bunting' take from National Football Post:
Impression: Isn't an elite straight-line athlete or dominant in-line guy. However, has the ability to be successful in both the run and pass game at the next level. Doesn't look like a starter to me, but may be able to earn playing time early during his NFL career.
Grade: C+
#134 - Greg Childs, WR, Arkansas
I love this pick and I think this is a great compliment to Harvin and Wright who was selected earlier.
Bunting's take at National Football Post:
Impression: He knows what he is and plays to his strengths. Looks like a big, coordinated possession type receiver at the next level who can win in the three-step game and create some big plays for a team in jump ball situations as well. However, needs to prove he is fully healthy, which could really hurt his draft stock.
If he's healthy he could be a steal.
Grade: B-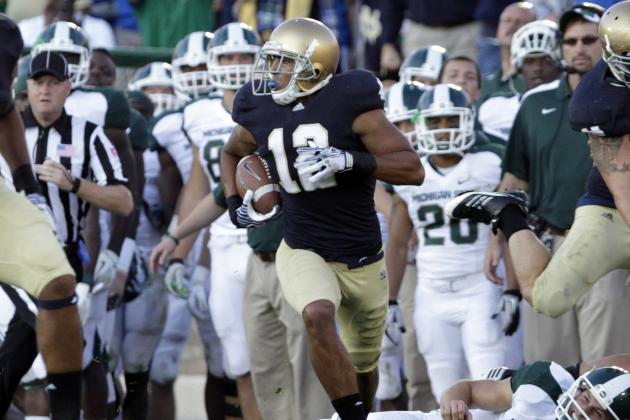 John Gress/Getty Images

I like this pick a ton. While Blanton is a little raw, he has tremendous upside.
Our old friend Wes Bunting had this to say about him:
Impression: Is a nice sized kid with some press man skills and upside. Is a bit scheme limited, but he's a good size/speed athlete who can re-route off the ball. Has some starting upside, but as of now looks like a draftable reserve who needs to play on the outside.
I think this could be a pick we look back on and think, what a great move. If he can reach his potential, he will start for them.
Grade: B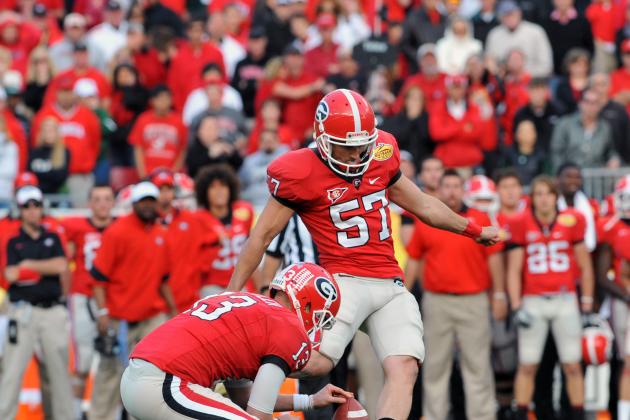 Al Messerschmidt/Getty Images

In the 6th round, it's socially acceptable to draft a kicker. Not the third, the sixth.
Someone let Jacksonville know.
Walsh is a solid kicker, it's a fine pick.
Grade: B-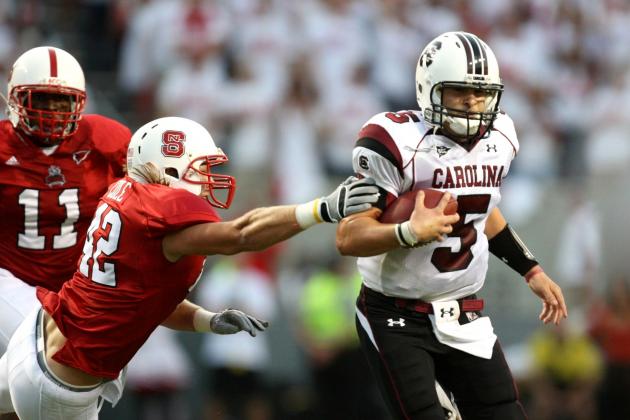 Streeter Lecka/Getty Images

For a seventh round pick, it's a pretty darn good one. He can play inside or out, plays from snap to whistle and sideline to sideline.
He's a little raw, but for this point in the draft, outstanding value in my opinion. He's a guy with a lot of upside.
Wes Bunting had this to say at NFP:
Possesses the range to run sideline to sideline vs. the run game. He exhibits a great motor in pursuit, works hard and is a solid wrap up guy, but he needs to do a better job inside the box extending his arms in order to shed. Doesn't have a ton of pop and too often leads with his shoulder into contact in order to anchor, but will struggle to get off blocks. Nevertheless, he reads and reacts quickly, picks his way through traffic and is quick to find the football. Gets a bit upright though when taking on blocks and can be overwhelmed through contact. Breaks down well on the ball, and will drop his shoulder under blockers trying to reach him off the edge and wraps well in space.

Impression: Played outside as junior and will kick inside as a senior. Looks better suited to play as a 43 OLB to me who has the skill set to start and play three downs for an NFL defense.
Grade: B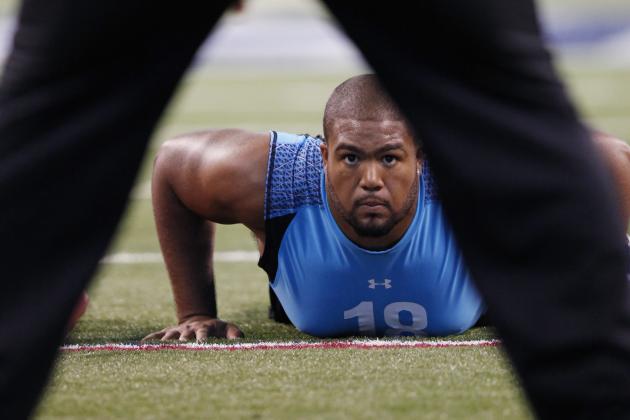 Joe Robbins/Getty Images

I like Guyton a lot so naturally I love this pick.
He still needs to learn some technique and isn't quite able to shed blocks like he should, but he's a versatile player who can do a ton of different things.
Wes Bunting had this to say about him at NFP:
A strong, physically put together defensive lineman who has experience both at the nose and the five-technique in Cal's 34 front. Possesses an explosive element to his game vs. the run game. When lined-up inside exhibits a plus first step and when he keeps his base down and back straight he not only can anchor inside, but has the lower body strength to overwhelm on contact. Possesses strong arms as well, works his legs through contact and can clog up run lanes inside. Is still learning how to use his hands consistently to shed inside, as he gets a bit upright and loses balance when trying to disengage. Also, needs to do a better job finding the football. Puts himself around the action routinely to make impact caliber plays vs. the run, but struggles to routinely find the football. However, started only the final four games of the year and awareness should improve with experience.

Will line up outside in pass rushing situations, needs to do a better job playing with a flatter back off the line as he buckles over at the waist and his initial movement is often upright. However, can be violent with his hands when trying to rush the passer, plays with a mean streak and has a good motor in pursuit. Isn't an overly sudden lateral athlete, but is balanced when looking to change directions and keeps his feet under him. Stays active with his hands and can keep himself clean inside when trying to work toward the QB. When he fires off the ball low he routinely creates a good initial bull rush inside vs. the pass.
I love the pick, a low risk tremendous upside guy in the 7th? Come on now.
Grade: B+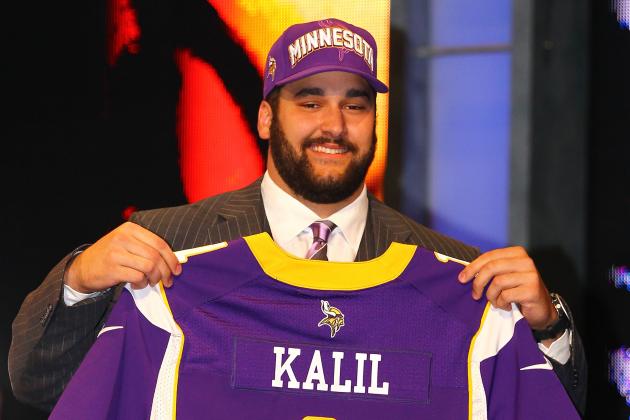 Al Bello/Getty Images

Moving back and still getting Kalil? A+ move.
Trading back into the first for Harrison Smith? C-
Maybe someone was going to snipe him, but everything I've heard and found out points to no. Denver had zero interest. The Niners, Bucs, Rams, Colts were not threats. The Giants might have been but they had bigger fish to fry.
The rest of the Draft was solid-the 7th was out of this world.
I love the Audie Cole and Trevor Guyton picks. Both have a little project in them, but ultimately, they are low risk, high ceiling guys. Frankly I think they will be heavy contributors in just a few years.
Great job by the Vikings and I love it when a team ends on a high note.
Grade: B+