2012 NBA Playoffs: New York Knicks Have the Pieces, Need Time to Make It Work
May 9, 2012

Forget about the New York Knicks' record when Carmelo Anthony and Amar'e Stoudemire are both on the floor.
Put aside the roller-coaster season that was 2011-12.
Try not to think about the abundance of injuries that have crippled the Knicks against the Miami Heat.
Because when you look at the Knicks roster, all the pieces are there. And it's going to work.
It just needs time.
Like many Knicks fans would agree, time has been against the Knicks for too damn long. It has been over a decade of misery and woe for the historic franchise.
Perhaps cursed from the trade of Patrick Ewing, the Knicks have failed to win a postseason series since they shipped him off to Seattle in 2000. Until finally winning Game 4 on Sunday against the Miami Heat, the Knicks went 11 years and fell to playoff opponents 13 straight times before finally winning a postseason game.
It's crazy to think the last time the Knicks won a playoff series, it was actually against, well...the Heat.
And unless the Knicks pull off the miracle of all miracles, they will be going on 12 years without capturing a playoff series.
While this "time" has seemed to last ages, the wait is finally over.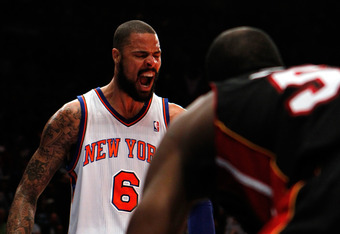 Jeff Zelevansky/Getty Images
The Knicks are back and finally relevant again. The only time that the Knicks need now is a full offseason of working with one another, a condition that hasn't been available since the very beginning of the Anthony regime.
Whether it's Wednesday, Friday or whenever that final loss eventually does come, the Knicks will start their first real offseason with a core of players that are capable of winning a championship.
Tyson Chandler is a proven winner that commands the same tenacity and energy from his teammates that he puts forth every night. Combined with a healthy Stoudemire and a fully motivated Anthony, two superstars that are craving for the chance at a title, the opportunity for success is within reach.
However, to this point, they have provided sub-par results, but for good reason. The amount of time that the Knicks' "Big Three" have had to gel has just been too minimal.
Starting with last year's midseason trade for Anthony, followed by the back injury to Stoudemire in the playoffs and coupled with his inability to receive the proper treatment due to the lockout, the two Knicks superstars have had hardly any time to form chemistry on the court.
Then Chandler was brought in, which in the process removed the only natural point guard on the roster, two weeks before the start of the 2011-12 season.
Honestly, it's pretty amazing that this team was able to finish 36-30 considering what they have gone through.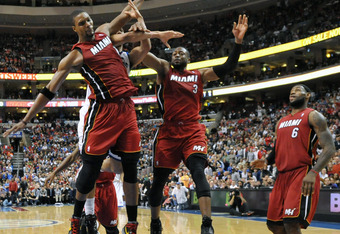 Drew Hallowell/Getty Images
When you have two players like Anthony and Stoudemire, who both need the ball to be effective, there needs to be time set aside for them to figure out how to play with one another.
Let's think about how Miami would have handled the same situation. Do you really think that if the Heat traded for LeBron James midseason to pair with Dwyane Wade that the two would have hit it off right away?
There's not a chance in hell.
The initial struggles of the Miami Heat's "Big Three" were evident even when they had an entire offseason to work together. Patience, which many Knicks fans have little of at this point, is key.
With a healthy Jeremy Lin and Iman Shumpert in the backcourt, the Knicks will boast one of the strongest starting lineups in the league, one that can score efficiently and defend tenaciously.
Bench depth may be an issue, as J.R. Smith, Steve Novak, Landry Fields and Jared Jeffries are all set to become free agents. However, if the Knicks can lure back at least Novak, Fields and possibly Jeffries, they will be able to round out the rest of the roster from there.
If Josh Harrellson loses some weight, he will be a great role player for the Knicks. He is a fundamentally sound defensive player with a jump shot that has potential if honed upon.
Last, but not least, Mike Woodson deserves every opportunity to coach this team next year. It's amazing what he has done in such a short amount of time. He took over a team that was in absolute shambles and turned them into a defensive oriented powerhouse.
Had this been a full season, Woodson may have been able to help the Knicks escape from such a low playoff seeding.
Regardless, what's in the past is over with. The Knicks have all the pieces to make this work. While this season may end without fulfilling expectations, with a full off season to work with, next season provides a lot of hope and promise for the Knicks.