Eli Manning Hosting Saturday Night Live: Grading Best and Worst Athlete Hosts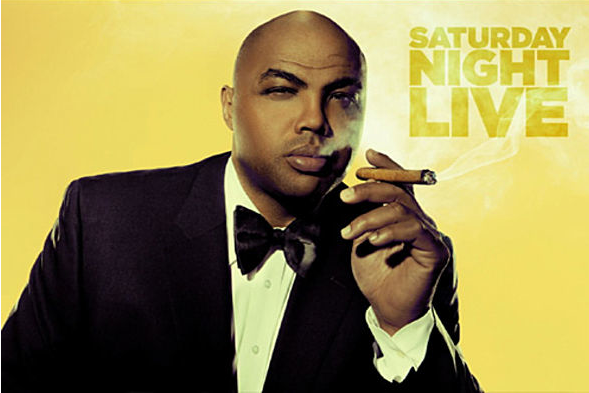 Image via NBC
Every now and then, Saturday Night Live mixes it up by booking a professional athlete to host the show rather than an actor promoting their latest cinematic plague on humanity. Sometimes it's a nice change. Other times, it's a painful exercise in endurance.
Following in the footsteps of brother Peyton, Giants quarterback Eli Manning is the next athlete in line for the hosting gig. And judging by the buzz surrounding his appearance, it seems people are pretty eager to see if Eli can reach the very high bar set by his big brother.
It sure wont' be easy. Peyton's hosting turn on SNL is generally considered the gold standard for athlete performances on the show, and his comedy chops stand up against some of the best in the business. Personally, I think Eli is gonna knock it out of the park.
Although, most athletes who step into the hosting role don't knock it out of the park. But most don't completely strike out either. Most of them come in somewhere in between.
Let's take a look at the top athlete performances on SNL and see how they fared on one of the most stressful stages in entertainment.
Begin Slideshow

»
When Deion Sanders hosted SNL in 1995, he had just been signed by the Cowboys and was entering the prime of his career. Sanders was one of the biggest superstars in sports, but his performance on the show proved he wasn't quite ready for "Prime Time."
"Best" Sketch: Hot Dog for Jason. Sanders hot dogging is the stuff of legends, and in this sketch he plays himself promising to hot dog it for an ailing "young boy," naturally played by Chris Farley.
(Dis)Honorable Mention: Simple Rappers. Sanders plays one of a trio of rappers who perform short and simple rap songs.
Grade: F
After his performance at the 2008 Olympics in Beijing, swimmer Michael Phelps had built up plenty of capital with the American public. Which was a good thing, because he lost a large chunk of it just a month later when he hosted the season premiere of SNL.
Best Sketch: (see video) Michael Phelps Diet. Phelps had a little fun with the rumors that he eats 12,000 calories a day—but he played the least convincing Michael Phelps ever.
Honorable Mention: Really?!?: Michael Phelps. OK, so this Weekend Update feature happened a year later after Phelps was busted smoking a bong—so technically, it shouldn't count, but I didn't feel right subjecting you to another sketch in that show.
Grade: F+
Another athlete who parlayed her Olympic notoriety into an SNL hosting gig is figure skater Nancy Kerrigan. Just weeks after the Olympics and two months after the infamous attack orchestrated by rival Tonya Harding, Kerrigan hosted the show. She should have stuck with figure skating.
Best Sketch: (see video) St. Patrick's Day Parade. Kerrigan plays herself, who agreed to appear in the annual parade of a small New England town, which is populated with location-loathing locals. One resident refers to the town as "an old toilet bowl full of puke."
Honorable Mention: Frank Sinatra. Kerrigan wasn't in this Weekend Update feature in which Sinatra (played by Phil Hartman) showed up to finish his Grammys speech from the night before.
Grade: D
Not long after the historic trade sent Oilers great Wayne Gretzky to the Kings, The Great One was offered a chance to host SNL. Gretzky's performance wasn't terrible, but it definitely wasn't on par with a 200-point season.
Best Sketch: (see video) Celebrity Hockey Ideas. Since he just got to Los Angeles, Gretzky decides to take some advice from local celebrities on how to improve the game of hockey for America.
Honorable Mention: Point Blank. Again playing himself, Gretzky is invited to appear on a talk show to answer hockey questions from callers. Unfortunately, none of the questions are hockey-related.
Grade: C
In 2003, Jeff Gordon, NASCAR's biggest star, was at the height of his career. He was also at the peak of his fame, hosting the first SNL of the new year. Gordon is always a pretty likable guy, but his performance wasn't a first-place finish.
Best Sketch: Brian Fellow's Safari Planet. Gordon plays an animal expert who unwittingly agrees to appear on Tracy Morgan's always insane Brian Fellow show.
Honorable Mention: Opening Monologue. Gordon was at ease during the show's opening, answering questions from NASCAR fans in the audience.
Grade: C
In 1994, legendary boxer George Foreman was at the tail end of his second comeback to the sport and had just defeated Michael Moorer. Foreman had challenged Moorer for the world championship, regaining the title he had lost to Muhammad Ali two decades earlier. It was one helluva a year for Big George.
Best Sketch: Uncle Joe. Foreman plays an uncle who is reluctant to sing at a wedding reception—seems he was reluctant with good reason.
Honorable Mention: (see video) Chis Elliot's Bedtime Story. The always ridiculous Elliott asks Foreman to read him a bedtime story midway through the show.
Grade: C+
I just recently watched legendary quarterback Joe Montana's episode of SNL for the first time. Given Montana's standoffish nature with the public since his retirement, I wasn't really expecting much from him. He definitely surprised me.
Best Sketch: (see video) Opening Monologue. Montana is very comfortable in front of the camera during the opening, but his jokes about a recent concussion he had suffered are definitely a little tone deaf in the new era of the game.
Honorable Mention: Church Chat. Montana stops by to talk to the infamous Church Lady (played by Dana Carvey).
Grade: B-
Way back in 2003, Andy Roddick was ranked as the No. 1 tennis player in the world and had just one the first (and only) Grand Slam of his career. Roddick was pegged to host SNL, and everything has been downhill for him since then (excluding his good fortune in finding a wife).
Best Sketch: Morning Crew. Roddick stops by the radio studio of a radio deejay who spends the entire time menacing him.
Honorable Mention: Mrs. Dalrymple. Roddick plays a havoc-wreaking teenager with a British nanny—John McEnroe makes a surprise visit to critique the sketch at its conclusion.
Grade: B
Before "The Decision" and all the ensuing fallout, LeBron James was one of the most beloved athletes in the country. LeBron hosted SNL in late 2007, and the overall result was pretty good.
Best Sketch: LeBronologue. LeBron's opening monologue was a parody of one of his recent Nike commercial in which he played various members of his own family critiquing him at home.
Honorable Mention: High School Musical 3. LeBron plays the new kid in school who refuses to fall in line with the excessive singing until he realizes it will help him get the girl.
Grade: B
Before the steroid allegations and back when the Tour de France was still the Tour de Lance, cycling legend Lance Armstrong hosted SNL and was joined by his girlfriend, Sheryl Crow, who was the musical performer.
Best Sketch: (see video) Celebrity Ironman. Armstrong plays himself competing in the Ironman event. It turns out that, despite being a world-class cyclist, Armstrong has no ability whatsoever to run or swim.
Honorable Mention: A song for Sheryl. Continuing the "Lance sucks at everything but cycling theme," he and a few cast members compose a song that shows off his complete lack of musical abilities.
Grade: B+
Yankees superstar Derek Jeter hosted SNL in late 2001 and turned in a pretty solid performance. After hitting baseballs into the audience during his opening monologue, I wasn't sure what to expect. But Jeter surprised, as he often does.
Best Sketch: (see video) Derek Jeter's Taco Hole. Jeter sings about his passion for Mexican cuisine and his restaurant—which happens to be the fifth-best Mexican restaurant in all of Northern New Jersey.
Honorable Mention: Yankee Wives. Jeter plays one of the gossipy, ever-present Yankees wives in the stands at Yankee Stadium.
Grade: B+
Sometimes-wrestler The Rock has forged a relatively successful career as Dwayne Johnson. The Rock is a natural performer who seemed much more at ease hosting SNL than most athletes. His performance was great, but the sketches definitely weren't the best I've ever seen.
Best Sketch: (see video) The Rock Obama. The Rock plays the Hulk-like alter ego of President Obama, who appears after Rahm Emmanuel encourages the normally cool-headed Obama to get angry.
Honorable Mention: Hawaiian Hotel. This wasn't particularly funny, but it was funny that Hawaii's lieutenant governor organized a boycott of the show for exaggerating the "volcano threat."
Grade: A- (His performance gets an A; the show itself does not.)
NBA legendary non-role-model Charles Barkley has hosted SNL twice and received surprisingly mixed reviews each time. I say "surprisingly" because, even though his delivery can be a bit wooden, he's clearly down for anything—and it shows in the absurdity of the sketches.
Best Sketch: Wyndemere. Barkley plays a grown up jock who takes an unlikely shine to the enchanting Lord Wyndemere.
Honorable Mention: (see video) The NBA on TNT. Barkley plays Shaquille O'Neal in a parody of their TNT show. Some people described it as "too insider-y," but it gave basketball fans (like me) something to laugh about.
Grade: A
Nobody would ever confuse me for a Patriots fan, so I was absolutely prepared to hate on every moment of Tom Brady's performance on SNL back in 2005. Unfortunately, he didn't give me too much to hate on.
Best Sketch: Sexual Harassment and You. Brady starred in a sexual harassment PSA that basically explained that it's only harassment if the harasser isn't dreamy.
Honorable Mention: Why Brady? Brady has to defend his hosting gig to the likes of Peyton Manning and Donovan McNabb—not to mention Donovan's mom!
Grade: A
Broncos quarterback Peyton Manning is the general consensus pick for the best athlete host ever. Usually, athletes are graded on a sliding scale of "athlete hosts," but Manning's performance wasn't just great for an athlete—it was straight-up great.
Best Sketch: (see video) Digital Short: United Way. Manning's performance as an unfit mentor for a group of children is one of the best SNL sketches of all time.
Honorable Mention: Halftime Locker Room Dance. I can't find this video (legally) posted anywhere, but I still remember Manning's moves well—hilarious.
Grade: A+