San Diego Chargers 2012 NFL Schedule: Game-by-Game Analysis, Info & Predictions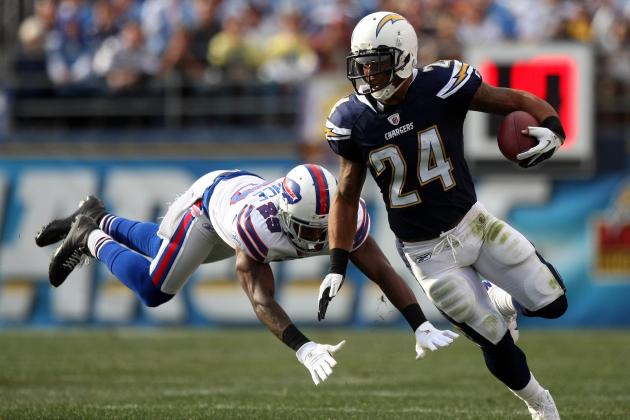 Donald Miralle/Getty Images

The San Diego Chargers will be looking to rebound from a subpar 8-8 season in 2011, and the release of the 2012 regular season schedule brings a fresh start with more of the same for the Bolts going forward.
The Chargers face several tough opponents throughout the course of the season, but it's nothing the San Diego faithful should be stressing over right now. The AFC West has improved from last season, with new faces arriving through free agency, but there is no clear-cut favorite to win the division yet.
The Chargers open the season on Monday Night Football against their hated rivals from Oakland and coincidentally end the season with the Raiders in Week 17. San Diego will be featured in five prime-time games, with two appearances on Monday Night Football. In addition to the increased spotlight, five of San Diego's 2012 opponents were playoff teams last season.
The following is a breakdown of the Chargers' 2012 regular-season schedule in a slate the team no doubt hopes will lead to getting back to playoff relevancy.
To see San Diego's full schedule for yourself, click here.
Begin Slideshow

»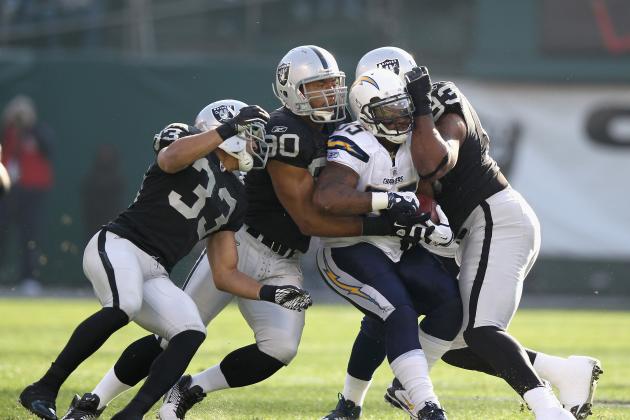 Ezra Shaw/Getty Images
Chargers former RB Mike Tolbert
Game Info: Sep. 10 Monday Night Football on ESPN at 10:15 ET (@O.co Coliseum)
Opponent's 2011 Record: 8-8
Background: In the 2011 season finale, the Chargers went into Oakland hoping to spoil the Raiders' playoff hopes. San Diego accomplished that goal in what was an epic quarterback duel. Raiders QB Carson Palmer threw for 417 yards and two touchdowns while Chargers QB Philip Rivers threw for 310 yards and three touchdowns.
Oakland dominated in total yards with 520 but too many missed opportunities on third down prevented the Raiders from keeping up with the Chargers. San Diego closed out Oakland in a 38-26 victory.
One thing to keep in mind from that game is that both leading rushers in Michael Bush and Mike Tolbert are now members of the NFC. Tolbert moved on to Carolina and Bush is backing up Matt Forte in Chicago. The running game for both teams rests on the shoulders of a healthy Darren McFadden and Ryan Mathews.
Prediction: A heated rivalry between the Chargers and Raiders is always a big game on Monday Night Football. San Diego is 8-2 against the Raiders in Oakland, so a win is much expected to prevent a slow start. The Chargers take this one 20-17 over the Raiders.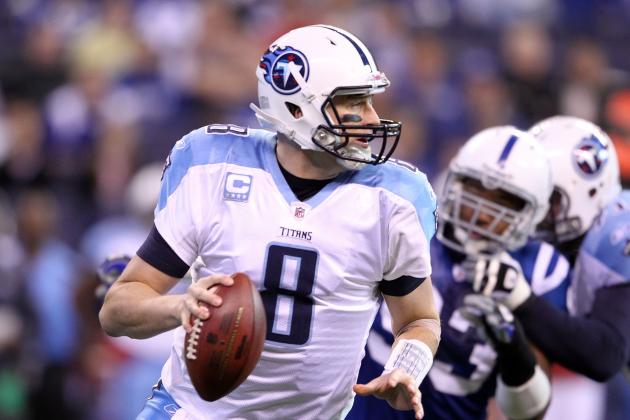 Andy Lyons/Getty Images
Titans QB Matt Hasselbeck
Game Info: Sep.16 Sunday on CBS at 4:15 ET (@ Qualcomm Stadium)

Opponent's 2011 Record: 9-7
Background: It's been two years since the Tennessee Titans came to town, and last time it came down to the wire in a 33-25 victory for San Diego. The Chargers came back at halftime down 19-14 before they held a 27-19 lead in the fourth quarter. Titans QB Vince Young hurled a 71-yd touchdown pass to Nate Washington to bring Tennessee within two points of a tie, but a failed two-point conversion stopped that from happening. Philip Rivers would put the nail in the coffin with a 13-yd touchdown pass to Darren Sproles.
A lot has changed since that last meeting in 2011. Young is no longer the quarterback of the Titans and Sproles has moved on from San Diego. The Chargers are potentially expecting a visit from veteran QB Matt Hasselbeck when the Titans show up in San Diego. Hasselbeck totaled 220 yards passing and a touchdown against the Chargers in 2010. Tennessee will also be with recovered wide receiver Kenny Britt and a hungry Chris Johnson.
Prediction: Things will get a little easier for Rivers with former Titans Pro Bowl cornerback Cortland Finnegan out of the picture, but Tennessee has playoff hopes in a weak division this season. The veteran leadership of Hasselbeck should pay off as the Titans escape with a close 27-24 win in San Diego.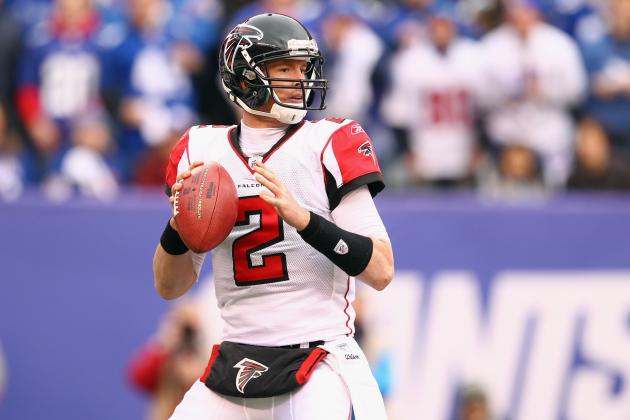 Al Bello/Getty Images
Falcons QB Matt Ryan
Game Info: Sep. 23 Sunday on FOX at 4:05 ET (@ Qualcomm Stadium)

Opponent's 2011 Record: 10-6
Background: A Chargers win in San Diego against Atlanta would be one for the record books as the Falcons are a perfect 5-0 at Qualcomm Stadium. On top of that, Atlanta is 7-1 all-time against San Diego. The last time the Falcons came to San Diego, QB Matt Ryan was just a bright-eyed rookie looking to make a name for himself in the NFL.
Five years later, Ryan is now running one of the top passing offenses in the league. The Falcons ranked eighth last season in passing yards with 262 a game. Atlanta will be coming into San Diego looking to test a questionable Chargers secondary.
Predictions: The Falcons are a tough matchup for any team, especially a Chargers team with a rebuilding defense. If Ryan has all day to throw in the pocket, then he's going to pick the Chargers apart all game long. The Falcons go wild in a 34-10 victory over the Chargers.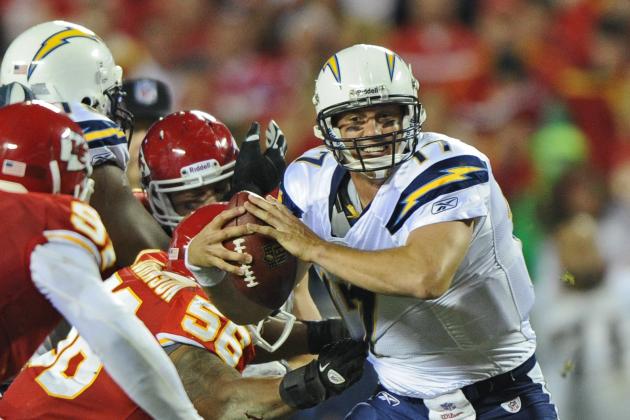 Peter Aiken/Getty Images
Chargers QB Philip Rivers
Game info: Sep.30 Sunday on CBS at 1 PM ET (@ Arrowhead Stadium)
Opponent's 2011 Record: 7-9
Background: In what may have been the ugliest game of the season for San Diego, the Kansas City Chiefs pulled off a 23-20 OT win over the Chargers on Halloween night at Arrowhead Stadium. The biggest story of the night, however, was the bizarre performance by Philip Rivers. Despite 369 yards passing, Rivers managed to turn the ball over three times throughout the course of the game.
Kansas City would kick the winning field goal in overtime after Rivers had a key fumble in the red zone with less than two minutes to go in the game. The loss was just one of six consecutive losses for the Bolts last season.
Kansas City added a bulldozer in the backfield with the signing of Peyton Hillis which should take pressure off quarterback Matt Cassel.
Prediction: The Chargers have lost back-to-back meetings with the Chiefs at Arrowhead Stadium since 2010. The Kansas City faithful will be rocking with their AFC West rivals in town. This one doesn't end up being as ugly as last season but the Chiefs still take this one 21-17.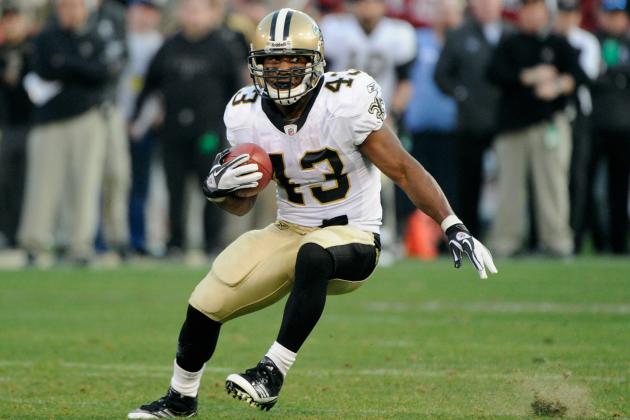 Thearon W. Henderson/Getty Images
Saints RB Darren Sproles
Game Info: Oct.7 Sunday on NBC at 8:20 PM ET (@ Mercedes-Benz Superdome)

Opponent's 2011 record: 13-3
Background: The last time the Chargers met the New Orleans Saints, neither team had home-field advantage as the game was played overseas in London, England at Wembley Stadium. Saints QB Drew Brees got first crack at his former team and showed no mercy. Brees and Philip Rivers had a shootout, throwing for three touchdowns a piece. New Orleans would go on to get the win over San Diego 37-32.
Another former Charger will get a chance to face his old team as Darren Sproles will be looking to show San Diego it was a big mistake letting him go. The Saints will have a big chip on their shoulders with the bounty scandal lingering over their heads and head coach Sean Payton suspended for the season.
Prediction: The Saints may be without their leader in Payton, but this is still the top ranked passing offense in the NFL. Barring the holdout of Brees because of his contract, the Saints should still get things rolling at home. New Orleans takes this one in another shootout 34-31.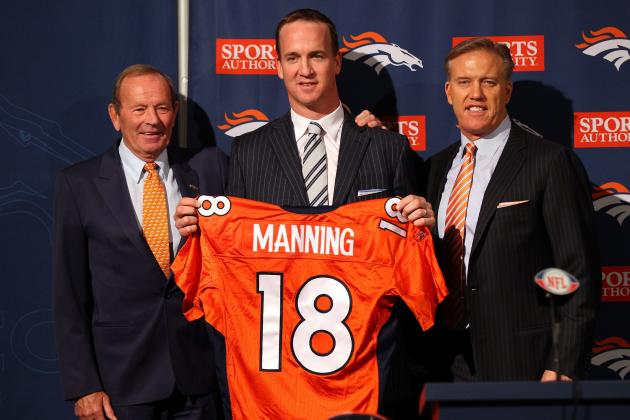 Justin Edmonds/Getty Images
Broncos QB Peyton Manning
Game info: Oct.15 Monday Night Football on ESPN at 8:30 PM ET (@ Qualcomm Stadium)
Opponent's 2011 record: 8-8
Background: In their second meeting with Denver last season, the Chargers allowed Tim Tebow to lead yet another comeback, but this time it was a successful one. San Diego had the lead all day, but a Matt Prater field goal in the fourth quarter tied everything up for Denver. Prater stepped up big again in overtime when he nailed a 37-yd field goal to get the 16-13 win.
The Chargers had no turnovers and played well offensively, but they continued to leave the door open for Tebow all game long. Denver's only touchdown came off a Tebow pass while Prater collected 10 of the Broncos' 16 points.
San Diego head coach Norv Turner should be grateful he gets his first look at Denver QB Peyton Manning at home. Getting a decisive win before the bye week would give San Diego confidence, but Manning should already be in Pro Bowl form midway through the season. This one has an overtime feel to it considering the drama of Monday Night Football. San Diego squeaks by 27-24 over Denver.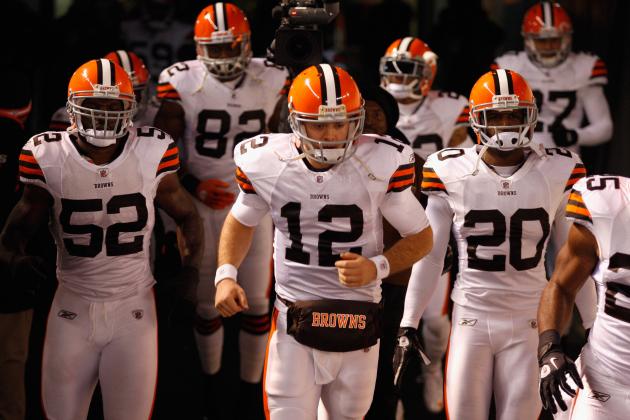 Jared Wickerham/Getty Images

Game Info: Oct.28 Sunday on CBS at 1 PM ET (@ Cleveland Browns Stadium)

Opponent's 2011 Record: 4-12
Background: In what was QB Brady Quinn's only meaningful game as a member of the Cleveland Browns, the former first-round pick threw three touchdown passes against the Chargers in a 2009 meeting at home. Despite Quinn's lofty effort, the Chargers still came out with a 30-23 win in Cleveland.
Philip Rivers will be facing a defense that only gave up 184.9 yards a game in 2011. As for the San Diego defense, they won't know which new weapon the Browns bring in until the NFL draft takes place. The Browns have been looking at a new running back, wide receiver and quarterback with at least one of their two first round picks in the draft. As of right now, QB Colt McCoy is the only known threat in this matchup.
Prediction: It should be safe to say that San Diego gets the "W" in Cleveland after the bye week against a rebuilding Browns team. A two touchdown margin is likely as well. San Diego over Cleveland 28-7.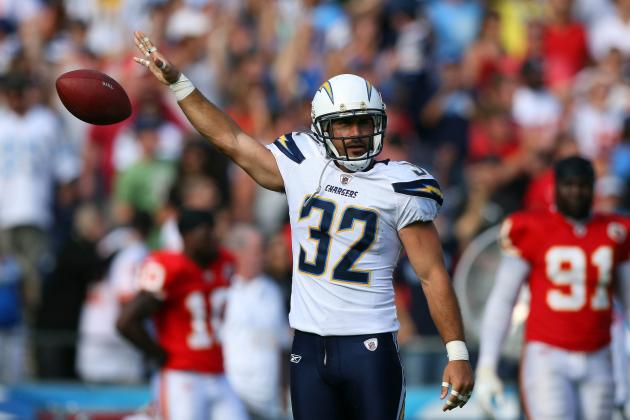 Donald Miralle/Getty Images
Chargers S Eric Weddle
Game info: Nov.1 Thursday on NFL Network at 8:20 PM ET (@ Qualcomm Stadium)
Opponent's 2011 record: 7-9
Background: The Chargers owe safety Eric Weddle a ton of credit for his late interception of Kansas City QB Matt Cassel late in the game to preserve a 20-17 win in San Diego. Had Cassel not went through with the errant throw, the Chiefs could have easily found themselves in OT with the Chargers.
Philip Rivers had another awful day with two interceptions against the Chiefs but he still racked up 266 yards through the air. Ryan Mathews, on the other hand, thrived with a two touchdown outing and 98 yards on the ground.
Prediction: The Chargers are a perfect 3 for 3 against the Chiefs at Qualcomm Stadium the past three seasons. That trend should continue with San Diego taking the win at home 24-17 over the Chiefs.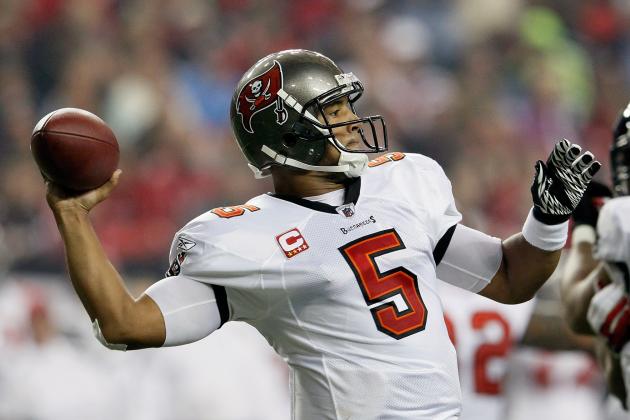 Kevin C. Cox/Getty Images
Buccaneers QB Josh Freeman
Game Info: Nov.11 Sunday on CBS at 1 PM ET (@Qualcomm Stadium)

2011 Record: 4-12
Background: The Chargers visited the Tampa Bay Buccaneers in 2008, and Philip Rivers managed to throw four touchdown passes in a 41-24 beatdown of the Bucs. Then again, Tampa Bay didn't have the kind of talent on offense back then that they do now.
QB Josh Freeman leads an offense that is much improved from recent years with weapons like LeGarrette Blount and Mike Williams. Tampa Bay added yet another weapon on offense when they lured receiver Vincent Jackson from San Diego this offseason. A win in Tampa Bay won't come so easily this time around.
Prediction: Despite a big game from Jackson to get revenge on his former team, the Chargers should pull out a close win. Chargers over the Buccaneers 23-17.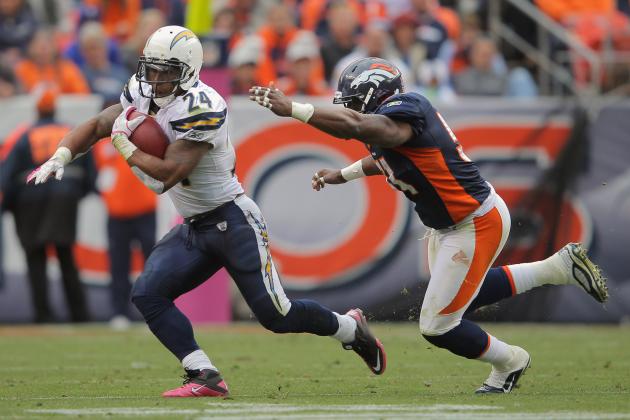 Doug Pensinger/Getty Images
Chargers RB Ryan Mathews
Game info: Nov.18 Sunday on CBS at 4:15 PM ET (@ Sports Authority Field at Mile High)
Opponent's 2011 record: 8-8
Background: The last time the Chargers visited Denver at Sports Authority Field at Mile high, they almost fell victim to the never say die mentality of QB Tim Tebow. San Diego led Denver 26-10 going into the fourth quarter but a late rally from Tebow and the Broncos nearly stole the show. Tebow rushed for one touchdown and passed for a score to bring Denver within two points of tying it up, but a failed two-point conversion stalled a successful comeback.
Tebow couldn't get the job done for the Broncos that time but newly signed QB Peyton Manning is a bigger threat to finish games in 2012. November is typically San Diego's month to get hot, but facing Manning in Denver is a stiff test for the Bolts.
Prediction: This AFC West rivalry matchup should be intense with two elite quarterbacks throwing the ball around. Manning will be dialed in with the playoff picture shaping up. Denver gets the better of San Diego 21-17.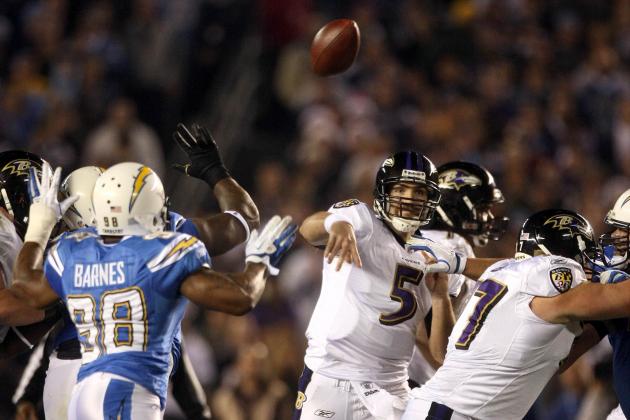 Donald Miralle/Getty Images
Ravens QB Joe Flacco
Game info: Nov.25 Sunday on CBS at 4:05 PM ET (@ Qualcomm Stadium)
Opponent's 2011 record: 12-4
Background: The Chargers had everything clicking in a Week 15 matchup with the Baltimore Ravens at home last season. The two-headed monster of Ryan Mathews and Mike Tolbert rushed for a total of three touchdowns on the ground. Philip Rivers and Malcolm Floyd also hooked up for a 28-yd score through the air. Baltimore allowed a season-high 34 points in a 34-10 loss to San Diego.
In that 2011 meeting, the Ravens came into San Diego riding a four-game winning streak but a sloppy two interception performance by QB Joe Flacco stalled any chance of Baltimore getting back into the game. It was a big win for the Chargers considering they were the underdogs in this one.
Prediction: The Ravens are coming off a playoff year in 2011, and they will definitely be near the top in the power rankings this season. San Diego may have gotten lucky last time but Baltimore won't be letting this game get away. The Ravens get payback with a win over the Chargers 28-17.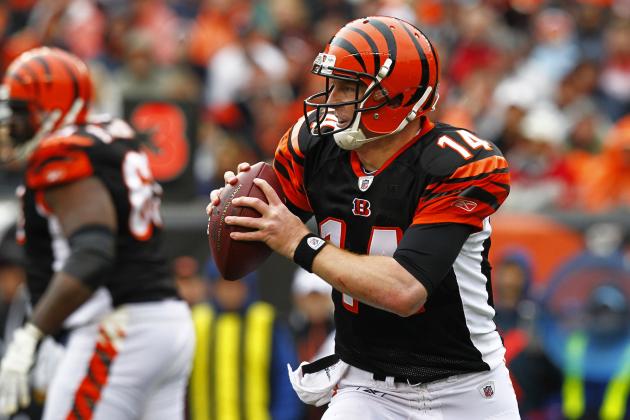 Tyler Barrick/Getty Images
Bengals QB Andy Dalton
Game info: Dec.2 Sunday on CBS at 4:15 PM ET (@ Qualcomm Stadium)
Opponent's 2011 record: 9-7
Background: The last time San Diego faced Cincinnati was in 2010 when Carson Palmer was still the quarterback of the Bengals. Palmer had a near perfect performance throwing for 269 yards and four touchdowns in a 34-20 win over the Chargers.
Fast forward two years later and yet another red-haired wonder is handling the reins in Cincinnati. Andy Dalton took the Bengals to the playoffs last season, throwing for nearly 3,400 yards and 20 touchdowns in his coming out party. This will be the first time the Chargers face the new-look Bengals since the departures of longtime stars Chad Ochocinco and Palmer.
Prediction: The Bengals are just the second AFC playoff team that the Chargers face after a matchup with the Baltimore Ravens in the previous week. San Diego pulls off the upset with a 20-13 victory.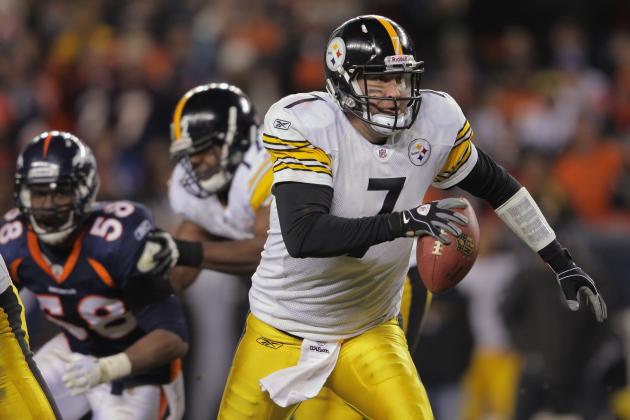 Doug Pensinger/Getty Images
Steelers QB Ben Roethlisberger
Game info: Dec.9 Sunday on CBS at 1 PM ET (@ Heinz Field)
2011 Record: 12-4
Background: San Diego just could not keep up with a dominant Pittsburgh Steelers team at Heinz Field in 2009. The Steelers rode out a 38-28 win over the Chargers on a 333 yard passing performance by QB Ben Roethlisberger. Running back Rashard Mendenhall and Roethlisberger put forth two touchdowns a piece to keep San Diego playing catch-up the entire game.
Pittsburgh is still a team to be reckoned with in the AFC three years later. Roethlisberger is still a winning quarterback and the defense is just as tough as ever. San Diego has a difficult challenge ahead of them going into a hostile environment like Pittsburgh.
Prediction: Three of Pittsburgh's four losses came from hot AFC teams like Baltimore and Houston. Unless San Diego can get things moving early, a win in Pittsburgh will be tough to come by. Pittsburgh takes this one 27-10.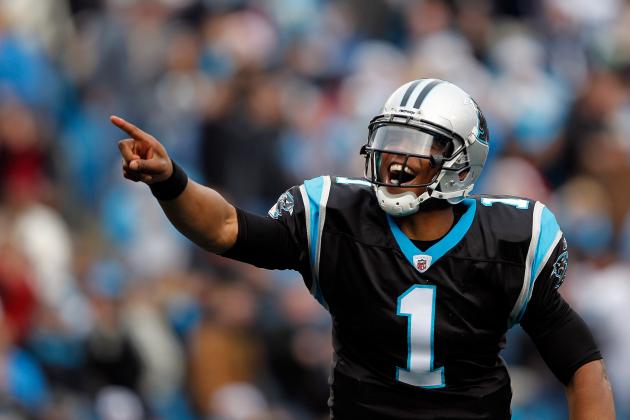 Streeter Lecka/Getty Images
Panthers QB Cam Newton
Game Info: Dec.16 Sunday on FOX at 4:15 PM ET (@ Qualcomm Stadium)
2011 Record: 6-10
Background: The first game of the 2008 season was something Chargers fans would rather forget. In the home-opener against the Carolina Panthers, the Chargers held a 24-19 lead with a few seconds left in the fourth quarter before a last second heave into the end zone from Jake Delhomme to Dante Rosario left Qualcomm Stadium in utter silence. Carolina would leave San Diego with a 26-24 win over the Chargers.
The Chargers will now have to face an electric offense led by 2011 No.1 overall pick Cam Newton who is slated to have an even bigger year after a breakout rookie season. Newton picked up over 4,000 yards with his arm and 706 with his legs last season. This is where an efficient San Diego pass rush will need to come into play if Newton is to be stopped.
Prediction: Most second-year QBs experience a sophomore slump their second year in the league. Newton will struggle to keep up with Philip Rivers in a potential shootout. The running game will be another matchup to watch in this one. San Diego gets a hard fought win at home against the Panthers 23-20.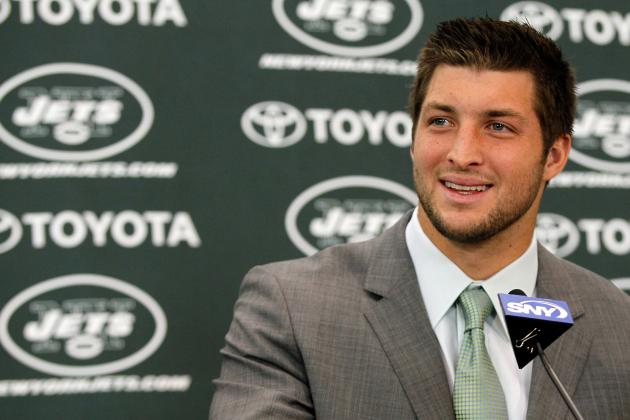 Mike Stobe/Getty Images
Jets QB Tim Tebow
Game info: Dec.23 Sunday on NBC at 8:20 PM ET (@ MetLife Stadium)
2011 Record: 8-8
Background: San Diego was leading the New York Jets 21-10 at halftime during a Week 7 meeting last season, but a late rally capped off by three Plaxico Burress touchdown catches gave the Jets a 27-21 win over the Chargers. San Diego's offense was completely shut down after a 21-point first half.
The Chargers now have the added problem of stopping new acquisition Tim Tebow in a potential wildcat offense. The Jets suffered a meltdown last season both on and off the field, but that should be the reason they come back stronger in 2012.
Prediction: The Chargers couldn't stop Tebow last season so it's highly unlikely they stop him this time around with a better offense. The combined effort of Tebow and Mark Sanchez should prove too much for San Diego's defense. The Jets pull out an emotional high-pressure win against the Chargers 21-20.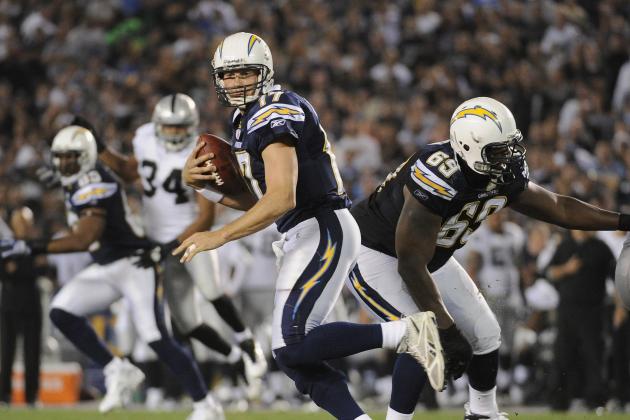 Harry How/Getty Images
Chargers QB Philip Rivers
Game info: Dec.30 Sunday on CBS at 4:15 PM ET (@ Qualcomm Stadium)
Opponent's 2011 record: 8-8
Background: The Raiders' 1-2-3 punch of Carson Palmer, Michael Bush and Denarius Moore proved too much for the Chargers at Qualcomm Stadium in 2011. Palmer edged out Philip Rivers with 299 yards passing and two touchdowns in their first meeting of the season. Moore lit up the Chargers secondary with 123 yards receiving and two touchdowns, while Bush ran all over the Bolts with 157 yards rushing and a touchdown.
Oakland had the upper hand with both the running and passing game going, while San Diego's rushing attack struggled with the combined effort of Ryan Mathews and Mike Tolbert only achieving a measly 70 yards on the ground. The worst stat of the night, however, was San Diego's efficiency on third down. The Chargers only converted 5 of 16 third down attempts.
Prediction: San Diego typically handles business with division rivals toward the latter end of the season, and this matchup should be no different. Reserve players likely play most of this game and the result is a 17-14 win for the Chargers.