2012 NFL Draft: Round-by-Round Positional Needs for the San Francisco 49ers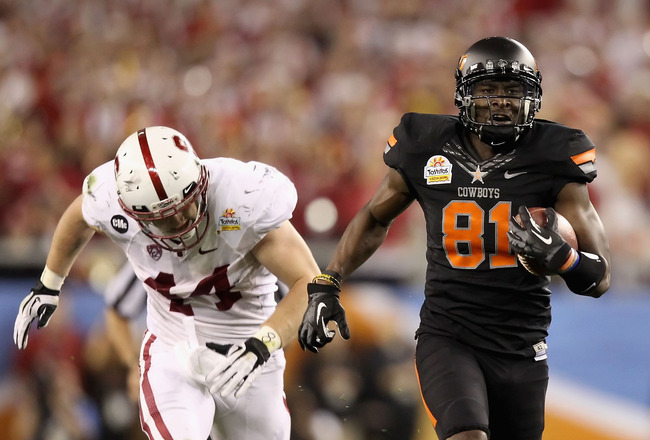 Christian Petersen/Getty Images
The San Francisco 49ers began the 2011 season as underdogs to win the pathetic NFC West.
How fast things change.
What Jim Harbaugh did in his first year as head coach is nothing short of miraculous, but with success comes raised expectations.
San Francisco has a lot of work to do this offseason. They already gave Ahmad Brooks a 6-year extension and are planning to using a franchise tag on Dashon Goldson. Next on the to-do list is re-sign Alex Smith, Carlos Rogers, Josh Morgan and Adam Snyder.
The 49ers' draft-day needs will depend on what happens during the free agency period: which players will they retain? What new faces will they bring in?
While keeping the uncertainties of the free agent market in mind, this slide show will explain the 49ers' most pressing needs, and how each one can be addressed in the 2012 NFL Draft.
Round 1: Janoris Jenkins, CB, North Alabama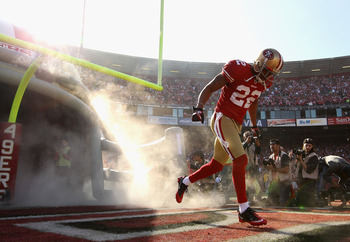 Ezra Shaw/Getty Images
Carlos Rogers has been vocal about his desire to return to the 49ers in 2012.
Unfortunately, that may not happen.
If San Francisco uses the franchise tag on Dashon Goldson, there may not be enough money left to go around in the 49ers' secondary.
Regardless, the 49ers could use a corner with first-round promise in their secondary.
Dre Kirkpatrick, Janoris Jenkins and Stephon Gilmore could all potentially fall to the 49ers with the 30th selection of the first round.
If this happens, they must capitalize.
Of the three, Jenkins has the most potential. As a junior in 2010, he looked dominant going up against Julio Jones, Alshon Jeffery and A.J. Green.
His stock is considerably low because of his off the field issues.
He was dismissed from Florida following the 2010 season after being arrested three times. He then transferred to North Alabama where he dominated the Gulf South Conference.
Instead of putting his character concerns to rest at the NFL Combine, he raised more when he announced that he has four kids with three baby mamas.
Despite all this, the 49ers would be fools to pass on him.
Jenkins looks like Asante Samuel on the field. He is undersized but confident. His quick burst and intuition makes him dangerous in man and zone coverage.
Do not be surprised if Jenkins earns a reputation as a shut-down corner early on in his career.
After all, he needs to make some money to feed his families.
Round 2: Amini Silatolu, G, Midwestern State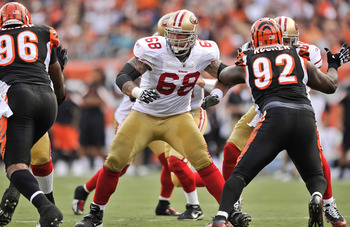 Jamie Sabau/Getty Images
For a run-first team to be effective, they need to be dominant in the trenches.
The 49ers have addressed their the offensive line in the early rounds of almost every draft in recent memory. The trend will continue as they try and find the last missing piece in the second round.
To fill their need, they should look no further than Amini Silatolu: a huge prospect from a tiny school.
At 6'4" and 311 pounds, the man from Midwestern State will be able to overcome the small school stigma and prove himself as a merciless mauler.
Silatolu showed off his quick feet at the NFL Combine, which is an encouraging sign for those who feared that he would be an unpolished pass-protector after playing in the Lone Star Conference.
If the 49ers are unable to re-sign Adam Snyder and Chilo Rachal, Silatolu will be pressured to fill in immediately as the starting right guard.
The best case scenario would be for him to develop a year or two before stepping into the starting role.
Other Options: Brandon Washington (Miami, G), Kevin Zeitler (Wisconsin, G)
Round 3: Alameda Ta'amu, NT, Washington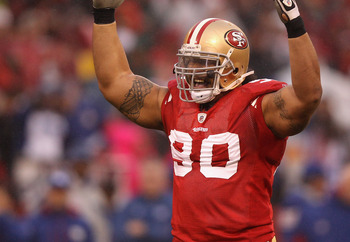 Ezra Shaw/Getty Images
In 2011, the 49ers had the best 3-4 defense.
This had a lot to do with the contributions of Justin Smith, Isaac Sopoaga and Ray McDonald.
Other than Ricky Jean-Francois (7th round pick in 2009), the 49ers have no backups on their defensive line. During limited playing time last season, Jean-Francois was weak against the run and ineffective against the pass.
If any starter suffers a serious injury in 2012, the defense will be in trouble. Plus, both Smith and Sopoaga are on the wrong side of 30.
The 49ers should target Alameda Ta'amu from Washington at the end of the third round to shore up the defensive line.
At 6'3" and 348 pounds, Ta'amu is a wide load.
On tape, he impresses with his push into the backfield. He put up 35 reps on the bench press at the NFL Combine, confirming his impressive strength.
However, he does not have enough versatility to do anything other than disrupt running plays.
Once Sopoaga begins to slow down, Ta'amu will be ready to start. Until then, he will serve as an alternate on first and second downs where he can use his mass to fill running lanes.
Other options: Josh Chapman (Alabama, NT), DaJohn Harris (USC, DL)
Round 4: T.Y. Hilton, WR, Florida International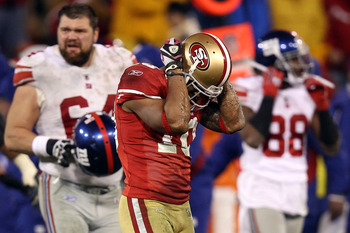 Ezra Shaw/Getty Images
Whether or not the 49ers get a big-name receiver in free agency, they will wait until the fourth round before they nab a rookie route runner.
Since Alex Smith was drafted in 2005, San Francisco has not had a receiver gain over 1,000 yards in a season.
49er fans are hoping their team jumps on one of the many talented receivers with a first round grade. However, until they find a quarterback capable of making his receivers look good, it is pointless to waste a first-round pick.
In the fourth round, San Francisco should target wide receiver T.Y. Hilton.
At 5'10" and 183 pounds, Hilton has the potential to be a Devin Hester/Steve Smith (Carolina Panthers) hybrid. What he lacks in size he makes up for with elusiveness and guts.
Hilton was an all-around contributor at Florida International.
He has thrown a touchdown pass, caught 24 touchdowns and rushed for seven more. Add on six punt/kick returns for a touchdown, and you have yourself a complete resume.
To put it simply, you want the ball in this guys hands.
He is impossible to stop in the open field and has the speed to gain separation with his routes.
Those who are concerned about his durability need not worry. He caught a pass in all but three games in his productive, four-year collegiate career. Hilton is able to stay healthy because he always finds the path of least resistance when he's about to make contact with defenders.
Besides returning kicks, Hilton can be used immediately on fly sweeps and as a deep threat his rookie year.
Other Options: Marvin Jones (Cal, WR), Gerell Robinson (Arizona State, WR)
Round 5: Robert Turbin, RB, Utah State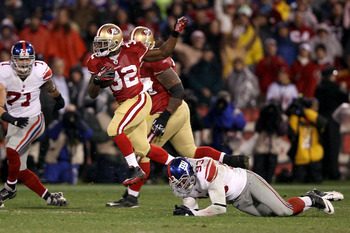 Ezra Shaw/Getty Images
Expect 2011 to be Frank Gore's last statistically impressive season as he will likely start sharing more time with Kendall Hunter.
Hunter (5'7" and 199 pounds) impressed as a rookie, but it is hard to imagine him carrying the load for an extended period of time given his small stature.
Anthony Dixon (6'1" and 233 pounds) is a bruiser that does not bruise and will never be anything more than a special teams' ace.
In the fifth round, the 49ers will draft a running back who can add insurance to their backfield.
Robert Turbin out of Utah State is a yolked version of Gore.
At 5'11" and 222 pounds, Turbin looks like a downhill power back, but like Gore he is a patient runner with deceptively light feet. He is also dependable as a receiver out of the backfield.
The only thing keeping Turbin out of the first four rounds is his injury history.
He missed 2007 with a foot injury and 2010 with a torn ACL. He will need to show the same resilience as Gore if he wants to make it in the NFL.
Other Options: Brandon Bolden (Ole Miss, RB), Vic Ballard (Mississippi State, RB)
Round 6: Jeff Fuller, WR, Texas A&M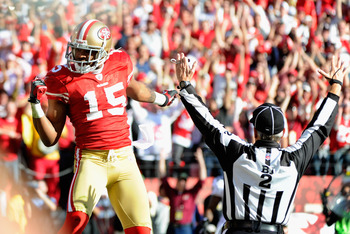 Thearon W. Henderson/Getty Images
If Josh Morgan re-signs, the 49ers will be decent at wide receiver (Michael Crabtree, Kyle Williams, T.Y. Hilton and Ted Ginn Jr. if he re-signs).
However, they are still lacking the big-bodied wide receiver they hoped for when they signed Braylon Edwards.
General Manager Trent Baalke and Jim Harbaugh are innovative when it comes to the draft.
They proved this last year by selecting Bruce Miller (a defensive end out of the University of Central Florida), and converting him to fullback.
This year they will draft Jeff Fuller, a wide receiver out of Texas A&M, and convert him to a wide receiver/tight end hybrid.
A 6'4" and 223 pounds, Fuller needs to add some muscle if he is going to be any good as a run-blocker.
But, the 49ers are not drafting him to block—utilizing his offense is a higher priority.
Harbaugh will ask Fuller to do for him what Jimmy Graham has done for the New Orleans Saints: line up in the slot and get open in the middle of the field.
Fuller is not fast enough to be a threat out wide.
He is at his best working short routes in the middle of the field where he can use his frame to shield defenders. His long arms and jumping ability also make him a dangerous jump-ball threat.
Alex Smith needs someone he can trust to go up and get the ball in the back of the end zone.
If nothing else, Fuller is that guy.
Other Options: Greg Childs (Arkansas, WR), James Hanna (Oklahoma, TE)
Round 7: Donte Paige-Moss, OLB, North Carolina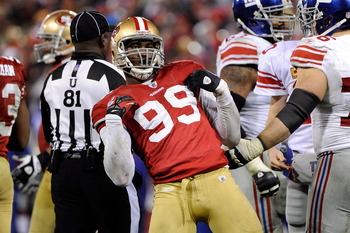 Thearon W. Henderson/Getty Images
The 49ers had an amazing defense last season.
In order to become elite, they need an outside linebacker opposite Aldon Smith who can get 10 or more sacks per year.
It is rare to find a prospect in the seventh round who, at one point, was considered a first-rounder.
Donte Paige-Moss out of North Carolina is that kind of player.
Paige-Moss was expected to be one of the most dominant defensive ends after getting to the quarterback seven times as a sophomore. Instead he regressed, only accumulating two sacks in 2011.
Things only got worse when he tore his ACL in North Carolina's bowl game.
Most assumed he would "redshirt" and play his final college season in 2014. Instead, he slaughtered all hopes of every being a high draft pick by announcing his intent to leave college early via a tweet that dissed coaches, players and fans.
With that being said, the 49ers have the third to last pick in the seventh-round.
Why not pray that a change of scenery can re-awaken the first-round beast within?
Other Options: Adrian Robinson (Temple, OLB), Darius Fleming (Notre Dame, OLB)
Keep Reading

San Francisco 49ers: Like this team?