Just Get to January, Baby: Raiders Playoff Scenarios After Big Chiefs Win
December 25, 2011
Ezra Shaw/Getty Images
Are you ready for some tiebreakers?
The Raiders finally took care of business, winning the first of two "must win" games with the thrilling 16-13 overtime victory in Kansas City. If you didn't find yourself in the Christmas spirit after Carson Palmer's magnificent long ball to Darrius Heyward-Bey in overtime to set up the victory, you better check your pulse. This was a game the Raiders tried so hard to lose with numerous mistakes, but snatched victory from the jaws of defeat in the end. Let us take time to remember our dear departed leader (no, not that one), Al Davis, whose decisions continue to help the Raiders win games. I analyzed before how some of his supposedly bad decisions have ended up panning out, but it bears repeating after today.
His much-maligned draft choice, Heyward-Bey, has blossomed in his third season and was big again today (four catches, 70 receiving yards and that huge overtime catch). Many Raider fans (myself included) screamed at the TV when Davis chose Heyward-Bey over record-breaking wideout Michael Crabtree on draft day 2009. But in 2011, it's sure looking like Mr. Davis made the right choice after all: This season, Heyward-Bey leads the Raiders with 845 receiving yards, averaging 15.3 yards per catch, versus 788 yards and 12.3 yards per catch for Crabtree.
Davis also raised some eyebrows when he traded a first-round pick for defensive lineman Richard Seymour in 2009, but not only has the defensive captain been a strong leader in the locker room, he also blocked two field goals today in the Raiders' biggest game in a decade. There's no doubt Al Davis had become a bit stubborn in his later years, making his share of mistakes, but he could still spot talent like no other.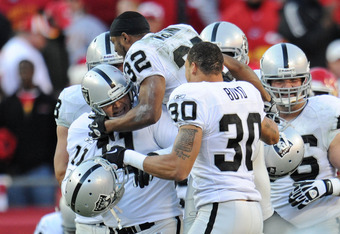 Peter Aiken/Getty Images
Now back to the playoffs...

The eliminated Chiefs now get to go home and cry into their eggnog, and I'm sure Raider Nation is terribly, terribly sad for them. The Chargers will also be shedding some tears after a Motor City Massacre left them at 7-8 and out of the playoffs. Seems like Norv Turner's team mailed it in, and it's likely both he and general manager A.J. Smith will be sending California's unemployment rate even higher when they're fired in the next few weeks.
Even Tim Tebow was in the holiday spirit today, graciously giving the horrendous Buffalo Bills four interceptions as the Denver Broncos were blown out.
But despite the recent tumble for the St. Tebow Show, if the season ended today the Broncos would still win the AFC West; so it's a damn good thing there's one more week to go.
I'm going to break down all of the ways the Raiders can head into the new year as postseason participants, but be warned that it gets pretty complicated. By the end of Week 17, Oakland can end up as AFC West Champion, a Wild Card team or worst of all, sitting at home with nothing but time to think about those awful fourth quarter chokes against Buffalo and Detroit. I still haven't forgiven you for either of those Chuck Bresnahan, and I'm hoping Santa Claus brings you a big lump of coal tonight. Speaking of the big guy; Santa, all I want for Christmas is a new defensive coordinator for 2012. I hear Jack Del Rio is available…
Before we get into the scenarios, here's the current schedule for Week 17's games. They could change if NBC decides to use its flex scheduling ability and moves one of the matchups into primetime:
10 a.m. PST: New York Jets at Miami Dolphins, Tennessee Titans at Houston Texans
1 p.m. PST: San Diego Chargers at Oakland Raiders, Kansas City Chiefs at Denver Broncos, Baltimore Ravens at Cincinnati Bengals
2011 Oakland Raider Playoff Scenarios 
(Note: I used ESPN's very helpful NFL Playoff Machine to come up with these scenarios. Whoever came up with that things needs to win some kind of award; seriously.)
Raiders can win AFC West (No. 4 Seed) if: Raiders beat San Diego AND Broncos lose to Kansas City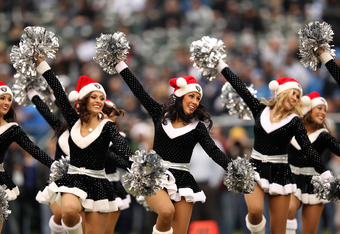 Ezra Shaw/Getty Images
This is the only scenario in which Oakland can win the AFC West and host a playoff game for the first time since 2002. If the Broncos win, they're in as AFC West champs.
Raiders can win Wild Card (No. 6 Seed) if: Raiders beat San Diego AND Broncos Win, AND Bengals Lose, AND Titans Lose
The Raiders and Bengals both end up at 9-7. The Raiders win the tiebreaker over Cincinnati by virtue of best win percentage in conference games. In this scenario, the outcome of the Jets vs. Dolphins game has no impact.
OR: Raiders beat San Diego AND Broncos Win, AND Bengals Lose, AND Titans Win, AND Jets Win
The Raiders, Bengals, Titans and Jets all end up at 9-7. The Raiders win the tiebreaker over Tennessee and New York via strength of victory. Oakland wins tiebreaker over Cincinnati via best win percentage in conference games.
That's all very complicated, but here are the key things to remember in the Wild Card scenarios: Should the Bengals win against Baltimore, the Raiders cannot win the Wild Card. Since the Ravens are still fighting Pittsburgh for the AFC North Division crown, as well as a first-round bye, I'd expect them to be playing hard against the Bengals; then again, you never know when Joe Flacco will decide to have a trademark, horrible, Joe-Flacco-type game. If the Titans beat the Texans, then the Jets have to beat the Dolphins; If the Titans win and the Jets lose, the Titans win the Wild Card tiebreaker over Oakland via best win percentage in common games.
So to be safe, just root for everybody to lose next weekend—except for, of course, the Raiders.
Merry Christmas, everyone.
For more foolish analysis, along with the occasional witty comment, Follow @FernandoRGallo