Houston vs. Oakland: Raiders "Just Win, Baby," Thanks to Al Davis
October 9, 2011
Thomas B. Shea/Getty Images
Was the spirit of Al Davis with the Raiders today? I don't think there's any question. This one was for Mr. Davis. And who stepped up bigger than anyone? The players who were most closely associated with him.
The Al Davis All-Stars Lead the Charge
Sebastian Janikowski had the rare designation of being a kicker selected in the first round of the NFL draft, a pick which was ridiculed for many years. But Janikowski has evolved from an erratic kicker with a big leg to one of the most reliable and powerful kickers in the NFL. We've already seen him kick an NFL record 63-yard field goal this season, but his performance today was outstanding.
Janikowski nailed four field goals, making it look easy as he split the uprights from 55, 54, 50 and 42 yards away.
Darrius Heyward-Bey was a typical Al Davis pick in the last few years: athletic, blazingly fast, unproven. It was considered a major reach when he was selected seventh overall in the 2009 NFL draft, and his lack of progress has driven Raider fans crazy.
But there was Heyward-Bey against Houston on Sunday: seven catches, 99 receiving yards and a tremendous 34-yard touchdown reception. Somewhere, Davis is smiling.
In 2009, Al Davis orchestrated a trade for defensive lineman Richard Seymour, giving the Patriots a first-round pick in exchange. The trade left many people scratching their heads, as the Raiders seemed to need young talent instead of a veteran like Seymour.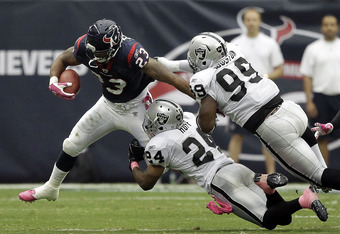 Bob Levey/Getty Images
But in the last two seasons, Seymour has become the emotional leader of the Raider defense, and the defensive line has become one of the most fearsome in the NFL. And today, Seymour had two sacks and even two passes defensed.
I guess the old man still knew what he was doing, huh?
The Last Drive
The final drive of the game was typical of Raider football this season–too many penalties and inexcusable defensive breakdowns. And yet, the Raiders kept getting little breaks along the way.
First, a 12-men-on-the-field penalty when there was a sac, but it was overruled by a facemask. Then, a fumbled snap by Schaub that resulted in a big loss. And finally, when the Texans were five yards away from stealing a victory, Michael Huff, another of Davis' criticized first-round draft picks, got the interception to seal the victory. What could be more appropriate? Wow. Just wow.
It was an incredible morning of football, and the emotion present with Davis' son, Mark Davis, and Jackson was powerful. This was a game the Raiders needed to win for so many reasons. I detailed in my preview of the Houston game why this game was important to the Raiders' playoff hopes, but they needed to win this one for Mr. Davis.
An incredible, gutsy performance by the entire team. The players and coaches wanted to win this game badly, because there were three words that were more important to Davis than anything else: just win, baby.
Boy, did they ever.
Read Fernando Gallo's column about the importance Al Davis' legacy here. You can also follow him on his

feed.