Sam Bradford Injury: Updates on Rams QB's Week 16 Status and Fantasy Value
December 19, 2011
Jay Drowns/Getty Images
After battling a high ankle sprain all season, St. Louis Rams quarterback Sam Bradford is likely to be shut down for the Rams' remaining two games.
Bradford, who missed Weeks 6, 7 and 13, was in a walking boot again last week and missed the Rams' game against the Cincinnati Bengals.
Apparently the Seattle Seahawks' game was the last straw, in which Bradford said the injury compromised his mechanics and put more stress on his arm, per ESPN.
Update: Saturday, Dec. 24 at 12:46 p.m. EST --Kyle Vassalo
Bradford is officially out, according to Rotoworld. With the Rams in serious contention for the No. 1 pick in the upcoming draft, it's hard to imagine Rams fans are disappointed with this news at this point.
If Bradford was your starting QB this season, odds are your fantasy season is over already. He wasn't a viable option as it was and his inactive status removes all doubt.
Update: Friday, Dec. 23 at 3 p.m. ET -- Tim Daniels
It appears Sam Bradford will indeed miss Saturday's game against the Pittsburgh Steelers. He's listed as doubtful, according to Rotoworld. Assuming nothing major changes over the next 22 hours, Kellen Clemens will start for the Rams.
Sam Bradford (ankle) is listed as doubtful for Week 16.

As expected, Kellen Clemens will start against the Steelers. Bradford didn't practice at all this week and is not expected to play in Week 17, either.
St. Louis would be smart to shut down its young signal caller because there's nothing for him to gain from attempting to play at less than 100 percent. Let him rest up during the offseason and hopefully he can return to form in 2012.
Update: Wednesday, Dec. 21, 7:45 a.m. EST - Wes O'Donnell
Every football player wants to play. Even when injured they believe they can help their team in some way, shape or form. If they didn't believe that they wouldn't be where they are today.
Sam Bradford is no exception, and even with a 2-12 record and only two games remaining in a lost season, he's trying desperately to get back on the field.
Jim Thomas of St. Louis Today quotes Bradford as saying:
"I've said that now for the past two weeks. I've told Coach (Steve Spagnuolo) that I'm trying to get my ankle as healthy as quick as possible. I want to be out there as soon as it's good enough to go. I expect to be on the field."

"Now obviously, Coach and (trainer) Reggie (Scott) still have to feel comfortable enough for me to be out there, and feel that I can protect myself and that I can play at a level to help this team. As soon as I get back to that point, I expect to be in the huddle."
Bradford went on to say that it is his job to be out there with his teammates and he's certainly right about that. But he is also a very, very expensive investment made by the organization when they drafted him No. 1 overall.
Putting him back on the field in meaningless games could result in an even more troublesome situation.
Don't expect Bradford back on the field this week and it would honestly be surprising if he plays in Week 17.
Kellen Clemens should be the one to guide this team to the finish line this year. 
Initial
What They're Saying
Tweeted Adam Schefter of ESPN: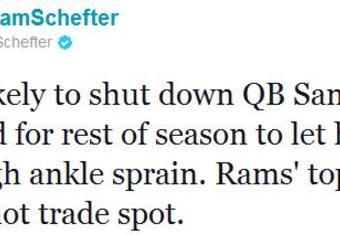 Charley Casserly of NFL Today and a former general manager for the Washington Redskins and Houston Texans, agrees the Rams are making the right move: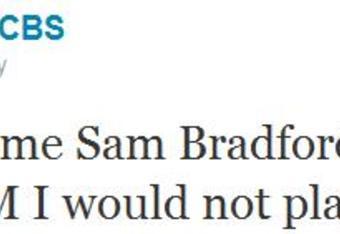 Fantasy Impact
After a promising rookie season, Bradford has been one of the worst fantasy quarterbacks this season.
If you've been using him week in and week out, there's a good chance your fantasy team isn't doing too well.
Bradford has averaged 9.0 fantasy points this season, near the bottom the barrel, and he's passed for six touchdowns and six interceptions in 10 games, while averaging 216.4 passing yards per game.
Who's the Backup?
Kellen Clemens filled in for Bradford against the Bengals in Week 15, and actually didn't do half bad, completing 69 percent of his passes for 229 yards and a touchdown, recording over 14 fantasy points.
Clemens has completed just 53.8 percent of his passes for his career, however, and only has 320 pass attempts in six seasons. The former New York Jets quarterback has passed for six touchdowns and 11 interceptions in his career.
It should go without saying that you shouldn't start Clemens, especially against his next two opponents, the Pittsburgh Steelers and San Francisco 49ers. If you want an idea of how good these defenses are, watch tonight's Monday Night Football matchup.
Devastation Scale (5 out of 10)
It's not like Bradford was having a good season anyway, and the Rams have stumbled to a 2-12 record as a result.
Clemens gave the Rams a spark against the Bengals, although it was in another losing effort.
This team wasn't doing too well with Bradford under center this season, and it won't matter who starts against the Steelers and 49ers. It's inevitable the Rams are going to go 2-14.