Cleveland Cavaliers 2010-11 Season Review: Byron Scott, "Captain America"
October 20, 2011
Mike Ehrmann/Getty Images
Writer's Note: This is Part 13 of a 15-part series where I review the 2010-11 season of each of the Cavaliers players. Each player will be titled with one of this summer's movies for a little added fun. I couldn't think of any better order to do this so I'm going alphabetically. Today: Byron Scott. Up Next: Ramon Sessions.
For much of this series I have called upon super hero movies to title various Cavaliers players. We've had Luke Harangody as Green Lantern, Daniel Gibson as X-Men: First Class and we may still work in another yet.
Whenever you have a group of super heroes there needs to be a leader. Someone who's been there before. Someone who can galvanize the group and get individuals to work as a unit.
The same is true in sports.
Just as Captain America is to the Avengers, so is Byron Scott to the Cleveland Cavaliers.
The head coach of the Cavs won three NBA titles as a player and took the Nets to back-to-back Finals. He also had a part in turning around both the Nets and also the Hornets. Despite struggling in his first year with both teams, he eventually had 50-win seasons by no later than the third year.
As a player Scott had the pedigree of playing alongside greats like Magic Johnson, James Worthy and Kareem Abdul-Jabbar with the "Showtime" Lakers. Many people have likely forgotten that he played his last season in the NBA in 1996-97 with the Lakers when they had Kobe Bryant and Shaquille O'Neal.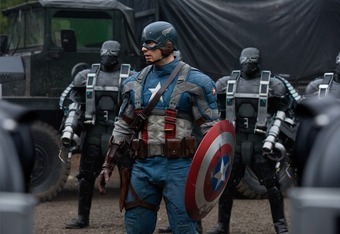 Scott has a status in the locker room as being a guy who's been there before, who knows what it takes to win and to be great in the league.
Look, we all know that last year was terrible. But when you have injuries, crappy players and about as low morale as any team has ever had, these things happen.
Going forward I believe that the Cavs have the right man for the job. I believe Byron Scott is the best coach Cleveland has had since Mike Fratello and Lenny Wilkens.
I believe Byron Scott can get the job done in Cleveland. I believe he can be their "Captain America."
(It sure is nice to write about someone that I genuinely like and think will be a part of this team in the future. Wish I could say that about more guys on the Cavs.)
You can follow me on Twitter @ ClevelandFlack.
If you missed any of the previous reviews you can follow the links here: Baron Davis, Semih Erden, Christian Eyenga, Alonzo Gee, Daniel Gibson, Joey Graham, Luke Harangody, Omri Casspi, Manny Harris, Ryan Hollins, Antawn Jamison, Samardo Samuels.