Cleveland Cavaliers 2010-11 Season Review: Alonzo Gee, "Pirates: Stranger Tides"
June 7, 2011
Stephen Dunn/Getty Images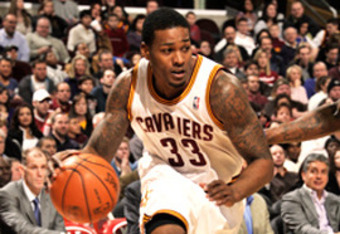 Writer's Note: This is Part 4 of a 15-part series where I review the 2010-11 season of each of the Cavaliers players. Each player will be titled with one of this summer's movies for a little added fun. I couldn't think of any better order to do this so I'm going alphabetically. Today: Alonzo Gee; up next: Daniel Gibson
One of the downsides with doing a season review of every player on the Cavaliers roster is that you, in fact, have to do a review of every player on the roster. I really only have myself to blame for this, because no one is making me write this series. Self-inflicted wounds are the worst.
But one of the biggest upsides with doing a season review of every player is that you find out some really interesting stuff once you start digging deeper.
Such is the case with Alonzo Gee.
I will start by addressing why Gee so graciously got tagged with the title of one of the summer's biggest films: "Pirates of the Caribbean: On Stranger Tides."
There are three reasons...
1. The fourth installment of the "Pirates" franchise was such a big hit that I had to use it on someone. (With that said... Why did they make a fourth movie? Wasn't the trilogy enough? I know that everything is all about money, but really? I wasn't blown away the last two films so I haven't seen this one yet and probably won't until it comes out on DVD. But I digress...)
2. Alonzo Gee went to college at Alabama, home of the Crimson Tide! Get it? "Tide"... "Stranger Tides"? It works, just go with it... or should I say "roll with it"? Okay, I'm done...
3. The first time I saw the name "Alonzo Gee" in association with the Cleveland Cavaliers it made me feel like I was literally riding on "Stranger Tides."
We have spent the last several seasons enjoying being at the top. And with the exception of a few cameos from the Tarence Kinsey's of this world, the Cavs roster had remained D-League free.
But the 2010-11 Cavaliers team was a far different story.
Gee spent the majority of his first year in professional basketball playing at the D-League level for the Austin Toros where he was actually named the 2010 D-League Rookie of the Year, so he has going for him.
His sophomore year started rough, getting cut after short stints with both San Antonio and Washington before landing a more permanent home in Cleveland in late December.
Not exactly what you would call a "franchise changing" free-agent signing for the Cavaliers.
I came into this article expecting to have a ton of awful things to say about Gee's sheer presence on the Cavs roster, but after looking at the facts and doing a bit of research, I just can't.
Over the course of writing this series I've spent a lot of time on 82games.com doing all kinds of statistical analysis. If you are an avid fan and/or a stat junkie/math guru, as I am, then you need to hit up 82games.com. It just has all kinds of great stats that break down who is really contributing to the team and how. I only say this because I'll be referencing it a lot over the next month or so.
According to their metrics, Gee was actually the seventh best (or most effective) player on the team last year. That's ahead of guys such as J.J. Hickson, Mo Williams, Samardo Samuels and Christian Eyenga.
His numbers don't blow you away by any means: 40 GP, 29 GS, 24.3 MIN, .462 FG%, .347 3P%, 7.4 PTS, 3.9 REB, 0.8 AST.
So what does this mean?
Well, to me, it says the obvious, the Cavs were a really bad basketball team last season. 82games.com only had three players on the Cavs finish with a positive rating.
So Gee was just on upper end of being bad. Which is exactly where he should have been!
Those stats and that kind of production is exactly what you expect from a guy that you pluck from the D-League ranks. There's nothing wrong with that.
To steal the already over-used Dennis Green quote/paraphrase... "He is who we thought he was!"
I'm not at all going to try and say that Gee should be part of the future plans for the Cavs looking toward getting back to the playoffs. But for the time he isn't hurting anything or really stealing any minutes away from more deserving players.
He plays hard and smart when his number is called. He sticks to his game and doesn't try to be someone he's not. And at the end of the day that's all you can ask for from a player at any level. Play smart and give everything you have.
The Cavs need more players who are willing to give Alonzo Gee-type effort night in and night out.
But they also need more players who have more than Alonzo Gee-type talent.
That's not a rip on Gee. He is who we thought he was... a D-League All-Star.
You can follow me on Twitter @ ClevelandFlack
If you missed any of the previous reviews you can follow the links here: Baron Davis, Semih Erden, Christian Eyenga