Cleveland Cavaliers 2010-11 Season Review: Christian Eyenga, "Super 8"
June 2, 2011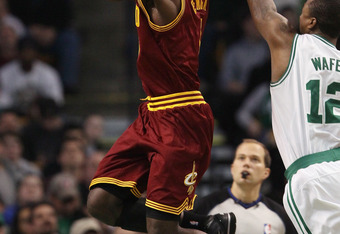 Elsa/Getty Images
Writer's Note: This is Part 3 of a 15-part series where I review the 2010-11 season of each of the Cavaliers players. Each player will be titled with one of this summer's movies for a little added fun. I couldn't think of any better order to do this so I'm going alphabetically. Today: Christian Eyenga; up next: Alonzo Gee
I have to start off by giving B/R's own Greg Swartz props for the title.
I was originally going to go with the movie Crazy, Stupid, Love because that describes my general feelings about Christian Eyenga (without getting too creepy).
But the more I thought about "Super 8," the more I loved it. So big up's to Greg for that one!
What can we say about the man that kids are calling "Skyenga"?
When the Cavaliers drafted Eyenga with the final pick of the first round in 2009, I think we all had the same "Who the heck is that?" moment.
Well, we all know now. We're just not quite sure what we have.
Eyenga is an incredibly gifted athlete and a high-flyer. People know him nationally because oftentimes this season, a "Skyenga" dunk was the only highlight shown for the Cavs on SportsCenter.
He has all the talents and abilities to be a very good NBA player and a lock-down defender. What he needs is a lot more maturing and seasoning at the big league level (he did spend some time in the D-League this past season).
Eyenga played in 44 games this past season and started 18. His stats were modest: 21.5 MPG, 6.8 points, 2.8 Reb, 0.8 AST, 0.6 block, 0.8 steal, .425 FGP, .275 3pt FGP. That last number is one that will need to greatly improve if he expects to play consistent minutes at shooting guard or small forward in the NBA. And I think that can happen with more work with the team in the offseason. When he was playing over in Spain, I don't know that they were calling on him do a whole lot of outside shooting.
Christian displays all the physical talents and skills that you desire in an NBA player. I was actually impressed with what we saw out of him concerning his relative immaturity in basketball terms.
However, I don't know that he can ever develop into an All-Star player or a go-to scorer in the league. I think his ceiling is a solid starter and a guy who can be a lock-down defender and a contributing scorer.
The guy that I'd compare him to (hopefully) is Serge Ibaka of the Oklahoma City Thunder.
Now obviously, Eyenga and Ibaka are very different types of players playing two totally different positions. What they have in common is that they are both from the Congo and were both very raw when drafted.
Ibaka made drastic strides in just his second season in the NBA and looks to be a reliable power forward for the Thunder for years to come. I hope we can see some of the same from Eyenga next year.
The fact that he was able to actually start in 18 games in his rookie season is very big. I know the team was terrible, but not that many international rookies such as Eyenga get that much time in their first season. That is valuable experience that will pay huge dividends going forward.
The movie connections with "Super 8" are numerous.
The first is that Eyenga wears the No. 8 for the Cavs as an homage to his favorite player growing up Kobe Bryant. (Maybe "Super 8" can be another knickname to so along with "Skyenga"?)
It is important to note that the movie was written and directed by J.J. Abrams and produced by Steven Spielberg. What does that tell me? It may not win an Academy Award, but it will be entertaining. That's what we've come to expect from Abrams and Spielberg.
And that's what I expect from Eyenga. He may not be an All-Star, but he will be entertaining.
There is also a bit of mystery involved with both the movie and the player.
Here is the synopsis of Super 8 from IMDb.com: "After witnessing a mysterious train crash, a group of friends in the summer of 1979 begin noticing strange happenings going around in their small town and begin to investigate into the creepy phenomenon."
(For the record, this has to be about aliens, right? With Abrams and Spielberg could it be anything else?)
Here, then, is my synopsis of Eyenga from his rookie campaign: "After witnessing a mysterious draft pick, Cavs fans in the winter of 2010-11 began noticing strange happenings going around in The Q, and began to investigate into the phenomenon of Skeyenga."
In conclusion I couldn't finish without including my favorite quote connected with Eyenga.
You all remember the incident involving the knife-wielding maniac at the Staples Center on March 19. Here is a quote from Byron Scott regarding Eyenga, who is still learning to speak English:
"Smart man, he understands knife, I guess. I think that goes all the way to Congo. Knife means get the hell out. So he did the right thing."
With that going forward, I can't wait till he actually learns English and figures out what exactly is going on.
The sky could be the limit with Eyenga.
You can follow me on Twitter @ClevelandFlack
If you missed any of the previous reviews you can follow the links here: Baron Davis, Semih Erden