Fantasy Football QB Rankings Week 3: Cam Newton Is Breaking the Mold
September 21, 2011
Week 3 QB Player Rankings
brought to you by pyromaniac.com
Complete Week 3 Rankings for  RBs, WRs and TEs

Click here for QBs ranked 21-32
20. Jay Cutler (vs GB)
 The good news: Over his career, Cutler has been a MUCH better QB at home, averaging 243.3 yards and 1.8 TDs per game versus 228.2 yards and 1.3 TDs on the road. The bad news: In his five career games against the Packers, Cutler has averaged just 227.8 yards and one TD per game while tossing up nine INTs in the process. Basically, it's a crapshoot, and not a very good one at that.
19. Chad Henne (at Cle)
 With rookie RB Daniel Thomas finally showing to have a little juice in his engine last weekend, Miami may not pass the ball as much as anticipated after Week 1. On top of that, Cleveland's pass D has proved to be pretty stingy so far this season (second in the NFL in both yards allowed and completion percentage allowed per game), with DB Joe Haden leading up the squad.  My guess is that Miami will have to pass the ball in the second half to win this one, so not all is lost, but you can probably do better than Henne this weekend.
18. Joe Flacco (at StL)
 St. Louis has a pretty stingy pass D and can really get after the quarterback; something Flacco had a problem with in Week 2 against the Titans. If Lee Evans plays, the Ravens have enough speed on offense for Flacco to do some damage in the dome, but I can't see him going off too hard for your team if you have to start him.
17. Josh Freeman (vs Atl)
 If it weren't for his five-TD performance against the lowly Seahawks in Week 16 last year, Freeman would have finished 23rd in the league, averaging just 16.2 fantasy points/game. I mention this because Josh has put up just 16.1 fantasy points/game so far this season against two so-so defenses in Detroit at home and against the Vikings indoors. Basically, maybe Freeman isn't quite as good of a fantasy QB as people thought.
In his two games versus Atlanta last season, Freeman completed just 50 percent of his passes while putting up an average of, you guessed it; 16.1 fantasy points/game. Then again, Atlanta's pass D is pretty darn porous so far.
16. Mark Sanchez (at Oak)
 I'm pretty sure it won't last, but Mark Sanchez is currently on pace for 4,136 yards and 32 TDs.  I mention this for a couple of reasons.
First, I wanted to show that despite a complete overhaul in the Jets WR corps since his 2009 rookie season (not a single WR remains on the team), Dirty Sanchez has still managed to get better each year. 
Secondly, I want people to know he's not just a sideshow QB anymore… he's actually better than you think. Oakland still has a pretty good secondary after the loss of Asomugha, but Sanchez should be able to get rack up some decent fantasy points regardless this weekend.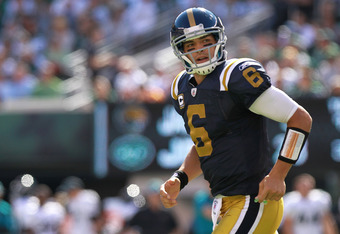 Nick Laham/Getty Images
15. Rex Grossman (at Dal)
 Isn't it about time Sexy Rexy threw a fat goose-egg up on the board? Normally. I'd say yes, but not this time. I believe the surprises will keep coming this week against a banged up Dallas D that could barely stop Alex Smith and the 49ers last Sunday. The Redskins WR corps may be in the middle of the pack in terms of talent, but the tight end position with Fred Davis and Chris Cooley brings an element to Rex's game that seems to work well within his talents. When called upon to start against the 'Boys last season, Grossman threw for 322 yards and four TDs in a fantasy outing up close to 30 points. That said, expect the unexpected.
14. Kevin Kolb (at Sea)
 The numbers the Seahawks have put up on defense actually look pretty decent thus far, but that's about to change in Week 3. Larry Fitzgerald has pretty much had his way with the Seahawks over his career, and now that he has a real QB again, he should be able to continue that streak. The Cardinals and Beanie Wells may not find it as easy to run on them as they might think, as Seattle has held Frank Gore to 59 yards and Rashard Mendenhall to just 66, so they'll need to turn to the passing game sooner than later if they want to win this road game.
13. Matt Ryan (at TB)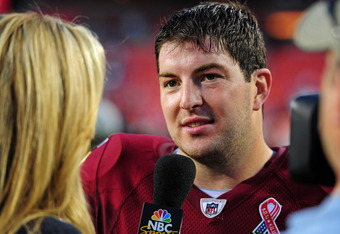 Scott Cunningham/Getty Images
 It wasn't pretty, but Ryan finally got off the fantasy schneid last weekend tossing up four TDs against the vaunted Eagles pass D. If that's not a confidence booster, I don't know what is. The problem here is that even though he has a 5-1 career record against the Bucs, his high in passing yards against them is just 235 yards while his high in fantasy points doesn't even hit the 18-point mark. He's better than that, though. QBs have already averaged 17.3 fantasy points against Tampa so far this season, so I think Ryan will be just fine come Sunday.
12. Matt Hasselbeck (vs Den)
 In his 13th season, Matt Hasselbeck likely has the best receiver he's ever thrown to in his entire career in Kenny Britt, and he knows it. Denver's defense is once again near the bottom of the pack, so Hassel shouldn't have too much of a problem tossing the pill around on them, especially if Champ Bailey can't make it back in time. Believe it or not, through two games in the 2011 season, the Titans new QB has the fifth most completions (51) and sixth most passing yards (621) in the entire league. More than Aaron Rodgers, Matthew Stafford and Sexy Rexy!
11. Cam Newton (vs Jax)
 Everybody knows the rookie QB records Cam Newton has demolished thus far in his two-game career, but did you know he has more completions for over 20 yards than anybody else in the league (16) and leads the NFL in yards per completion (9.46)? Aren't rookie QBs supposedly afraid to go deep when they first join the league? Basically, Cam Newton has broken the mold and should continue to do so against a Jaguars D that ranked last in the league last year in giving up 8.3 yards per passing attempt. Don't miss the boat on this kid.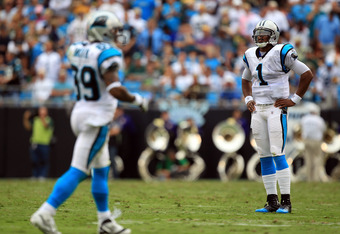 Streeter Lecka/Getty Images
10. Ryan Fitzpatrick (vs NE)
 The thing about the Patriots is they don't just put up a ton of points while gaining a zillion yards; they also give up a bunch of points and yards in the process. Fitzpatrick has shown the ability to rack up fantasy points with the best of them, as he currently ranks second in the league behind Brady. If the team can protect the ball and not turn it over, the Harvard alum has a good shot at tossing up 300 yards and a couple TDs…albeit in a loss for the Bills.
9. Tony Romo (vs Was)
 Yes, Romo has a fractured rib. Yes, Miles Austin is highly doubtful to play this weekend. Yes, Dez Bryant may not be at 100 percent. But NO, none of this will matter to Tony Romo and the Cowboys this Sunday. Washington is 2-0 and has an early division lead going into this weekend, so I expect Dallas to do everything it can to get a win…which to the Cowboys means pass, pass and more pass. Since Romo became their starting QB, the Cowboys have averaged 34.25 points a game in home openers. Just food for thought.
8. Ben Roethlisberger (at Ind)
 Fantasy owners expecting QB1-type numbers from Roethlisberger this year are probably pretty disappointed thus far, but no worries; it's about time Big Ben turned it around. Rashard Mendenhall might be able to run all over the place this Sunday, but Pittsburgh will have to unleash that talented WR corps at some point, so why not do it indoors on the Indy turf? With one of the top-three fastest set of receivers in the league in Mike Wallace, Emmanuel Sanders and Antonio Brown, Roethlisberger should be able to have a field day picking apart the Colts secondary.
7. Matt Schaub (at NO)
 Compared to the rest of the quarterbacks in the league, Schaub has been pretty unspectacular to this point. However, he's done what the team needed him to do in order to get wins, which against the 0-2 Colts and 0-2 Dolphins, wasn't much. He does have three TDs to go along with his 71.7 percent completion percentage so far, and I believe that TD total could actually double this weekend. Houston will have to pass the ball in order to keep up with New Orleans' high-scoring offense, while the Saints defense can certainly be beat by a good QB, as shown by Aaron Rodgers in Week 1. This is the week Schaub gives his fantasy owners what they paid for.
6. Aaron Rodgers (at Chi)
 To be honest, Rodgers hasn't fared so well against the Bears during the past three years. In the six games they've hooked up in that time, Aaron "It Out" averaged just 233 yards passing per game and threw just seven TDs while tossing up four INTs. However, the past is the past: things change; tomorrow is another day, etc. etc. etc. Rodgers is a different and much better QB than he was, especially now that he has a Super Bowl ring on his finger, so the pressure of this game really shouldn't get to him.
5. Michael Vick (vs NYG)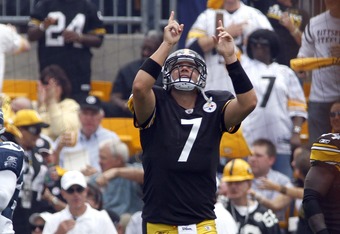 Justin K. Aller/Getty Images
 Concussion schmussion, gimme an English muffin. Vick is just fine, folks, and he'll have no problem getting on the field this weekend for an inter-division rivalry game against the Giants.  New York actually held him to an average of 250 yards and 1.5 passing TDs per game last season, but Vick also ran for 82 yards and a touchdown per game against them as well. With the Giants defense still crippled and D-Lineman Osi Umenyiora not due back until Week 4, I expect Vick to make a little mincemeat out of these guys come Sunday.
4. Drew Brees (vs Hou)
 If there's one thing Drew Brees' fantasy owners love, it's an old-fashioned shoot-out at the Georgia Dome. Before last week, when he put up 270 yards and three TDs in a win at home against the Bears, Brees had averaged 2.5 TDs and 311 passing yards a game at home over the last three years. If Tom Brady and Chad Henne can throw for a combined 933 yards and six TDs in a game, I'm thinking Brees and Schaub might be able to come close.
3. Philip Rivers (vs KC)
 In his last six games against the Chiefs, Rivers has averaged just over 295 yards a game and has 13 TDs compared to just four INTs. Obviously, the kid loves this inter-division rivalry. Besides that, the Chiefs lost their best defensive/secondary player for the year in safety Eric Berry and have allowed eight passing touchdowns in just two games thus far (two more than any other team in the NFL).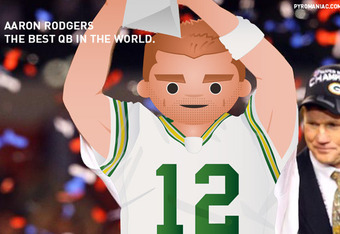 2. Matthew Stafford (at Min)
 I'll say it again, basically because I have no idea why others didn't see it as plainly as I did, but Matthew Stafford is the next big-time NFL QB. His seven passing TDs are tied for the league lead at this point, and it doesn't look like he'll be slowing down any time soon. Minnesota gave up 335 yards passing to Philip Rivers in Week 1 and then allowed another 243 yards from Josh Freeman in Week 2 despite a seven minute advantage in time of possession. Matty feels at home in a dome, so count on another big fantasy weekend from the Lions QB.
1. Tom Brady (at Buf)
 There has been one constant debate I've had with the guys I've been in a fantasy football league with for 10-plus years, and that is, who is better, Peyton Manning or Tom Brady? I have always been on the Manning side of the fence, backing up every single argument with stats and facts galore, but it seems I can no longer deny it; Tommy "The Stetson Man" Brady-Bundchen is a quarterbacking God. There is nothing he can't do on the field, no defense he can't make cry, no receiver he can't make fantasy-worthy.
At this point, I simply cannot find a single reason to rank him lower than No. 1 each week. Until he and the Patriots throw up a weekend crapper (which they may never do), Brady will be glued to the fantasy throne.
Complete Week 3 Rankings for QBs, RBs, WRs and TEs
Follow Pyro® on Twitter:  https://twitter.com/pyroman1ac
Follow Pyro® on Facebook:  http://www.facebook.com/pyromaniac