Heart and grit mean something in the NBA.
Leave it to the Chicago Bulls to remind us that advanced analytics cannot measure one of the league's greatest commodities.
The Bulls are a team in every sense of the word. They are an embattled unit, rife with flaws and gaping holes, but devoid of excuses.
I don't know how you watch Chicago and don't just go "wow." They play so hard and smart on every single possession.

— Hardwood Paroxysm (@HPbasketball) March 9, 2014
Derrick Rose's absence could have sent them into incurable despair. Luol Deng's departure could have sent them into tank mode. Every injury, every obstacle could have left them a footnote in the historically bad Eastern Conference.
Instead of folding, the Bulls have seldom bent, preferring to stand upright, chests out, heads held high, oozing purpose and perseverance, reshaping a power structure they weren't supposed to be a part of.
Heating Up
If there was ever a reason for one game to bring the basketball world to its collective knees, it's now, following Chicago's 95-88 overtime victory over the reigning champion Miami Heat on Sunday.
Trailing by eight points leading into the fourth quarter, the Bulls did what they always do: fight. Scrap. Claw. Defend.
Valiant win by the Bulls

— J.A. Adande (@jadande) March 9, 2014
Collectively, the Bulls fought, pestering Miami's offense to the point of implosion during overtime.
LeBron James was as close to a non-factor as he can be, going 8-of-23 from the floor for 17 points. He was, in a way, historically off, per Bleacher Report's Kelly Scaletta:
LeBron's 17 points are the fewest he's ever scored when taking at least 23 shots. http://t.co/q5CnfS5ctq

— Kelly Scaletta (@KellyScaletta) March 9, 2014
The Bulls also held the Heat to 40.5 percent shooting overall, including 12.5 percent in overtime. Jimmy Butler made big plays, Joakim Noah continued his double-ended dominance and Kirk Hinrich played the type of game no one, save for Bulls fans, can truly appreciate.
Every time the Bulls needed a stop or big basket down the stretch, they got one. Every time they needed something extra, it was there.
He didn't have to deal with the mask or the sleeves, but LeBron still couldn't find the range against the Bulls. pic.twitter.com/858Nz6HLPR

— NBA on ESPN (@ESPNNBA) March 9, 2014
Whether it was Butler stripping James of the ball as he attacked the basket in crunch time or one of their 13 offensive rebounds—Chicago was a plus-12 on the offensive glass, by the way—whatever the Bulls needed was there.
Head coach Tom Thibodeau continues to inspire his team, and it shows. There is no Rose or Deng. There is no savior awaiting them on the bench.
There is only what the Bulls have, imperfect and pure, fierce and true.
And that's been enough.
Joakim Noah Knows All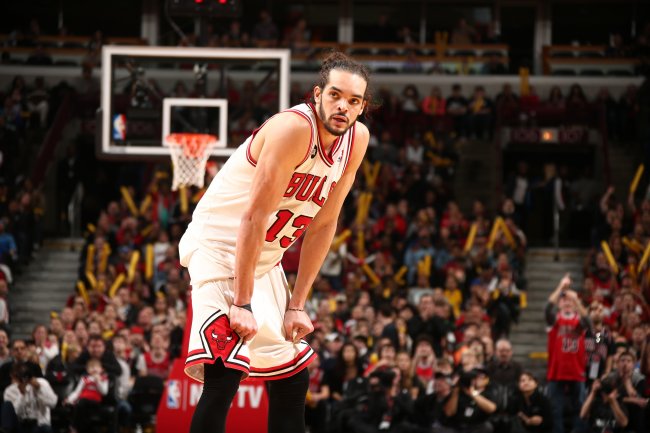 Nathaniel S. Butler/Getty Images
Noah personifies everything the Bulls stand for.
Joakim Noah is intoxicating.

— Royce Young (@royceyoung) March 9, 2014
Make no mistake, the Bulls are a harmonic faction, whose survival is predicated on the contribution of more than one player. But Noah sets the tone for what Chicago does.
The little things—like talking trash, per Bleacher Report's Ethan Skolnick—are aspects of the game Noah spearheads and prides himself on:
Gibson on Noah: "I saw him talking trash to their face. They were getting annoyed."

— Ethan J. Skolnick (@EthanJSkolnick) March 9, 2014
Against the Heat, Noah, as usual, was all heart and fire, registering 20 points, 12 rebounds, seven assists and five blocks, in what was another MVP performance.
That's what Noah is, after all—an MVP candidate.
Though Noah will never be named league MVP—blame James and Kevin Durant—his contributions are invaluable, worthy of the distinction legitimate candidacy provides.
Far from perfect, Noah is the next best thing: resourceful.
Come hell or high water, Noah is going to have an impact. That means he could score, rebound, defend or provide emotional impetus during any given game.
There is no measuring his impact, no exact science that can pinpoint what exactly he does for the Bulls.
We could rattle off his per-game averages. We could point out that he now joins Josh Smith, Tim Duncan, Pau Gasol and Dwight Howard as the only five players to notch at least 20 points, 12 rebounds, seven assists and five blocks in a single game since 2007.
We could say that his unconventional, constantly quirky demeanor is the catalyst for his inexhaustible leadership and infinite motor.
Media crowd of 40 around Noah's locker and he currently can be heard singing in the shower.

— K.C. Johnson (@KCJHoop) March 9, 2014
We could parrot any number of things. None of what we say, however, can do Noah justice. No words, no numbers. Noah is Noah, at his best when things are supposed to be at their worst.
Noah is the Bulls.
Recipe for Success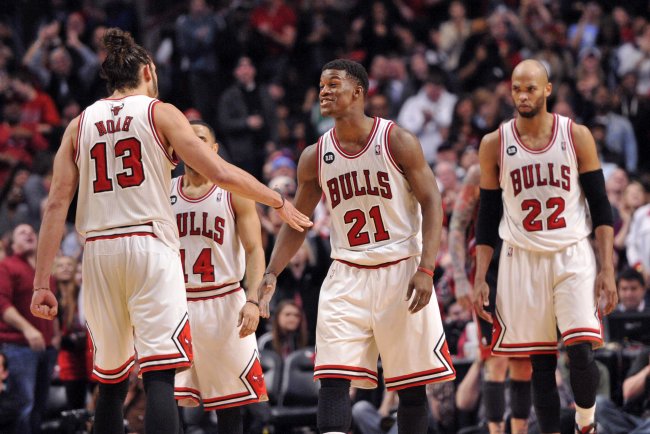 Rob Grabowski-USA TODAY Sports
That feeling you have is deja vu. The Bulls have been here before.
Without Rose for all of 2012-13, and in the face of an unrelenting injury bug, they battled their way to a second-round playoff berth. Scrapping. Clawing. Fighting.
Winning.
Here they are again, doing the same thing, when so many expected them to stumble and bumble their way to a lottery finish.
"I feel confident in this team," said Noah, after Deng was traded and Rose was already deemed done for the year, per CSN Chicago. "We're working really hard."
Their hard work is paying off.
On the back of a second-ranked defense, the Bulls find themselves a half-game shy of the Eastern Conference's No. 3 seed and are on pace to guarantee home-court advantage through the first round of the playoffs. That's more than they were able to accomplish under similar circumstances last season.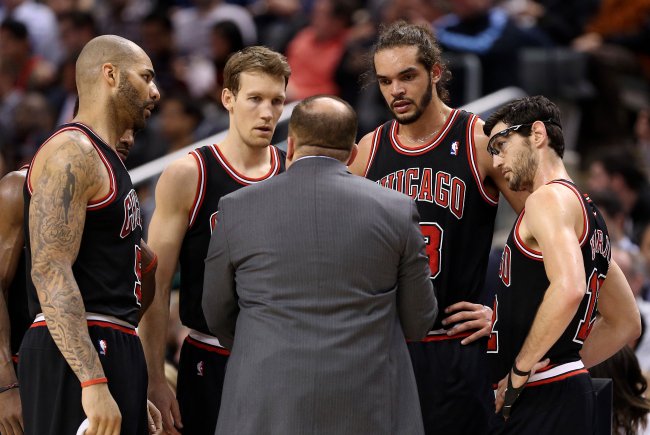 Tom Szczerbowski-USA TODAY Sport
But these aren't the same Bulls. They are, and they aren't. They're founded upon the same principles and boast the same never-say-die attitude, but they're different. They're progressively better, battle-tested and postseason-approved.
How far are the Bulls capable of going in the playoffs?
"We are going for one thing and that's the championship... one day," Noah told reporters after Chicago's victory Sunday. "I want to know what that feels like."
Winning a championship still seems like an unrealistic goal this season. Besting the Heat or Indiana Pacers without Rose over the course of a seven-game series remains unlikely.
Then again, who are we to restrict Chicago's potential? The Bulls have surprised us at every turn, and against all reasoning, they are legitimate Eastern Conference contenders.
Unlike most, they understand what it means, what it feels like to personify resilience, reminding us all that sometimes, unfathomable fight drubs circumstance.
*Stats courtesy of Basketball-Reference.