Breaking Down How Russell Westbrook's Absence Is Muting OKC Thunder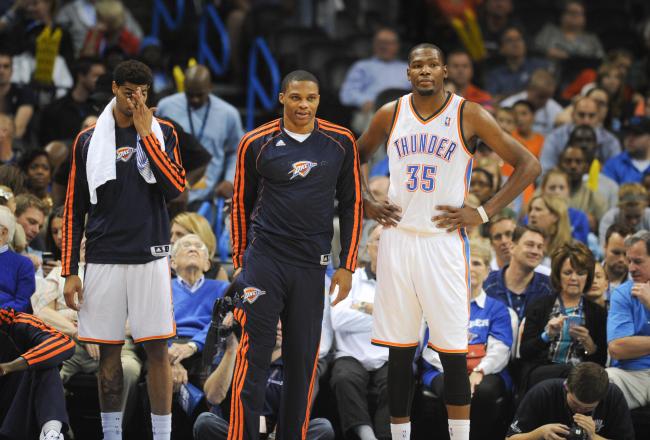 Mark D. Smith-USA TODAY Sports
Gross. Disgusting. Vomit-inducing. Pitiable.
I'm sure you can think of plenty more adjectives to describe how the Oklahoma City Thunder's offense looked against the Minnesota Timberwolves. And they'd apply to the season-opener against the Utah Jazz if you removed Kevin Durant's 42 points from the equation.
Without Russell Westbrook, the OKC offense has almost completely stagnated, and that doesn't figure to change anytime soon. Until the dynamic point guard is back on the court, the Thunder will be utterly reliant on Durant to carry the scoring load.
It won't work every night.
Thunder normally booms, but without Westbrook, it's been more of a rumble than anything else. Let's break down exactly why that's happening.
The Historic Nature of the Minnesota Timberwolves Game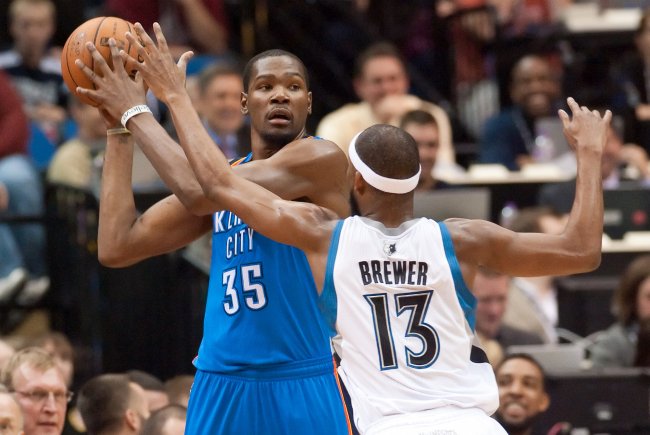 Greg Smith-USA TODAY Sports
It's worth going over just how bad the Thunder's loss to the 'Wolves really was. It goes beyond that final score of 100-81, even though a 19-point loss isn't particularly appetizing for any team that's commonly assumed to be a strong competitor for the Larry O'Brien Trophy.
Durant was just awful.
Corey Brewer and Derrick Williams hounded him throughout the game, and the entire defense shifted to shut him down (more on that later). The former scoring champion finished with 13 points on 4-of-11 shooting, which was one of his lowest totals ever.
In fact, Durant has topped 13 points each and every game he's played since a Dec. 31, 2011, outing against the Phoenix Suns when he dropped a dozen on, once more, 4-of-11 shooting, per Basketball-Reference.com. To find another output that low, you have to go all the way back to a game against the Dallas Mavericks on Dec. 16, 2009.
To say that these performances are rare is the understatement of the year.
But how about the overall nature of the Thunder's offensive performance?
With Durant on the active roster, OKC hadn't lost by 19 points or more since Feb. 25, 2011, when the Orlando Magic trounced the Thunder, 111-88, according to Basketball-Reference.com. To put that in perspective, it was so long ago that Dwight Howard led the Magic with 40 points and 15 rebounds. Plus, Jason Richardson and Hedo Turkoglu were starters.
Again, this doesn't happen very often. And unfortunately for Oklahoma City, the offense will continue to struggle until Westbrook returns. Unless Durant just goes off, of course.
Once the explosive point guard returns, things change. But while he's sitting on the sideline and unable to step onto the court, there are two huge flaws in the offense.
Lack of Dynamic Play at Point Guard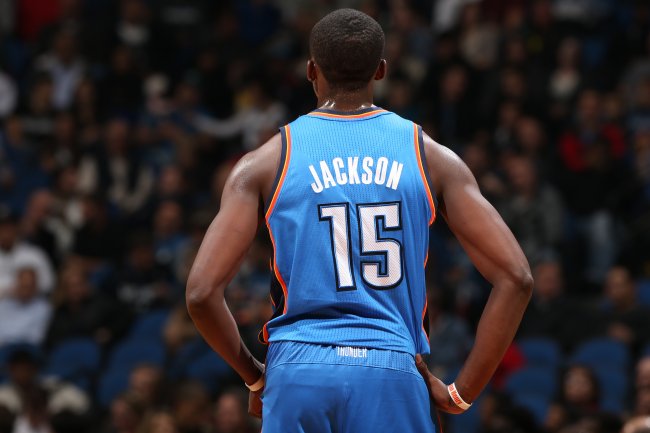 David Sherman/Getty Images
While Reggie Jackson hasn't been terrible, it's still abundantly clear that he doesn't bring as much to the OKC cause as Westbrook does. Like, not even close.
Westbrook certainly has his flaws, but the attacking nature of his game and the nearly unmatched explosiveness keep defenses on their heels whenever he's on the court. They don't know whether he's going to attack the basket or pull up for a mid-range two, and that allows Westbrook to stay a step ahead, both figuratively and literally.
Jackson doesn't have the same burst, and it seriously limits what he can do to a defense. Take this play from the Minnesota game as an example: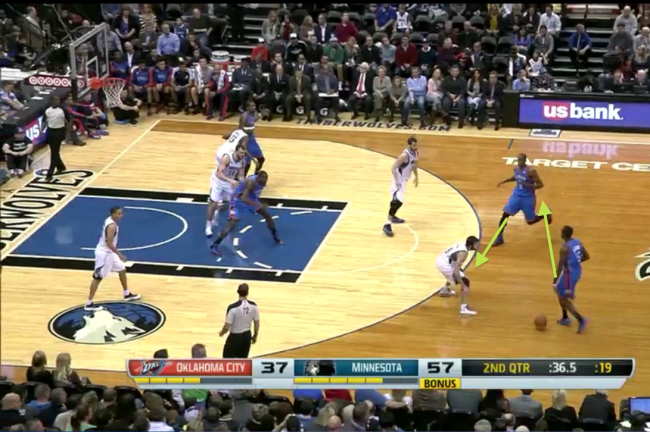 As Jackson dribbles the ball up the court, Serge Ibaka comes over to set a screen on Ricky Rubio.
In this situation, Westbrook is going to explode around the pick and figure out what to do from there. Kevin Love wouldn't even think about hedging out, because he'd know that he'd soon be left in the dust, and that puts more pressure on Rubio.
But it's different with the ball in Jackson's hands.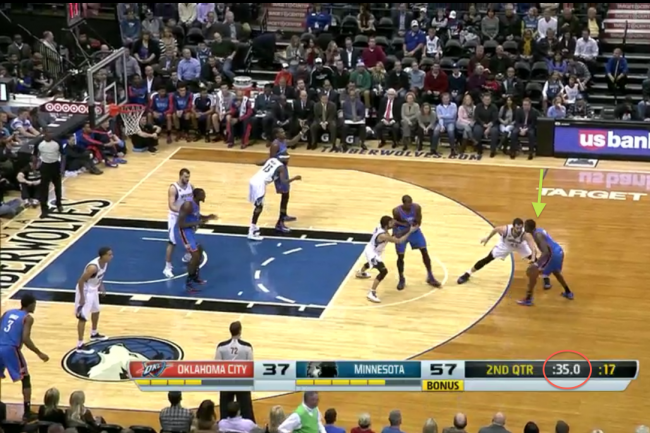 When Jackson goes around the screen, Love hedges hard. He's all the way out beyond the three-point arc and putting plenty of pressure on Jackson's handles.
Rubio doesn't have to fight over the screen with as much effort because he knows that Jackson can't immediately burst around the power forward.
Also, note the time left on the clock in the shot up above. We're down to 35.0 seconds remaining in the quarter.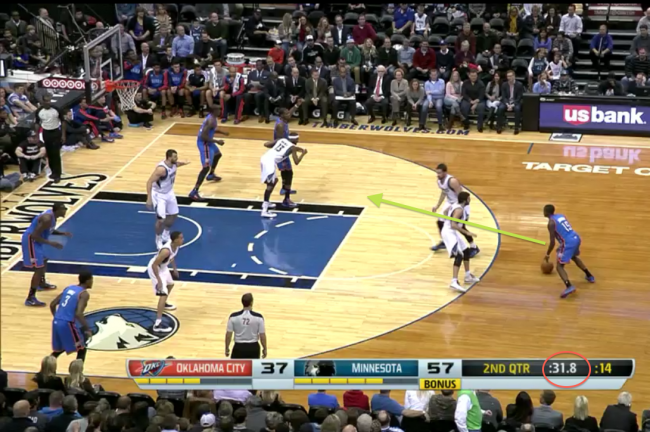 When Love gives up on the steal attempt and cycles back to his man, there's only 31.8 seconds left on the clock. He actually pressured Jackson for right around three seconds, nearly stealing the ball and keeping him contained for long enough that the entire Minnesota defense is ready to go.
This is where Westbrook would attack. He's quick enough to get into the paint and wreak havoc, but Jackson doesn't have that same do-or-die mentality.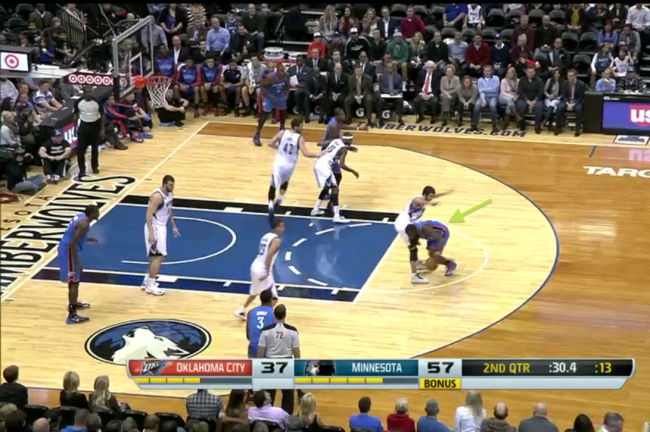 Instead of following Love, Jackson drives right at Ricky Rubio and can't get around him. The play fails, and the Thunder aren't able to score on the possession.
But these pick-and-roll/pick-and-pop sets aren't the only area where something is lost without Westbrook's trademark explosiveness. There's a big difference in transition and loose-ball situations.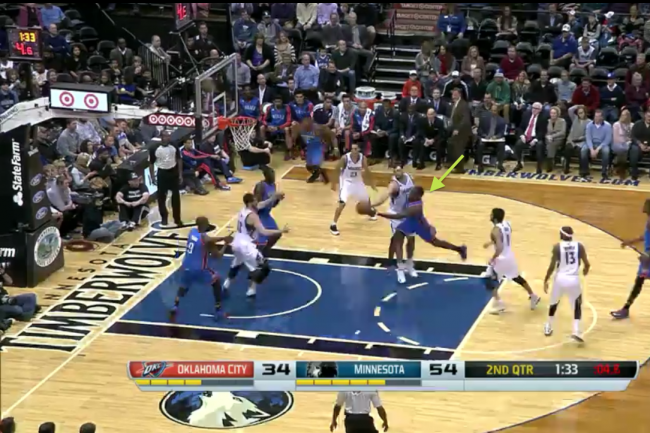 Up above, you can see Jackson failing to get around Love once more.
This time, he was bursting to the basket after corralling a loose ball, and he still can't use his speed to get around the opposing power forward. A turnover is the result.
And how about this play?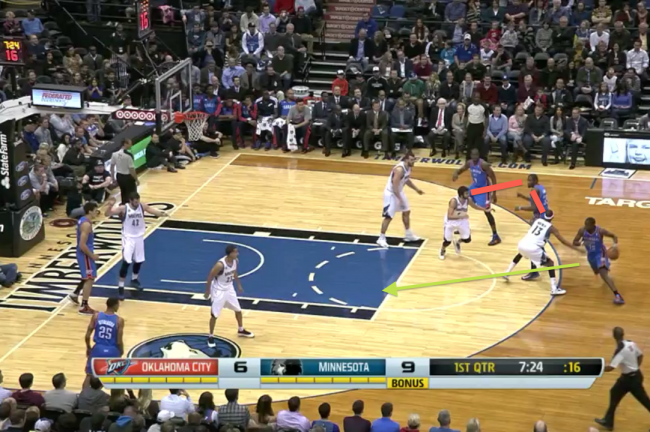 As Jackson comes around the screen, you should take note of where everyone's eyes are focused. Corey Brewer and Rubio aren't worried about Jackson as much as Kevin Durant, and they're clearly gazing at the lanky small forward.
Jackson has a ton of open space to his left, and it's enough space that Westbrook would be able to accelerate into either a thunderous finish at the rim or one of those remarkably athletic pull-up jumpers.
But not Jackson.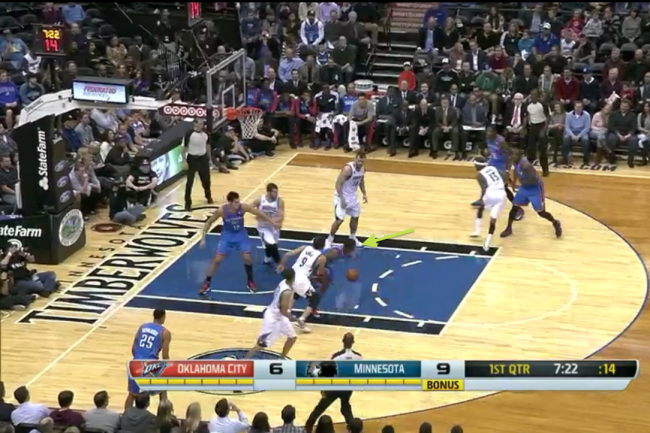 He doesn't use the edge he's gained too effectively, and Rubio is quick enough not only to catch up with him but also to get in front and poke the ball away.
Jackson turns it over, one of his seven cough-ups in the game.
While Westbrook is, by no means, infallible, he certainly opens things up more than his positional counterpart. And yet, that still isn't the biggest reason that he's missed so much.
Tough on Kevin Durant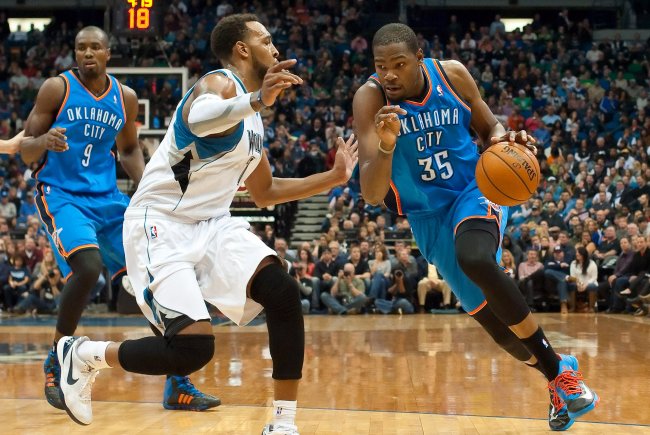 Greg Smith-USA TODAY Sports
Durant can still explode without Westbrook in the lineup.
He left little doubt about that when he debuted in 2013-14 with a 42-point outing to help stave off the pesky Jazz. But there's a big difference between being able to explode once in a while and being able to carry an offense on a consistent basis.
Durant isn't well-rounded enough to do what LeBron James did with the Cleveland Cavaliers a few years back. He's one heck of an offensive player, but he still relies so much on spot-up opportunities and getting into a shooting rhythm. He's prone to those poor performances like he had against the 'Wolves.
Why? Because he just draws that much defensive attention.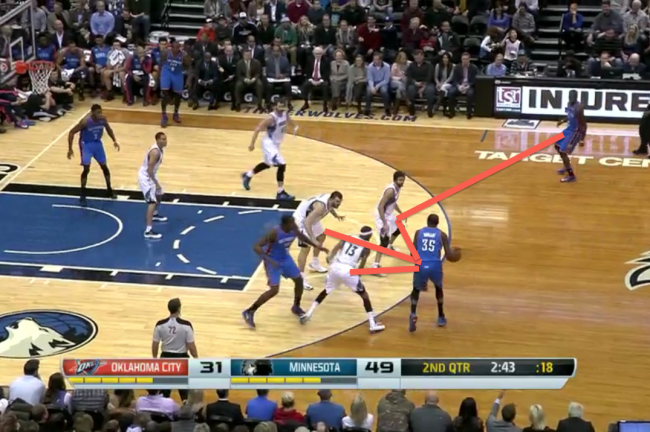 Minnesota is almost attempting to form a cup around Durant on this play.
They aren't going to let him drive at any angle nor are they going to let him pull up for an easy jumper. Corey Brewer is Durant's primary defender, but Nikola Pekovic and Rubio are also creeping dangerously close while almost completely neglecting their own men.
Do you think that Rubio strays this far from his man if he's guarding Westbrook instead of Jackson?
Absolutely not, as he'd be setting himself up for a catch-and-shoot situation or—perhaps worse still—a catch-and-drive play.
If he shifts over, Durant is as good as gone. But he doesn't have to do so while only worrying about Jackson.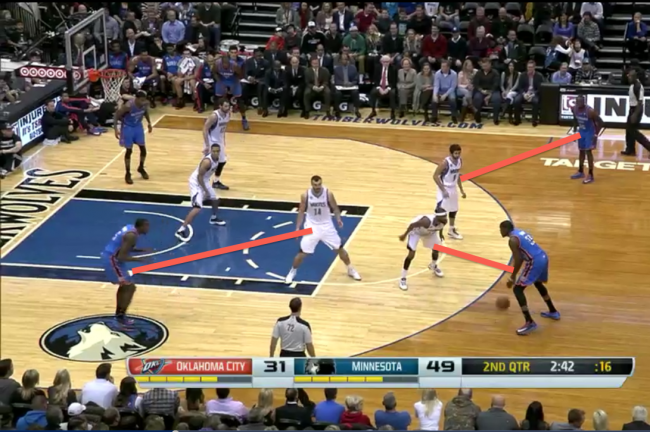 Even after the extra defenders shift over to more normal positions, they're still giving their men a lot of space, presumably prepared to provide Brewer with any help that he needs.
Ironically enough, Durant will pull up and drain a three-pointer for one of his four makes from the field this game. But that's not the point, as it's more about the defensive pressure forcing him into that type of attempt.
You can't base analyses of decisions on results, after all.
But defenses aren't only swarming when he has the ball; they're actively fronting Durant and putting heavy pressure on him to prevent him from getting the rock in the first place.
After the loss to Minnesota, Durant told the AP, via ESPN, "If they play one-on-one, I felt like I had the better matchup. But every time I caught it there was two guys guarding me, so I've got to kick to my teammates. I've got to make better decisions in that area."
Are the Thunder contenders without Westbrook?
A Durant who has to think about these decisions and play more passive basketball isn't going to be as effective. And yet, that's exactly what we're going to see from this preseason MVP candidate.
At least until Westbrook is back in the lineup.
Cross your fingers, Thunder fans, as you desperately need him healthy and ready to go. Perhaps, he'll finally gain the appreciation he deserves now.
This article is
What is the duplicate article?
Why is this article offensive?
Where is this article plagiarized from?
Why is this article poorly edited?

Oklahoma City Thunder: Like this team?