Ever since quarterback Sam Bradford was drafted by the St. Louis Rams in 2010, expectations for the franchise have been sky high. Bradford's arrival signaled a new beginning for an organization that desperately needed it.
With a talent-depleted roster, few expected the No. 1 overall pick to have a successful rookie season. Pundits from around the league believed the Rams should consider themselves lucky if they squeaked out four wins during No. 8's inaugural season.
Lo and behold, Bradford and the Rams outdid expert predictions when they tallied a 7-9 record and finished with the second-best record in the NFC West. Despite missing the playoffs by one game, St. Louis' investment in the rookie signal-caller paid off because he won Rookie of the Year honors at the end of the season.
Heading into 2011, anything less than a playoff appearance would have been categorized as a letdown. General manager Billy Devaney swung for the fences in the draft after the Rams finished the 2010 season with the 26th-best offense in the NFL. In Rounds 2, 3 and 4, he supplied Bradford's arsenal with tight end Lance Kendricks and wide receivers Austin Pettis and Greg Salas.
Unfortunately for Bradford, a lockout-shortened offseason and an ankle injury derailed any chance at success in Year 2. St. Louis' 2-14 finish helped show Devaney, head coach Steve Spagnuolo and the rest of the coaching staff the door.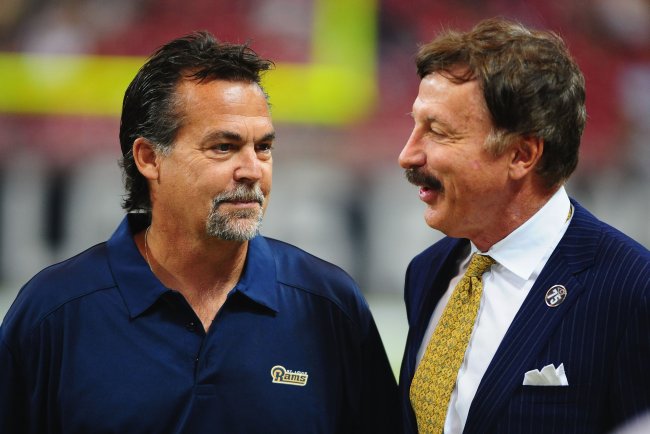 Michael Thomas/Getty Images
Owner Stan Kroenke didn't go with an unproven leader of men when he hired head coach Jeff Fisher; he went with a man who had been around the block before. Rightfully so—the last time the Rams had a proven winner at the helm was when they won the Super Bowl under the guidance of Dick Vermeil.
When Fisher and general manager Les Snead took over, they made it a point to fully invest themselves in Bradford. They weren't ready to give up on the organization's prized possession. By adding talent around the young quarterback, they felt everything would eventually fall into place.
After the conclusion to a 7-8-1 season in 2012, it seemed as if the Rams' brain trust was onto something. Rookie wide receiver Chris Givens and rookie running back Daryl Richardson both played pivotal roles in helping offensive coordinator Brian Schottenheimer's offense evolve down the stretch.
In Bradford's first year under Schotty, he set career highs in passing yards, yards per pass attempt and touchdowns. This, in turn, meant things would get even better the following year, right? From a statistical standpoint, yes, he has gotten better. But from a progression standpoint, he hasn't quite taken that next step.
Personally, I've been quite hard on Bradford in the past. But the more I examine his play with the help of coach's film, I realize his inefficiencies don't squarely fall on his shoulders. Instead of solely placing the blame on him, Schottenheimer deserves plenty of criticism as well.
Why? Because Schottenheimer's play-calling has been downright atrocious through the first five games of the season. It seems as if he is scared to call a play that nets the team a first down. OK, that may be a slight exaggeration. Yet when one takes the time to look at the numbers, it's evident that he lives and dies by the short stuff.
Sam Bradford's Statistics on Throws 20 Yards or More Downfield

| | | | | | | | |
| --- | --- | --- | --- | --- | --- | --- | --- |
| Att. | Comp | Drops | Yards | TDs | INTs | Attempts Percentage | Accuracy Percentage |
| 16 | 5 | 0 | 180 | 1 | 1 | 7.4 | 31.3 |
Pro Football Focus
According to the analysts at Pro Football Focus (subscription required), the Rams offense has only attempted 16 passes that have traveled 20 yards or more downfield. That's tied for the second-worst rate in the league behind the Dallas Cowboys, Minnesota Vikings, Houston Texans and Washington Redskins.
In addition to the fact St. Louis has only attempted 16 passes of 20 yards or more, a mere five of those downfield throws have been caught. That also ties the Rams for the second-worst rate in the league.
Here's another intriguing statistic: Of Bradford's 216 pass attempts on the season, only 7.4 percent of them have traveled at least 20 yards through the air. Furthermore, Schottenheimer's offense isn't doing a good enough job of taking advantage of No. 8's strengths.
Bradford's at his best when he's operating in an uptempo, no-huddle situation. Over the course of the last three weeks, the Rams' no-huddle has virtually gone to the wayside for no apparent reason. As it stands right now, Schotty's offense is the 29th-best unit in the league. It is averaging 311.6 yards per game.
To put things in perspective, the Cleveland Browns and Oakland Raiders currently have more potent offensive attacks. As bad as the play-calling has been, it doesn't help that St. Louis has had to become so one-dimensional since Steven Jackson's departure.
The Five Worst Rushing Teams in the NFL

| | | | | | | | | |
| --- | --- | --- | --- | --- | --- | --- | --- | --- |
| Team | Pts/G | Att | Att/G | Yds | Avg | Yds/G | TD | Lng |
| NYG | 16.4 | 87 | 17.4 | 284 | 3.3 | 56.8 | 2 | 18 |
| PIT | 17.2 | 73 | 18.2 | 232 | 3.2 | 58 | 2 | 25 |
| JAX | 10.2 | 110 | 22 | 292 | 2.7 | 58.4 | 2 | 20 |
| STL | 20.6 | 109 | 21.8 | 332 | 3 | 66.4 | 0 | 23 |
| MIA | 22.8 | 95 | 19 | 348 | 3.7 | 69.6 | 5 | 49 |
NFL.com
By the numbers, the Rams are one of the most inefficient teams when it comes to running the football. Zac Stacy, Daryl Richardson, Isaiah Pead and Benny Cunningham are averaging 66.4 yards per game. Moreover, they form the only backfield in the league that hasn't scored a rushing touchdown.
With the Texans, Carolina Panthers, Seattle Seahawks and Tennessee Titans scheduled in the coming weeks, that streak may live on until they travel to Indianapolis Week 10.
If poor play-calling and a non-existent run game weren't bad enough, there's one more factor to which you could attribute Bradford's slow start. John Fassel's special teams unit has been plagued on a weekly basis by backbreaking penalties. St. Louis has racked up 18 special teams penalties. On average, that's 3.6 penalties a game on special teams alone.
The high penalty rate has directly affected the Rams offense and its starting field position. According to Football Outsiders, Bradford and Co. take the field at their own 24-yard line. That is one of the worst starting-field-position averages in the league. In fact, it's the fifth-worst starting-field-position average in the NFL.
Given the current state of affairs in St. Louis, it's easy to point fingers and criticize the quarterback's play. Often, the criticism is warranted based on Bradford's pay, yet there are a lot of variables that can directly and indirectly affect his play.
The key for the Rams will be to come together in all three phases of the game. As much as we like to think wins and losses are all about quarterbacks, that's simply not the case. Sure, they play a huge role in the outcome, but football is the ultimate team sport.
How does that cliche go? There's no "I" in team. Well, it's true: There is no "I" in team, which means St. Louis' slow start has been a collective effort week in and week out. Additionally, the Rams will consistently start winning football games when the players and the coaching staff get on the same page.
With 11 weeks left to play, Bradford has the opportunity to put his sputtering season behind him, but he will need a little help from his friends to do so.