49ers vs. Seahawks: 8 Takeaways from Seattle's 29-3 Win over San Francisco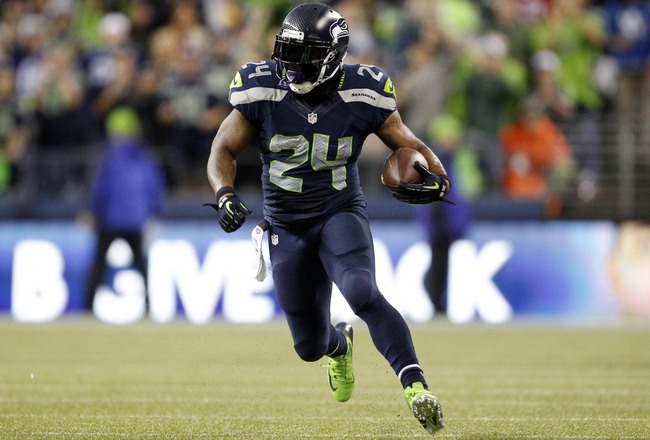 Joe Nicholson-USA TODAY Sports
The Seattle Seahawks and the San Francisco 49ers battled for the lead in the NFC West on Sunday night, and Seattle came out on top. The Seahawks walked away from this game with a dominating 29-3 victory over their rival.
This was the first time for Seahawks fans to see their team at home in 2013, and the team did not disappoint them. The 12th Man also lived up to its reputation, causing plenty of communication difficulties for the 49ers.
The Seahawks answered plenty of questions in this game, and a few other things were brought to light.
After a convincing win, here are the top takeaways for the Seahawks.
Surprise, It Rains in Seattle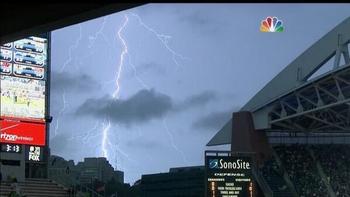 Photo courtesy of Bleacher Report's Twitter account
The city of Seattle's reputation for rainy weather may be overblown, but this game certainly won't do anything to change that. The first quarter was played in driving rain, and then there was a 59-minute delay due to lightning.
The rain and the delay had little effect on the outcome of the game, but they did create a frustratingly long break in the action.
Seattle Can Win When Russell Wilson Is Human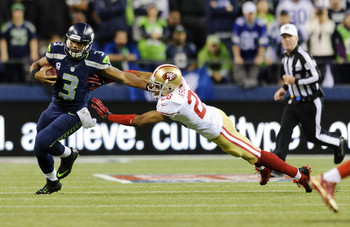 Steven Bisig-USA TODAY Sports
Russell Wilson started the game missing on his first six passes, including an interception. After three quarters he had completed just five passes in 14 attempts.
At the end Wilson had only eight completions for 142 yards, with one touchdown and one interception. That is hardly the performance that the Seahawks have come to expect out of their young signal-caller.
Wilson's poor performance hardly mattered in the final result. Solid rushing from Marshawn Lynch and a completely dominating performance by the Seattle defense allowed the Seahawks to run away with this game despite a less-than-stellar performance from Wilson.
This Is Still Marshawn Lynch's Offense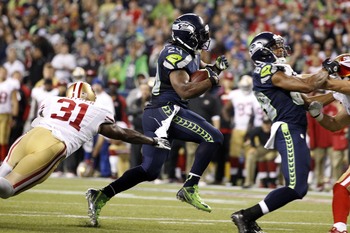 Joe Nicholson-USA TODAY Sports
Lynch's final stat line was 28 carries for 98 yards and two touchdowns. He also added three receptions for 37 yards and another touchdown.
On a night when Wilson struggled, Lynch carried the the Seahawks to victory offensively.
The Defense Dominated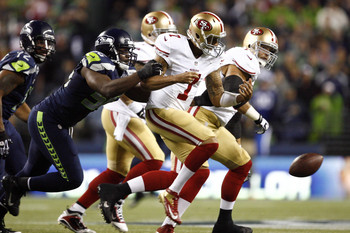 Joe Nicholson-USA TODAY Sports
Kaepernick completed just 13 of his 28 passes for only 127 yards. Frank Gore had just 16 yards on nine carries. The 49ers had more turnovers (five) and they did points (three).
The Seahawks defense dismantled the 49ers offense. This was as dominating of a performance as we're likely to see all year.
Richard Sherman Is as Good as He Says He Is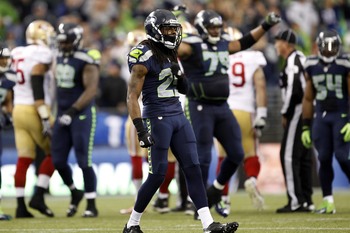 Joe Nicholson-USA TODAY Sports
Seahawks CB Richard Sherman caught as many Colin Kaepernick passes as Anquan Boldin did. Sherman followed Boldin all over the field and covered Boldin almost exclusively in man-coverage situations.
A week after Boldin's massive 13-catch, 208-yard performance against Green Bay, Sherman and the Seahawks held Boldin to just one catch for 7 yards. That catch came late in the game, when the Seahawks were well ahead and had shifted to playing more soft zone coverage.
Golden Tate Is an Electric Punt Returner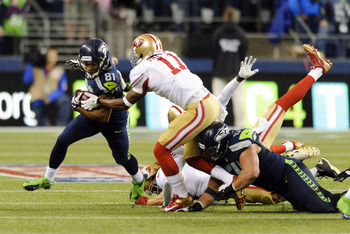 Steven Bisig-USA TODAY Sports
Golden Tate has more than replaced the departed Leon Washington on punt returns. A week after averaging 12 yards per return on four returns in Carolina, Tate averaged 15.5 yards per return on two returns in Week 2.
Tate is dynamic in the open field and has turned that into some huge returns for far in 2013.
The Penalties Are Still a Problem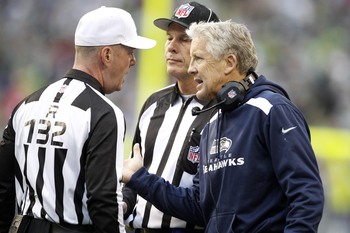 Joe Nicholson-USA TODAY Sports
The Seahawks can't seem to stop shooting themselves in the foot, especially on offense. The Seahawks had 10 more penalties in this game, costing them 81 yards.
This has been a problem now for over two years, and it doesn't seem to be going away anytime soon. The Seahawks were able to get away with it this week, but it's only a matter of time before those penalties are the difference in a close game.
The 12th Man Is as Loud as Advertised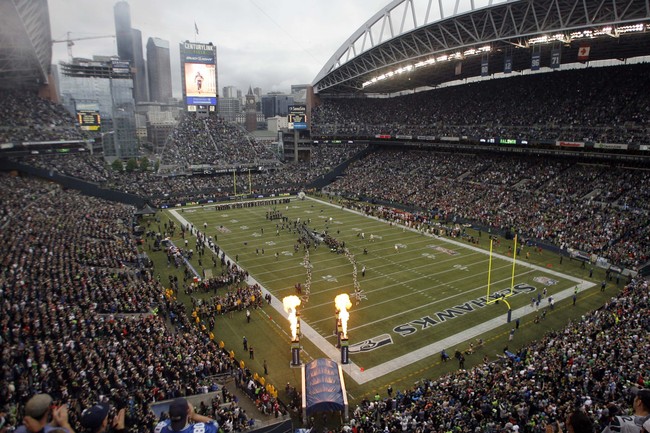 Joe Nicholson-USA TODAY Sports
Representatives from Guinness were on hand to determine if the fans in Seattle could break the record for being the loudest fans in the world. The previous record was 131.7 decibels, set at a soccer stadium in Istanbul, Turkey back in 2011.
1st reading 130.1!!!! So close! Game has been stopped due to severe weather.

— Official VOLUME12 (@Volume12Seattle) September 16, 2013
The first attempt at the record was just before the lightning delay. The second attempt was just after it:
Congratulations Seahawks 12th man & Centurylink field! We are officially the loudest stadium in the world!

— Joe Tafoya (@JoeTafoya) September 16, 2013
The record attempt was the product of the Former Seahawks DE Joe Tafoya and his Volume 12 group:
New reading! 136.6!!!! #volume12

— Joe Tafoya (@JoeTafoya) September 16, 2013
Keep Reading

Seattle Seahawks: Like this team?