Jets vs. Patriots: Breaking Down New England's Game Plan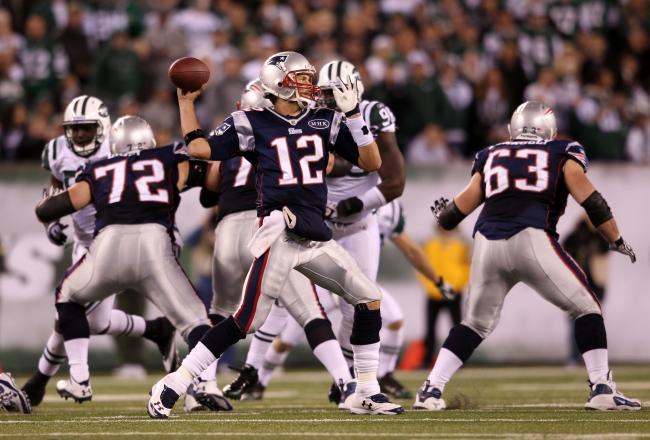 Nick Laham/Getty Images
With the "butt-fumble game" from Thanksgiving still fresh on everyone's minds, thanks to the ESPN's Worst of the Worst, it's easy to forget the New England Patriots and New York Jets have had close battles in their first meetings each of the last four seasons.
The Jets won both matchups in New York in 2009 and 2010, while the Pats held serve at home in 2011 and 2012, though last year's contest went to overtime. With both teams experiencing turnover and injuries on the offensive side of the ball, this Thursday's game should be yet another classic that goes down to the final gun.
Let's take a look at what the undermanned Patriots will have to do to move to 2-0 and already pick up their second divisional win.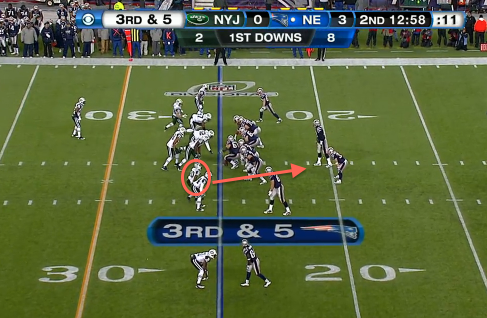 Patriots Offense vs. Jets Defense
With last weekend's star Shane Vereen now on IR with designation to return after wrist surgery and Danny Amendola likely to be sidelined with a lingering groin issue, the Pats are going to have to rely on Stevan Ridley and a collection of rookie receivers to complement Julian Edelman on offense.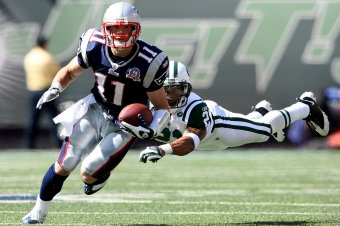 Nick Laham/Getty Images
Edelman figures to be a key piece of the attack and will likely get the Wes Welker treatment from the Jets defense.
The last time he was in this position, in the 2009 AFC Wild Card Game against the Baltimore Ravens, after the Pats lost Welker in the season finale, he was just a rookie. Now, four years later, we'll see if the only veteran Patriots receiver has what it takes to be a true cog in the Patriots attack.
It's imperative that Edelman be Brady's go-to target and the Jets will be well aware of this, especially on third down. Will they give him as much attention as they used to give Welker? That will depend on how well Brady clicks with his other targets early in the game.
Undrafted rookie Kenbrell Thompkins was a star of training camp, but looked to be on a different page than Brady against the Buffalo Bills, though he was targeted 14 times, coming up with just four catches.
He'll need to get back on track, but the question is, will Brady have enough time to find the outside receiver? Brady's veteran offensive line certainly will help, though the Jets are sure to get a couple shots in on Brady with their clever defensive scheming.
Who will be the Patriots' go-to weapon vs. the Jets?
Second-round draft pick Aaron Dobson expects to play after missing the opener with a hamstring issue. Despite his size and lofty draft status, he displayed inconsistency in the preseason and will need to be better at attacking the ball. If the Pats can get Dobson lined up on Kyle Wilson or one of the Jets safeties, they can use his height to their advantage.
The Patriots were tight end-centric the last two seasons, but right now, they are nearly tight end-less. Michael Hoomanawanui recorded the only catch by a Patriot tight end against the Bills and was used primarily as a blocker. Rookie Zach Sudfeld has hamstring issues of his own and had a bad slip against the Bills that led to a Tom Brady interception.
If Sudfeld can't go, the Patriots might have to rely on a combination of Hoomananwanui, newly re-signed former Jet Matthew Mulligan and tackle Nate Solder to fill in at the position.
Either way, don't expect the Pats to threaten the Jets with their tight ends in the receiving game. More likely, they'll be used to maximize Brady's protection against the Jets' assortment of exotic blitzes.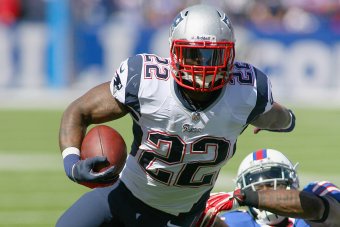 Rick Stewart/Getty Images
With Vereen out, Ridley's shot at redemption after a brutal fumble vs. the Bills comes earlier than expected.
The Jets were stout in run defense against the Tampa Bay Buccaneers, allowing Doug Martin just 65 yards on 24 attempts, but it's easy to forget that Ridley had over 1,200 yards last season. Can he do it now, without a vaunted Pats passing attack to open things up for him? It will be an excellent test.
Leon Washington was re-signed last week, but is still battling a thigh injury. Washington would get plenty of opportunities in the passing game if he's able to go, as he's the closest thing the Pats have for a replacement for Vereen as a pass-catcher. Without him, they'll be extremely limited, as neither Ridley nor LeGarrette Blount excel catching the football.
Rex Ryan has an interesting choice to make. Load up the box against, arguably, the Pats' best threat in Ridley and force Brady to beat them with Edelman and the young receivers alone? Or does he continue to treat Brady as he usually has and use more of his sub-packages?
Whatever choice Rex makes, the Pats will attack the opposite way, for better or worse.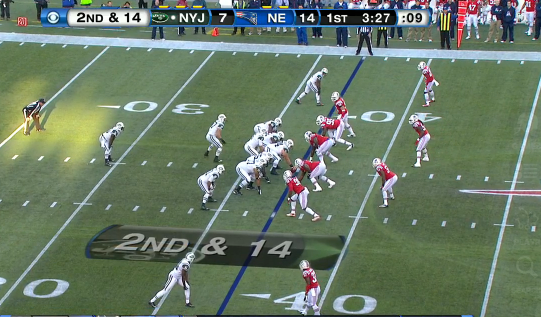 Patriots Defense vs. Jets Offense
For the first time since 1950, the Patriots will the first team to face two rookie quarterbacks to start the season. Against the Bills, the Pats were content to rush four, play man coverage and force the Bills skill players to have to beat them.
The Bills couldn't do it. Can Geno Smith and the Jets?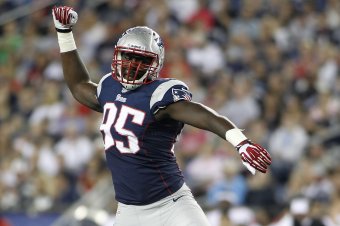 Stew Milne-USA TODAY Sports
It's likely that the Pats will have a similar game plan in place, although it's unlikely that the Jets will run the whole game in 11 personnel like the Bills did. Thus, we can expect to see more of the Patriots base defense with both 4-3 and 3-4 fronts, rather than their nickel package exclusively.
The primary focus for the Pats will be their front seven playing a disciplined game. The Jets had plenty of wildcat plays and screens against the Buccaneers and figure to have the same in store for the Pats.
The front four of Rob Ninkovich, Vince Wilfork, Tommy Kelly and Chandler Jones will likely be on their own in generating pressure as they were against the Bills, where they produced just two sacks, yet did generate just enough pressure to force some key mistakes by EJ Manuel.
They'll have to be better against Geno Smith, especially with their interior rush, where Kelly and Wilfork will be key, along with Jones on passing downs. If they can keep Smith contained and not allow him to step up or get free, they should force him into bad throws.
The linebacking trio of Dont'a Hightower, Brandon Spikes and Jerod Mayo must identify and destroy screen passes without over-pursuing. This also includes plays where Geno Smith gets out of the pocket. He hurt the Buccaneers on the ground with 47 rushing yards on six carries.
On the back end, the Patriots return their top five starters from last season, with rookie Logan Ryan working his way in.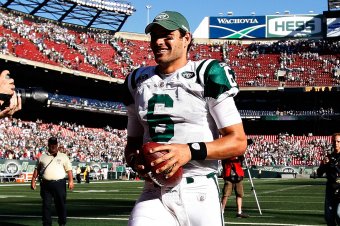 Nick Laham/Getty Images
With the Jets likely to be without Jeremy Kerley (concussion) and Santonio Holmes still working his way back in, the Pats secondary should have an advantage. Their ability to play man-to-man defense is something Bill Belichick has not always had at his disposal in recent seasons, and it will force Geno Smith to be accurate with his throws.
The Pats are a turnover-based defense, and the entire team thrives when they get takeaways. If Smith is off the mark, the Pats will come down with the ball.
The Patriots run defense was elite last season and there's no reason to think they won't shut down Bilal Powel and Chris Ivory, who combined for just 44 yards against the Buccaneers. That will put the game on Geno Smith's arm and give the Pats pass defense a chance to prove this won't be a repeat of Week 2 in 2009 when they lost to rookie Mark Sanchez.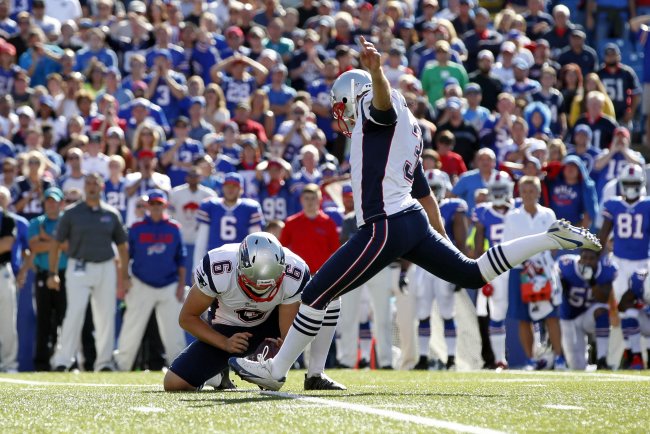 Kevin Hoffman-USA TODAY Sports
Special Teams
Stephen Gostkowski put the missed potential game-winner against the Arizona Cardinals in Week 2 of 2012 behind him by hitting the game-winner against the Bills. It should be a good confidence-builder for him going forward in what needs to be a bounce-back season.
Rookie Ryan Allen was a surprise winner of the punter competition in training camp, ousting Zoltan Mesko, and he had an up-and-down performance against the Bills. It included an outstanding 65-yarder that pinned the Bills inside their own 10 and a dreadful 35-yarder from the Pats' own 7-yard line. He'll be looking to find some consistency against the Jets.
Julian Edelman just became the NFL's all-time leader in punt return average at 13.0 yards, but with an increased workload at receiver, could the Pats look at other options to keep the suddenly-vital Edelman?
Special teams played a big role in 2012's first matchup between the teams, with Devin McCourty taking a kickoff back for a touchdown. The Pats also added a fumble returned for a touchdown by Edelman against the Jets on Thanksgiving.
Nothing can swing a game like a big special teams play, and both teams will also want to avoid a breakdown.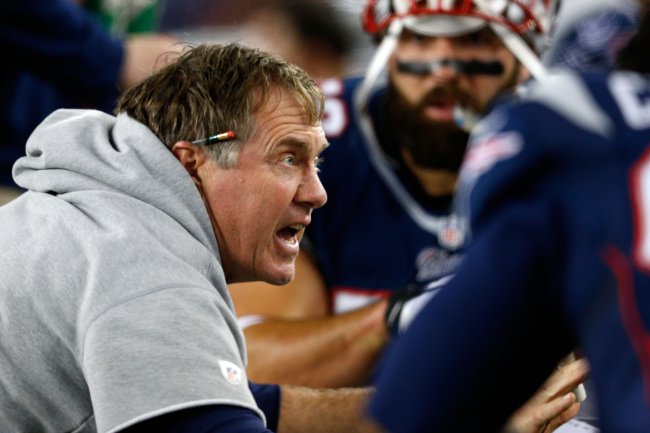 Jim Rogash/Getty Images
Five Points of Emphasis
Keep Geno Smith in the pocket: Smith will not hesitate to pull the ball down and run if the opening is there. The Pats excel at forcing rookie quarterbacks to make tough passes to beast them, and that will certainly be the game plan this week. Expect Jerod Mayo to be used as a spy for Smith from the middle of the field and not allow him to get cheap yards when no one is open.
Defense can't be overaggressive: The Jets ran a number of screens and Wildcat plays against the Buccaneers. Patience will be key as will penetration and disruption by the interior rushers. Linebackers Mayo, Dont'a Hightower and Brandon Spikes must play smart and not get sucked out of position.
Receivers read the defense: The Pats receivers must correctly decipher the Jets blitzes and give Brady reliable outlets when they blitz by finding the vacated zones. This is no easy task, and Rex Ryan will look to exploit their inexperience
Run when the Jets know they're running: This could be the biggest test of the ground game in recent memory. The Jets have little reason to fear the Pats' passing attack, as they have in recent seasons, so the Pats will need to move the ball on the ground. If they can do that, it will make life easier in the passing game. It starts with the offensive line dominating up front.
Don't Beat Themselves: One of the biggest keys, early in the season, when the games are still sloppy and unpredictable, is to limit penalties and turnovers. If the Pats play clean football, they should win the game. This is usually something they excel at, but against an attacking defense like the Jets, they'll have to be even more careful.
Mike Dussault is a Patriots Featured Columnist and also writes and edits PatsPropaganda.com.
Screen captures courtesy of NFL.com Game Rewind.
This article is
What is the duplicate article?
Why is this article offensive?
Where is this article plagiarized from?
Why is this article poorly edited?

New England Patriots: Like this team?