Miami Dolphins 2013 Schedule: Win-Loss Predictions for Every Game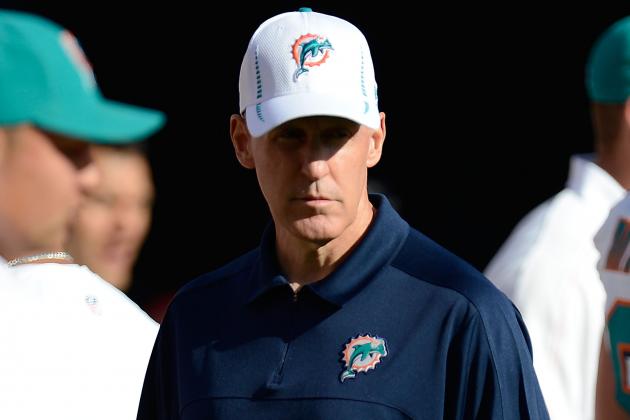 Thearon W. Henderson/Getty Images

Before we can set ourselves to predicting the outcome of every single Miami Dolphins game of the 2013 NFL season, I think we have to establish a few things. We have to establish what this team was, what has changed and what it should become. The latter is the most important task, because you can't hope to know how the team's strengths and weaknesses will interact with other teams' strengths and weaknesses unless you have properly gotten your arms around them.
It's a tall task, but I think we can make do.
What the Dolphins were
Let's keep this part simple. Last year, the Dolphins were a 7-9 team with an offense that scored 28 touchdowns and 23 field goals, or about 16.5 points of offense per game (loosely, rounding to the nearest half-point). The defense allowed 28 touchdowns and 31 field goals, or about 18 points per game. The offense turned the football over 26 times while the defense only created 16 takeaways.
The team had a rookie quarterback and arguably only three star players on offense (one of whom failed to play like one), with another three stars on defense. For the record, I account those players as Reggie Bush, Jake Long, Mike Pouncey, Cameron Wake, Randy Starks and Reshad Jones. I suspect most NFL coaches would account it roughly the same.
What has changed
The biggest change the Dolphins made in the offseason was the addition of Pittsburgh free agent wide receiver Mike Wallace, who is a classic speed flanker. The Dolphins also voluntarily jettisoned two mainstays of the defense in Karlos Dansby and Kevin Burnett, replacing them with Baltimore free agent Dannell Ellerbe and Oakland free agent Phil Wheeler.
The team allowed tight end Anthony Fasano and offensive tackle Jake Long to depart as free agents with expiring contracts. In their place, they signed Jets free agent tight end Dustin Keller (now disabled for the season) and Falcons tackle Tyson Clabo, who will man the right tackle spot while second-year tackle Jonathan Martin moves to left.
The team allowed dynamic tailback Reggie Bush to escape as a free agent and made no appreciable effort to replace him, figuring that second-year man Lamar Miller can step into his shoes. Slot receiver Davone Bess was traded to the Cleveland Browns for minor draft considerations and was replaced with journeyman Rams free agent Brandon Gibson. Corner Sean Smith was allowed to depart the team as a free agent, while Falcons free agent corner Brent Grimes was welcomed in his place on a one-year "prove it" contract aimed at seeing if he has fully recovered from an Achilles tendon tear.
The team drafted Michigan State tight end Dion Sims to be the blocking specialist at the position that may be missing at times now that Anthony Fasano departed. After showing a significant lack of depth at corner a year ago, the team drafted two rookie corners in the second and third rounds of the NFL draft in Jamar Taylor of Boise State and Will Davis of Utah State.
However, the most significant draft acquisition is Oregon pass-rusher Dion Jordan, who will fill the role of nickel pass-rusher opposite Cameron Wake that was inadequately filled a year ago by rookie Miami (FL) product Olivier Vernon. The team also drafted a place-kicker who will replace Dan Carpenter.
Begin Slideshow

»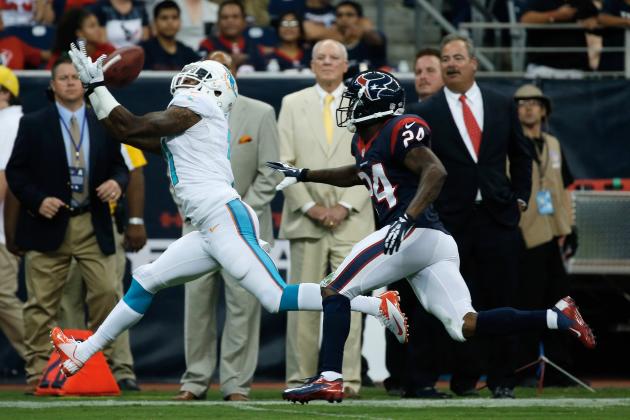 Scott Halleran/Getty Images

The changes the Dolphins have undergone are significant, making a clear picture of the team's current capabilities difficult to predict. But this is an entirely necessary task, because when we get into individual game predictions, we'll make reference to specific strengths and weaknesses as they relate to the opponent's opposing units, and I would like to establish a context for those strengths and weaknesses.
If I refer to the ground game as a weakness against a team, I would like you to know what I think specifically about the unit that could make me feel that way. On the other hand, the NFL schedule being what it is, the ground game could turn around and be a strength for the Dolphins against a different opponent, and so I would also like you to know what virtues I appreciate about the unit that might make me consider it a strength in a particular game.
Quarterback as a Strength
Ryan Tannehill is entering his second year in the league, which is also his second year as a starter. History shows a tendency for franchise quarterbacks to make a big jump in both situations. Tannehill has shown some specific strengths in the 2013 preseason and the 2012 regular season, as well as his days in college.
He gets the football out quickly. Even as a rookie, according to Pro Football Focus (subscription required), he ranked No. 11 out of 27 qualifying starters for percentage of passes delivered in 2.5 seconds or less. League-wide passer ratings on such passes (once again, according to Pro Football Focus - subscription required) average in the mid-90s. This preseason, I have him timed as having gotten the football out in 2.5 seconds or less on 23 of 38 plays, which would put him near the highest percentage a year ago. I have him completing 13 of 23 for 170 yards, one touchdown and zero interceptions this preseason on these decisive passes, which is in line with league-average efficiency on such plays. His best showing in this regard through the preseason came against the Texans, when he got the football out quickly on 14 of 19 plays.
He passes well off of play action. According to Pro Football Focus, Ryan Tannehill had the second-highest passer rating in the NFL on play-action passes. Most, but not all, of these play-action passes came while dropping back from under center. However, there are suggestions that he is more efficient off of play action even from the shotgun, as opposed to shotgun plays that do not involve play action.
In college, he was effective at producing touchdowns from close to the end zone. I tracked the efficiency of many quarterbacks in the 2012 NFL draft in terms of how many touchdowns they were able to produce per pass or run snap from inside the 10-yard line. During his last two years at Texas A&M, Ryan Tannehill had the highest percentage amongst the top quarterbacks.
He throws accurately on the run. This is another purely observational data point, but Ryan Tannehill's accuracy, though not necessarily his decision-making, is very good when throwing the football while running.
Quarterback as a Weakness
There will be times when Ryan Tannehill is inefficient as a quarterback. What will be the weaknesses that shine through during those moments?
He is inefficient on plays during which he holds the ball too long. Purely from a passing standpoint, he has completed five of eight passes for 57 yards, one touchdown and zero interceptions this preseason. However, two of the three incomplete passes were near-interceptions, and he also has been sacked three times for negative-16 yards while scrambling four times for 14 yards and overall averaging only 3.7 yards per play on the 15 plays. Last year, according to Pro Football Focus (subscription required), he took sacks on plays where he held the football 2.6 seconds or longer at an unusually high rate, ranking No. 23 out of the 37 quarterbacks that had 100-plus such dropbacks. This has continued through the 2013 preseason.
He was inefficient in 2012 on non-play-action passes. Though his efficiency on play action was at the very top of the league, his efficiency on pass plays that did not involve a play fake was near the bottom of the league, according to Pro Football Focus. The key seems to be how much information the Dolphins are asking him to process during a play, as play-action passes tend to be simpler reads. This is partly why getting him to speed up his release is helpful, as a quicker delivery signifies that Tannehill developed a more accurate pre

-snap

picture of where he needs to go with the football on the play.
He continually makes poor decisions when running to the sidelines. This is a purely observational point. When Ryan Tannehill scrambles out of the pocket and makes decisions while about to run out of bounds, he makes consistently awkward choices with the football. This happened with regularity in 2012 and has shown up in the 2013 preseason.
Running Game as a Strength
Lamar Miller averaged 4.9 yards per carry on 51 carries in 2012. He came out of the draft with excellent size at 5'11" and 212 lbs and ran the 40-yard dash at the combine in under 4.4 seconds according to some stopwatches.
Mike Pouncey is one of the very best centers in the NFL and is regularly able to get further more quickly and more effectively in space than just about any center in football. Additionally, Richie Incognito has his moments as a run-blocker, and rookie tight end Dion Sims has the potential to be a strong run-blocker.
Running Game as a Weakness
Lamar Miller came out of college with durability issues. If he is injured at any point, the Dolphins will most likely turn to third-year player Daniel Thomas. Thomas has averaged a paltry 3.5 yards per attempt in his career, while fellow tailbacks averaged much higher running behind the same offensive line. While Thomas has gotten more short-yardage snaps than most of those others, this only explains a small part of the gap in efficiency. Meanwhile, those short-yardage snaps have not been fruitful for the Miami Dolphins, as Thomas averages far under league averages in terms of first-down or touchdown conversion on short yardage.
Compared with a year ago, the Dolphins have arguably diminished their ground blocking. The team swapped out Jake Long for Tyson Clabo. Film analysis shows that Clabo is, at this stage of his career, a savvy pass protector who has weaknesses as a run-blocker. Jake Long was a consistently stronger run-blocker. Meanwhile, the team also sent away Anthony Fasano, who was long regarded as one of the best blocking tight ends in the league amongst starters. The Dolphins initially replaced him with a much weaker blocker in Dustin Keller, who took a season-ending injury during the preseason. This could require Charles Clay or Michael Egnew to take increased snaps, both of whom are even worse blockers than Keller. Though I labeled Dion Sims a potentially good run-blocker, it is good to remember that he is a rookie and consistency has plagued him this preseason. At any given point, he could be a strength in blocking, or a weakness. At the right guard position, the Dolphins may be forced to start John Jerry, who should give them about the same blocking as a year ago. However, they could be forced to start Lance Louis. Film analysis shows that Lance Louis is not a particularly strong run-blocker. Though he had ideal mobility for the Dolphins' zone system prior to tearing his ACL in 2012, his mobility has clearly been impacted by the injury, and he remains mostly a pass protector.
Pass Protection as a Strength
The Dolphins engaged in a concerted effort to increase their pass-protection capabilities during the offseason. As I have stated, the line acquisitions of Tyson Clabo and Lance Louis seem aimed at pass protection. If the team ends up using rookie third-round pick Dallas Thomas as a guard, he is another player who is more pass protector than run-blocker. The team drafted Dion Sims to help with the pass-protection effort. They allowed Reggie Bush, a notoriously weak blocker, to walk in part because they could not trust him to stay in and help Ryan Tannehill with his blocking need. Under certain circumstances and against certain opponents, these moves have the potential to give the Dolphins a pass-protection advantage.
The quick passing game I detailed with Ryan Tannehill itself serves as increased pass protection. Additionally, the Dolphins have indicated that they could have Ryan Tannehill execute some read-option plays. This has the potential to keep defenses honest in their pass protection and impact certain games.
Pass Protection as a Weakness
This starts with the left tackle Jonathan Martin. Pro Football Focus (subscription required) rated him No. 76 out of 80 offensive tackles who took at least 25 percent of their team's snaps in 2012. His Pass Blocking Efficiency (a construct that compares quarterback sacks, hits and pressures allowed versus pass protection snaps) also ranked No. 64 out of 72 qualifying tackles. Slicing up his time at right tackle and left tackle suggests that he was significantly worse at left tackle in pass protection than at right tackle. His 2013 preseason has been solid, pass protecting against the likes of Kyle Wilber, Jason Babin, Andre Branch, Antonio Smith, Brooks Reed and Bryan Braman; however, he still shows the same tendency to stop his feet either while punching with his hands, or just altogether as he decides the play is over. He yielded a sack to Bryan Braman by simply standing around and refusing to block Braman as he whisked by him while Ryan Tannehill attempted to extend a play.
The pass protection at the right guard position has been a continual weakness throughout the 2013 preseason. This is mostly due to the questionable blocking of Josh Samuda, whose time with the first string appears to be at an end after yet another questionable outing against the Texans.
Receivers as a Strength
Mike Wallace leads a fairly strong wide receivers unit. He is legitimately one of the most effective deep threats in the NFL. He combined legitimate sub-4.3 speed with a gift for adjusting to and attacking the football in the air, making him a very dangerous player. He can take a simple slant pattern and go the distance if the defense is too easy with its spacing or if the corner in man coverage falls off the tackle. Wallace can take flanker screen plays and produce an extra six or seven yards consistently because of his world-class speed.
Brian Hartline gets open very naturally on the routes he is asked to run within this offense and is a highly consistent player. His chemistry with Ryan Tannehill is strong because he runs the type of timing routes (comebacks, out routes, digs) that Ryan is good at throwing, and he gets open on those routes consistently. If the quarterback is ever shaken up or in a funk, the offensive coaches know the plays they can call that will get him back into a rhythm, and those plays will usually involve Brian Hartline.
Receivers as a Weakness
The Dolphins are experimenting with new acquisition Brandon Gibson as the primary slot receiver, even though Gibson has very little experience at that spot, and indeed, some coaches in St. Louis have expressed discomfort with him on the inside. Film analysis of Gibson shows him to be a slower, less consistent version of Brian Hartline. He can run the routes on the outside that this offense utilizes. However, his quickness and mental presence are often questionable. The results of the experiment have been good thus far during the 2013 preseason. However, there is a possibility that things look slightly less impressive when the real bullets begin firing.
The tight ends unit suffered a big blow when Texans safety D.J. Swearinger destroyed Dustin Keller's knee during the preseason. While the Dolphins have invested some assets in the backup tight ends, all three of the primary backups to Keller are relatively unproven. The most experienced among them has 34 career catches. Dion Sims is a rookie, and Michael Egnew was only active on game day for two games in 2012. The Dolphins may be forced to buy some additional experience with imperfect free-agent options who are still unemployed in mid-August, or by claiming another team's leftovers off the waiver wire.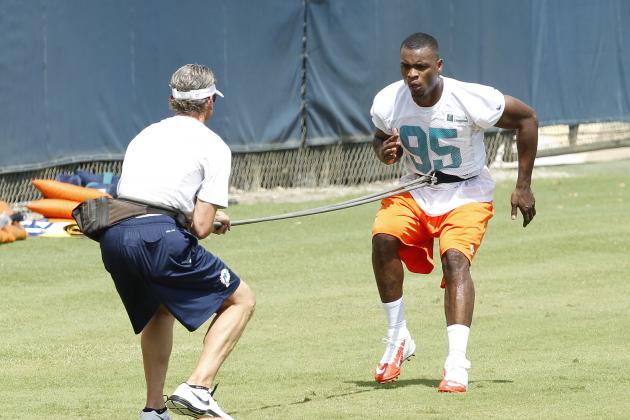 Joel Auerbach/Getty Images

Pass Rush as a Strength
The strength of the pass rush unit begins with Cameron Wake, who is one of the most efficient pass-rushers the NFL has seen over the past five years. Wake has tallied 37.5 official sacks over the past three seasons, and his efficiency statistics via Pro Football Focus (subscription required) are top notch. Wake's effectiveness as a pass-rusher influences both the Dolphins' base defense as well as its nickel packages.
There are other pass-rushers aside from Cameron Wake who deserve mention. Interior rushers Randy Starks and Jared Odrick have proven very effective over the years as pass-rushers on the inside. Their effectiveness also impacts both the base and nickel personnel packages. Meanwhile, rookie third overall pick Dion Jordan looked very efficient rushing the passer during the preseason prior to re-aggravating a shoulder injury from college, and he should provide the nickel personnel package with a fourth effective pass-rusher to play opposite Cameron Wake.
The Dolphins' defensive scheme favors a lot of double-barrel pressure looks wherein linebackers Phil Wheeler and Dannell Ellerbe crowd the line of scrimmage at the A gaps on either shoulder of the center. Sometimes both players fall out of the blitz look and into coverage. Sometimes one of the two will come up the A gap, and sometimes both will. The scheme has the ability to create hesitation and confusion along the offensive line as they guess which players are coming and adjust their protection accordingly. To execute this scheme, the Dolphins grabbed two linebackers who were rated by Pro Football Focus as among the most effective 4-3 linebacker pass-rushers in the NFL in 2012. Film analysis supports that both players are extremely aggressive and sudden toward the backfield and suggests that they may be more effective than their predecessors at executing off of these double barrel blitz looks.
Pass Rush as a Weakness
Olivier Vernon is a weak pass-rusher from right defensive end. Olivier came out of Miami (FL) with questions about his ability to pass rush consistently from an end position. His role at the school was switched around from year to year, and he did not have a strong video resume of rushing the passer from defensive end. Though he had a mildly respectable 3.5 sacks as a rookie part-timer, the frequency with which he beat offensive tackles and got into the backfield to apply pressure on the quarterback was highly deficient. That trend has continued through the 2013 preseason 2013, as left tackles like Eugene Monroe and Duane Brown have handled him in pass protection with relative ease. He drew one holding penalty against Duane Brown; however, the circumstances are not as flattering on further inspection as one would hope. The play was a screen pass and Olivier crossed to Brown's inside shoulder. As this would prove beneficial to Brown's ability to seal Vernon away from screen back, Duane allowed Olivier to do this and set to work sealing him away from the screen. However, the officials believed that Duane's hands got a little too far into "hugging" territory and made the judgment call on holding. Had he not held Vernon, Olivier would not have posed a threat to the quarterback due to the timing of the screen. On no other play against Eugene Monroe or Brown did I find that Olivier Vernon threatened the blocker with his pass rush. This could be a factor, as Vernon will play in base defensive personnel packages as well as nickel packages where the situation dictates that the offense could run the ball. The coaching staff have also toyed with the idea of using Vernon on obvious passing downs in various creative ways.
Paul Soliai is a classic nose tackle. He rarely penetrates the pocket or puts pressure on the passer. This should not be much of a factor in base defenses, as his run-blocking will be much more valuable. However, he could also find himself on the field in nickel packages where the offense goes into "half" personnel (three receivers) yet the situation dictates they could still run the football. If the offense manages to snare the Dolphins into such a personnel package, they could then go into a hurry-up, which does not allow the Dolphins to substitute pass-rushers onto the field. At that point, they could execute a wide-open passing attack knowing that half of the Dolphins four-man pass rush will be ineffective.
Run Defense as a Strength
The Miami Dolphins' run defense out of base personnel should be one of the strongest aspects of the team in 2013. The run defense was already well within the top 10 of the NFL in 2012 in terms of yardage allowed per carry. New linebacker acquisitions Dannell Ellerbe and Phil Wheeler are first and foremost aggressive players who willingly take on blockers and make plays at, behind or near the line of scrimmage. Additionally, moving Jared Odrick from defensive end to defensive tackle provides the possibility of better rotation amongst the defensive tackles, which should keep them lively against the run.
There are reasons to believe that the run defense will not lose much when the Dolphins get out of their base personnel. As mentioned, the more active defensive tackle rotation should keep the inside players fresher during the game. Many believe Dion Jordan is a liability against the run; however, film viewings of him as a run defender at Oregon show he is actually strong and physically gifted in that aspect of his game. He regularly keeps his outside shoulder free in order to play gap defense. He is much stronger than one would expect given his tall and slender frame. When the Dolphins go into nickel, they will most likely move corner Richard Marshall into the slot. For a corner, he is a very strong run defender who has even played safety at times in his NFL career.
Run Defense as a Weakness
A year ago, the Dolphins' run defense had the benefit of using defensive tackle Jared Odrick as a defensive end in their base packages. The experiment had several unpleasant drawbacks; however, it was good for the unit's overall run defense. That experiment appears to have ended, as Odrick has moved to the inside full time. In his place, Olivier Vernon has been promoted to first string. I have several reasons to believe he will be nearly as effective as Odrick in run defense. Even at Miami (FL), Vernon's hands and upper body strength were always unusually strong for his frame. That has not diminished in the pros. He also possess a strong motor and the athletic ability to give chase to the football. His range is larger than Odrick's as a run defender. However, the bottom line is Vernon has a smaller pants size than Jared Odrick, and this has the potential to negatively affect the base run defense.
Though Dion Jordan's natural abilities as a run defender are much stronger than what he is generally given credit for, the fact of the matter is he still appears raw in this area of his game at times. When defenses see Dion on the field with his hand down on the line of scrimmage, they will be tempted to test his run defense, down and distance permitting.
Pass Coverage as a Strength
The Dolphins acquired corner Brent Grimes as a free agent, and he has impressed teammates, coaches, training camp onlookers and preseason spectators ever since. Grimes was a top-caliber cover man in Atlanta prior to tearing his Achilles tendon at the beginning of the 2012 season. If his Achilles is healthy in 2013, he should give the team quality at the corner position that it has not had since Sam Madison and Pat Surtain were last playing.
Reshad Jones has ascended to the level of a star player at strong safety and has shown a particular strength covering players in the slot in man coverage. This especially tends to come into play near the end zone, where the spaces are more condensed and the coverage is allowed to be more physical.
Both corners Dimitri Patterson and Richard Marshall have demonstrated proficiency as slot corners during their respective careers. No matter which player starts in the base defense and no matter which player moves inside in nickel packages, one of these two players should be able to provide positive play from the slot,
Pass Coverage as a Weakness
On the other hand, both Richard Marshall and Dimitri Patterson have shown themselves vulnerable during their careers when playing corner on the perimeter. Marshall's vice is his tendency to draw flags and get beat deep, while Patterson has shown a similar tendency to get beat vertically.
Though his numbers in 2012 did not necessarily reflect weakness, free safety Chris Clemons is questionable as a last line of defense player. Clemons has legitimate 4.3 speed, which makes him a positive force in run defense and pursuit of ball-carriers. He can take away angles and squeeze players toward the sideline or toward help. However, in the open field as the man standing between the ball-carrier and the end zone, he has a tendency to over-pursue, and he also has demonstrated weakness with the football in the air on deep plays. His recognition of pass plays from his zone coverage is also slow, which means he can be slow to help the corner deep even though his physical ability should give him range. Teams did not challenge Clemons as a last line of defense player as much as they could have in 2012. I have a hunch they will do it more in 2013.
All three of the Dolphins' linebackers have questions in coverage, based on the film. Koa Misi (a former defensive end at Utah) has been regularly taken off the field on passing downs during his career. According to Pro Football Focus (subscription required), Phil Wheeler ranked No. 27 out of 43 linebackers who took at least 25 percent of their team's snaps at 4-3 outside linebacker in yards given up per target in their primary coverage. An analysis of Dannell Ellerbe's film in Baltimore last year shows that while he can be physical on crossing routes and can be trusted to use his range to pursue the ball out to the flats, he is very raw at defending the seam and highly uncomfortable in coverage the further he becomes detached from the line of scrimmage.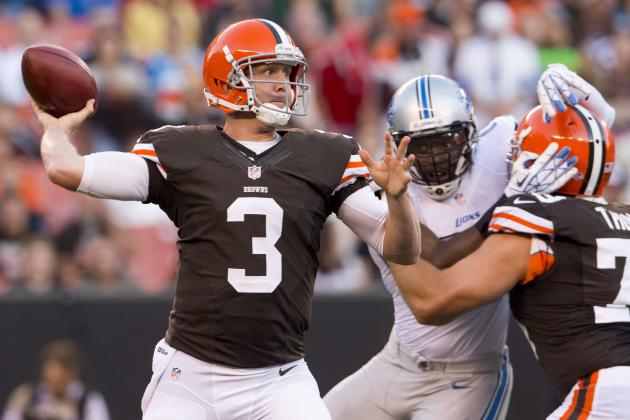 Jason Miller/Getty Images

Miami Dolphins at Cleveland Browns, Week 1
Outcome: Win
Key Advantages: Pass coverage (corners), run defense (base), receivers (Hartline), running game (nickel)
Key Disadvantages: Pass Protection (Left Tackle, Interior), Pass Coverage (Linebackers), Running Game (Base)
Comment: Once upon a time, most Miami Dolphins fans considered the outcome of this game a foregone conclusion. Strong performances by the Browns in preseason have many Dolphins fans second-guessing that prediction. However, the Browns losing young receiving phenom Josh Gordon to a two-game suspension tilts this one in favor of the Dolphins. Quarterback Brandon Weeden looks strong in the preseason; however, the team's options for moving the football between the 20s appear limited without Gordon.
Offensive coordinator Norv Turner will attempt to toss strength into strength by running the football against Miami's base defense. He will test the underneath coverage by using tight ends Jordan Cameron and Kellen Davis over the middle, where they could find fertile ground against Dannell Ellerbe, Phil Wheeler and Koa Misi.
However, Cameron and Davis are not proven or consistent enough to count on. Turner will also attempt to throw the ball to the backs out of the backfield about 10 to 12 times per game (as was Norv's tendency in San Diego), but Miami's linebackers are better equipped to handle that than are the tight ends. Miami should find passing success with Brian Hartline as well as the ability to run the football against the Browns' nickel defense.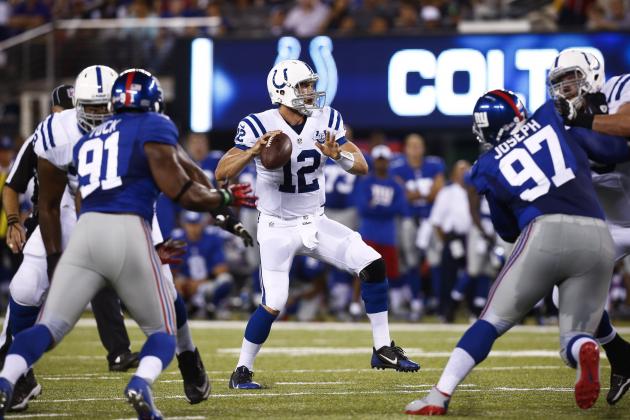 Jeff Zelevansky/Getty Images

Miami Dolphins at Indianapolis Colts, Week 2
Outcome: Loss
Key Advantages: Receivers (wide receivers), ground defense (base, nickel), pass rush (base, nickel)
Key Disadvantages: Quarterback, receivers (tight ends), pass coverage (corners, safeties, linebackers)
Comment: Some key changes to the Colts' personnel should make this game a little more difficult for the Dolphins to win than when the two played a year ago. The Colts have reinforced the run defense by getting stout, proven run defenders on the defensive line. This should turn a previous advantage into a neutral factor.
Meanwhile, the Colts have also significantly improved their pass protection, which should reduce the advantage enjoyed by the Dolphins pass-rushers. Andrew Luck provides the Colts with a quarterback edge, and it does not help that with T.Y. Hilton, Reggie Wayne, Coby Fleener and Dwayne Allen, he has the weapons to challenge Miami's pass coverage at every level.
The strengths and weaknesses lend themselves to this game turning into a quarterback duel with Andrew Luck working his receiver advantages while Ryan Tannehill simultaneously flexes his own receiver advantages. I trust Andrew Luck at home to do that without stumbling along the way more than I trust Ryan Tannehill in his second consecutive road game.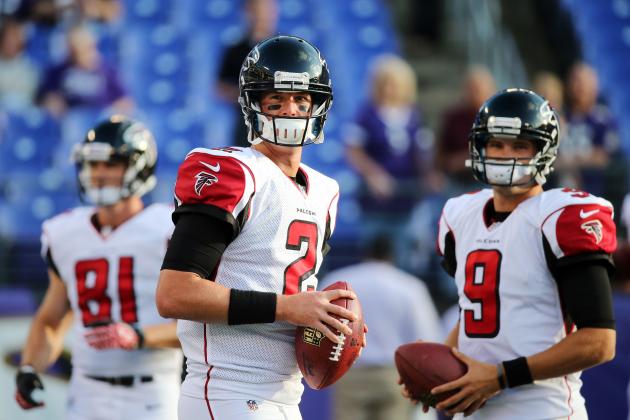 Rob Carr/Getty Images

Atlanta Falcons at Miami Dolphins, Week 3
Outcome: Loss
Key Advantages: Running game, receivers (wide receivers), pass rush (nickel)
Key Disadvantages: Quarterback, receivers (tight ends), pass protection (left tackle), pass coverage (corners, safeties, linebackers)
Comment: The ground game often functions as a facilitator of the passing game. The addition of a still highly effective Steven Jackson provides the Falcons with just enough opportunity for a stalemate against Miami's strong run defense to facilitate Atlanta's strong advantages in their receivers and tight ends.
The Dolphins will press the Falcons with advantages of their own in their ground attack behind Lamar Miller, as well as with the receivers unit. Though Dominique Franks has come on during the preseason, reliance on younger corners such as Franks, Robert Alford and Desmond Trufant is likely to hurt the Falcons, making this game a lot closer than one would think.
In the end, a few plays by Osi Umenyiora pass-rushing against left tackle Jonathan Martin, as well as a few catches by Tony Gonzalez against Miami's linebacker coverage, could make all of the difference.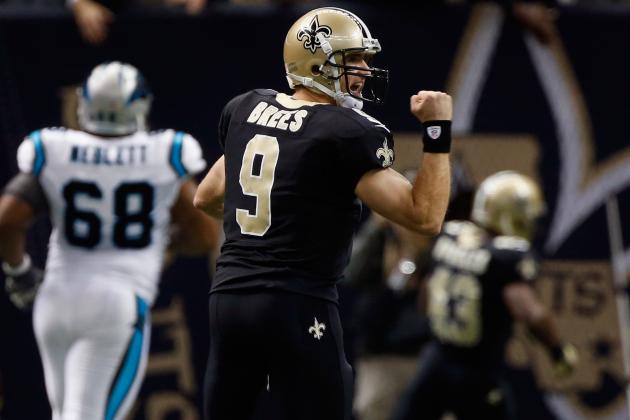 Chris Graythen/Getty Images

Miami Dolphins at New Orleans Saints, Week 4
Outcome: Loss
Key Advantages: Running game, pass rush, run defense (base)
Key Disadvantages: Quarterback, pass coverage (safeties, linebackers)
Comment: On paper, the Dolphins have a better constructed, more balanced team than the New Orleans Saints. However, the paper evaluation can often underrate just how strong certain disadvantages are and how they can overwhelm the game results. This preseason, Drew Brees appears to have his passing game in midseason form.
The Dolphins do not necessarily have a disadvantage with their corners going up against the Saints receivers; however, the safeties and linebackers will be challenged over the middle of the field by the players like Marques Colston, Jimmy Graham and Darren Sproles. With this game coming on Monday Night Football against a potentially raucous New Orleans home crowd, there is a strong potential for blowout if the Dolphins pass-rushers cannot take over the game on defense while the ground game keeps the Dolphins offense on the field for long stretches of time.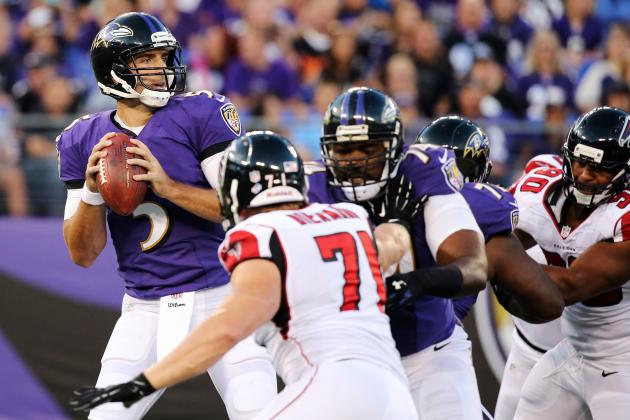 Rob Carr/Getty Images

Baltimore Ravens at Miami Dolphins, Week 5
Outcome: Win
Key Advantages: Running game (Miller, Pouncey), receivers (wide receivers), pass coverage (corners)
Key Disadvantages: Quarterback, pass protection
Comment: The Dolphins will be in dire straits coming off of three straight losses to the Colts, Falcons and Saints. There is a possibility that the team is embarrassed on national television by the Saints on Monday Night Football. The Ravens will enter the game very likely 2-2, not quite having come to grips with the traditional Super Bowl hangover, nor having fully gotten a handle on all of the changes the team underwent this offseason.
The Dolphins are better off facing the Ravens in Week 5 than they would be Week 15. The timing does not strike me as right for Joe Flacco to press his advantage as a quarterback over the younger Ryan Tannehill, and the Dolphins could use the home-field advantage to establish a more dominant ground game.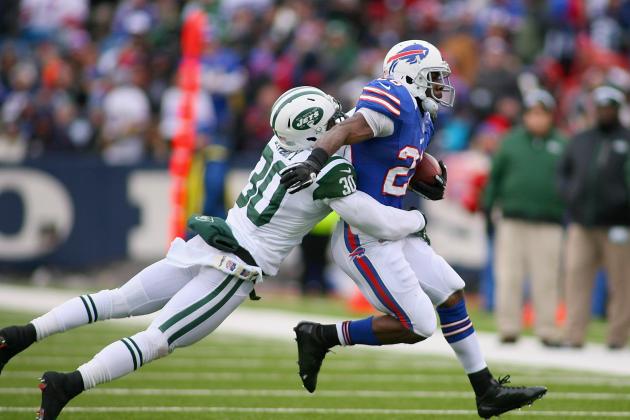 Rick Stewart/Getty Images

Buffalo Bills at Miami Dolphins, Week 7
Outcome: Win
Key Advantages: Quarterback, pass rush, pass coverage
Key Disadvantages: Pass protection, run defense
Comment: The billing for this matchup could be a surprise, as there is a possibility, given their schedule, that the Buffalo Bills head into this game either at 2-4 or perhaps even at 3-3. The Dolphins, on the other hand, will have a sub-.500 record. Despite this, the game will quickly show the difference in quality between the Bills' roster and the Dolphins' roster.
The Dolphins should have a strong pass-rush advantage against the Bills offensive line, and they should also have a strong coverage advantage against the Buffalo receivers. For once, I will put the Dolphins' run defense into the disadvantage column, simply because C.J. Spiller is that fast and may be able to take advantage of a lack of speed in the Dolphins' linebackers unit. The Bills' interior pass rush could also give Miami some issues. However, these factors will not be enough, and I believe this is a game where you begin to see Ryan Tannehill's development as a quarterback compared with the green EJ Manuel.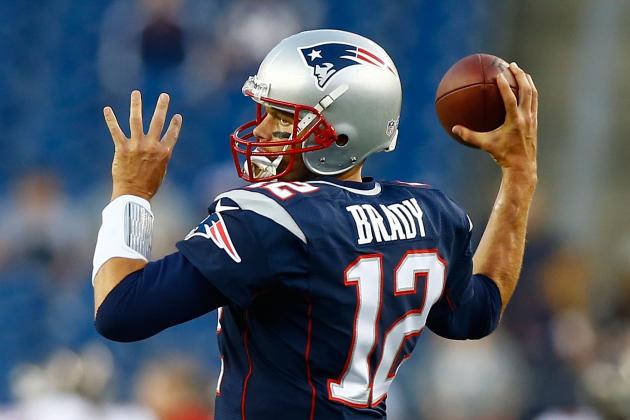 Jared Wickerham/Getty Images

Miami Dolphins at New England Patriots, Week 8
Outcome: Loss
Key Advantages: Receivers (wide receivers), coverage (corners)
Key Disadvantages: Quarterback, pass protection (left tackle), coverage (linebackers, safeties)
Comment: Having just clawed their way back to .500 by bracketing their bye week with two wins, the Dolphins could find themselves quickly on the wrong side of .500 once again as they travel up to Foxboro to play the New England Patriots.
I like the Dolphins receivers against the New England corners; however, the Patriots will defend the middle of the field well both in the passing game and in the run game. That will be precisely where Tom Brady finds his best action against Miami's linebackers and safeties in coverage. Meanwhile, Chandler Jones rushing over Jonathan Martin proved to be a huge disadvantage for the Miami Dolphins in Week 17 of 2012. The Dolphins do not necessarily enjoy a similar advantage on the other side of the ball, as the Patriots boast decent pass protectors.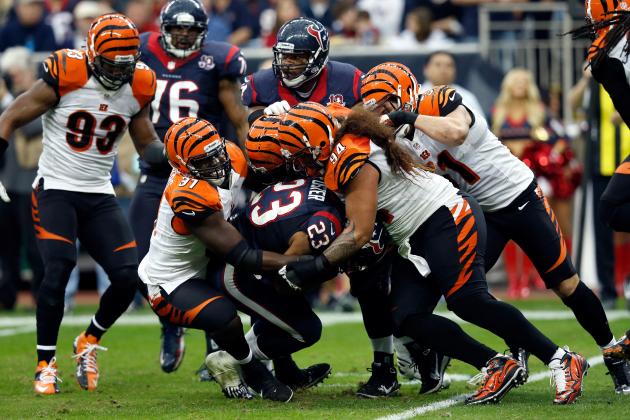 Scott Halleran/Getty Images

Cincinnati Bengals at Miami Dolphins, Week 9
Outcome: Win
Key Advantages: Quarterback, receivers (tight ends), run defense, pass coverage (corners)
Key Disadvantages: Pass protection, running game, pass coverage (linebackers)
Comment: The Dolphins will dislike the schedule-makers for booking such a difficult schedule to start the season; however, the Cincinnati Bengals may have a more legitimate gripe. The Bengals play a brutal stretch of games around mid-year that involves four out of five games on the road, including a road game off of a short week. History is not on the side of teams traveling on the road for a short week, and the fact that it will be the Bengals' third road game in a mere 18 days should be a factor. This is one game where I would not at all be surprised to see Ryan Tannehill press a quarterback advantage relative to Andy Dalton. And for once, I could see even a Keller-less tight end unit giving slower linebackers like Rey Maualuga and Vontaze Burfict trouble in the passing game.
A.J. Green is so good that no team truly presses an advantage against him; however, the Dolphins have a very good No. 1 corner themselves, which could leave an advantage in their favor against Cincinnati's other unproven receivers. The Dolphins' pass protection will have its hands full all the way around between Michael Johnson, Carlos Dunlap, James Harrison and Geno Atkins. The linebackers could also have their hands full with Tyler Eifert and Jermaine Gresham. However, I still look for the Dolphins to win this game against a Bengals team that could look gassed.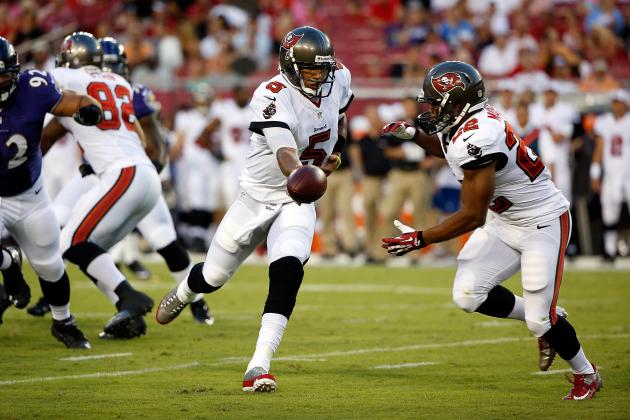 J. Meric/Getty Images

Miami Dolphins at Tampa Bay Buccaneers, Week 10
Outcome: Loss
Key Advantages: Pass rush
Key Disadvantages: Receivers (tight end), pass coverage
Comment: On paper, this is a very even matchup. Both quarterbacks have potential as well as questions. The Dolphins run defense is strong but so is the Buccaneers' ground game led by Doug Martin and a stout offensive line. On the other side, the Bucs don't have as good of a run defense as the Dolphins'; however, the Dolphins ground attack is not as potent as the Buccaneers', either.
The Dolphins should be able to push a pass-rush advantage, especially with Cameron Wake. On the other hand, the Buccaneers' coverage over the middle of the field should be strong against the Dolphins' inexperienced tight ends. Mike Wallace is a strong receiver, but Darrelle Revis is as strong of a blanket corner as you will find in the game today.
In the end, the two advantages that lead me to believe the Dolphins lose the game are the home-field advantage during a Monday Night Football game and the combination of Vincent Jackson and Mike Williams being too much for Brent Grimes to handle by himself. Whichever of those receivers not facing Grimes should end up with the advantage.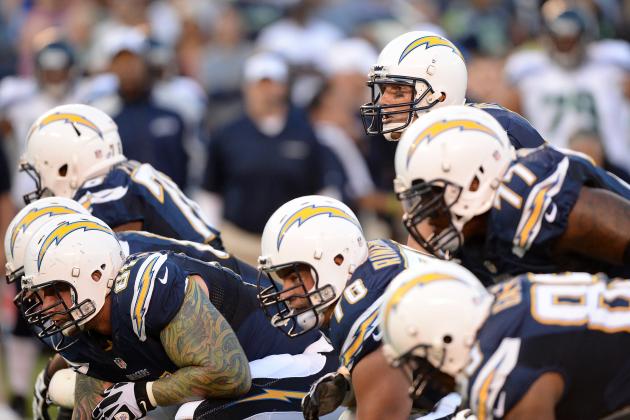 Harry How/Getty Images

San Diego Chargers at Miami Dolphins, Week 11
Outcome: Win
Key Advantages: Ground game, receivers (wide receivers), pass rush, run defense, pass coverage (corners)
Key Disadvantages: Quarterback, pass protection (left tackle), receivers (tight end)
Comment: On paper, this game should not be close. Unfortunately for the Chargers, the game should also come at a time when Miami is looking to lick its wounds after a tough (but close) loss on Monday Night Football. That means the Dolphins should be able to play up to their potential, especially at home.
Philip Rivers is still a very good quarterback, but he does not have enough help around him. The Dolphins should be able to easily shut down the Chargers' ground game as well as their receivers. To make matters worse, the Dolphins should be able to press a strong pass-rush advantage against San Diego's questionable line.
On the other side of the football, there is a possibility that Dwight Freeney is able to press an advantage on left tackle Jonathan Martin, and the Chargers' safety and linebackers unit should prove more than enough to match against Miami's lackluster tight ends unit; however, these issues will not factor in enough for San Diego to pull off the upset.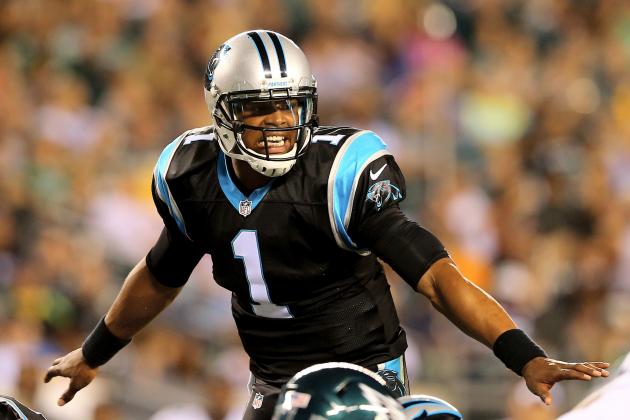 Elsa/Getty Images

Carolina Panthers at Miami Dolphins, Week 12
Outcome: Loss
Key Advantages: Receivers (wide receivers), pass rush (Wake)
Key Disadvantages: Quarterback, pass protection, receivers (tight end), coverage (linebackers)
Comment: The Dolphins' quest to get above .500 continues on for another week as they play a second straight home game against the visiting Carolina Panthers. The Dolphins have a fair advantage in their receivers unit, and Cameron Wake should be able to find success rushing the passer against right tackle Byron Bell. However, these will not outweigh several advantages enjoyed by the Panthers.
The Panthers should be able to rush the passer against the Dolphins with players like Greg Hardy, Charles Johnson and Kawann Short. Their linebackers and safeties units should be able to easily contain Miami's tight ends, and on the flip side of the ball, Greg Olsen should be able to find space against Miami's linebackers.
In the end, the deciding factor has to do with timing. The past two years have shown that facing Cam Newton and the Carolina Panthers in Weeks 12 through 17 is not the same as facing the Carolina Panthers in Weeks 1 through 11. The Panthers have a 9-3 record in 2011 and 2012 during Weeks 12 through 17, versus a 4-12 record during Weeks 1 through 11.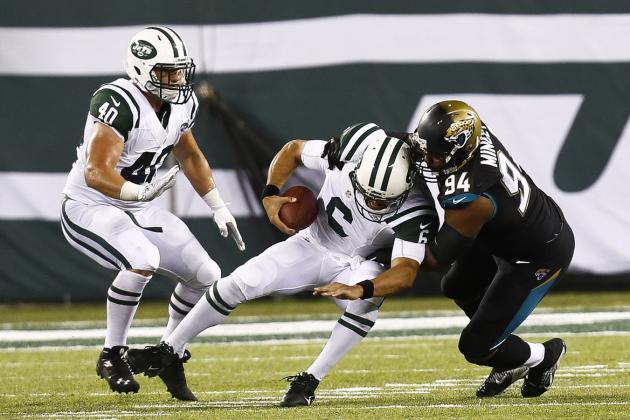 Jeff Zelevansky/Getty Images

Miami Dolphins at New York Jets, Week 13
Outcome: Win
Key Advantages: Quarterback, receivers (tight end), run defense, pass rush (Wake)
Key Disadvantages: Pass protection (nickel), ground game
Comment: By the time we get to this part of the NFL season, there is a halfway decent chance that the Jets are drowning in the results of their bad decision-making at the quarterback position. The shame of that for Jets fans is that the roster matchup with the Dolphins outside of the quarterback position is more competitive than many Dolphins fans would otherwise want to believe.
The Dolphins should be able to press a receiver advantage over the middle of the field against linebackers other than David Harris as well as a questionable Jets safeties unit. However, the matchup between Mike Wallace and Brian Hartline versus Antonio Cromartie and Dee Milliner could be more of a stalemate than many would like to think. The Jets tailbacks are better than many believe; however, the Dolphins run defense should be able to overpower the Jets offensive line.
Cameron Wake should also find success against right tackle Austin Howard. On the other hand, the Jets' defensive front should be able to gain advantage over the Dolphins' offensive front in both phases. In the end, questions at the quarterback position and a lack of confidence because of those questions should drown the team's attempt to upset the Dolphins, bringing Miami back to .500.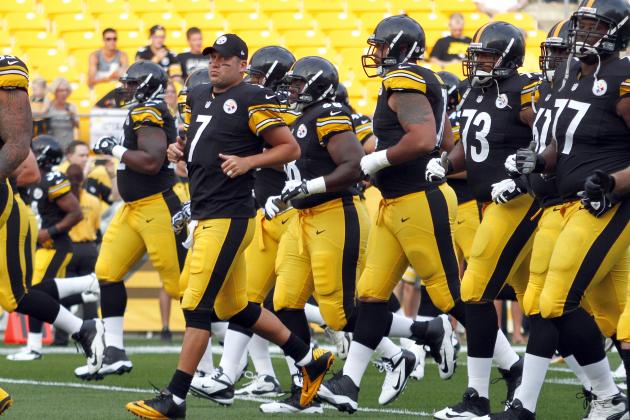 Justin K. Aller/Getty Images

Miami Dolphins at Pittsburgh Steelers, Week 14
Outcome: Win
Key Advantages: Ground game, pass protection, pass rush, run defense, pass coverage (corners)
Key Disadvantages: Quarterback, receivers (tight end)
Comment: This is the game that I have picked out for when the Miami Dolphins finally get over the hump and become a winning team, which has not happened since Week 8 of the 2012 season. On paper, this is too strong of a matchup for Pittsburgh There just are not many areas one could designate as clear advantages for the Steelers.
By Week 14, the Steelers may be over-relying on rookies who should be starting to hit the infamous rookie wall. These rookie contributors include tailback Le'Veon Bell, wide receiver Markus Wheaton and outside linebacker Jarvis Jones. Any or all of the above could see a drop-off in effectiveness associated with dead legs and the rookie wall. I would not trust Pittsburgh's offensive tackles to pass protect against Cameron Wake and Dion Jordan. I also believe Lamar Miller's speed could give the Steelers' slower defenders a tough time.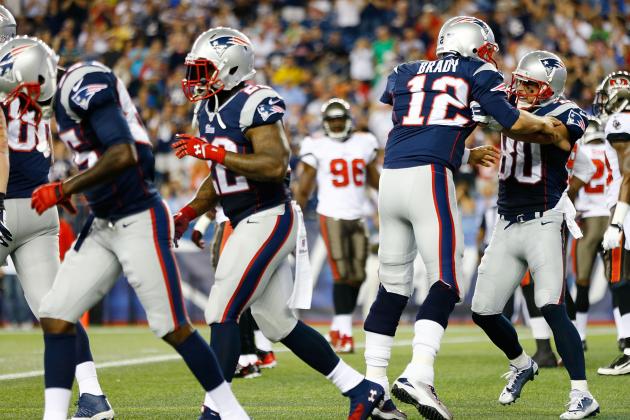 Jared Wickerham/Getty Images

New England Patriots at Miami Dolphins, Week 15
Outcome: Loss
Key Advantages: Receivers (wide receivers), coverage (corners)
Key Disadvantages: Quarterback, pass protection (left tackle), coverage (linebackers, safeties)
Comment: We are beginning to reach a point in the season when injuries will have begun mounting, and it gets difficult to predict how strong these teams will be in their matchups with one another. That said, the matchup advantages and disadvantages from the first Patriots-Dolphins game should still apply. What's more, the Dolphins will be facing the Patriots at a time of the year when New England is typically gearing up for the postseason and hitting on most cylinders.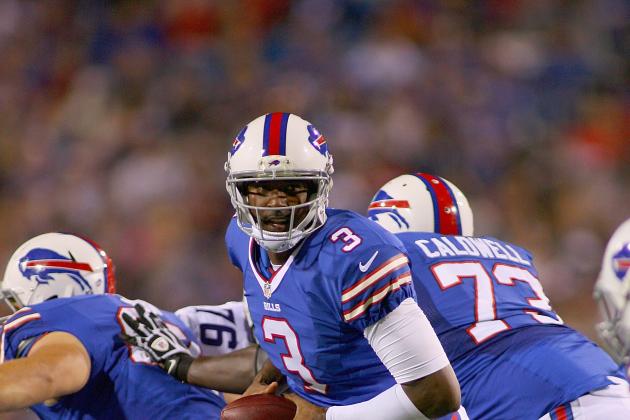 Rick Stewart/Getty Images

Buffalo Bills at Miami Dolphins, Week 16
Outcome: Loss
Key Advantages: Quarterback, pass rush, pass coverage
Key Disadvantages: Pass protection, run defense
Comment: Here is where I know that most Miami Dolphins fans will disagree with me. However, the simple fact of the matter is history does not necessarily point to the Dolphins sweeping both the Jets and the Bills in the same year. Division games are screwy. The underdog defeats the favorite in division games with regularity. The Dolphins dropped games to both the Bills and Jets a year ago, dropped a game against the Bills in 2011, dropped games against both the Bills and Jets in 2010 and dropped a game against the Bills in 2009.
Both the history and the rosters tell me that the likeliest of the two teams to steal a game from Miami will be the Buffalo Bills, and the most likely game for it to happen would be the toward the end of the year up in the cold, when rookie quarterback EJ Manuel will have gotten his feet wet and may not be playing quite like a rookie anymore. The snow could give a mobile player like Manuel enough advantage to look like a hero in front of his home crowd.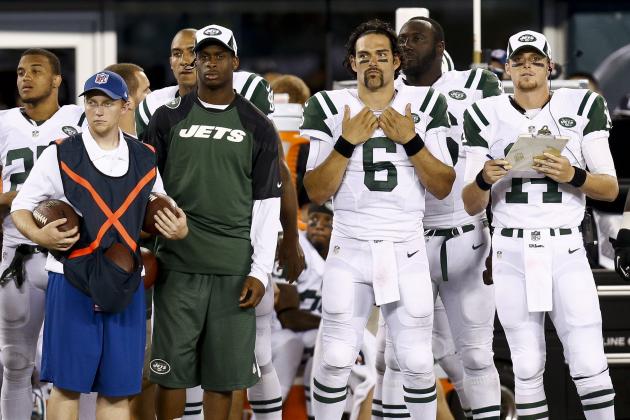 Jeff Zelevansky/Getty Images

New York Jets at Miami Dolphins, Week 17
Outcome: Win
Key Advantages: Quarterback, receivers (tight end), run defense, pass rush (Wake)
Key Disadvantages: Pass protection (nickel), ground game
Comment: I believe the Dolphins will be one game under .500 when they play their Week 17 game against the New York Jets, and even though I believe the Dolphins will allow the Bills to snatch a game from them, I do not believe they will let that happen a second week in a row.
Joe Philbin will have his crew fighting for .500 status, and unlike a year ago, when the Dolphins had to do that in Week 17 against a superior New England team up in Foxboro, the Dolphins will be facing what is potentially a dumpster-fire Jets team in front of the Miami home crowd. The team should take care of business and top off an 8-8 season that shows slow progress in the face of a tough schedule that sees them playing nine games against premier NFL quarterbacks.