Projecting San Francisco 49ers' 10 Most Heated Roster Battles This Offseason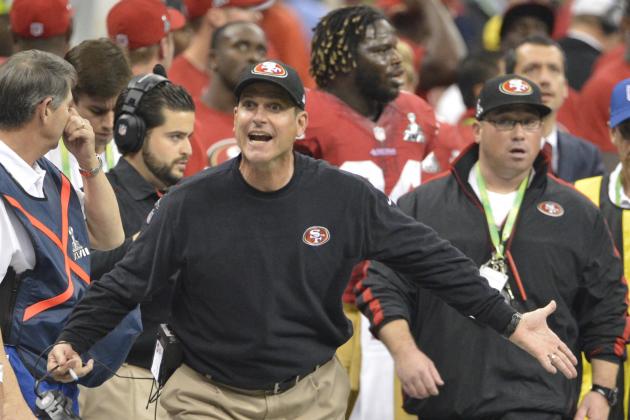 Kirby Lee-USA TODAY Sports
Jim Harbaugh will have some tough roster decisions to make this year.
The San Francisco 49ers will have several new faces in the 2013 season, unlike last year, when they were able to retain almost their entire core. The 49ers have made a splash in the free-agent and trade markets.
This offseason, general manager Trent Baalke has added veterans Nnamdi Asomugha, Anquan Boldin, Glenn Dorsey, Craig Dahl, Phil Dawson, Marlon Moore and Colt McCoy.
The 49ers also fortified their roster through the draft, and although there will not be a lot of immediate starters among this draft class, there are several players who should make solid contributions.
The 2013 draft already appears to be substantially better than that of 2012, as LaMichael James was the only rookie who made any contribution, and that was only after backup running back Kendall Hunter was injured.
There are also several integral players who are no longer with the 49ers, including Alex Smith, Dashon Goldson, Delanie Walker, Isaac Sopoaga, Ricky Jean-Francois and Randy Moss.
These departures open some opportunities for new players to come in and contribute right away. The turnover of the roster will also create several tough position battles in training camp.
For a team like the 49ers, with Super Bowl aspirations, these jobs and playing time are intensely coveted. Let's take a look at 10 of the most intriguing position battles as we head towards the 2013 season.
All stats are courtesy of www.pro-football-reference.com.
Begin Slideshow

»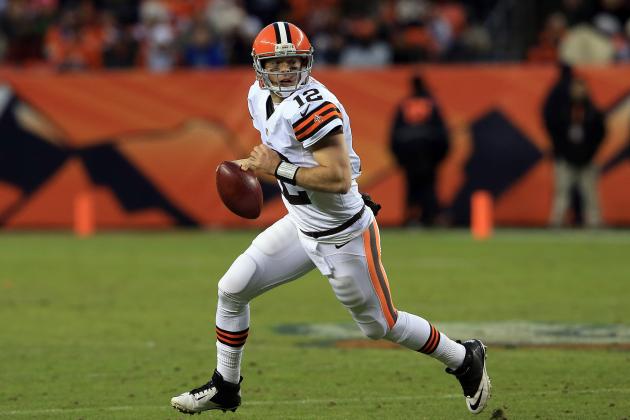 Doug Pensinger/Getty Images
Colt McCoy comes to the 49ers in a trade with Cleveland.
In today's NFL, a good backup quarterback is an important part of every team. The starting quarterback in San Francisco is Colin Kaepernick, a big, strong, mobile athlete. However, injuries do happen and if Kaepernick ever goes down, the 49ers must know who to turn to.
The incumbent candidate is Scott Tolzien. He has been on the 49ers' roster for the past two seasons, but has not attempted a single pass in a regular-season game.
Tolzien has looked good in exhibition games, but until he plays and succeeds in a regular-season game, he is a question mark.
The 49ers also added former Cleveland quarterback Colt McCoy. He has spent the past three seasons with the Browns and has started 21 games over that span.
In his career, McCoy has completed 409 of his 702 pass attempts. He has thrown 21 touchdowns and 20 interceptions.
The 49ers drafted rookie quarterback B.J. Daniels, but he may be moved to another position. Do not expect Daniels to factor into the mix for Kaepernick's backup.
The preseason will determine who gets this job. The role of backup quarterback will be hotly contested, but look for Tolzien to win the job. His experience in the offensive system that Harbaugh and offensive coordinator Greg Roman run will tip the scales in Tolzien's favor.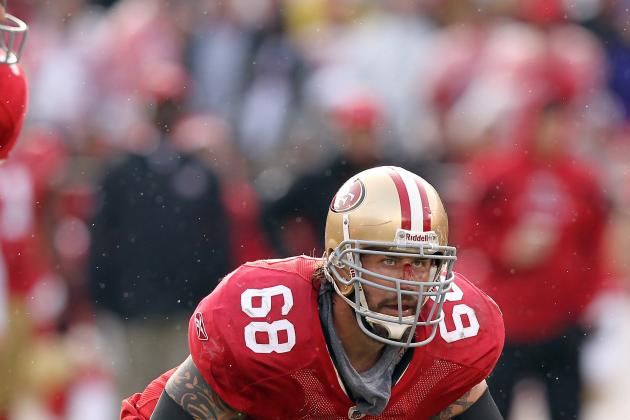 Ezra Shaw/Getty Images
Adam Snyder returns to San Francisco after one season in Arizona.
The San Francisco 49ers were very fortunate in 2012, as all five starting offensive linemen started every game. This is an extremely rare occurrence and something you cannot count on.
The 49ers' core unit of tackles Joe Staley and Anthony Davis, guards Mike Iupati and Alex Boone and center Jonathan Goodwin was a strength of the team last year. The very nature of football makes it unlikely for all five of these players to go through another season unscathed.
Having quality reserves on the offensive line is a big plus for the continuity of any offense, should a starter go down.
With this in mind, the 49ers made an outstanding move, signing Adam Snyder to a two-year deal. Snyder played for the 49ers from 2005-11. He bolted to the Arizona Cardinals for a big free-agent contract following the 2011 season.
Snyder was recently released by the Cardinals and his return to San Francisco is a positive move for the 49ers. Snyder gives the 49ers a player who has experience at center, guard and tackle. He also knows and understands the 49ers' system, so there is no major learning process that needs to take place.
The remaining backup spots for the 49ers will depend on whether head coach Jim Harbaugh opts to keep eight or nine offensive linemen.
If we assume Snyder is one, that leaves only two, possibly three, more spots available. The 49ers drafted a tackle, Carter Bykowski, in the seventh round. He will compete with Daniel Kilgore, Joe Looney, Al Netter, Wayne Tribue and Kenny Wiggins for the remaining jobs.
With Snyder's ability to fill in at any of the offensive line spots, look for the 49ers to only keep eight offensive linemen. If that's the case, Daniel Kilgore and 2012 fourth-round draft pick Joe Looney are likely to stick. Looney battled a foot injury last year and should be healthy for the upcoming season.
If Bykowski shows well in training camp, he will be a candidate for the practice squad.
Doug Pensinger/Getty Images
Kyle Williams is best known for his two misplays on punts in the NFC title game against the New York Giants.
The San Francisco 49ers must find a capable and sure-handed punt-return man. Ted Ginn has departed via free agency, and he had some very shaky moments in 2012 anyway.
The oft-injured Kyle Williams has experience returning punts, but head coach Jim Harbaugh must have confidence that Williams won't make critical mistakes that could cost his team games.
It was Williams' two huge gaffes on punt returns that cost the 49ers a chance to go to the Super Bowl in 2012. He takes unnecessary chances and his decision-making is highly questionable. If he can improve his ball security, then Williams would likely have the job.
If, however, Williams continues his high-risk level of play, or if he gets hurt, the 49ers will need another solution.
A.J. Jenkins and LaMichael James both had trouble catching punts last year. The 49ers could give fourth-round draft pick Quinton Patton a try or perhaps even B.J. Daniels, a quarterback drafted in the seventh round.
Punt returns were very shaky last year and ball security was the major concern. The 49ers must settle on someone who will not turn the ball over.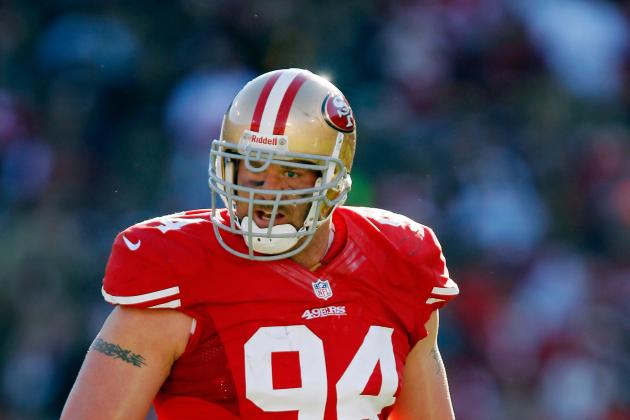 Brian Bahr/Getty Images
Quality depth at defensive end was a major problem when Justin Smith was injured.
The 49ers learned two valuable lessons late last year when Justin Smith went down with an injury. First, they learned how important Smith was to their pass rush and their overall success.
In addition, the 49ers learned they needed to improve their depth at the defensive end position.
The 49ers made some positive moves in this direction, as they selected defensive end Tank Carradine with the 40th overall pick in the 2013 draft. Carradine is coming off a major knee injury, but is expected to be healthy for training camp.
GM Trent Baalke also acquired former Kansas City lineman Glenn Dorsey in the free-agent market. Dorsey is expected to challenge for the starting nose tackle spot. However, he could also slide over to the end position.
Corey Lemonier played defensive end at Auburn, but the third-round draftee is most likely to be shifted to a pass-rushing linebacker role, much like Aldon Smith. The 49ers like Lemonier's potential as an outside rusher, but prefer him in the OLB spot.
The 49ers also selected Alabama defensive end Quinton Dial in the fifth round. He will add depth to the position, but do not look for Dial to be a major contributor in the 2013 season.
The key to the depth issue is Carradine. If he's healthy, he can provide quality rest for both Smith and Ray McDonald.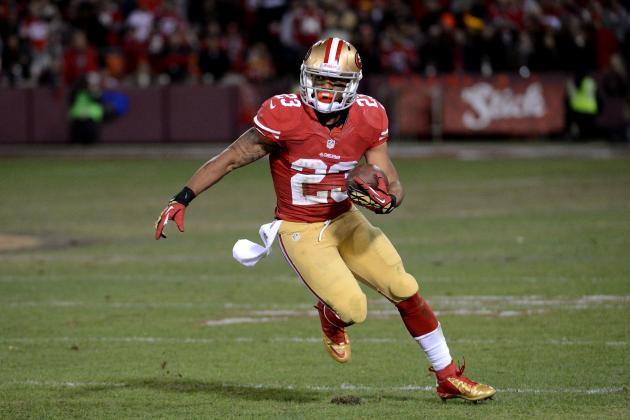 Harry How/Getty Images
LaMichael James showed promise in the second half of the 2012 season.
Frank Gore is the unquestioned starting running back and star of the 49ers' backfield. Gore flourished in the 2012 season, rushing for 1,214 yards and eight touchdowns on 258 carries.
One of the main reasons for Gore's productivity was the use of Kendall Hunter and LaMichael James. Gore was given periodic rest and that helped him stay fresh and healthier over the course of the season.
Gore will be entering his ninth NFL season and will be 30 years of age this year. Few running backs are able to sustain the level of performance that Gore has over his illustrious career.
At some point, the end will come, but in the meantime, the best the 49ers can do will be to spell Gore and keep him as fresh as possible. This means a second running back will need to step forward and be productive with roughly one-third of the carries.
In 2012, prior to getting hurt, Hunter played in 11 games and carried the ball 72 times for 371 yards, a 5.2 yards-per-carry average. If he can make a full recovery from his torn Achilles, Hunter will be first in line to backup Gore.
If Hunter is unable to make a full recovery or is ineffective, LaMichael James will get the opportunity. James did not see any meaningful action in 2012 until Hunter was injured. In the last four games of the year, James had 27 carries for 125 yards.
One area the 49ers can exploit a lot more is utilizing both Hunter and James out of the backfield as receivers. Both are very quick and tough to bring down in the open field. The potential is there for Hunter or James to take a short swing pass and turn it into a big play.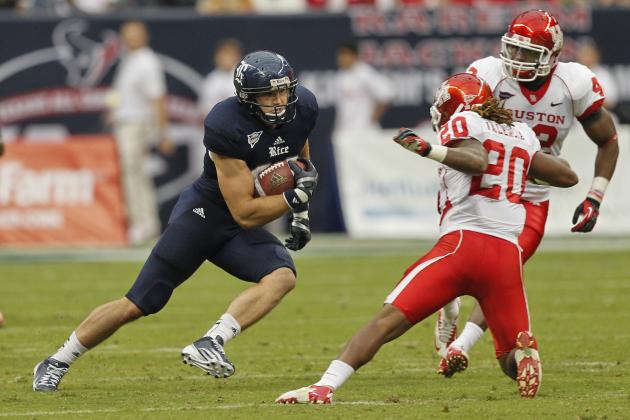 Bob Levey/Getty Images
The 49ers selected Vance McDonald from Rice University.
The 49ers under Jim Harbaugh and offensive coordinator Greg Roman have utilized multiple tight ends very successfully. The departure of Delanie Walker via free agency left a void in the tight end position.
Vernon Davis is one of the top tight ends in football, but Walker played a vital role as a pass-catching tight end. The 49ers' third tight end, Garrett Celek, is more of a blocker and special teams player.
Celek can catch the ball but does not have the speed to get deep into the middle of a defensive secondary. McDonald will get every chance to fill the void left by Walker. He also has experience playing in the slot, which is a spot where Walker often lined up.
In 2012, Walker had 21 receptions for 344 yards, a 16.4 yards-per-catch average. His ability to get deep is something the 49ers hope McDonald can also provide.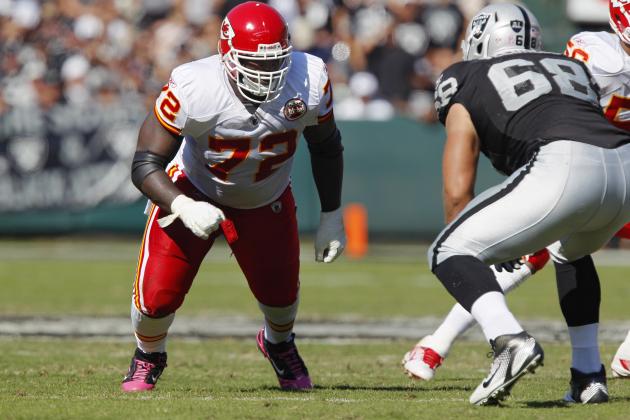 Brian Bahr/Getty Images
The 49ers hope Glenn Dorsey can step into the starting nose tackle position.
The 49ers' two primary nose tackles, Isaac Sopoaga and Ricky Jean-Francois, both departed in the free-agent market. That left the 49ers with no experience at this position, so it was incumbent upon GM Trent Baalke to fill the void.
The first move was to sign reserve nose tackle Ian Williams, who has made virtually no impact in his two years with the 49ers. In 2012, Williams got into only three games and had a total of three tackles.
Baalke's next move was to sign free agent Glenn Dorsey, who has played on the nose and at the end position. Dorsey was the fifth overall pick in the 2008 NFL draft and has underachieved his entire career.
Dorsey and Williams will compete for the starting job. Dorsey has the inside track as he attempts to resurrect his career.
If Williams were more of an accomplished player, he would have gotten into more than four games in two seasons with the 49ers.
The 49ers use their base 3-4 defense on less than half of the defensive snaps and mostly when the opposing offense is not in passing situations. This will enable Dorsey to also rotate in as a defensive end, if necessary.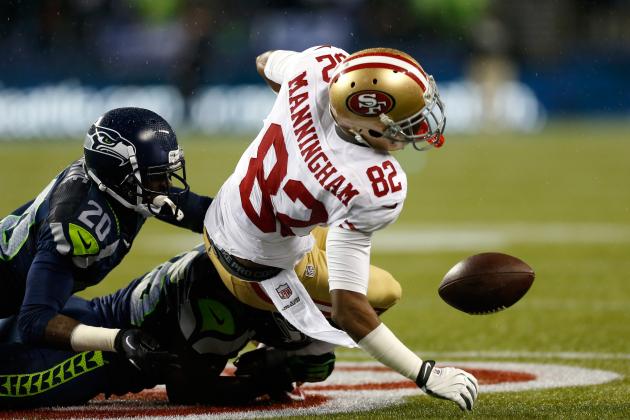 Otto Greule Jr/Getty Images
Mario Manningham blew out his knee on this play against the Seahawks.
The San Francisco 49ers have upgraded their wide receiver corps through the draft, trade and free agency. Michael Crabtree and Anquan Boldin will be the starters, but there are a host of options for the third receiver role.
Incumbents Mario Manningham and Kyle Williams are both coming off injuries. Manningham is not expected to be ready to start the season, so he is likely out of the mix.
Williams has played the slot receiver in the past and would be the logical option as the third receiver. However, Williams has never stayed healthy over the course of an entire season. This dates back to his college days, as well.
Others in the mix for the third receiver spot include Ricardo Lockette, Chad Hall, Joe Hastings, Marlon Moore and last years' No. 1 draft pick A.J. Jenkins. Of these players, Lockette seems to be the most advanced.
The wild card who could step in is rookie Quinton Patton. The 49ers may have gotten a real steal when they drafted him with the 31st overall pick in the fourth round.
In his final year at Louisiana Tech, Patton caught 104 passes for 1,392 yards and 13 touchdowns. If Patton does not win the job outright to start the season, he could be ready to take over by the middle of the year.
The 49ers need productivity and reliability from their third wide receiver and Patton may be able to deliver on both of those requirements.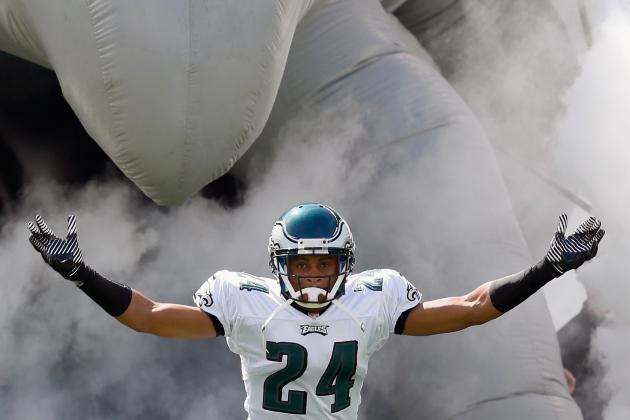 Rob Carr/Getty Images
Nnamdi Asomugha signed a one-year deal to come to San Francisco.
The San Francisco 49ers will be determining their defensive backfield starters, then nickel and dime backs throughout the preseason.
The 49ers will most likely begin the season with Tarell Brown and Carlos Rogers as their starting corners. Donte Whitner will be one safety along with either Eric Reid or Craig Dahl.
The 49ers traded up to select Reid with their first-round draft pick, at No. 18 overall. They made this move with the idea that he will be a starter, so that leaves several candidates for the nickel and dime spots.
Candidates include Dahl, Chris Culliver, Nnamdi Asomugha, Perrish Cox, Tramaine Brock, C.J. Spillman. Darcel McBath and Trenton Robinson.
Asomugha is returning to the Bay Area, where he had his greatest success at the University of California, then for eight seasons with the Oakland Raiders. Asomugha left the Raiders for a hefty free-agent contract with the Eagles, but had two poor seasons.
The Eagles' zone coverage schemes did not suit Asomugha's press, man-to-man technique. After two seasons in Philadelphia, Asomugha was back on the market when the 49ers signed him as a free agent.
The 49ers play a lot more man coverages and they're hoping Asomugha has a resurgence. Asomugha has a chip on his shoulder and a lot to prove, so if he has anything left in the tank at age 32, we will see it.
Asomugha is the favorite to play the nickelback spot, unless he beats out Rogers as the starting corner. If this were to occur, Rogers would be the nickel.
The dime spot will be handled by Culliver, unless the 49ers are so tired of his media gaffes that they decide to cut him.
Culliver showed many positive signs in 2012, but also allowed his immaturity and overly aggressive play get him in trouble. If Culliver can reign himself in as a professional, he has the most talent of the other potential options for the dime back role.
McBath would be next on the pecking order, as he really came on strong in the latter half of 2012. In addition to being a fine special teams player, he made some nice plays in the secondary when given a chance.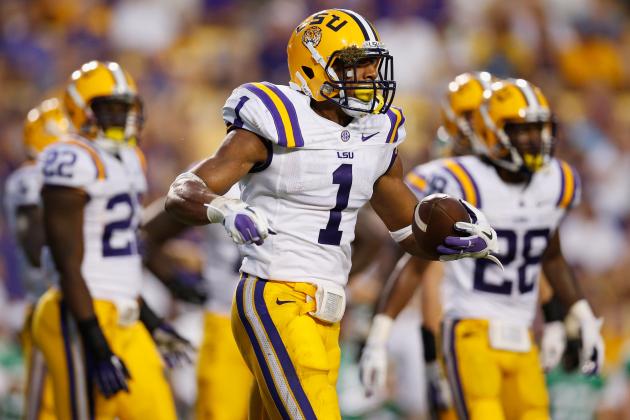 Chris Graythen/Getty Images
Eric Reid comes away with an interception.
The departure of Pro Bowl safety Dashon Goldson left a huge void in the 49ers' defensive backfield. GM Trent Baalke signed safety Craig Dahl to give him some insurance.
The 49ers still felt that the safety position was their biggest area of need, so they traded up 13 draft spots to select Eric Reid out of LSU. Reid will compete with Dahl, Darcel McBath, C.J. Spillman and Trenton Robinson for the starting safety job next to Donte Whitner.
Unless Reid proves he cannot handle the job, look for him to be in the opening day lineup as the starter at the free safety position.
The 49ers have several savvy veterans in their secondary, with Whitner, Carlos Rogers, Tarell Brown and Nnamdi Asomugha. Their experience will undoubtedly help to accelerate Reid's learning curve.
If Reid is unable to handle the job, it will fall to either Dahl or McBath, but the 49ers are betting their chips on Reid.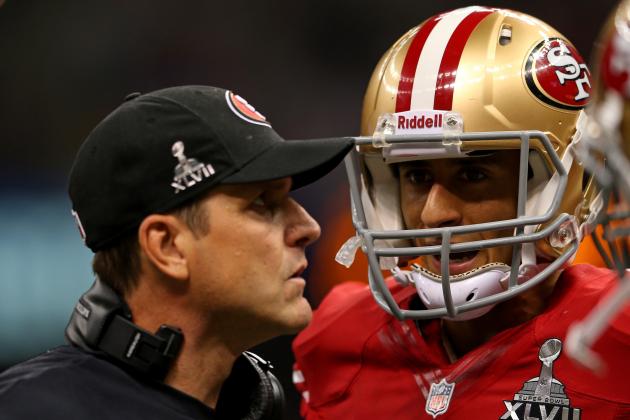 Mike Ehrmann/Getty Images
Jim Harbaugh and Colin Kaepernick are focused on bringing a Super Bowl title to San Francisco this season.
The San Francisco 49ers came within five yards of winning the Super Bowl last season. Although there has been some roster turnover, GM Trent Baalke has fortified the roster and strengthened positions of weakness.
Critical mistakes derailed the 49ers in the NFC title game against the Giants two years ago and again last season in their Super Bowl loss to the Baltimore Ravens.
The talent is there on the 49ers' roster and they are well-coached. The key will be to stay healthy and execute when it matters the most.
The window of opportunity for this core group of 49ers remains open. However, anything less than a Super Bowl championship will be deemed a failure.