The Case for Carmelo Anthony as the NBA's MVP Favorite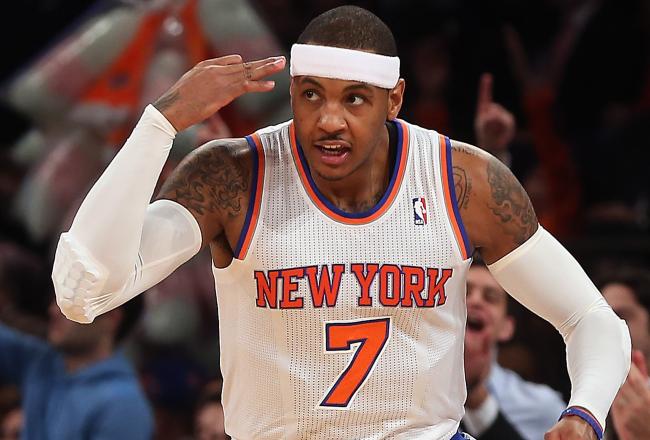 Bruce Bennett/Getty Images
The media took aim at Carmelo Anthony after a tumultuous 2011-2012 season, which ended with another first-round playoff exit for Melo and the New York Knicks. Anthony was labeled lazy and selfish and deemed incapable of leading a team to a championship. ESPN ranked him as just the 17th-best player in the league prior to the 2012-2013 season.
Anthony took the criticism personally and responded by playing the best basketball of his career. No. 7 has carried the Knicks to a 22-10 record and is currently the favorite for the NBA's MVP award.
Always a dynamic scorer, Anthony is shooting with greater range and efficiency than ever before. According to Basketball-reference.com, his true shooting percentage—60 percent—effective field-goal percentage—54 percent—and three-point accuracy—44 percent—are far superior to his previous career highs of 57, 51 and 38 percent, respectively.
Carmelo Anthony's Shot Chart
FG%
Shot Distribution
51%
85-168
32.2%
A Rectricted Area
50%
11-22
4.2%
B In the Paint (Non RA)
49%
86-177
34.0%
C Mid-Range
39%
5-13
2.5%
D Corner-3
44%
62-140
26.9%
E Above the Break 3
The Knicks' forward is second in the league in scoring, averaging 29.2 points per game, trailing only Kobe Byrant. But he actually scorers at a higher clip than the Lakers' guard when he is on the court, leading the league with 28.7 points per 36 minutes, according to basketball-reference.com.
Carmelo has been more effective this season because he is scoring within the context of an offense that is built around his individual skills. Coach Woodson changed the dynamic of the offense by moving Anthony to the 4 spot and surrounding him with more experienced ball-handlers and knockdown shooters.
The new alignment has created more space for Anthony to operate on the right block and wing. Once he receives the ball, Melo is being more decisive than in previous seasons, initiating his moves quickly rather than bogging down the offense in drawn out isolation plays.
When left one-on-one, he quickly takes his man off the dribble or uses a jab-step to set up his jump shot. If teams double-team Melo he is routinely kicking the ball out to the open man.
When the Knicks run their secondary offensive set, a pick-and-roll with Raymond Felton and Tyson Chandler, Anthony joins the Knicks' shooters on the perimeter, where he and his teammates have been knocking down threes at a record-setting pace.
The greatest transformation in Anthony's game has come on the defensive end, where he has approached every possession with a tenacity previously unseen by the former Denver Nugget.
Melo set the tone for the Knicks' season on opening night against the Miami Heat by refusing to apologize to his friend LeBron James after inadvertently whacking him in the face. A few nights later he dove head-first into the stands to save a ball against the Philadelphia 76ers, as seen in the video below.
In the best shape of his career, Melo is able to chase wing players around the perimeter, though still strong enough to hold his own down low against bigger power forwards.
Synergy sports gives Carmelo Anthony's post defense an "excellent" rating. Has given up just 34 points on 57 plays this season.— Henry Abbott (@TrueHoop)
https://twitter.com/TrueHoop/status/286843871672037376" data-datetime="2013-01-03T14:38:02+00:00">January 3, 2013
He has become adept at swiping the ball out of an opponent's hands without committing a foul.
Anthony's 26.7 player efficiency rating (PER) ranks third in the league, according to Hoopdata.com, behind James and Kevin Durant. But, his usage rate (percentage of offensive possessions used by a player while on the floor) of 34.09 is considerably higher than that of his two main competitors in the MVP race.
Melo must carry a greater portion of the offensive load than Durant or James. Durant's sidekick Russell Westbrook is sixth in the league in scoring (as seen on the chart below), averaging 21.7 points per game, and LeBron has the luxury of playing with perennial all-stars Dwyane Wade and Chris Bosh. Chris Paul, another MVP candidate, has high-flying Blake Griffin to work with.
The top 10 scorers in the NBA.
| | | | | | | | | | |
| --- | --- | --- | --- | --- | --- | --- | --- | --- | --- |
| RK | PLAYER | TEAM | GP | MPG | PTS | FGM-FGA | FG% | 3PM-3PA | 3P% |
| 1 | Kobe Bryant, SG | LAL | 31 | 38.8 | 30.3 | 10.4-21.8 | .479 | 2.1-5.8 | .365 |
| 2 | Carmelo Anthony, SF | NY | 25 | 36.5 | 29.2 | 10.0-20.8 | .478 | 2.7-6.2 | .435 |
| 3 | Kevin Durant, SF | OKC | 31 | 39.6 | 28.4 | 9.3-18.0 | .517 | 1.7-4.0 | .424 |
| 4 | LeBron James, SF | MIA | 30 | 38.4 | 26.5 | 10.2-18.7 | .544 | 1.4-3.3 | .414 |
| 5 | James Harden, SG | HOU | 31 | 38.2 | 26.3 | 7.7-17.4 | .446 | 2.0-5.5 | .359 |
| 6 | Russell Westbrook, PG | OKC | 31 | 36.5 | 21.7 | 7.6-18.5 | .410 | 1.4-4.0 | .347 |
| 7 | LaMarcus Aldridge, PF | POR | 29 | 37.6 | 20.8 | 8.4-17.7 | .475 | 0.0-0.3 | .000 |
| 8 | Dwyane Wade, SG | MIA | 26 | 33.7 | 20.6 | 7.8-15.4 | .506 | 0.3-1.0 | .296 |
| 9 | Stephen Curry, PG | GS | 32 | 38.1 | 20.4 | 7.1-16.2 | .436 | 3.1-6.7 | .456 |
| 10 | David Lee, PF | GS | 32 | 37.7 | 20.2 | 8.4-15.6 | .538 | 0.0-0.1 | .000 |
Anthony played without Amar'e Stoudemire for the first 30 games of the season. New York's second-leading scorer is J.R. Smith—16.5 points per game—a player that garnered little interest on the free-agent market this past summer.
Anthony's value to the Knicks has been most apparent down the stretch of close games. Despite defenses zeroing in on the star forward, Melo has carried the Knicks to victory several times this season.
Anthony refused to allow his team to lose after falling 17 points behind the Brooklyn Nets on Dec. 11. The Brooklyn, N.Y. native took matters into his own hands and finished the game with a season-high 45 points as the Knicks escaped the Barclays Center with a 100-97 win.
Two weeks later, New York trailed the Minnesota Timberwolves by 11 late in the third quarter when Anthony decided to take over the game. Melo scored 19 of his 33 points in the fourth quarter, including the Knicks' last 12 points, while leading New York to a 94-91 victory.
Some basketball fans argue that Anthony is not even the most valuable player on his team. They point out that the reigning Defensive Player of the Year Tyson Chandler transformed the team's defense last season and is more responsible than Anthony for the Knicks' success.
That may have been the case last season, but this Knicks team is winning with offense, not defense. According to Hoopdata.com, the Knicks' offensive efficiency of 109.4 is tied for second best in the league, compared to a defensive efficiency of 103.1, which ranks in the middle of the pack at 13th. That offense is completely dependent upon Anthony.
Ten most efficient offenses in the league, courtesy of Hoopdata.com.
If there is a major knock against Anthony's MVP candidacy, it is his lack of playing time. Melo missed six games due to an assortment of injuries, and his 912 minutes on the court as of Jan. 3, represent just 61.2 percent of the Knicks' total minutes played this season, according to Chris Herring of the Wall Street Journal.
That percentage is significantly lower than that of his competitors for the MVP award, Oklahoma City's Kevin Durant (81.6 percent of his team's minutes), the Lakers' Kobe Bryant (80.6 percent), Miami's LeBron James (79.2 percent) and the Clippers' Chris Paul (68.3 percent). None of those four players has missed a game yet this year (via Wallstreetjournal.com.)
Still, even with his injuries, Anthony has led the Knicks to the second-best record in the Eastern Conference without the help of a second elite player. In fact, the games Melo missed only augment his argument for MVP. New York is 19-7 with Anthony in the lineup and 3-3 without him.
If the Knicks remain an offensive juggernaut and secure one of the top two seeds in the Eastern Conference, Carmelo Anthony should be named the NBA's Most Valuable Player.
* All statistics are as of Jan. 3, 2013
This article is
What is the duplicate article?
Why is this article offensive?
Where is this article plagiarized from?
Why is this article poorly edited?

New York Knicks: Like this team?