Identifying Future St. Louis Rams Pro Bowlers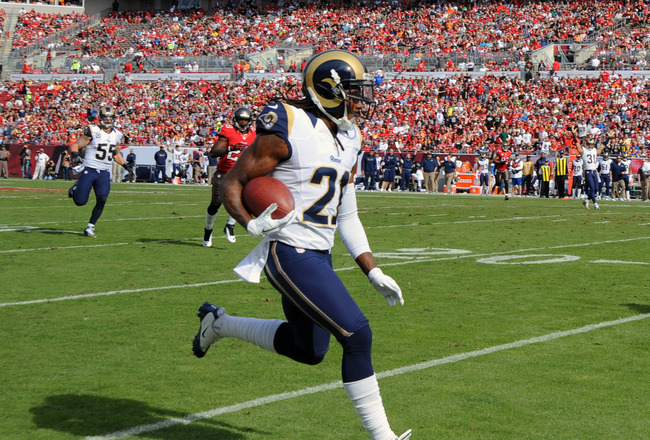 Al Messerschmidt/Getty Images
The St. Louis Rams were completely excluded from the 2013 Pro Bowl despite finishing with a respectable 7-8-1 record (according to NFL.com).
The two-win Kansas City Chiefs were inexplicably awarded five Pro Bowl bids, but the drastically improved Rams were ignored by voters for a second consecutive year.
The Pro Bowl carries little meaning and the credibility of the voting process is laughable at best, but the total lack of respect for St. Louis was surely a shocker for the local fans.
It's not that the Rams had any monumental snubs, but they deserved a representative or two simply as recognition for the widespread improvement throughout the franchise.
That recognition won't come this year, but if St. Louis continues on its current path, there will certainly be a number of Pro Bowl Rams in the future.
With that in mind, which current Rams are bound to visit Hawaii in the near future, and what must they accomplish to make that happen?
Read on for insight into those questions.
Chris Long, DE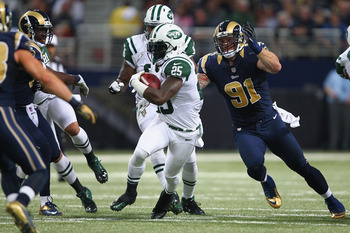 Dilip Vishwanat/Getty Images
Chris Long has developed into one of the more consistent sack artists in the NFL.
The former No. 2 overall draft pick ended the season tied for ninth in sacks (11.5) after a phenomenal three-sack performance in Seattle for the season finale.
Long has 33.0 total sacks in the last three seasons and has maintained an admirable work ethic, even after signing a $60.3 million contract in the offseason (according to Spotrac).
Long has gained league-wide recognition as a team leader and a defensive force, and it will payoff in the form of a Pro Bowl bid soon enough.
Long's stats aren't eye-popping enough to make him a perennial Pro Bowl pick, but it's difficult to imagine him not going to Hawaii at some point in his career.
What Will It Take?
Chris Long is a relentless pass-rusher, but there's plenty of room for improvement in his run defense.
As Bernie Miklasz of the St. Louis Post-Dispatch pointed out, Long modestly ranked 39th in run defense among 4-3 defensive ends, according to rankings created by Pro Football Focus.
Additionally, the Rams gave up 117.5 rushing yards per game as a team, which ranks an average 15th in the NFL.
If Long can tighten up his run defense and become an all-around playmaker, it will certainly help his Pro Bowl chances.
If improving his run defense is not an option, he'll have to increase his sack total into the high-teens.
James Laurinaitis, LB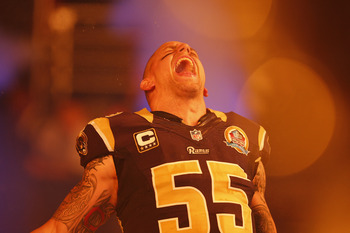 Joe Robbins/Getty Images
James Laurinaitis is a vocal team leader and plays a vital role as the "quarterback" of the St. Louis defense.
Laurinaitis is responsible for the on-field adjustments and he directs the defense to ensure that his teammates are lined up properly.
Plus, he's an absolute tackling machine.
Laurinaitis has finished top 10 in tackles each of the last two seasons and has exceeded 100 tackles in all four of his NFL seasons.
Additionally, he already has seven career interceptions and displays superb coverage skills, at least for a linebacker.
Laurinaitis has gradually earned league-wide respect and will eventually find a spot on the NFC roster.
What Will It Take?
James Laurinaitis racked up 142 tackles this season—the sixth-highest total in the NFL for 2012—but that statistic doesn't tell the full story.
Many of those tackles were made several yards downfield; rarely do we see Laurinaitis penetrate the line and bring down a runner in the backfield.
He also lacks the intensity and the sheer force of a Ray Lewis or Patrick Willis. He secures the tackle, but rarely punishes the runner with a thunderous hit.
Laurinaitis also lacks a consistent playmaking element.
He comes up with a few picks each season, but he only has one forced fumble in his career and he only recorded half a sack in 2012.
If Laurinaitis can get into the backfield and develop a scent for the quarterback, he can write his own ticket to Hawaii.
Sam Bradford, QB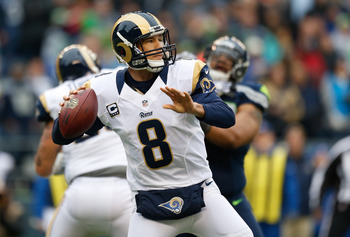 Otto Greule Jr/Getty Images
This is the big one—Sam Bradford's growth will determine the ultimate ceiling of the Jeff Fisher-era Rams.
If Sam the Ram can elevate his play to a Pro Bowl level, there's no limit on how great this Rams team can become someday.
But if Bradford levels out and remains just a slightly above-average passer, it could be difficult for the Rams to accomplish more than the occasional playoff appearance.
In 2011, Bradford suffered through an injury-riddled season that hurt his production and forced some to question his future.
Bradford bounced back this past season with 21 touchdowns, 3,702 yards and an 82.6 quarterback rating in what was an admirable 2012 performance.
Additionally, his comfort level as a leader seems to be improving, as is evident from the multiple fourth-quarter rallies throughout the season (Detroit, Buffalo, San Francisco and Minnesota).
Bradford is a late bloomer compared to Cam Newton, Andrew Luck and Robert Griffin III, but the former No. 1 overall pick has all the tools to become an elite quarterback in the future.
What Will It Take?
For quarterbacks, the most important factor in earning a Pro Bowl bid is the ability to post gaudy statistics—particularly yards and touchdowns.
And since quarterbacks are both blamed and credited by the media for every little thing, the team's win total is also an important factor.
In a conference loaded with top-tier quarterbacks, Sam Bradford will have to exceed 4,000 yards and 30 touchdowns to be considered.
Additionally, the Rams will have to win approximately 10 games.
Scrambling quarterbacks—Michael Vick, Cam Newton and RGIII—can typically earn a bid without the impressive aerial stats because they make up for it on the ground.
For pocket passers, such as Bradford, lighting up the sky is the only way.
As of now, it appears Bradford has a long way to go before he's capable of posting Drew Brees-type numbers.
Then again, it took Tom Brady six NFL season to exceed 4,000 yards, so don't count out Bradford just yet.
Danny Amendola, WR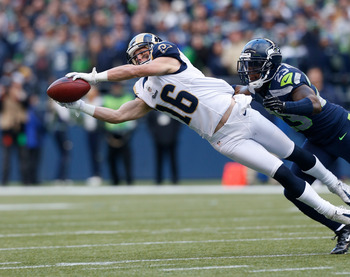 Otto Greule Jr/Getty Images
Danny Amendola has developed a league-wide reputation as a legitimate playmaker out of the slot.
Five weeks into the season, few receivers were outplaying Amendola, who at the time led the league in receptions (32) and was fifth in receiving yards (395) (according to The Washington Post).
Amendola was then sidelined with a shoulder injury for three games (according to ESPN), while he missed two more games with a foot injury towards the end of the season (according to Turf Show Times).
Amendola was on pace for 102 receptions and 1,264 yards before his initial injury, but he was limited to just eight starts and 11 total games in 2012.
It's idealistic to think he wouldn't have slowed down at some point in the season, but there's no question he's capable of great things if he can stay healthy for 16 games.
With Amendola now healthy and Sam Bradford entering his second season in the same offensive system, there's no predicting what kind of production the two can create.
What Will It Take?
Danny Amendola won't be weighed down by skills or effort, but rather physical limitations.
The 5'11" and 188-pound Amendola has missed 20 games in the last two seasons and there is some doubt as to whether or not he can withstand a season's worth of punishment.
Amendola's production is consistent when he's on the field, so if he can simply stay healthy he'll have a chance to make some noise in the Pro Bowl voting.
Also, his touchdown totals need to increase.
Amendola finished with three scores in eight starts, which averages out to six scores in 16 games, which is a low touchdown total for a Pro Bowl receiver.
Amendola must increase his touchdown total to double-digits, which will become a realistic goal as the Rams build up their talent on offense this offseason.
Robert Quinn, DE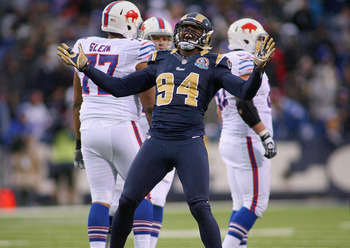 Rick Stewart/Getty Images
Chris Long is currently the sack master of St. Louis, but he won't hold that position much longer.
Robert Quinn just completed his second NFL season and is only 22 years old, but he already has 15.5 career sacks, including a 10.5-sack effort in 2012.
Quinn's potential is beyond frightening, especially for opposing NFC West quarterbacks, who were sacked six times by Quinn in 2012.
In the season finale at Seattle, Pro Bowl tackle Russell Okung looked dumbfounded as Quinn blew by him and brought down the slippery Russell Wilson for a key sack.
Beating Okung and Wilson on the same play is no easy feat.
Soon enough, Quinn will earn the same league-wide respect as Long, which will result in a trip across the Pacific.
What Will It Take?
Robert Quinn is similar to Chris Long in that he has a great nose for the quarterback, but his run defense is non-existent at times.
In fact, after San Francisco's Colin Kaepernick torched Quinn with his legs during the team's Week 10 meeting, Jeff Fisher limited Quinn's snaps in the Week 13 rematch and Quinn didn't even start the game.
Luckily, his lack of run defense is not a physical problem, but rather an issue that stems from inexperience and a lack of discipline.
Give Quinn another year or two under Fisher, and he'll be defending the run as effectively as any end in the league.
Once he figures out run defense, he'll be tasting Mai Tai in no time.
Janoris Jenkins, CB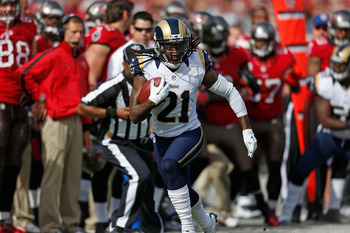 J. Meric/Getty Images
Janoris Jenkins was the steal of the 2012 draft.
The Rams scooped up Jenkins with a second-round pick despite glaring character issues, but his raw talent and big-play ability has left St. Louis with zero regret.
Jenkins finished the year with four interceptions and four defensive touchdowns, while he was also sixth on the team in tackles (73).
Jenkins is an obvious candidate for Defensive Rookie of the Year and will be a weapon in St. Louis for years to come.
The Rams have been lackluster for so long, it's very refreshing to finally see a legitimate playmaker putting St. Louis back in the highlight reels.
What Will It Take?
Nothing.
Well, maybe not nothing. He needs to maintain his current level of play and possibly improve in certain areas.
Jenkins was phenomenal for most of the season, but he had his share of goofs in coverage, such as the 68-yard bomb he gave up to Leonard Hankerson during the Washington game.
Rookie cornerbacks are expected to occasionally slip up in coverage, but he needs to tighten up in his second season.
Also, there's the whole marijuana thing...Rams fans are praying that Janoris enjoys a sober Spring break.
Nothing will hurt his 2014 Pro Bowl chances more than a four-game suspension.
But as long as he's on the field for 16 games, he's a threat for the Pro Bowl as early as next season.
Keep Reading

St. Louis Rams: Like this team?