2012 NFL Draft: Janoris Jenkins' Troubles Drop Him to Third Round on Team Boards
April 13, 2012

Mike Ehrmann/Getty Images
How much trouble is too much for NFL teams to overlook? Janoris Jenkins' situation may tell us once and for all if talent trumps character in the NFL.
One of the best cornerbacks in the 2012 draft class, Jenkins considered entering the 2011 NFL draft before choosing to return to the University of Florida for his senior season. Except, he didn't return to the University of Florida. On April 26 of last year, new head coach Will Muschamp dismissed Jenkins from the program. Jenkins has legitimate talent, but his off-field issues have NFL teams backpedaling.

Leaving Florida
Jenkins' dismissal from Florida isn't to be taken lightly. The Gators become synonymous with football-player arrests during Urban Meyer's reign—enough so that HBO even chronicled the outbreak of off-field issues.
While at Gainesville, Jenkins was twice arrested on marijuana-related charges in a three-month span, totaling three arrests in his three years with the Gators. The charges were only misdemeanors, but they added up to dismissal for Jenkins. And they continue to add up.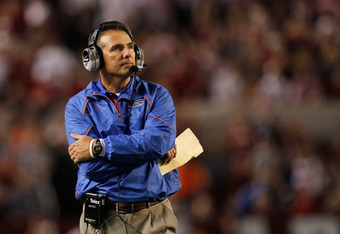 Kevin C. Cox/Getty Images

North Alabama
Jenkins landed at Division II North Alabama under Terry Bowden, where he enjoyed a quiet year. His play against lesser competition was enough to keep him in the minds of NFL evaluators while he attempted to rehabilitate his image.
Bowden went on record before the combine to say that Jenkins was trouble-free and passed drug tests administered by the university. All good news for Jenkins.

The Combine and Pre-Draft Process
Fast-forward to the 2012 combine in February. While being interviewed, it was learned the Jenkins is the father of four children from three different women. While by itself this may not be an issue, in light of all his previous issues, NFL teams took notice.
Jenkins further damaged his stock when Albert Breer of the NFL Network reported that Jenkins continued to smoke marijuana while at North Alabama—even if he didn't fail the drug tests Coach Bowden said the team administered.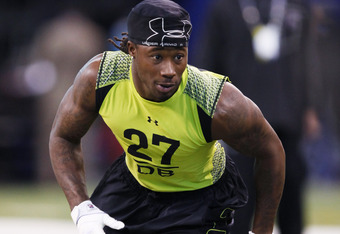 Joe Robbins/Getty Images

The Issues
Add up Jenkins' issues and you have a laundry list of concerns. 
Can any one player overcome such issues? 

What's Next?
There will be teams who view Jenkins' issues as nothing more than the trials and tribulations of a young man who needs a strong male figure in his life. Others will view them as problems they simply cannot overlook.
As one NFL team source told us this morning, "Jenkins is a third-rounder for us...can't afford to pay more for a kid with so many question marks." While it does only take one team to fall in love with a troubled player, this kind of consensus is growing. Another team we spoke with this morning also indicated a "third-round grade" for Jenkins.
At some point, Jenkins' ability will outweigh his problems, but where is that line? As one NFL player who asked to remain anonymous told us, "NFL teams don't care if you smoke, they care if you can stop during testing times and/or when you are about to get suspended."
There are many who see Jenkins' issues following him into the NFL, and one team scout we spoke to this morning echoed that sentiment: "History indicates he will be a smoker in the league and that's a bare minimum. The four kids worry me more. That's a set-up for disaster."
A set-up for disaster. While many readers, and even some analysts, will quickly toss aside marijuana use, NFL teams are starting to look at players' character with increased scrutiny. 
Janoris Jenkins may very well be a first-round pick when the 2012 draft is over, but his success in the NFL will be determined by how well he has learned from his mistakes.