Cordoba 0-2 Barcelona: Thoughts on Barcelona's Shaky Victory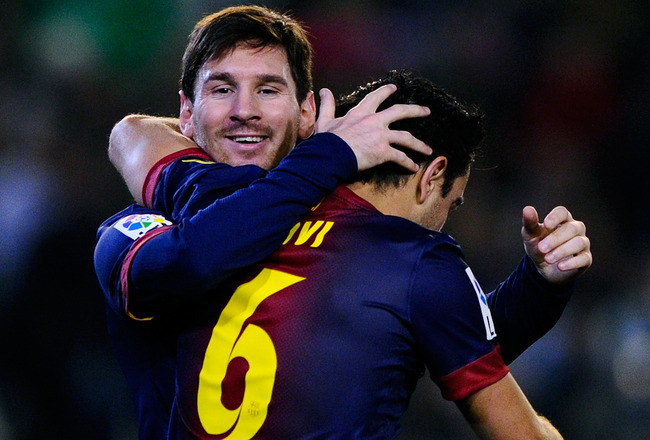 David Ramos/Getty Images
Barcelona were able to take away a 2-0 win against third-tier Cordoba on Wednesday night. However, the game was not subject to pure domination from La Blaugrana (via Goal).
The pitch was a major factor for the limitations of Barcelona. Going to a stadium such as this should always be humbling to the expensive players of huge teams.
Barcelona lost the ball way too many times and clearly struggled at stretches of the game. Cordoba also saw a goal called back correctly for an overzealous attacker. The goal would have made things even more difficult for La Blaugrana.
The game would see the magical form of Messi take over, though, as the Argentine scored a brace to give Barcelona the advantage entering the return leg in January.
Every game has points to take away, but some give deeper lessons. Let's take a look at a few thoughts from the Barcelona win.
Thiago Is Quickly Becoming a Phenom
David Ramos/Getty Images
It is time we make the announcement. Thiago is the second coming of Xavi.
Now, do not get me wrong, the 21-year-old has a ways to go before he will reach the level of the Catalan star. But the talent and brilliance is there.
The game against Cordoba only proved further that Thiago plays the exact same role of the aging Xavi. Barcelona will need a replacement for their mastermind midfielder, and Thiago is ready to step up.
Even though Messi scored a brace to give Barcelona the win, he was not the best player on the pitch.
Thiago ran the team and controlled nearly every build-up that Barcelona had. Xavi was actually on the pitch himself, but it was Thiago calling the shot with his vibrant play.
There is a long road ahead of young Thiago, but if he continues to develop at this rate, he will become one of the most important players for the Catalan giants.
David Villa and Pedro Are Struggling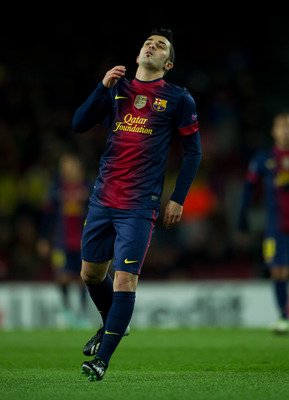 Jasper Juinen/Getty Images
To be completely honest, this is a game both David Villa and Pedro will hope to forget.
Villa struggled to even receive a pass, as his first touch constantly let him down. When the Spaniard had the ball, he seemed to give it up whenever pressured. Even worse was the sight of Villa not being able to run down passes because of his positioning.
Though Villa made great runs in the game and looked bright, his technical ability just has not been there as of late. Villa did have an assist in Messi's first goal of the night, but that will be his only bright spot of the evening.
In all fairness, Pedro's night was not as bad as Villa's.
Pedro was sharp in defense and created a few chances, including the pass to Villa that led to Messi's first goal.
However, the decision-making of Pedro has been off lately. Pedro had a simple pass that would have led to a Messi goal in the second half, but he chose to shoot, and his effort was easily saved.
It has been 20 games since Pedro has scored for Barcelona. Though his movement and passing have been wonderful, he needs to start scoring before too much weight is put on Lionel Messi.
Gerard Piqué Is Leading a Wonderful Defense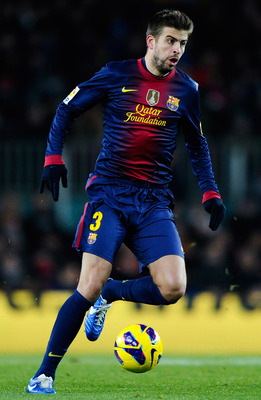 David Ramos/Getty Images
Since returning from injury in early November, Gerard Piqué has been in scintillating form (via FOX Sports).
The Blaugrana defense struggled mightily in the beginning of the year, but that looks to be a thing of the past. Every defender is contributing in great form, and it has surprisingly been Piqué, who has been the leader.
Carles Puyol is not getting any younger, and Barcelona must find a replacement soon, but Piqué himself may be just that replacement as the wall of a leader for the back line.
Against Cordoba, Piqué quickly shut down plays and was outstanding in one-on-one situations. Cordoba never seemed to have a chance when facing Piqué, and in all likelihood, it was the Catalan defender who kept Barcelona from allowing goals throughout this game.
When the offense seemed to have to save the defense every game in the early part of the season, it was the defense bailing out the attackers against Cordoba.
If Barcelona can get both offense and defense flowing, their pursuit of the treble may just be accomplished. But one thing is certain, Gerard Piqué is back and better than ever.
Lionel Messi Is Still the Hero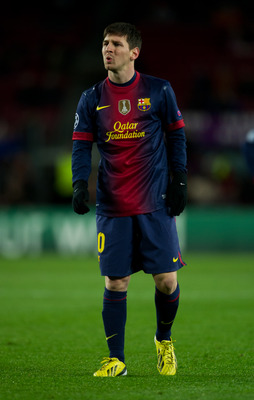 Jasper Juinen/Getty Images
Is there anything left to be said about Lionel Messi?
Messi is the world's greatest player, Barcelona's hero and the inspiration to youngsters everywhere. He continues to dominate all opposition and is always prepared to rescue Barcelona when needed.
The game in Cordoba was no different. Both goals scored by Messi came from brilliance, but also at a time when a goal was desperately needed by Barcelona.
The Argentine has now scored eight straight braces, not counting the recent game against Benfica.
Messi was Barcelona's deciding factor in this game, as he usually is. But La Blaugrana need to find help before too much is put on the shoulders of Messi. There has been little to no wing play lately and is becoming something that Barcelona needs to address.
Until then, Barcelona can continue to count on Messi to be the hero and god that Barcelona rely on every game. La Blaugrana are not a one-man-team in any way, but Lionel Messi is no ordinary man. He is the different maker.
What Is Next for Barcelona?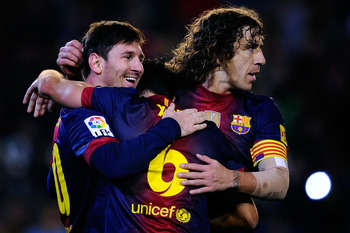 David Ramos/Getty Images
Barcelona will certainly hope that their form improves from this game, as they will play host to Atletico Madrid on Sunday.
Atletico has been hot on Barcelona's heels for the entire season. This will surely be the biggest game of the season to date.
Barcelona can either extend their lead atop the table to nine points or watch it drop to merely three points. A draw would keep the lead the same, but that is also a very unlikely outcome.
The Catalan giants are undefeated in league play this season and must continue that run against their secondary rivals from Madrid.
Can Barcelona stay undefeated entering 2013? They absolutely can, but it will not be easy.
Now to you, the readers. How would you rate Barcelona over the last few games including their win over Cordoba? Will this game set the tone for the huge game against Atletico Madrid? Leave your comments below!
Tre' Atkinson, The Catalan Blood of Bleacher Report. Follow @TreAtkinson
You can also check out my latest articles here:
Who are Lionel Messi's biggest Opponents in La Liga?
What Tito Vilanova has proven so Far
Previewing Real Betis vs. Barcelona
Keep Reading

FC Barcelona: Like this team?