Previewing Real Betis vs. Barcelona: Team News and What to Expect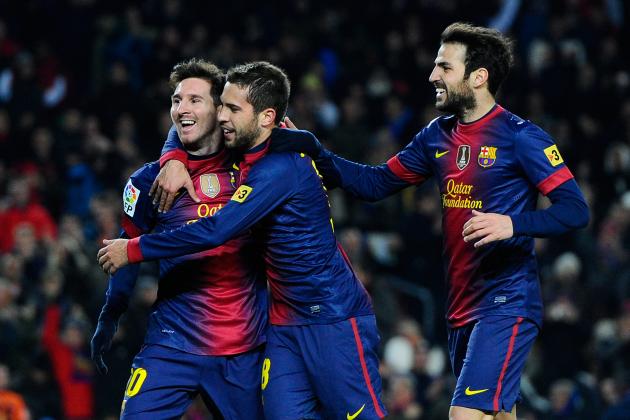 David Ramos/Getty Images

Barcelona will travel to the Estadio Benito Villamarín to face off against fourth-placed Real Betis on Sunday. La Blaugrana currently sit 15 points above the side from Sevilla.
Real Betis has had a wonderful start to the season capped off by their extraordinary 1-0 win over giants Real Madrid (via FoxSports).
Barcelona, however, are yet to lose a game in domestic play and have a chance to continue making history with the best start ever to a La Liga season (per fcbarcelona).
But, the big story in Barcelona is the ongoing news of the injury Lionel Messi sustained against Benfica on Wednesday (via Goal). More on that later.
Both teams are entering this game as it possibly being the biggest game of the young season.
Followed is a bit of team news entering the game, along with what fans should be expecting.
Begin Slideshow

»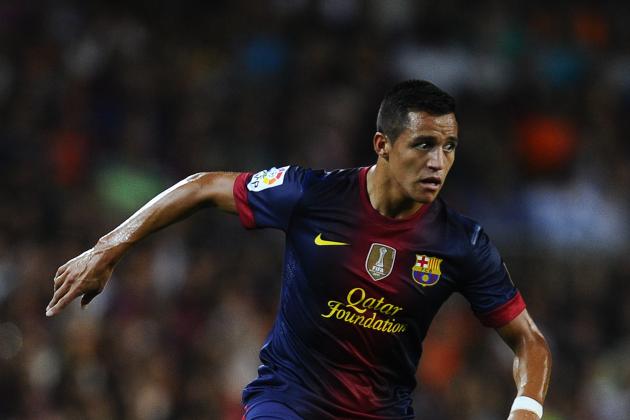 David Ramos/Getty Images

Barcelona has been given a boost as three of their injured stars have currently resumed training.
ESPN reported that Marc Bartra, Alexis Sanchez and Dani Alves have all been deemed fit again and could feature on Sunday.
The return of these stars has been long awaited, and all three will be looking to get minutes in the upcoming Barcelona schedule.
Alexis Sanchez will see his return as almost a second start to the season.
Sanchez's form this season has been nothing short of horrible. Manager Tito Vilanova has taken the blame for the mere goal season of Sanchez so far, but it is clear that the Chilean must begin to contribute soon (via Marca).
If any of these three returning players has a chance to start, it is Alexis Sanchez. However, Dani Alves is certainly ready to take his starting role back from 21-year-old Martin Montoya.
Alves has seen a lot of time on the bench this season, and fans are now certain that Montoya is the future for Barcelona. Though, do not be surprised if Alves gets a run out against Betis, or even starts.
Marc Bartra has featured just a few times this year, but the 21-year-old is slowly being worked into a starting role. He will need time to regain form but will not travel to Betis like the Alves and Sanchez (via fcbarcelona).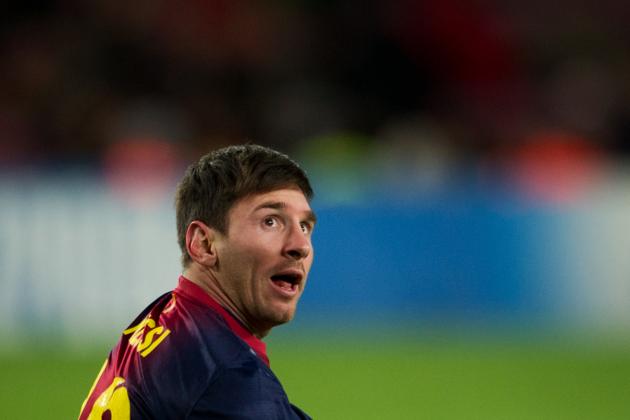 Jasper Juinen/Getty Images

The world of football nearly stopped Wednesday night when Lionel Messi was carted off the pitch (via Goal).
Messi is clearly the world's best player and possibly even the greatest player to ever play the game. The Barcelona system revolves around the Argentine, and missing Messi would be detrimental for La Blaugrana.
The injury is not only a scare for the club, but there is the fact that Messi is chasing the record of Gerd Muller for most goals in a calendar year.
However, to the delight of the club and Messi personally, it was confirmed that the star only suffered a bone contusion. This will allow Messi to possibly feature against Betis, as Marca reported, he is in a race for fitness.
Lionel Messi could actually break Gerd Muller's record against Real Betis, mere days after being carted off the Camp Nou pitch.
The best decision the club could make is to rest the star. Barcelona need the striker for the long haul if they are to win the treble, and La Blaugrana can afford to sit him against Betis if it means he recovers and is protected.
One thing is for sure though, Messi will travel with the team (via fcbarcelona).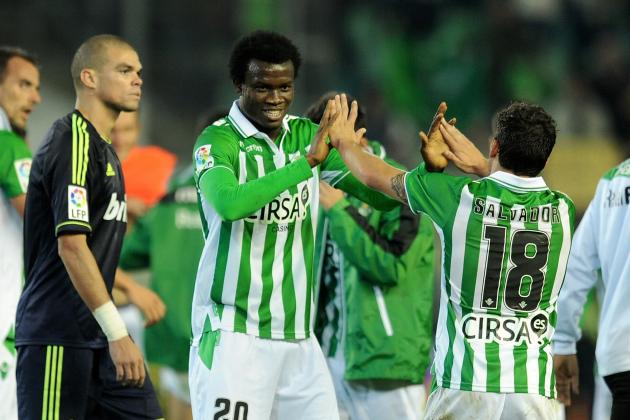 Denis Doyle/Getty Images

Real Betis has shown this season that they have what it takes to test the best.
After a dazzling 1-0 win against Real Madrid, the club has gained worldwide recognition.
From defense to attack, Betis are physical and unwavering. Barcelona often suffer when they are pressured high up the pitch, and that is exactly what Real Betis will put them through.
Not only is Betis well organized in the back, but their attack is deadly.
If there is anything we have learned from Barcelona this season, it is that their weakness is an organized defense with a capitalizing attack. Look for Betis to put in a few shots and possibly score more than a single goal.
Benat will be the standout player for Betis, just as he was against Real Madrid. His overall ability is on par with the top quality in Spain. Sergio Busquets vs. Benat will be the most important duel of the match.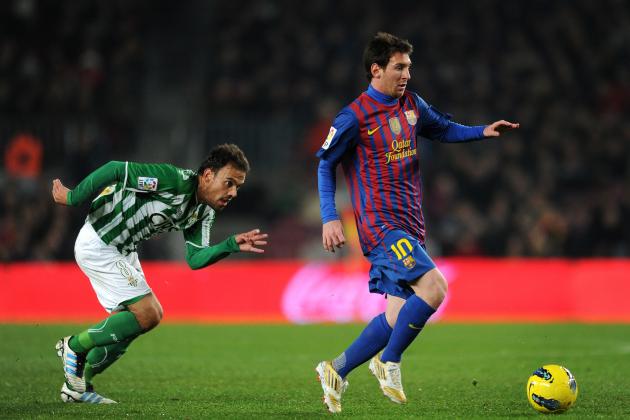 Jasper Juinen/Getty Images

There is no getting around the fact that Barcelona has struggled in the Betis stadium in recent years.
Over the last 13 seasons, Barcelona has only been able to manage one victory (via fcbarcelona). The stadium and fan base have been unrelenting, and Barcelona will have a tough atmosphere to overcome.
Though Barcelona are professionals who should be able to perform on the road, it should be mentioned that it was at home that Betis was able to secure three points against Real Madrid.
Betis are used to performing their best in front of their own fans, and this game will be no different.
At this point, it could easily be a trap game for La Blaugrana. All factors are adding up to a very difficult game, and it could be the first loss of the season, especially if Messi is not on the pitch.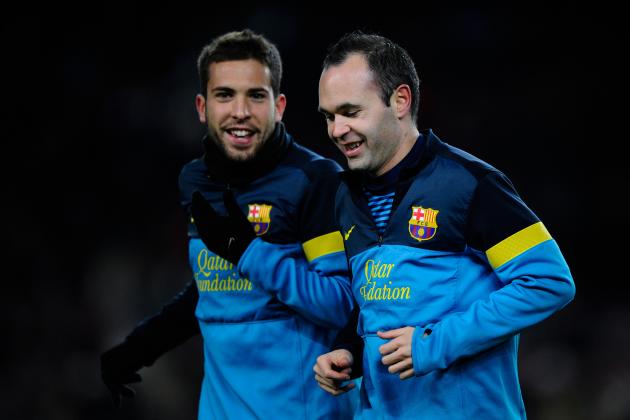 David Ramos/Getty Images

The best way to keep players at their best is to give them plenty of rest. Barcelona has played two games in the past two weeks that allowed for players to be rested.
Games against Alaves and Benfica saw the majority of stars watch from the stands and those same players will be ready to take back over against Betis.
With all the strength of Betis going into this game, Barcelona are very lucky to have their best players well rested and on form.
This should be another huge game for Andres Iniesta, who has been impressive in his last few games and actually looking in the best form of his career. La Blaugrana will need him to perform at his highest level if they are to cope without Messi.
Cesc, Xavi, and Jordi Alba have all been impressive as well, and they are also well rested. Though Messi will probably not be on the pitch, his teammates will be ready to produce in his place.
Barcelona are not a one-man team and that will be proved against Real Betis.
Look for the stars behind Messi to step up in a mighty way and pick up the slack. I would not be surprised if the Catalans were able to score plenty of goals with Betis resorting to a more "traditional" defense without having to deal with Messi.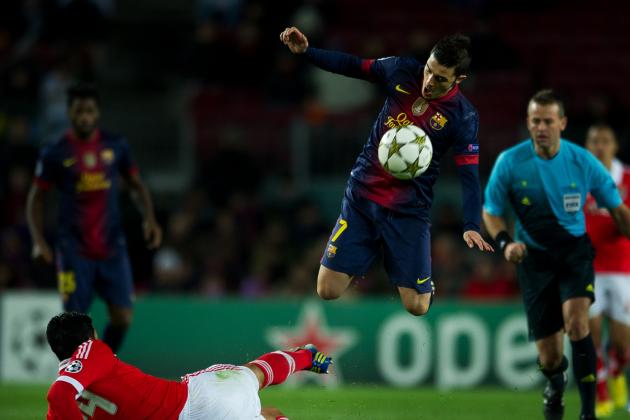 Jasper Juinen/Getty Images

As difficult as this game will be for Barcelona, I expect them to pull out the win.
Every member of the team will know they need to step up, and they are certainly capable of that. This will be a huge game for David Villa as the scoring load may be put on his shoulders.
Villa is in dire need to prove himself, and with Messi out of the limelight, Villa will receive more chances to gain confidence. If Villa is able to gain that confidence back, there is no telling how strong the Barcelona attack can become.
With the current outstanding form of Barcelona, they should be able to pull off a very difficult win. The game has draw written all over it, but this is the time for the Blaugrana to prove their worth.
I predict a final score of 2-1 in favor of Barcelona, with at least one goal coming from David Villa. The win would see Barcelona continue their historic start to the season.
As far as Real Betis is concerned, even a loss would not necessarily see them drop from fourth place. Their season has been wonderful, and a loss to Barcelona would not take away from that.
It will be an exciting game, that much is certain. Champions find ways to win games even when they shouldn't. We will see if Barcelona lives by that statement tomorrow.
Now to you, the readers. Will Barcelona pull off the win, or will Betis beat both Real Madrid and Barcelona in under a month? The question on everybody's mind, will Messi play?
Tre', The Catalan Blood of Bleacher Report. Follow @TreAtkinson
Also, check out my latest articles here:
Who can step up for injured Lionel Messi?
Predicting Barcelona's Future Starting XI