Predicting Barcelona's Future Starting XI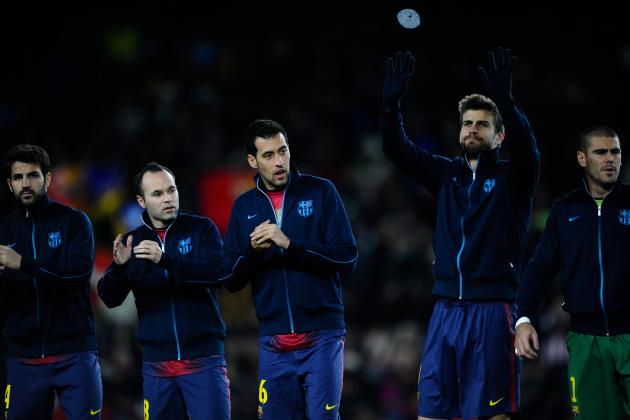 David Ramos/Getty Images

Barcelona is thought of as one of the greatest teams in the history of football. From their humble beginnings in 1899 to the six trophy season of 2009, La Blaugrana has shown excellence in their 113 years as a club.
The current side has been on a run of domestic and European success for over five years now.
However, some players from this golden age are now getting older. This will cause the club to not only replace current stars, but work to continue the enjoyed success.
Of course, Barcelona is the home of the world famous La Masia. Certainly the club will look to their storied academy to bring forth the stars of the future.
Recent games have shown the talent of the current youth players. The Catalan giants are sitting in a good position as they look forward to the future of the club.
For this article, I will not make assumptions of players that the club could buy. Although, the buying ability of Barcelona makes them even more formidable in world football.
With that being said, lets take a look at my prediction of the starting lineup that we will see in roughly three years.
Note that all player information and biographies are from the official site fcbarcelona.com
Begin Slideshow

»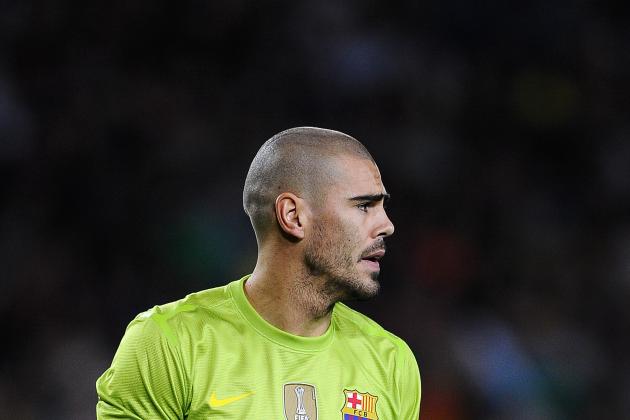 David Ramos/Getty Images

The current goalkeeper for Barcelona has been a staple for the club since the 03-04 season. Victor Valdes joined the Barcelona youth program in 1992 and impressed very quickly in every stage of his development.
Though he is currently 30 years old, he will still be at a solid age to play his position in a few years.
The Catalan shot-stopper has come under scrutiny lately. He has made several big mistakes, most notable being the error against Real Madrid that cost Barcelona the Spanish Super Cup (via ESPN).
However, for every mistake Valdes has made, he has made plenty of miraculous saves.
It is hard to argue with a player that has been starting for the club for over ten years. It is even more difficult to argue against Valdes when the keeper has played during the most successful decade in club history.
Though Valdes will still be between the posts in the coming years, Barcelona will certainly have a replacement soon that is ready to test the current star.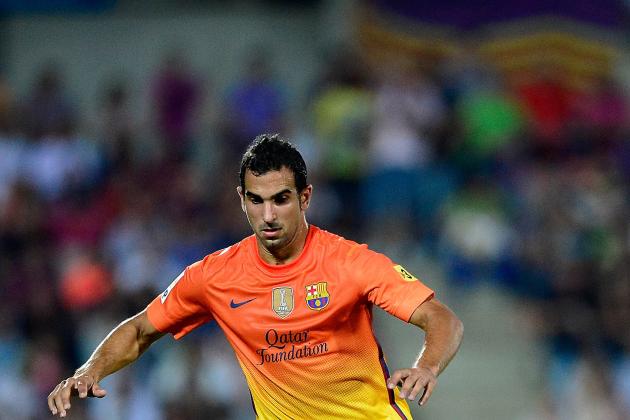 Gonzalo Arroyo Moreno/Getty Images

Martin Montoya joined Barcelona at the age of eight. He has made great strides within the youth system that recently saw his first team promotion over the summer.
Montoya is currently at the very tender age of 21. With the injury plagued season of current right back, Dani Alves, the young Catalan has been given plenty of time to impress his coach (ESPN).
Just watching Montoya play reminds me of Dani Alves himself.
Both players are attack minded defenders with a powerful shot.
Barcelona will be more than pleased with Montoya taking over for Alves in the coming years and the 21 year old could even become one of the world's best at his position.
Montoya is a slightly better defender and has been raised in La Masia. He knows the club inside and out, making him the unanimous choice as the right back of the future.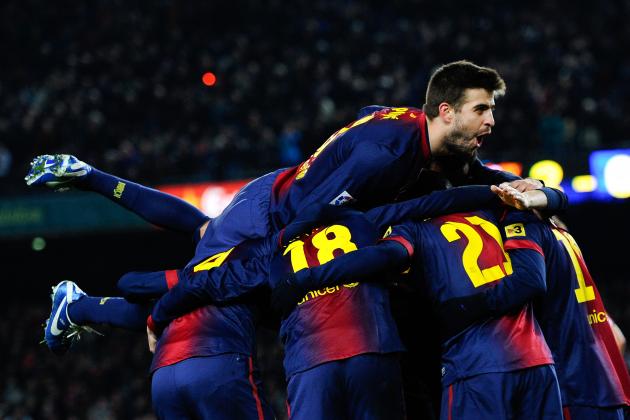 David Ramos/Getty Images

Gerard Piqué is now entering the peak of his football career. After joining Barcelona at age ten, Piqué showed promise, but left for three seasons before returning to his boyhood club in 2008.
Like Victor Valdes, Piqué has played during one of the most successful eras in the history of Barcelona.
It is true that the defender had a dip in form last season. However, I am fully convinced that this season has put to rest the doubts of Piqué.
The 25-year-old is a staple in defense and is becoming more of a leader with every game that he plays.
Not only will Piqué continue as a starter in the future, he may even become the captain. Carles Puyol and Xavi will be on the dying end of their career (if not already retired) and the club will need a capable captain to lead the team.
As Piqué continues to grow into the role of a defensive leader, he can soon be considered one of the world's best at his position.
David Ramos/Getty Images

Young Marc Bartra is the leading candidate to become Barcelona's center back of the future. At just 21-years-old, Bartra received first team promotion this summer along with Martin Montoya and others.
Bartra has shown great promise and recently won the award for the best defender in the Segunda Division (via fcbarcelona.com).
The defender has been given a decent amount of playing time this season and has shown that he is almost ready to be a starter for the club. Manager Tito Vilanova has been slowly working Bartra into the lineup, which I see as a precaution to not overload the young Catalan.
With great positioning and pure defending ability, Marc Bartra should become a starter soon.
He posses every quality needed to become great and the failure of the club to sign a new center back only proves the faith they have in the future of the the U-21 star.
Only time will tell if Bartra will become another great Barcelona defender from La Masia. But I believe it should certainly be expected.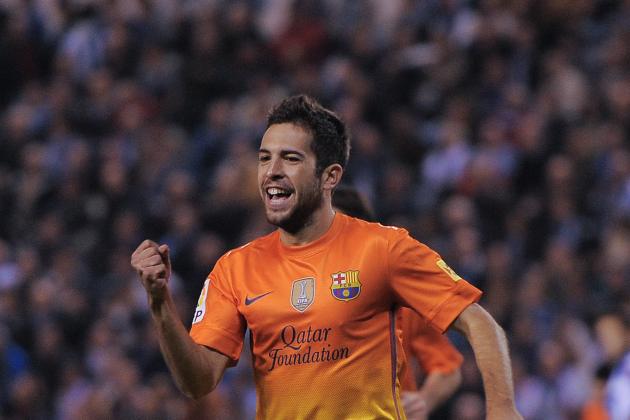 David Ramos/Getty Images

It is very obvious that Jordi Alba was purchased to be the left back of the current and future. The 23-year-old was purchased from Valencia this summer and is one of the smartest buys the club has ever made.
Alba joined Barcelona at the age of ten, but left in 2007 as the club did not see his development improving.
To the delights of the club, Alba began to thrive at Valencia in the left back position. This immediately led to Alba being reunited with his boyhood club.
The Catalan, who also plays for the Spanish National Team, has already slotted into his role in Barcelona.
Alba is very much the same type of player as current right back, Dani Alves. He is quick in defense, but really thrives going forward in attack. Barcelona fans have been given a treat as the link-up with Alba in attack has been stellar to this point.
Not only is Alba quickly becoming one of the world's top left backs, he can also be considered the best attacking player at his position.
Alba will soon be entering his prime and the future looks bright for the young star after being brought back home.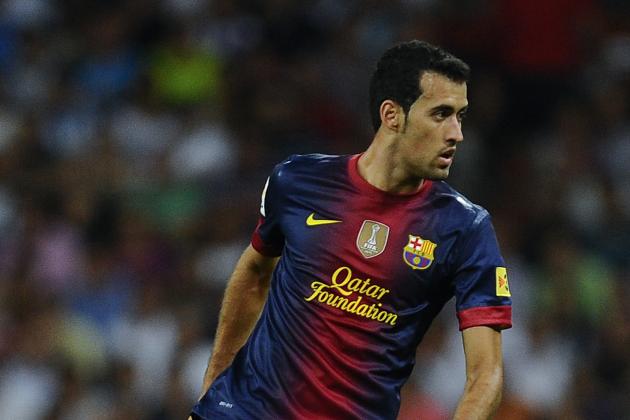 David Ramos/Getty Images

Sergio Busquets has been a member of Barcelona since 2005 and made his presence felt in the first year under former manager Pep Guardiola.
Though being very young at the time, Sergio displayed great ability and soon made the position his.
Busquets is still very young, only 24 years old, and is entering the peak years of his football career. The future will definitely see the Catalan continue at his position as he may be the most important player for the club that isn't names Lionel Messi.
Busquets has shown that he is a remarkable defender in the middle of the pitch by winning balls and being one of the world's best at the pivot role.
But, Busquets also possesses great passing ability as he is sometimes seen as the engine of the Barcelona tiki-taka style of play.
The lanky defensive midfielder rarely makes mistakes. It is also evident that he is vital for the club as his presence is greatly missed when he is out of the lineup.
There are a few players who will continue for many years at Barcelona, undoubtedly, Busquets is one of those players.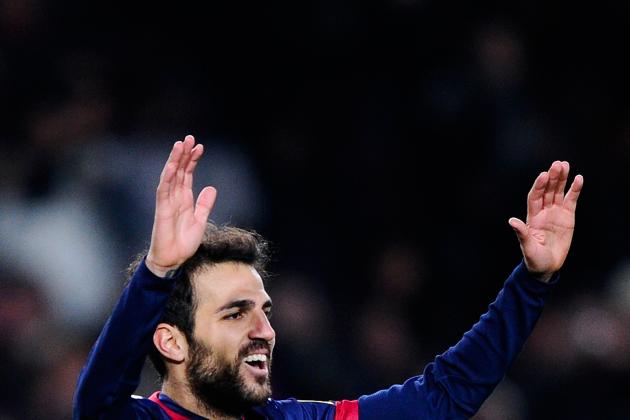 David Ramos/Getty Images

Cesc Fàbregas is yet another product of the fabled La Masia. The midfield genius joined Barcelona at the age of 10 and was a promising talent until leaving for Arsenal at 16 years old.
Fàbregas thrived at Arsenal and became one of the best midfielders in the world. The Catalan star made his move back to his boyhood club in 2011 and Cules everywhere were excited.
However, Cesc's first season at Barcelona was fairly unimpressive.
He was forced to play in multiple positions and tended to get lost in the tiki-taka play. The unconvincing play even led to rumors of Cesc leaving Barcelona (via Mirror).
However, the current season under Tito Vilanova has seen Fàbregas find the best form of his young career.
If this season is anything to go off of, Fàbregas has a very bright future as one of the mainstays in the Barcelona lineup. And at only 25-years-old, the best is yet to come to Fàbregas.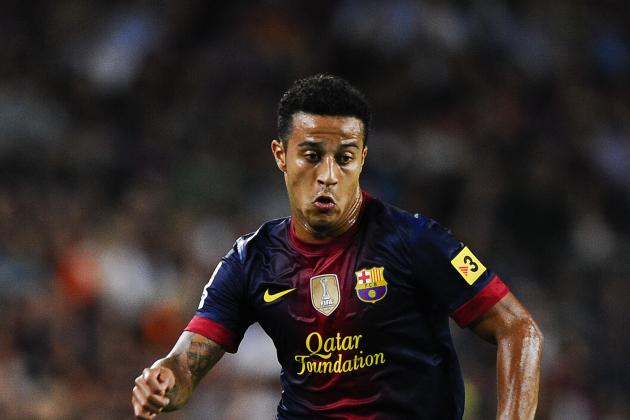 David Ramos/Getty Images

While watching Thiago play, no one would expect him to be merely 21 years old. Thiago joined Barcelona at the age of 14 and has since rocketed through the youth ranks.
The Spanish international has already become one of the top midfielders for Barcelona despite being a backup player.
Thiago possesses grace and a calmness when on the ball and a keen eye for passing. His play style is a direct mirror of current midfielder Xavi.
In fact, just seeing Thiago perform on the pitch makes one think they are watching the great Xavi. At his very young age, Thiago is absolutely the heir of Xavi, leaving La Blaugrana in capable hands.
The future is as bright as the midday sun for Thiago. He can reach the greatest heights possible for the Catalan giants as he will just be entering his peak in the coming years.
Manuel Queimadelos Alonso/Getty Images

Lets get something straight from the start. Andres Iniesta is one of the greatest players to ever play football.
Andres Iniesta joined Barcelona at the age of 12 and eventually worked his way into the discussion of the world's three best players.
He made his name in the Barcelona midfield, but has seen his form get even better while playing on the wing in recent Barcelona games.
Though Iniesta will be getting older by this time, he is currently 28, it is almost jaw dropping to claim that he will be reserved to the bench.
Barcelona do have great wingers coming through their ranks, but the pure class and skill of Iniesta leaves him deserving of the starting spot.
Also, the current link-up with Jordi Alba on the left wing has proved extremely dangerous for opposing defenses.
Iniesta has won almost everything that can be won. He will absolutely still be starting for La Blaugrana in three years time, though we should expect him to be rested in a way that Xavi is in this current season.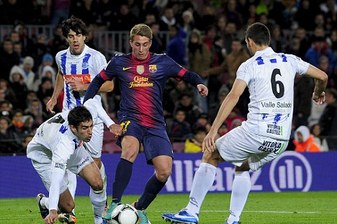 Gerard Deulofeu is the most exciting player to recently come out of La Masia. At only 18-years-old, Deulofeu has so much hype and pressure on his shoulders.
The eyes of the world have been on young Deulofeu, but the hype is truly warranted.
The U-21 star has terrific speed and dribbling ability as well as a very powerful shot. He is the complete package as an attacking player who's future at the club is only limited by his work ethic.
Deulofeu is a very raw talent at this point and has a long way to go, but he is destined to start beside Lionel Messi.
At Barcelona B, Deulofeu normally plays on the left wing. However he has played on the right in every game with the first time so far.
With his talent level, it does not matter which side he plays on, the Catalan attacker will give defenders a headache.
All eyes should be watching the development of this kid. He can achieve amazing things, and if all goes according to plan he will become the next big name to graduate from La Masia and play for Barcelona.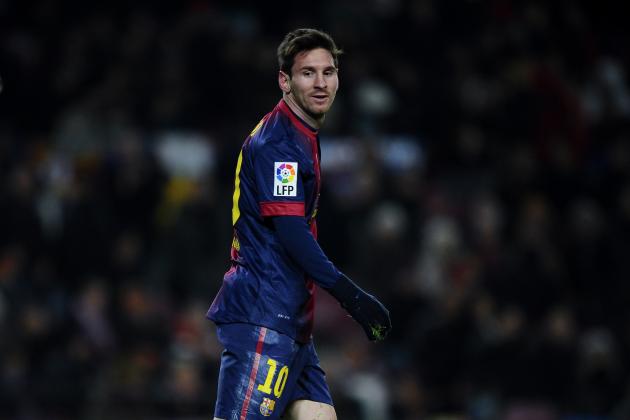 David Ramos/Getty Images

Where would the Barcelona lineup be without Lionel Messi? Not much needs to be said about the Argentine. He is arguably the best player the world has ever seen.
From his very beginning at the club, Messi has bled perfection.
He continues to break records, win trophies, and leave fans in disbelief. The most shocking fact is that Messi is only 25 years old.
Yes that means that the world's best player is yet to hit his peak playing age. Imagine how scary this thought is for opposing teams.
In the coming years, Messi will only improve and become an even greater living legend at Barcelona. The future only contains continued greatness for Messi and the Barcelona lineup looks to only get stronger.
Expect more records and trophies for both Messi and Barcelona in the years to come.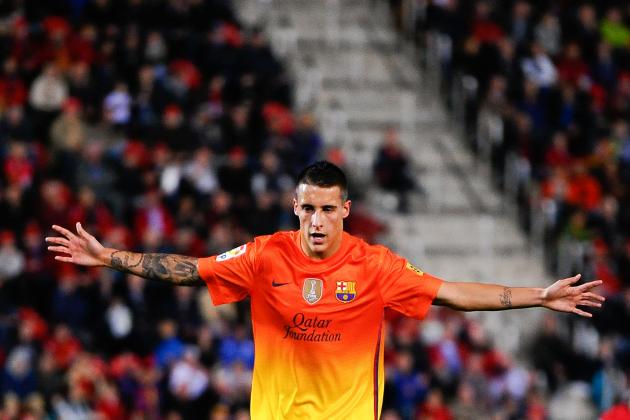 David Ramos/Getty Images

Below I have listed what the bench could look like for La Blaugrana. It too will be full of stars and La Masia graduates who are ready to take the football world by storm.
Cristian Tello: Winger
Cristian Tello has proven to be a very raw talent for Barcelona. His direct and speedy style offers the team something it does not normally posses.
He is fitting in at the club more with every game. When on his game, Tello displays moments of brilliance in attack. However, those brilliant moments are too far and between at this point as he has more developing to go through.
In a few years, not only will Tello be ready, he will be a star. Barcelona will no doubt have to use a rotation to keep him involved. Perhaps they could start Tello when resting Iniesta on the left wing.
Sergi Roberto: Attacking Midfielder
Sergi Roberto is proving that he will soon deserve a spot on the first team. He is the exact mold of a Barcelona midfielder possessing both vision in passing and grace in possession.
He is still very young and has a lot to learn, but he shows outstanding promise and could become the next Iniesta as their play styles are very similar.
By this time, Roberto will be fighting for a starting spot, and if he lives out his potential, just may become a starter.
Rafinha: Attacking Midfielder/Winger
Rafinha is the younger brother of current midfielder Thiago. Like his brother, Rafinha is excellent on the ball and is very well rounded player.
He is gifted in attacking, but even more so in ball wining. He provides a physical presence when on the pitch and by time his years come, he will be more than ready to help Barcelona to many trophies.
Jean Marie Dongou: Striker
Dongou is very much the next Samuel Eto' o. Both players carry a physicality when charging into the box, while also possessing grace to score when needed.
The young Cameroonian has speed that is rarely matched and a keen nose for goal. He would surely be a super sub for Barcelona that could provide many goals.
Carles Planas: Left back/Right Back
Young Catalan, Carles Planas, has been impressive in his time at the Barcelona academy. His defensive ability on the wings is growing though his speed will have to improve to play on the first team level.
He is a wonderful player when passing the ball and going forward. But, he would be a more pure defender when brought of for Barcelona.
Marc Muniesa: Center Back
Marc Muniesa will be battling Marc Bartra for the center back position, granted the club does not buy a starter. They are the same age and at the same basic skill level.
It is very hard to distinguish between the two, but Bartra got the starting role in my prediction because of his experience with the first team so far.
Muniesa can become the starter, but he has a lot of work to do to achieve the potential he has.
Jordi Masip: Goalkeeper
In all honesty, Barcelona will probably buy a keeper to sit under Victor Valdes. Masip is not the starter for the B team now, but he should be.
He is a tremendous shot blocker, and with time he can improve his positioning skills. He has very high potential, but it is up to him to meet that potential.
Sergi Samper: Midfield
Sergi Samper is a very young player at age 17. By the time Barcelona is fielding this squad, Samper will just be making the biggest strides of his career.
The young Catalan is the promising player for his age at Barcelona and is very much a Sergio Busquets type of footballer.
Look for Samper to be worked into eventually taking over for Busquets from a very young age.
Conclusion:
Barcelona is clearly in great hands for the coming years. The club's academy allows for players to make room for growing stars, as well create the family atmosphere of the club.
If this squad comes to fruition, you can expect Barcelona to remain a world power for many many years to come.
Unsurprisingly, this is an all La Masia squad. I did not account for buying players, but rather relied on current players and young academy players.
This only shows the depth of the Barcelona system and how much talent is coming up.
It is scary to think of the players that Barcelona is currently producing. What a time we live in that we can enjoy the beauty and magnificence that is FC Barcelona.
Tre', The Catalan Blood of Bleacher Report. Follow @TreAtkinson