Rating the Barcelona Players in Their Draw Against Benfica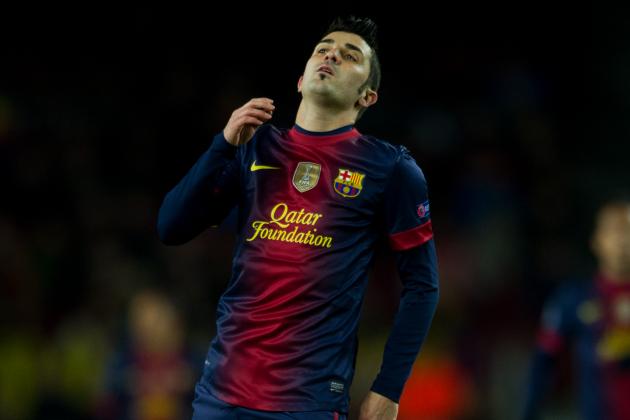 Jasper Juinen/Getty Images

Barcelona played host to Benfica Wednesday in a game that was only relevant for one side. La Blaugrana had already secured first place in their group, yet Benfica were fighting to progress to the knockout round.
Barcelona manager Tito Vilanova opted for a starting XI consisting mostly of non-starters. Lionel Messi began the game on the bench, but made a late appearance that has many fans worried.
The game ended in a scoreless draw, though Benfica had many chances to capitalize.
Barcelon, as expected, retained the most possession and looked the most dangerous. But Benfica chose to press high up the pitch and give Barcelona trouble during moments of the match.
Now, lets break down my ratings for the Barcelona players against Benfica. There will also be a little bit of information on the Lionel Messi injury at the end.
Note that all statistics are courtesy of Whoscored.com.
Begin Slideshow

»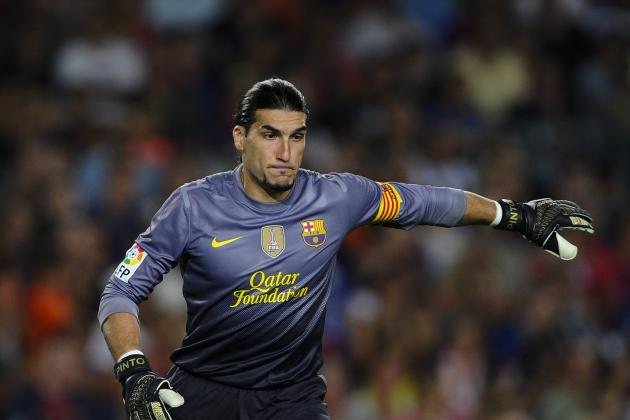 David Ramos/Getty Images

Jose Manuel Pinto: A
Barcelona manager Tito Vilanova decided to play his backup keeper, as Barcelona had already advanced.
In short, the 37-year-old was phenomenal.
Benfica had an incredible 15 shots, with seven on target. Every shot on target was saved by Pinto, and a few were game changers.
Multiple times it looked as though Benfica would surely take the lead, until Pinto made a miraculous save.
Pinto's time at Barcelona has been full of good and bad, but this is one game that should be remembered for the Spaniard.
You can ask nothing more for a keeper. This was a solid performance, if there ever was one.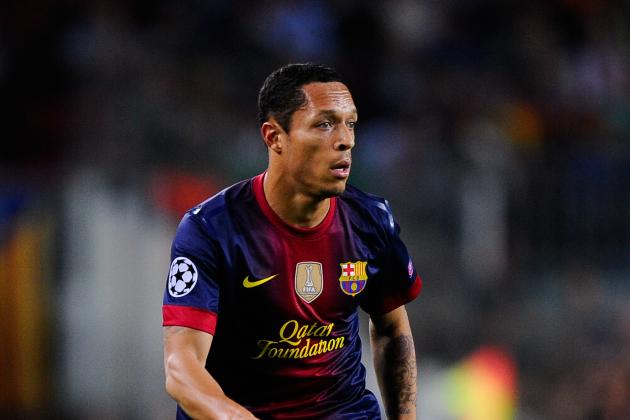 David Ramos/Getty Images

Carles Puyol: B+
Captain Puyol was treated to a start against Benfica and did very well. There were no mistakes made by him, and it was evident he was doing the majority of the leading early on for Barcelona.
Puyol is beginning to look more and more like his best self, and if this games shows anything, it is that he is nearly back to his best form.
The current form is only a plus for La Blaugrana, and cules everywhere are hoping he continues to get healthier.
Puyol was nearly perfect on the day. Between shouldering the defensive duties and leading a relatively young squad, he should be proud of his game against Benfica.
Adriano: B
Adriano also had a very stellar game in the center of defense, proving to be quite the utility man, playing in multiple positions.
His speed allowed him to catch Benfica on breaks and shut down plays, as well as make some vital stops in the box. It seems there is nothing Adriano can't do.
A very solid game with relatively no mistakes sees Adriano receiving a well-deserved B for his efforts.
Martin Montoya: B
Young Martin Montoya has been given a lot of time this season due to the injuries of regular starter Dani Alves (via ESPN). It is quickly becoming apparent that Montoya is ready to become the full-time starter.
Against Benfica he linked up well with the attack but was also formidable when coming back to defense. The left wing of Benfica went practically unused as Montoya shut down most attempts.
The 21-year-old La Masia graduate is getting better with every game. He looks solid in any competition and already fits in masterfully with the Barcelona first team.
Carles Planas: C
Carles Planas has been very impressive in his stint with Barcelona B and has begun to get time with the first team. The Catalan left-back performed well at times against Benfica but was easily the weak link in the Barcelona defense.
Planas was often caught out of position and looked to be lost at major intervals of the game. His one-on-one defending almost cost two goals, as well.
There were bright points in his game, as his passing was up to par with his teammates' skills. His vision of the field was also outstanding, for a defender of his age.
Planas may have a future with the club, but it is going to take more development before he is ready.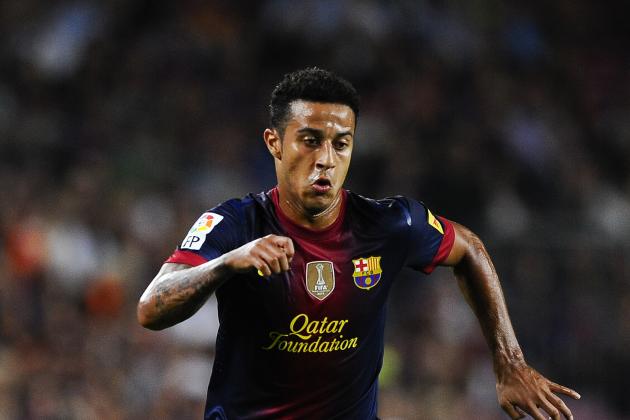 David Ramos/Getty Images

Thiago: A
Thiago was simply the best player on the pitch in the Camp Nou. His passing was unbelievable, along with his ballerina-esque dribbling.
He was not afraid to take on defenders, and he even made quite of few Benfica players look lost. His ability to keep the ball with confidence and calmness can only be compared to that of Xavi.
Thiago rarely turned the ball over and was instrumental in every attack Barcelona conducted. The future is bright for this 21-year-old.
Sergi Roberto: B
Sergi Roberto is one of the best players to have recently graduated from La Masia. His skill in midfield can be compared to that of Andres Iniesta, yet he needs more development before he is ready for a first team spot.
Against Benfica, Roberto was a major ball-winner. His tackling came out of nowhere as he gained possession back for his club on multiple occasions.
His ability going forward is quite impressive. The vision he has when going up the pitch is constantly growing, yet he tended to lose the ball a few times.
For his age, Roberto put in a great game. However, he definitely needs more time at Barcelona B.
Alex Song: C
I have to admit from the start that I am not a fan of Alex Song. He still does not look completely comfortable in the Barcelona midfield, and his position tends to be off.
Many times passes came to Song, and he was caught off guard. This led to a few turnovers that could have been crucial, had Benfica been able to convert their chances.
While Alex Song may be a great defensive midfielder, his attacking in the Barcelona system leaves room for vast improvement.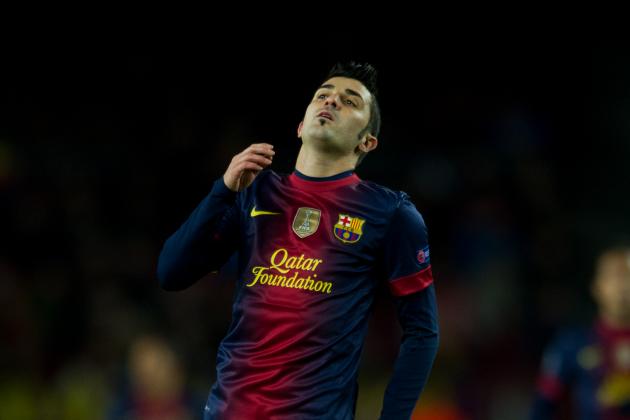 Jasper Juinen/Getty Images

Rafinha: B
The best attacker of the night for Barcelona was also the youngest. Rafinha, the brother of Thiago, showed grace when in possession of the ball and was constantly creating chances.
The young player from Brazil did not appear to be a goal threat in this game, yet he led to the threats of many other players. He also showed the ability to win balls back, as he never stopped running for a moment.
Rafinha's ball skills fit Barcelona like a glove. He has a long way to go to make it to the first team, but against Benfica he already looked like he belongs there.
Cristian Tello: C
Cristian Tello gives Barcelona something they do not have regularly: direct speed at the goal. Tello did well to break down defenses and make chances, but the last touch was always missing.
Tello had arguably the best chance of the game after dribbling by two defenders, but the young Catalan saw his shot blocked.
For the majority of his play, Tello deserves a solid B. However, the winger turned the ball over far too many times. He continues to leave passes short, which cannot happen when in front of the goal.
David Villa: D
As much as I would love to see David Villa regain his form of two years ago, this game just did not show promise. Not only was he called offside over five times, he also had issues attacking.
Many times the Spaniard opted to attack rather than pass, and it cost Barcelona their possession. Villa is fabulous player, but he just did not show up against Benfica.
David Villa was the most disappointing player of the match, but hopefully his confidence will not be shot. He is a professional athlete, and I expect him to bounce back from this horrendous performance.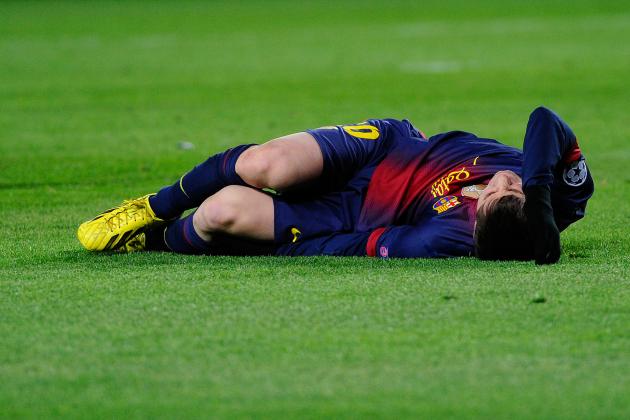 David Ramos/Getty Images

Gerard Pique: B
The tall Catalan defender was subbed on for Adriano in the second half and put in a strong performance. Pique had a loss of form last season but has been ruthless in defense so far in 2012-13.
He lined up with captain Carles Puyol, and the two displayed how well they play when paired together. Pique made no mistakes, and his size allowed for a few key clearances in the box.
He was not in the game long enough to be seen as perfect, but his minutes were very successful.
Gerard Deulofeu: B
Young prodigy Gerard Deulofeu came into the game late for Cristian Tello and had an immediate impact on the game. His attacking was much better than any of the starters, and the U-21 star nearly scored.
He showed his dribbling technique by blowing past defenders on several occasions and linked up well with the midfield.
Though he played very few minutes, his performance was impressive and very pleasing to those looking to his future.
Lionel Messi: B
Once Messi was subbed on, the game changed. Barcelona became exceedingly dangerous in the final third and should have scored a goal.
For all of Messi's feats on the field, the big story from this game will be his injury. Finding himself alone against the keeper, Messi dribbled around and attempted a curving shot from the side of the goal.
After his shot, the Argentine hit the ground and looked to be in severe pain. The Camp Nou grew silent, and the world is now waiting for the final word of his injury.
The club should be constantly updating the injury information on their official site fcbarcelona.com.
Follow Tre', "The Catalan Blood" of Bleacher Report, @TreAtkinson